Written by Jacob Leveton | 01 March 2015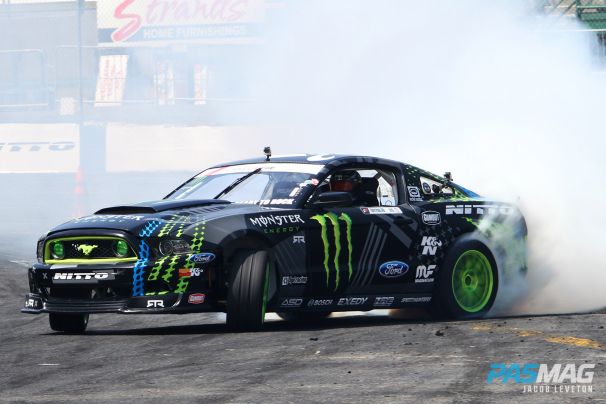 During the drift season, fans and sponsors often see the on-track performance of top drivers as the best measurement of performance. In reality, much of the value for a driver is built by their off-track performance, particularly via viral videos. There's no denying Ken Block's fame and 'brand' as a driver has largely been built by his Gymkhana YouTube videos that have amassed millions upon millions of views. For the Formula Drift grid, the 2014 season has been an excellent opportunity to build their YouTube value in addition to their on-track performance.

Here are some of the top videos from the FD talent pool that debuted on the Internet during the 2014 season:

Vaughn Gittin Jr.
Man's Best Friend
This excellent video showcases not just Vaughn Gittin's driving abilities, but also his closest canine companion and his epic quarry backyard. Furthering his collaboration with Ford, the video shows the fun that can be had in a stock Ford Fiesta given the right road conditions. If you do attempt to reproduce any of the stunts portrayed in the video, be sure to secure your produce first.
Ryan Tuerck
Tuerck'd (Web Series)
At the time of print, Ryan Tuerck's third season of his web series "Tuerck'd" was just making its debut. Filmed in collaboration with action sports YouTube channel NetworkA, Tuerck'd mixes some cool driving games like "D-R-I-F-T" and "Opposite Controls" with some Jackass-style antics all over the U.S. There are several guest ap- pearances from fellow Formula D drivers in each episode, so be sure to catch up on all the past episodes if you haven't already.
Channel: http://www.youtube.com/user/NetworkA

Tyler Mcquarrie
Ice Bucket Challenge
There's no denying the "Ice Bucket Challenge" took the Internet by storm this summer, raising awareness and record high dona- tions to help fight Amyotrophic Lateral Sclerosis (ALS), more commonly known as Lou Gehrig's Disease. Tyler McQuarrie had one of the more entertaining videos, with what starts out as a simple traffic stop. There's a bucket of ice water involved, but we can't really explain more without giving away the surprise of the video.
Chris Forsberg
Garage Tours (Web Series)
Chris Forsberg has had quite an active 2014 season, not only chasing his second career championship while campaigning a second car for Jhonnattan Castro, but also filming several viral videos. NetworkA has also teamed up with Valvoline to produce a series called "Garage Tours" that Forsberg hosts. Several cool garages are profiled, including the famed Hendrick Motorsports NASCAR team, so be sure to check out all the episodes.
Channel: http://www.youtube.com/user/NetworkA
Clarion Drift Video
Forsberg's long-time sponsor Clarion also produced a cool video featuring Forsberg's personal RB26-powered Nissan 280Z and a drive through the Pennsylvania countryside.


Hoonigan Racing
Tazed
The Hoonigan clothing brand sponsors several drivers in the series, and has produced several short videos this season. One of the more entertaining is the "Tazed" video, where sponsored drivers Tony Angelo and Chris Forsberg (we told you he was busy) attempt to drift while tazing each other. Drifting always looks easy when you watch the professionals drive, so adding a tazer to the mix definitely spices things up.


Honourable Mentions

Papadakis Racing
In Car Video
Papadakis Racing has won two previous championships, and the videos the team has produced this year help show how technology is advancing the sport. Each video includes a heads-up style display of several gauges, as pulled directly from the AEM Infinity ECU and synched to the video. We put this in our 'honorable mention' section because it is more of a documentation of what happens during a lap of FD competition more than it is a viral video.


Drift Allstars
Event Recaps
Drift Allstars is an event series out of Europe, and their event recaps have started to gain some serious traction globally. Several top European drivers compete in the series, and each recap video has some fantastic filmography along with some amazing drifting tandem action. James Deane won the championship at Drift Allstars this year, and has competed in Formula D in the past. If you're looking for some drivers who are turning heads outside of North America, check out some of these videos.
Channel: http://www.youtube.com/user/aatomotion

The Irish Drift Championship
Colin the Cone
The Irish Drift Championship has seen several Formula D drivers make their European debuts this season, including Matt Powers, Daigo Saito, Robbie Nishida, Vaughn Gittin Jr. and Chris Forsberg. IDC has produced several light-hearted videos that show some of the behind-the-scenes fun that goes on during an event weekend. While not hugely popular on the Internet, the videos have some fun inside jokes that hardcore drift fans will appreciate.


Sylvania Lighting
FD Canada Recap
As a presenting sponsor of FD Canada, Sylvania Lighting could have easily written a check and been done with it. This video recap by the lighting company pushed out just hours after the event ended showed just how competitive it was. With eight Canadian drivers qualifying alongside eight Americans, it looked like the talent had finally equalized across North American neighbors. In the end, the FD veterans rose to the top to sweep the podium, but this video does a fantastic job telling the story of Formula D's first (and hopefully not the last) stop in Canada.