Written by Mike Bonanni | Photography by Phillip Awad | 17 August 2014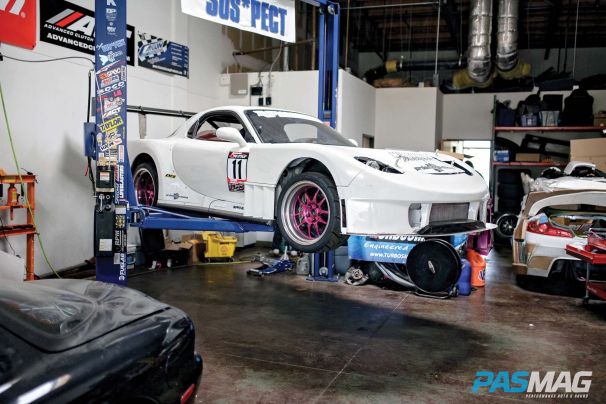 Many would think a car's braking system is one of its simplest and easiest components to understand. Bigger is better right? You may be surprised to learn how much engineering and thought actually goes into designing a brake system for a car. There is a long list of things to consider that can adversely affect your car's stopping capabilities. For most of us, we simply choose a brake kit out of a catalog and bolt it on to our car without realizing the research and development that goes into making it work.
Fortunately for us, we have guys like Jeff Jordan of Jordan Innovations and companies like Wilwood Engineering, both of whom have the knowledge and the tools to create the ultimate braking systems for our cars. We caught up with them recently to learn more about their process as they design and test a new braking system for Jordan Innovations' 1,000 hp Mazda RX-7 time attack car.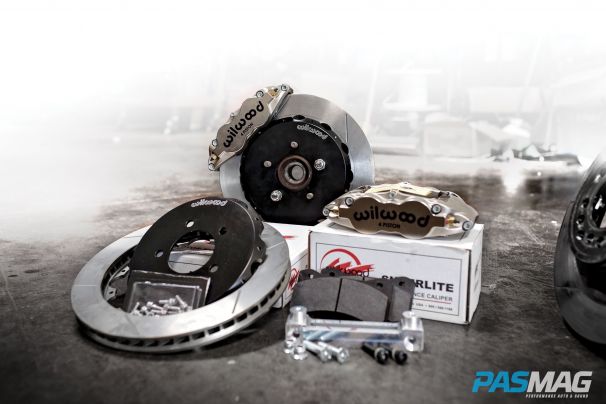 When you've got a 2,700-pound Vortech supercharged LSX-powered time attack car producing over 1,000 horsepower and US Touring Car Championship (USTCC) GT levels of downforce, you know your car is capable of some very high speeds. Unfortunately, all the horsepower and downforce in the world means nothing if you can't slow it down.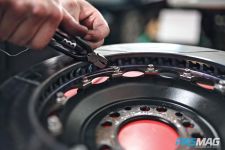 A good braking system is the key to producing a fast lap time. If you're wondering how something that is designed to slow you down can make you go faster, let me explain. A car is only eating away at a lap time when it is accelerating. Unfortunately there are things on a road course called corners, which you must slow down for in most cases. The later you hit the brakes, the less time you spend slowing down, thus giving you more time on the throttle to eat away at that lap time.
A fast lap, however, is not just about how late you brake and how fast your car decelerates. Ultimately, it is up to the driver, and a driver must be confident in his brakes to push the car to its absolute limit. So, in addition to stopping power, a brake manufacturer has to think about consistency, reliability, pedal feel, brake proportioning and a long list of other things to give the driver the confidence he/she needs.
When first building their monster time attack RX-7, Jordan Innovations solicited professional sports car racer and Formula Drift driver Conrad Grunewald to do the initial track testing. At the time, the car was still equipped with the factory brakes, which worked fine when the car was stock with 750 less horsepower and much less downforce. Grunewald reported back that the factory brakes made the car almost undriveable, performing well below its capabilities. To fix this, Jordan Innovations turned to the experts at Wilwood Engineering to design and manufacture the ultimate brake kit for the FD RX-7.
The first step was planning out which components they would use to match the RX-7's master cylinder and brake proportioning. After careful thought, they pieced together what will ultimately become the be-all brake kit for the Mazda RX-7 FD.
On the front, the brake kit features Wilwood's new Aero 6 calipers with its patented Thermolock pistons, which reduce caliper operating temperatures to extend seal life and improve performance and consistency – a must-have for track applications. The calipers are paired with Wilwood's GT 72 Curved Vane Spec-37 14.25-inch two-piece rotors with custom machined anodized aluminum hats by Jordan Innovations.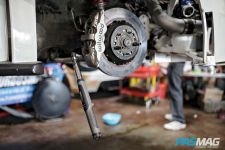 Jordan Innovations also designed and machined 6061 aluminum mounting brackets to make the kit a complete bolt-on replacement for the factory brakes. Paired with a set of Wilwood PolyMatrix B compound brake pads, the team and Grunewald went back to the race track for more testing.
Even though the Jordan Innovations RX-7 was still utilizing stock rear brakes for this test, driver feedback and lap times improved greatly with the addition of the new bespoke Wilwood front brake kit. Grunewald reported that the car now could decelerate quicker than it could accelerate, which is a lot to say considering the car in question has 1,000 horsepower and weighs only 2,700 pounds. Although the stopping power has been increased exponentially, the balance with the stock rear brakes still wasn't there. The new front brakes were doing a vast majority of the work, but armed with the mountains of data they gathered on the front brakes during the test, they could now accurately match a rear brake kit to complement the front.
Back from testing, the Wilwood and Jordan Innovations engineering teams poured over the data and came up with the rear brake system, which features Wilwood's Forged Narrow Superlite 4 ST calipers, 12.88-inch GT 48 Curved Vane two-piece rotors, Wilwood PolyMatrix B-Compound pads and custom rotor hats and mounting brackets from Jordan Innovations.
| | |
| --- | --- |
| | |
Professional sports car racer and Formula Drift driver Carl Rydquist was tasked with the duty of driving the time attack RX-7 for the final brake test where he reported nothing but praise about the new brake system. Once again, the team gathered mountains of data and feedback from the driver. When the smoke cleared, the team had far exceeded their own expectations. The car was no longer limited by its brake system. The feedback from Rydquist suggested that the stopping power was there and the braking was also exceptionally well-balanced, inspired confidence and was easy to control. When the team looked at the numbers, what they found was over 1.4 g of braking force - an unbelievable improvement over the stock braking system.
It took several months for a team of engineers from Wilwood and Jordan Innovations to develop and test a new brake kit that can handle loads of force, yet can be bolted onto an FD RX-7 with simple hand-tools.
Anyone can purchase this kit through Jordan Innovations with the confidence of knowing that it can hold up to a 1,000 horsepower FD, regardless of what you throw at it.