Written by Jacob Leveton & Photos by Jacob Leveton | 15 June 2014
Formula Drift's 11th season kicked off in the Streets of Long Beach, which has served as the season opener for nine straight years. The course packed more than 20,000 fans into the stands and the podium included a first-timer, a former champion and the defending champion. As the rest of the season shakes itself out, here are a few headlines from Long Beach that are worth noting.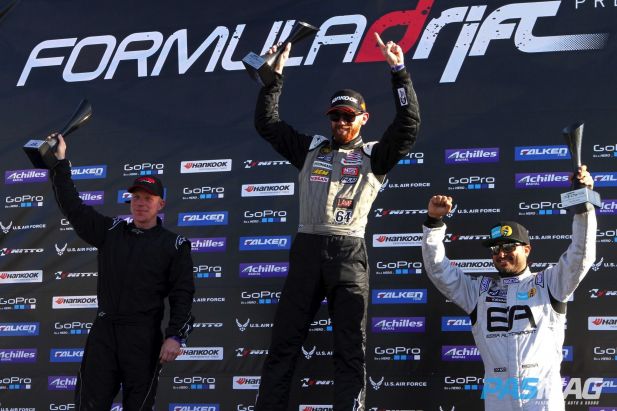 1. Forsberg and Essa are back to contend for the Title
Last year, Forsberg and Essa had a heated battle throughout the season, meeting three times in tandem competition. Both looked sharp in the first event of the season, and both landed on the podium although they didn't face one another. We expect the rivalry between these two to continue to grow this season.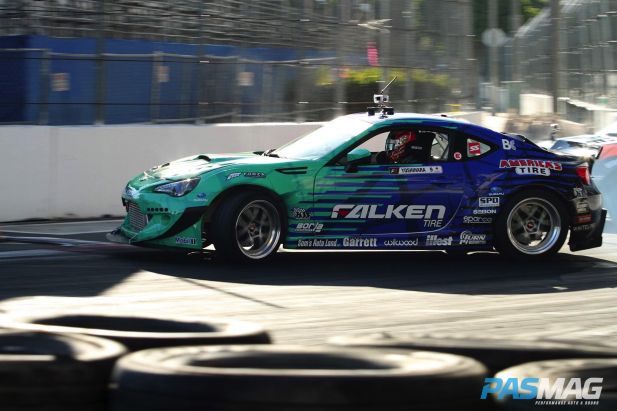 2. Dai Yoshihara's BRZ is the craziest off-season build
While there are only a handful of new builds this season, Dai Yoshihara's turbocharged Chevy LS7-powered Subaru BRZ is the craziest build we've seen in quite a while. Completed by the team at SPD Metalworks, the car features some amazing engineering and has been several months in the works. We look forward to getting a closer look at it in future rounds.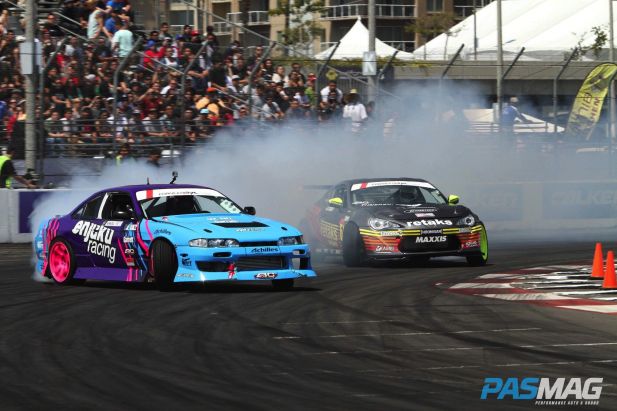 3. The rookie class is strong
Alex Hohnadell and Geoff Stoneback both had great battles in the Top 32 tandem round, looking just as competitive as many drivers who have been competing for several seasons. Last season, not a single rookie qualified in Long Beach, and many felt that the rookies weren't very competitive overall. This year, the first-timers is a group to watch closely!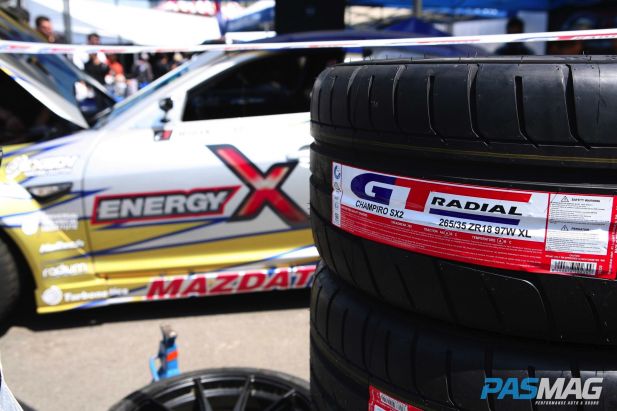 4. Nexen Tire out, GT Radial in as Formula D tire sponsor
Late in the offseason, Nexen decid- ed not to return to Formula D as a tire sponsor. This sent Odi Bakchis (Nitto), Ryan Kado (Yokohama), Joon Maeng (Maxxis), and Kyle Mohan (GT Radial) into a scramble to find new sponsors. For Mohan and rookie Tyler Wolfson, they are the first two drivers on GT Radial's SX2 tires, keeping the number of FD tire suppliers at eight.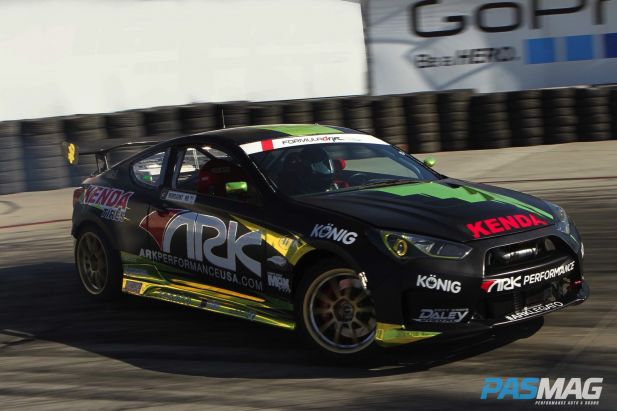 5. Hyundai has two cars in the series for the first time ever with Team ARK Performance
Rhys Millen competed in a Hyundai Genesis Coupe from 2009 to 2012, but for the first time ever, two Genesis Coupes will be competing in the series. Dennis Mertzanis will be piloting a newly- built Gen Coupe for Team ARK Performance, which is powered by a supercharged LS7. His former V6 turbocharged car will be driven by new teammate Pat Mordaunt.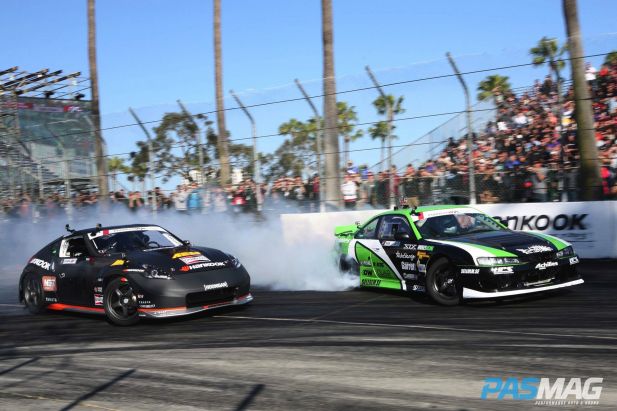 6. Keep an eye on Kenny Moen this season
Kenny Moen has been competing in Formula D for several seasons now, but his freshly-built Achilles Tire S14 looks much more competitive than his 350Z. His podium finish in Long Beach could mean a promising season is in store for the Norwegian driver.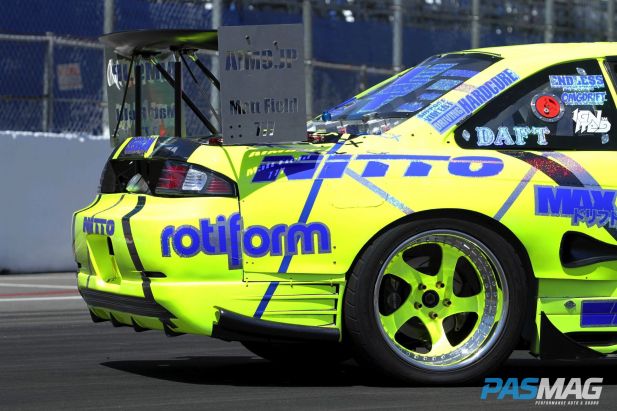 7. Ryan Kado, Matt Field and Chris Jeanneret had mechanical gremlins
We hate to see a driver unable to turn a tire on track all weekend, but for all three drivers, that was the case in Long Beach. Both Jeanneret and Kado's cars simply weren't completed until a few hours before the first competition. Look for both Jeanneret's Honda S2000 and Kado's 350Z to be sliding shortly. Field's car was seen in the pits, but some tuning issues kept him from competing. All three will be looking to make up for lost time in the next round at Road Atlanta.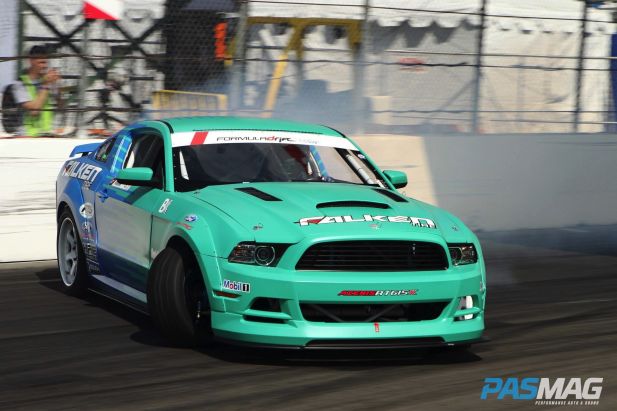 8. Third place is now decided by qualifying order
Due to time restraints, Formula D has decided that the third-place consolation battle will no longer happen. Instead, the lowest platform on the podium will be decided on qualifying order. At Long Beach Essa earned third place as the top qualifier over Justin Pawlak, who qualified sixth.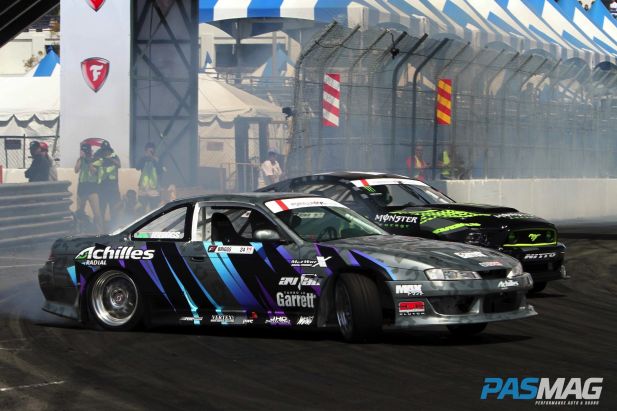 9. Canadian drivers are looking stronger than ever
For the first time ever, three Canadian drivers are looking to run a full season. Last season's Rookie of the Year Mats Baribeau (Brockville, Ontario), Dave Briggs (Richmond Hill, Ontario) and Marc Landreville (Montreal, Quebec) all qualified for the Top 32 tandem in Long Beach, and each had great battles. Baribeau earned a Top 16 appearance while Briggs pushed Formula D powerhouse Vaughn Git- tin Jr. to a 'one more time.' All three look promising based on their Long Beach performances.
10. PASMAG presents the 2014 FD Program Guide and 10th Anniversary Commemorative Photo Book
For the third consecutive year, PASMAG has partnered with Formula D to present the 2014 Program Guide. Read interviews with the defending champion Mike Essa, Baribeau and check out the anatomy of a drift car. Be sure to place your order for a copy of the limited edition 10th Anniversary Commemorative Photo Book. Don't delay as copies will only be available for a short time and are expected to sell out!
Order your copy of the Formula Drift 10th Anniversary Photo Book at www.pasmag.com/fd10.