Written by Paul Rachwal | Photography by Scion Canada | 02 January 2014
Scion, a division of Toyota exclusive to North America, launched its flagship offering, the FR-S, for the 2013 model year. The investment required to develop a new front-engine, rear-wheel drive platform is significant, so Toyota teamed with Subaru to not only share development costs, but also to provide engineering and manufacturing assistance to produce the FR-S and its Subaru-badged twin, the BRZ.
A significant amount of money is being poured in to market the sports coupe to enthusiasts and you can see some of it at work here. Scion Canada chose three teams to showcase the platform's tuning potential and modify their FR-Ss before competing in a series of events. Each team was given a brand-new car along with $15,000 to get their customization projects up and running.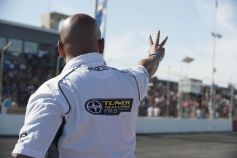 The teams are also free to seek sponsorship for parts and work. The stakes are high, as the winners will be allowed to keep their car, while the two losing teams will have to hand the keys back over, modifications and all. The cars have to retain their original engines and most of the Scion branding and styling, including street-legal rubber with a maximum 160 tread-wear rating. Additionally, each team can send only two members to each event and one of them must serve as captain. The winner of the competition racks up 10 points for their team, while second and third-place finishes earns seven and four points, respectively.
The team leaders are selected by Scion officials. Canada's West Coast is represented by British Columbia's Team VCMC. Heading it up is Richard Basford, and other members include Seb Cosovic, Richard Garau, and Ken Au-Yeung. Basford's daily grind involves working for a market research company but he's a car enthusiast at heart, as he also spends time working as a driving instructor.
"My main passion in life is driving fast," he says, matter-of-factly. VCMC is a Vancouver-area car club with a focus on grassroots motorsports, of which Basford has been a member for about a decade.
Team Top Tuner has built many magazine feature cars with most, if not all, gracing the cover of PASMAG. Edmund Manasan, a self-proclaimed industry visionary but whose office job involves business development for automotive website, leads the Top Tuner charge. Joining Manasan on the Top Tuner side are paint and body man Serge Leger, along with Tajai Das, Matt Law, and racing hotshoe Sasha Anis, responsible for all of the driving. Anis, a 2012 champion in the Canadian Touring Car Championship behind the wheel of a Genesis Coupe, is definitely one to watch for.
La Belle province is represented by Quebec native Dany Bernier (or Babu, as he is known for much of the competition), is well-known to his many fans for making appearances on Quebec television and radio. He's piloted a Canadian Touring Car Championship race car, spent time in drifting, and is now the Director of the DMCC (Drift Mania Canadian Championship). His partner in crime here is Jeremie Fortin, who performs management duties, searches for sponsors, and is in charge of modifying the car.
Round 1: Autocross – Barrie Molson Centre
The three FR-S coupes were among the very first to arrive in Canada during the summer of 2012, so few aftermarket parts were available.
At the first event in late August 2012, an autocross circuit, all eyes are on Basford, a man very much in his element. The venue – Barrie Molson Centre in Barrie, Ontario – is the final event of a local autocross championship. When the brake dust settles, Basford earns his stripes with a Fastest Time of the Day of 57.90 seconds while Anis, who is more accustomed to larger circuits, and suffers from less time spent tweaking the car, comes home a strong second with a time of 59.34. Babu couldn't help but showboat for the crowds with lots of tire smoke and a relatively leisurely 1.07.27.
A week later, the teams travel to the St. Eustache raceway in Quebec during a round of the DMCC for the Driving Skills Competition. It was a test of patience as it requires each driver to complete 10 laps while keeping a ball inside a bowl that is suctioned-cupped to the hood of each car. If the driver fails to keep the ball in place, he must return to the pits for a new one. Babu doesn't have to pit once and re-do any laps, exemplifying the turtle and the rabbit fable. Once he crosses the finish line, however, he reverts to his hooligan ways.
"I really did have to work hard to keep the ball in the damn cup," Babu said. "I loved the vibe, as my parents were there and the crowds were cheering."
Other drivers pit multiple times for a new ball, though Top Tuner's Anis makes less mistakes, earning him the second spot on the podium.
With a three-way tie after two rounds, the third event – Gymkhana – moves out west to Edmonton's Castrol Raceway in October. Made famous by Ken Block's YouTube antics, Gymkhana favours sliding cars around tight obstacles. The Top Tuner car is sporting an 80-shot nitrous oxide set-up to speed up their mount. VCMC posts a 55.1-second time, while Swag lays down a 54.9-second effort. Basford's jaw drops, as Babu pulls what appears to be the winning time late in the game. But, after touching a cone early in his run, Top Tuner's Sasha Anis wows the crowd with a 53.8-second run with the nitrous flowing to beat Babu and win the round.
Meanwhile at the drifting event at the same venue, it was seemingly Babu's time to shine. Canadian drifting champion Pat Cyr, who is hosting the entire challenge for the video coverage online, coaches the teams. Babu made an uncharacteristic mistake, however, spinning out on his final lap. Anis was aggressive and had the all-important angle, both of which were good enough for the win, while VCMC struggles but doesn't give up, and reaps the reward of a runner-up spot.
The next round was the most stereotypically Canadian, as it involves racing on a frozen lake at the Mecaglisse Race Track in Quebec. All cars ride on studded tires, and some teams even installed standard suspensions. It was now January 2013, and both VCMC and Swag are sporting new paintjobs for their cars, and VCMC is sporting a new turbocharger. The turbo lag, resulting jerky throttle response, and added power can't be put to good use on the slippery surface, however. Anis applies a professional strategy with slowly improving lap times, and calling it quits once he was satisfied. Babu was initially fast, but then begins having too much fun, throwing the FR-S sideways, producing huge rooster tails from the metal-studded tires. In the end, Anis' 2:23.2 lap bests Babu's 2:30.2 and Basford's 2:27.9.
Scion then took the cars on a show tour that includes the Canadian International Auto Show in Toronto and its Vancouver equivalent.
When they come back, the FR-S/GT86/BRZ platform in now on Canadian soil for about a year and the aftermarket is beginning to catch up. The tuning arms race is now underway, with Top Tuner countering VCMC's turbo with a bolt-on supercharger kit from Innovate.
"The supercharger was a matter of logistics and time," Manasan offered. "We focused on the widebody and paint and didn't have time to fiddle around with a turbocharger." VCMC, however, chooses to upgrade their system's heart with a larger Borg Warner unit, ditching the original Garrett GT28X in the process.
The new mods are then put to the test at Mission Raceway in Vancouver, British Columbia during a trio of competitions. The time attack, drag race, and show 'n' shine all took place on the left coast. VCMC had the home-field advantage for the first comparison, as Basford instructs at the track. His 1:15.1 posting is good enough for the win, a personal best to boot. Top Tuner's time was within a second, which is a testament to how close the racing actually was.
"I'm surprised we came to Vancouver and lapped the track six times and came within just 0.7 seconds of VCMC's winning time, who pretty much lives at the track," said Manasan.
At the drag strip on the same day, the French-Canadians are simply outgunned. Their best effort of 15.69 seconds is well short of Team VCMC's 13.49-second ET. Top Tuner is tops with 13.18 during qualifying, pitting them against VCMC in the finals. Their supercharger gets them out of the hole quickest, while the nitrous bottle helps out up top. The final, street-style race is dramatic as the two cars are side-by-side most of the way down the track. The Tuners, perhaps, abuse the juice, as the car slows suddenly at the top just as it prepares to pass Basford. A blown piston is likely the result, though Manasan prefers to call it a sparkplug malfunction.
"We got a little lucky there," a smiling Basford admits.
Next up is ImportFest Vancouver for the show portion. Serge Leger took Top Tuner's FR-S into his shop in Shediac, New Brunswick for a few days, and his hard work on the FR-S pays off, as his team wins handily. Swag tries to appeal to the hockey fan by throwing up NHL '95 from a nearby projector on the outside of the passenger door. Their Burberry-liveried coupe also garners some fashion points. VCMC let showgoers climb into their spotless car, with a roll-cage acting like a jungle gym. Judges allot points based on a list of criteria, and Swag simply doesn't have enough work done to the car to place higher than last, despite their one-off carbon fibre hood and trunklid.
The Media Challenge at the ICAR Circuit in Mirabel, Quebec comes next, with the teams offering up the keys and seats of their creations to three automotive journalists. The scribes are given a standard FR-S to lap around the track, followed by a stint in each of the modified versions of the car. "The FR-S is a hugely reliable car. We beat on the car on the track and just changed the oil," Babu said.
Surprisingly, VCMC edged out Top Tuner, and Swag's largely standard car doesn't impress. The outcome was largely subjective, however, as the writers give points for comfort, equipment, and ride quality, as well as perceived durability.
The Endurance event takes place at Toronto Motorsports Park (TMP) in Cayuga, Ontario, on September 22, coinciding with the final event of the season for the Canadian Sport Compact Series (CSCS). It amalgamates drifting, a time-attack, and drag racing, with all worth a single event's worth of points. The day is mostly gloomy and cold, with the sun shining only in the morning hours. Unfortunately, Team VCMC chooses to "de-content" their car for fear of losing it. Their investment of time and money exceeds Scion's donation by a wide margin, they reason. The West Coast team removes the turbo kit, replacing it with a 50-shot nitrous set-up, along with aerodynamic aids, brake and suspension upgrades. The wheels and tires are also changed, with the standard 17-inch wheels with stickier-than-stock rubber receiving the nod. With just three points separating the top two teams, however, the outcome isn't quite a foregone conclusion.
"The goal is to push as hard as possible," said Basford.
"It's become a lot closer than it should have," Manasan said in the weeks leading up to the final event. "VCMC built a very good race car."
Early in the morning, during on-track practice, Top Tuner's Anis has a momentary lapse of concentration and kisses the TMP wall. The damage seems cosmetic, but after the green FR-S pulls into the pits, it was clear the lower control arm was bent. Luckily, local enthusiast and FR-S owner, Andrew Paton, produces a donor A-arm from his car. Anis, eager to make up for his mistake, quickly transfers the part before Paton could change his mind. Anis was pulling triple duty, lapping his own race-prepped 350Z in the Unlimited RWD class (and winning), in addition to wrenching and piloting the FR-S.
Drag racing is first up, though it is limited to an 1/8th-mile rather than the traditional quarter-mile format due to the weather. As such, it favours traction and reaction time rather than outright power. Basford/VCMC is up first, managing a 9.21 at 84.16 baseline. Babu is next, throwing down a 10.89/71.51 mph effort on his maiden attempt. Anis/Top Tuner matched Basford's 9.21-second pass, but was slightly faster, at 84.76 mph. Basford's second launch improves, resulting in 9.1 seconds at 84.19 mph. Babu also improves with a 9.75-second, 73.93 mph showing. Anis posts his very best next, at 9.19 seconds. If Basford wasn't spraying nitrous earlier, he sure is at the end, putting the final nail in the coffin during his third run, with a 8.70-second sprint. Babu's last run is also his quickest, at 9.65. Anis' final pass is nothing to write home about, however, at 9.35 seconds.
The Time Attack challenge comes next, with all three cars spaced out evenly on the road course and running at the same time. On the first hot lap, Top Tuner's car belches out white smoke at the end of the front straight. Basford quickly closes the gap to the ailing green car, passing it eventually as Anis exits the track. Other than Top Tuner's rotten luck, the headline is how close the top two times are. Basford's winning 1:29.045 lap time is a testament to his driving skill in the now nearly-stock FR-S, which rolls and pitches around curves, while Babu and his lowered, big-braked and otherwise better-suited FR-S manages a 1:29.625 lap. Anis, nursing his hurting FR-S, can only muster a 1:40.985 lap.
Refusing to accept defeat, the Top Tuners fill the crankcase with fresh oil and aim to start and finish the drift competition. So it is now between VCMC and Swag for the win here, and it is a close call. With a stock suspension and engine, sticky rubber, and inexperience compared to Babu, Basford is fighting a losing battle, though the judges still award him 7.1 points to Swag's 7.2. Top Tuner receives just one point for its parade lap. VCMC wins the overall Endurance challenge, so stripping their car of the go-fast goodies doesn't hurt them.
So, after a year and a half and 11 grueling rounds, the final margin is two measly points. The final day was full of emotion, with joy, hope, excitement, and disappointment. Top Tuner was ecstatic about winning the car, though they are disappointed with their final performance on home turf.
Manasan was quick to thank Scion Canada for sponsoring the enormous series of events, noting "it was insane, it was up and down."
Was it money well spent? Only the marketers at Scion Canada can attempt to answer this question, but the fact is that the FR-S and its twin are the best things to happen to driving enthusiasts in a very long time.