Written by Jeremy Alan Glover | Photos by: Jeremy Alan Glover | 19 December 2013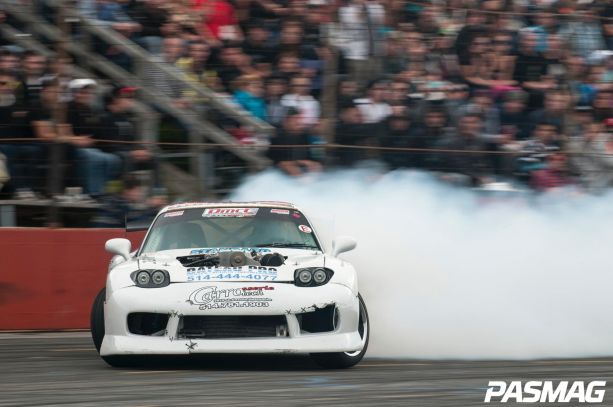 The 2013 DMCC season was one of the craziest seasons to date and with 8 rounds it was also the longest season DMCC has ever had. The championship came down to the very last round at Sanair where Francis Tasse took home his first championship as a DMCC Pro driver. Francis is no stranger to being on the podium, last season in his first full season as a Pro he finished 3rd in the championship race.
| | |
| --- | --- |
| | |
For the 2013 season he started off with an entirely new set up. The season before he drove a S14 running a supercharged V8 that put down some good power, but for the new season Francis wanted something different. He picked up a Mazda RX7 FD chassis that was already in the process of being turned into a drift car. In true "Tasse" fashion, an LS3 V8 was thrown into the engine bay and with a nice supercharger sitting on top, the car was putting down a staggering amount of hp, around 900 whp. With a bad ass wide body kit and some crazy wide Falken tires the car was ready to rip. It's funny that Francis' car had the most HP out of all the cars in the DMCC field yet was still not as powerful as Francis' street car. Running a 1212hp TT Viper as his almost daily driver, Francis is more then used to driving powerful cars.

| | |
| --- | --- |
| | |
This season also saw the dawn of a much more relaxed and precise Francis Tasse. In previous seasons Francis let his right foot do the talking and was very aggressive in his driving style. I can remember when he got his first win in ProAm at the Montmagny racetrack. For his victory lap he linked both bowls of the oval together over and over until a track official had to stop him due to his car overheating. As cool as it was to watch Francis drive balls out all the time it also cost him a few victories. It showed that his new way of competing paid off as he earned the podium more then a few times this season.
| | |
| --- | --- |
| | |
In Francis' own words he had an easier season then he should have to win the championship. Last year's champ Marc Landreville was plagued with mechanical issues, Pat Cyr was in the R&D process with his new FRS, and Dave Briggs missed a bunch of events due to competing in FD. This is not to say that Francis did not earn his place. He had more then one hard battle and the championship still came down to the very last event as the points were pretty tight between him and Max Lemoine.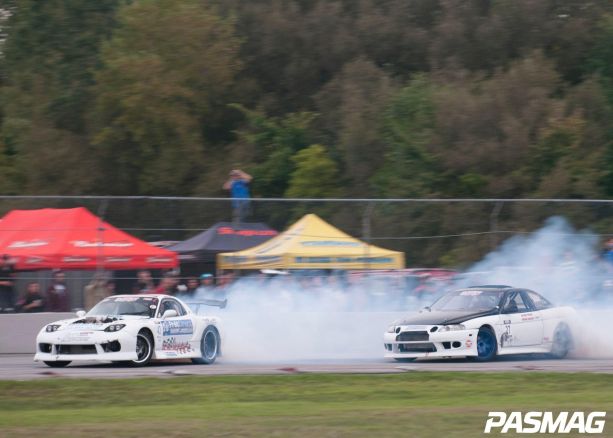 Besides the long list of sponsors that helped Francis achieve his 2013 championship, there was one main person that really backed Francis through out his season, his dad. It was always really nice to see that every time Francis would make it onto the podium he would get his dad to join him and enjoy the champagne.
When asked if he had any plans for next season, Francis just laughed and said that he will keep everything pretty much the same and continue to have fun.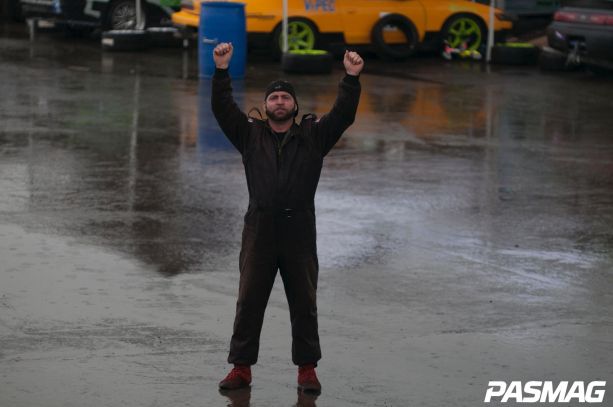 Essentials
Driver: Francis Tasse
Team: Francis Tasse Racing Team
Built by: Pro Fusion and Advance EFI performance.
Engine: 6.2L V8 out of a Camaro with a 3.6 Kenne Bell Supercharger
Horsepower: 900
Torque: 780


Engine Modifications
Exhaust: Custom 3" dual set up
Transmission: Modified Viper Dog Box
Chassis: 1995 FD3S RX-7
Standard: Standard Suspension
Wheels: XXR 18x10.5
Interior: Sparco Sprint seats
Exterior: B Sport Wide body kit
Electronic: Vipec V88 ECU
Sponsors: Couvreur S. Querry, Garrage du plateau, Performance 5 Etoiles, Bateau Pro Mascouche, Carrosserie Carrotech, Transport BMA MPR, Advance EFI Performance, Standard Suspension, Patate ST Pierre Construction, Joval, Bronzage au