Written by Dave Pankew // Photos by JP Kongas | 10 December 2009
If you are into upgrading cars, chances are you have installed a part that at one time or another changed hands through Motovicity Distribution. Located just outside the 'Motor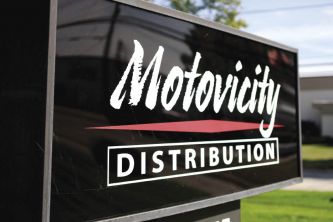 City' Detroit, Michigan, Motovicity is a wholesale distributor who carries many brands to supply the speed shops you end up getting parts from. Everything from OEM-grade parts to the kind of stuff you only find on 1,000hp drag cars, Motovicity likely has it in stock waiting for hardcore specialty shops across the country with eager customers.
Housed in a non-descript suburb of Detroit, Motovicity occupies 45,000 sq. ft. of warehouse and administrative space. Started back in 1998 by Malen Reger, Motovicity was little more than a temporary building operating out of a section of their sister company's warehouse. Hard work and dedication has made Motovicity's business grow exponentially. The bustling atmosphere is filled with the sounds of phones ringing and deals of all sizes going down. The staff consists of educated, enthusiastic and passionate individuals. The Motovicity formula allows them to make sound recommendations to their clientele and about specialized applications. Should any need arise for support or guidance during install, the staff are capable of fielding technical questions. In the rapidly changing tuner market, technology never sleeps and the staff is constantly honing their knowledge of new products.
Motovicity prides itself on a two-step style of distribution where manufacturers supply products to wholesalers and then to their dealer network. They certify that they will

never deal direct with the public as commonly done by other wholesale distributors but rather redirect those end user phone calls to their nearest dealer. Motovicity vows to never be competing against their dealers, and are dedicated to helping their dealers grow in a scenario where everyone wins.
We got a chance to see behind the walls where many consumers will never go. The inventory in stock was impressive, with several hundred gauges and performance electronics to a wall housing dozens of Exedy carbon clutches. More frequently purchased parts such as Tokico dampers and DBA brakes occupy entire rows floor to ceiling with every application imaginable. When it comes to performance electronics and gauges an entire room is dedicated to warehouse gear from some of the leaders such as: AEM, Auto Meter, A'PEXi, Defi and many more. True to the 12V roots of their sister company, Motovicity also distributes no less than 20 brands with some of the largest names around like Pioneer and Metra; everything from wiring to GPS units are all available through Motovicity.
Motovicity is committed to not only keeping their staff up to speed on the latest gadgetry but they regularly educate their dealer network as well. During our tour Kirk Miller from AEM was holding a class for Motovicity dealers focusing on their latest performance electronics gear and of course, the venerable AEM Engine Management System. Dealing with Motovicity not only allows access to a wide range of products but the knowledge on how to effectively sell and install them too.
With all of that stock, Motovicity is able to offer industry leading guarantees. If the item is in stock, they will ship it out within one day of receiving the order. There was a method to
choosing this location as well being that it was located in the mid-west and the entire country is accessible with quicker and more affordable shipping. Their belief is…Why wait for something from the West Coast and pay more in shipping when you can have it at your shop next day?
With the right philosophy, location and support, dealing with Motovicity is a logical choice for tuning shops around the country. Whether you are a major retailer in the industry looking to expand your product line or even a new startup shop looking to turn your passion for tuning into a business, Motovicity has you covered. For a full list of Motovicity's brands and all of the contact info, www.motovicity.com is a great place to start.
Motovicity vows to never be competing against their dealers, and are dedicated to helping their dealers grow in a scenario where everyone wins.

www.motovicity.com