28 January 2013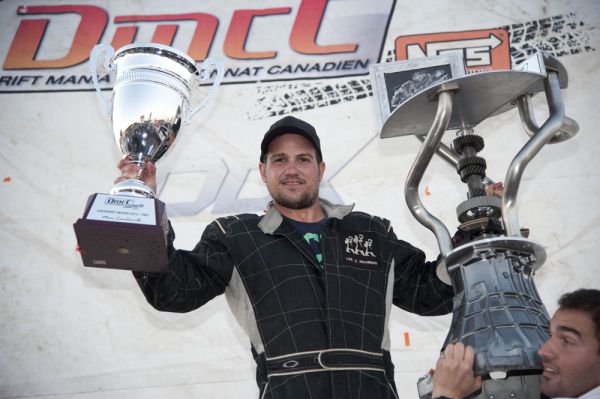 It was a pretty crazy season for the DMCC series. New drivers, tight battles and Mother Nature played into a championship that went down to the wire at the final round of the season. DMCC veteran Marc Landreville and his trusty JDM S14 took home the championship title by only a few points.
Landreville's car saw its share of tight battles and scrapes with the wall, but his car was always solid and ready for the next round. A crowd favorite with his hardcore driving style, Landreville's 550 hp SR20VET and rally inspired anti-lag set up not only sounds like a pop corn machine from hell, it spits fire too. What's not to like? We asked Marc a few questions about his championship winning season. Here is what he had to say.
What was your best moment this season?
Best moment was my victory in round five. I got second place at a few previous events and taking home a win felt good. Winning the overall championship was great too!
What were the worst moments?
Round three in Toronto when my rear knuckles broke, knocking me out early. I ended up finishing fourth which was a shame because the car was running great all day.
Who did you like competing against the most?
Tom Tom was the most fun to tandem with. We would often run each other in practice; he has a similar style and would run the same lines. I'd also bug his sister after our tandems.
Who was the hardest battle?
Hardest battle was in round seven against Jeff Laflamme. The track was a simple lay out and it was pretty easy to get proximity, which made it hard for the judges to find a clear winner. It went to two "One More Times" and that's when my engine decided to let go, giving the win to Jeff.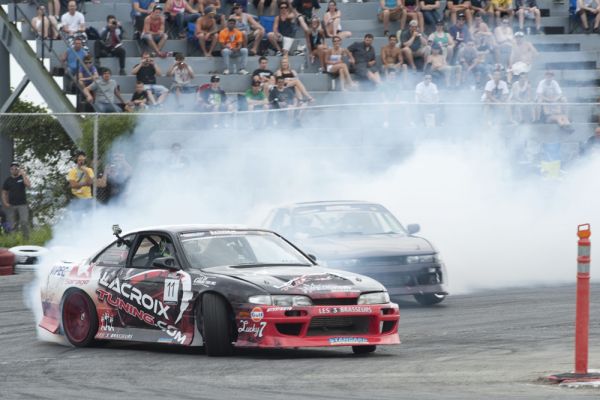 What was your favorite track this year?
The Autodrome St-Eustache is my favorite track because of its high speeds and technical corners with the added danger of the walls.
Plans for next season?
For next season we are going to push to get the championship a second year in a row and head out to the states to try our hand at some FD events.
Are you changing your car for next season?
We are currently building an RX-7 but we will only decide what car we are using after some test days.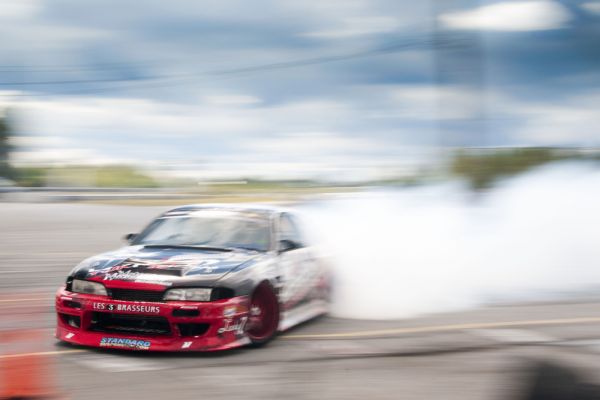 How does it feel to finally take home the championship?
After three seasons in DMCC and coming a hair from taking home the championship, it feels great to finally have it under my belt.
People you would like to thank?
I'd like to thank my team. Michel Durocher, Maxime Baller, Frederic Marineau, Patrick Briand, Enrico Mastroluca, Denis Landreville, Lucie Bergeron. My girlfriend Lisa Masse who did the design of my car, flyers and other hero cards, as well as my sponsors.
Conclusion:
From day one, Landreville has been a contender in the DMCC series. Even in his first pro event in the series he showed his skill, taking the second podium position. With new drivers and cars coming into the mix in 2013, it won't be easy for Landreville to double down, but he definitely has the talent to do pull it off.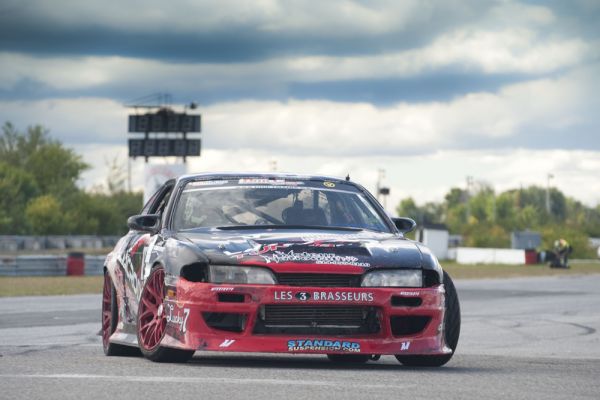 Essentials
Vehicle: 1994 Nissan S14 RHD
Driver: Marc Landreville
Team: Marc Landreville Racing
Built By: Marc Landreville Racing
Engine: SR20VET
HP: 550 hp
Engine Modifications
SR20DET (block and crank balancer)
JE Piston 9:01 compression
Eagle Rod crankshaft
ATI damper
ACL Race bearing
GReddy (head gasket and oil pan)
Garret GTX 30/76 turbocharger
Mazworx intake manifold and fuel rail
Pro-Fusion custom intercooler and piping
Mishimoto X-line 3 row radiator, oil cooler with electric fan
SR20VE N1 oil pump and head (ported by Moteur National)
ARP Bolts head and main studs
Brian Crower retainer and valve guide
TiAL 44 mm wastegate
Injector Dynamics 1000cc injectors
B&M pressure regulator
80 mm throttle body
Mazworx VVL solenoid conversion kit
AEM (crank angle sensor, twin spark ignition)
Vi-pec (V44 ECU, water temp)
BOSCH coil pack
Braided clutch line
BMW (intake air controller)
ATL 40L fuel cell
Exhaust
Mazworx exhaust manifold
Custom 3-in. exhaust
Custom 3-in. downpipe
Drivetrain
Nissan 300ZX Z32 transmission
Exedy Hyper Single Clutch
OS Giken LSD five-way differential with 4:63 gear ratio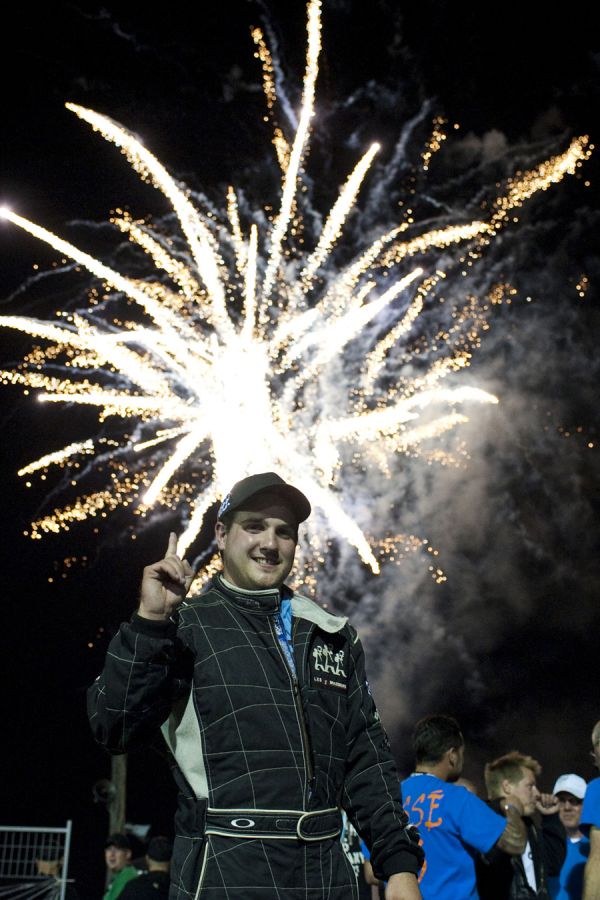 Chassis / Suspension
Aluminum sub-frame bushing
Standard Suspension R3 full coilover system
Driftworks (front knuckle and tie-rod spacer)
TEIN (tie rod and tie rod end)
Cusco (camber arm, toe rod)
Pro-fusion twin caliper custom setup
Nissan GT-R (front and rear sway bar)
Wheels / Tires / Brakes
DAI Autobahn Wheels - 18 x 10 (f/r)
Brembo brakes (300ZX Z32)
Exterior

Full D-Max body kit
Lexan windows
HID headlights
Kouki taillights
Interior
Full cage (DMCC and FD spec)
Fully-stripped interior
GReddy boost, oil pressure, oil temp and water temp gauge
Nardi steering wheel
Bride seats - Zeta III (driver), Zeta II (passenger)
Sparco six-point harness
Fire extinguisher
Driver and passenger cooling fan
Sponsors

Lacroix Tuning, Bar le Garage, Restaurants les 3 Brasseurs, Standard Suspension, Le Roi Du Camion, Moteur National, Synergie Produit Soudure, Lucky7 Clothing, Gulf Oil, Pro-fusion, Mishimoto, RL Autorepair, Ora Cosmetique, PB Kreation, Autodrome St-Eustache, Vipec Powersport, Transmition Bélisle, Canadian Tire, DAI Alloy Wheels