25 October 2011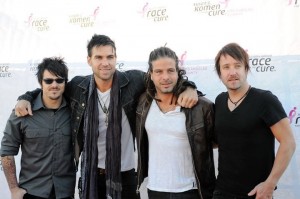 Omaha car audio competitor Christina Biodrowski is tickled pink after the sponsorship with Australian rock band Juke Kartel and Susan G Komen foundation.

33 year old Christina Biodrowski is no stranger to the car audio scene as her husband Jamie has been a long time SPL Competitor. It wasn't until the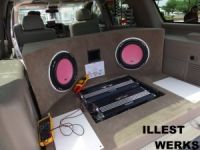 passing of her mother in 2008 that prompted the women to do something creative with her own vehicle. . Something in the sport she loves, that would make her mother proud.

In 1997 Christina Biodrowski's mother, Alice Collins, was diagnosed with Breast Cancer. In 1998 she had a Mastectomy and went through Chemo and Radiation treatments. The treatments seemed to work as Collins got news the cancer was gone and stayed in remission for 8 years. In 2006 Alice was not feeling well and returned to the doctor only to find out that the cancer had returned. She again went through treatments but this time the cancer spread to other parts of her body. On June 30 of 2008, Christina lost her mom to Breast Cancer.

After a pain staking two years of morning her loss, Christina felt it was time to get more involved in Breast Cancer Awareness. "What better way to promote this cause than to do it through something I love doing," said Biodrowski. "There are a lot of people we see at car shows and competitions we go to on weekends. So I started handing out Susan G Komen pamphlets at shows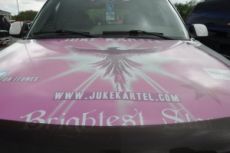 with my husband, but this just wasn't enough for me. I wanted to do more."

Christina contacted the folks of T3 AUDIO and asked if they could special design some pink subwoofers for her white 2002 Chevy Tahoe. "I wanted to put together a build in my Tahoe in memory of my mother and losing her to Breast Cancer. I was going to name this build "Bumpin for Breast Cancer," said Biodrowski. "I received an email back shortly from T3's Ed Lester & Jonathan Demuth who offered me an opportunity I could not pass up. I was offered a sponsorship of two T3 T1000 12" pink subwoofers and any door speakers needed. Who wouldn't agree to that! Obviously I said yes." Other factories that joined in the build were Cadence Audio, Stinger, Kinetik, Compustar, Hush Mat, Lomas Glass and Tint, Napa, Car Crafters, Taylor Marine, Stock Building Supply. Installation was performed by Bryan Piper at Innovative Audio and Styling in Albuquerque, New Mexico.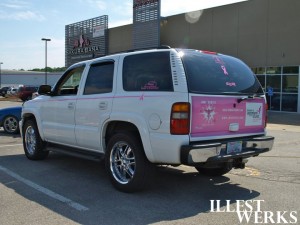 After hearing her story compelling story, Christina was next contacted by Jeff "Boody" Budin of Boody's Garage. "This women's story hit home as I just lost my father to cancer a year ago," explains Budin. "I seen what she was up to and thought I could add some instant national media exposure." Boody has been long time friends with an Australian Rock band (now in L.A.) called Juke Kartel. The band had just finished the release of a new single titled "Brightest Star." The music became the theme song for the SUSAN G KOMEN Foundation (L.A. District). "I contacted my Aussie mates to see if they could help Christina get some national media exposure. I wanted to do a partial pink vinyl wrap on Christina's vehicle promoting the band and the song. This way Christina's hard work would be seen by over 13,000 of Juke Kartel fans on its social network," said Budin. The band jumped for the opportunity. "Boody is a freaking Legend!" tells Juke Kartel bassist Tommy Kende. "We loved the idea and got the foundation involved immediately."
Follow us on Facebook at http://www.facebook.com/#!/jukekartel1
The vinyl wrap was completed shortly after by 7th Star Wraps (Omaha). The wrap reads that with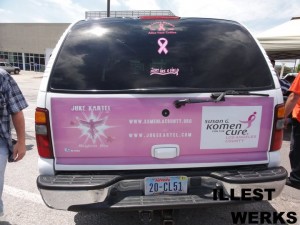 every I-Tunes download of the band's hit "Brightest Star" proceeds are donated to the Susan G Komen Foundation.
When asked about her recent sponsorship Christina replied. "When Boody first proposed this idea to me I was like, OK, Wait, how do you know an Australian band? Ha,Ha,Ha!" chuckled Biodrowski. "Turn's out Jeff had it all figured out. This wrap gives my ride the exposure I wanted for Breast Cancer Awareness & Juke Kartel's music is amazing. I can't wait for their tour to come to Omaha this week. A huge thank you to Ed, Jonathan, Bryan, Boody and all that helped make my dream of this build into reality."
In Memory of Alice F. Collins 1956-2008
---
For more information on T3 Audio log onto
http://t3audio.com
For more information of Juke Kartel log onto
http://www.jukekartel.com
For more goings on with Boody's Garage log onto
www.boodysgarage.com
Follow 12voltnews.com on Facebook at
http://www.facebook.com/12voltnews
Follow 12voltnews.com on Twitter at
http://twitter.com/#!/12voltnews