Written by Text by Dave MacKinnon Photos by IAC and BPIMAGING.COM | 06 June 2011
The PASMAG project Scion continues to evolve, so it's time to take a look at what has become of our Scion tC. With the audio system essentially completed, it was time to turn the car over to the capable staff of IAC. Our car was stripped down to its bare skin. The bumpers, front fenders, doors, hood and trunk were the first to be removed, followed immediately by all the windows. This would ensure that the new paint scheme would look perfect on top of the fresh Alpine White factory paint.
Our new Five Axis body kit was prepped for paint at the same time. This new 5 piece body kit includes a front lip spoiler, side skirts and rear valence spats. Given their expertise with auto component design, it was no surprise then that the kit fit perfectly. The body and ground effects were scuffed to allow for perfect and reliable adhesion of the new paint job. Everything was masked and cleaned one last time and the car rolled in to the paint booth for its new flat black skin.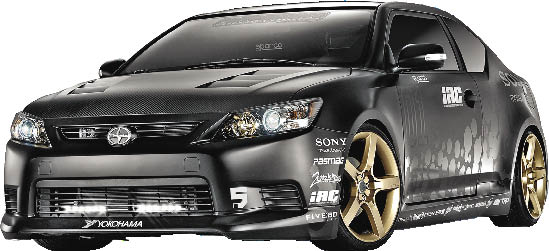 With the paint still drying, we got in touch with the carbon fiber geniuses at Seibon and ordered up a new rear hatch and louvered hood. These premium components not only look great, but save some significant weight over the stock pieces. They also bolt in place without any hassle, requiring only that the rear window be installed properly by a professional. Did we mention the flat finish on the carbon matches our theme perfectly?
With the car back together, it was time to spend some time on the interior. The factory seats came out and were replaced with a set of Sparco Chrono Road seats, finished in black. These seats retain seat back angle adjustability; ensuring all the PAS staff can get comfortable in them. To ensure a safe and solid installation, we used Sparco seat base kits for a perfect alignment.
While inside the car, the stock shift knob was replaced with a Sparco Globe unit with a black leather insert around the perimeter. Sparco Grip pedals were installed at the same time to keep up with out fancy footwork while travelling from event to event.
We'll be making some performance upgrades to the car next time, including exhaust, intake and gauges – so stay tuned.
Being the efficient souls we are, we didn't just order the body kit when we were on the phone with Five Axis. A set of their awesome 5-spoke R5:F wheels were finished in bronze – just for us. Their regular offerings include silver, gunmetal and stealth chrome. We wrapped the 19" rollers in fresh Yokohama S drive rubber, sized at a thin-sidewall 215-35/19.
Once back together, we turned the car over to Mike at Shinzo Media Group to design the graphics package. We know Mike well, and he's done work for us and hundreds of our industry friends in the past. He came up with the subtle black on black bubble and race theme that the car wears. He also took care of giving love to our long list of sponsors with white corporate logos around the bottom of the car.