Written by Dave Pankew // Photos By www.pulstar.com & JP Kongas | 01 September 2007
You have all seen them, the miracle product that has outrageous horsepower gains, improved fuel economy and solves all your problems….all for the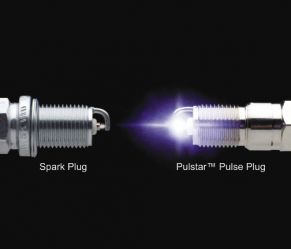 low price of only $29.95. Well we have, sometimes we feel we have seen it all but occasionally are blown away with how great an unsuspecting product really is. So when we heard rumblings about the new plug in town, we had doubts and now we have to make some excuses because this pulse plug technology really is amazing.
The Pulstar pulse plug from Enerpulse seemed like an unlikely place to find notable horsepower gains. And we also had to account for the notion that, any new, properly gapped plugs in a car will make it rip. So, we ensured that the plugs already in the car were new, gapped and ready to lay down and optimal baseline run. We slipped in some new plugs and zipped down to our dyno facilities located at Splitfire Performance in Brampton, ON (www.splitfireperformance.com).
The baseline run was done three times and we took the highest value out of those to use. The irony was that even the highest was still low in our tester a 1.6L non-VTEC Civic (EG), hey we're used to big numbers, what can we say? The Civic laid down 94.6whp with 89.7lb-ft of torque and now it was time to pull the (new) plugs.
The Pulstar appears like a normal plug from the outside. Threads, electrode, ceramic jacket and the like but the cutaway shows something dramatically
different. While the traditional 100 year old technology of spark plugs is a straight through design, the radical Pulstar design features what they call a 'pulse circuit' which features a capacitor. This pulse circuit captures the energy wasted by traditional spark plugs and increases the outgoing discharge power by a measure as high as 10 times. Since this results in a more efficient burn of the fuel mixture, it ignites faster, resulting in a more intense combustion, resulting in more horsepower and torque.
All this technology making you dizzy? Well, you are not alone. We talked with Sasha Anis owner of SG Motorsport (www.sg-motorsport.com), who tossed them in a 350Z with only intake and exhaust. As a racer in the Koni Challenge series, he has seen lots of products supposed to give him an edge but nothing like this. "I'm still wrapping my head around how this works" says Anis. But he claims in stock or mild-modded cars it works great because his Z saw a 10whp gain!
And that is really the huge underlying benefit switching to Pulstar plugs, power-to-cost factor. Whether it is a cold air intake, an exhaust or a new ignition, nothing offers the cost efficiency of installing a set of the Pulstars. And furthermore, the benefit to cars that already had turbochargers was substantial. They suggested torque gains as high as 12.1% in a Volvo S80 2.8L turbo, which on
a 280lb-ft engine was 34lb-ft!
When it came to our test vehicle, we were ready to see some decent gains too. After the dust settled, we saw an increase of 3.1whp and 2.6lb-ft of torque. Not bad at all considering this car doesn't crack 100whp making it a gain you could feel at just over 3%. Remember, the more displacement or forced induction, the gains will be more eye-popping. And check this out, when not beating on your motor unlocking your new power gains, your fuel efficiency will boost up. Again, the Pulstar tests on various cars saw fuel efficiency balloon up to 10.5% in some cases and our Civic went from 450km per tank to almost 600! So, the plugs will pay for themselves quick-time with today's lofty gas prices.