Written by Dave Pankew Photos by Manufacturer | 13 October 2010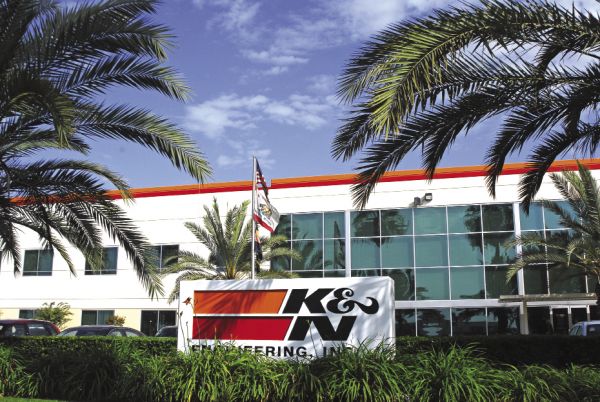 When it comes to performance filters and intakes with an extreme emphasis on filtration, enthusiasts don't have to look much further than K&N Engineering. The massive aftermarket company located in Riverside, CA has truly covered the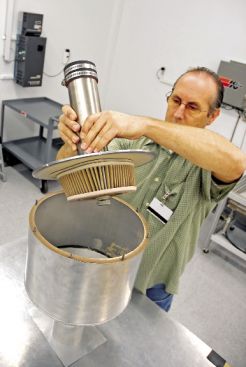 entire market. And not just filters, cold air intakes and OEM (Original Equipment Manufacturer) panels either, but a multitude of products including: oil filters, air/fuel ratio monitors, plenums, fittings, tools and several carbon fiber parts.
K&N employs highly skilled professionals for every areas of their business. They have a full staff of engineers and product developers using the latest software and technology to stay ahead of the competition. The company does not look to other companies for technology because they design and build almost 100% of the tool and the machinery used to construct their products. The process of proprietary machinery means no other company will copy their technology and much of it has never been seen in detail by the general public. With three separate machine shops on site, K&N has acquired the latest CNC-machining stations and CNC-benders for extreme accuracy and low tolerances.
The K&N filter media itself consists of high quality raw materials. Premium cotton gauze is mated with epoxy-coated screen mesh and run through proprietary pleating machines. Designed to exacting standards and dimensions, K&N has used hundreds of OEM air boxes to find perfect dimensions for various OEM panel filter replacements. The precise mold making process ensures proper fitment and proven horsepower. The cone replacement filters and those used in various K&N intakes are made in a proprietary machine to exacting standards. Along the assembly line, the filters hit the oiling machine, which dispenses the correct amount of an exclusive blend to ensure all of the particulate is trapped in the filter and not your engine.
| | | |
| --- | --- | --- |
| | | |
All K&N intakes begin as handmade prototypes to ensure exact fitment in the engine bay of the application. They are then tested on in-house dynos to gain maximum horsepower, meet emissions standards and to prevent any 'check engine' warning lights from turning on. Once the design is finalized it goes into production, and all aluminum intake tubes are bent, machined, welded, polished and powder-coated in house. Every system is fully manufactured, assembled and tested within these walls and the results speak for themselves. Some of the Typhoon systems have made serious gains for many cars. As Special Projects Manager, Nestor Cabrera pointed out to us, "If K&N can't extract
a substantial amount of horsepower on a certain car, they won't make an intake for it."
Product testing is one of the great benefits consumers receive when they buy K&N. They have several dynos on site, as well as bench testing equipment to put their filters and intakes through dozens of tests:
Filtration Test Lab (Conforms to ISO-5011 Standards)
Four AWD Chassis Dynos
Three Motorcycle and ATV Dynos
Oversized Vehicle Dyno
Three SuperFlow Flowbenches
Engine Dyno
MAF Sensor Test System
Vibration Test System
Tensile Strength Test System
The rigorous testing allows K&N to boast the best warranty in the business for their products. Most of the air filter products carry a 1 Million Mile Warranty meaning if, for any reason, one of their products is not performing or fails due to defects in workmanship, K&N will replace it no questions asked. Plus, they can replace it quickly thanks to a massive warehouse and product inventory. The K&N facility covers 400,000sq ft. with the majority of taken up by a fully automated warehouse. Their substantial amount of stock for each
product number means that waiting on
a back-ordered item never happens.
While other intake manufacturers might make lofty horsepower claims and cool noises, at K&N the focus is on filtration. Filtering out the dirt and debris that shorten the life of your engine while making serious horsepower gains in
the process. When it comes to making safe and reliable power, K&N has the market covered.