Written by Dave Pankew // Photos By: JP Kongas | 27 August 2008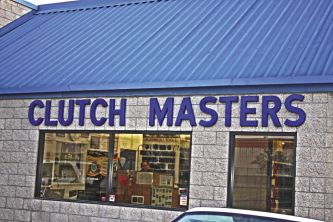 Here at PAS Magazine we always have the keys to the VIP. Not just in the clubs (that is a given), but I'm talking about manufacturers that open the doors to us and offer a glimpse about how products are made behind the walls that the public never sees. We are privy to all kinds of proprietary technology that we can't event talk about, but many areas of the manufacturing process that you'll definitely want to hear about. What special processes will make your parts stronger or perform better than the next one is something you need to read. Buying the right product isn't always about the biggest marketing campaign or the coolest anodizing or even the hottest racer sponsored. We got an invite from established clutch maker, Clutch Masters to tour their Rialto, CA facility to find out how they design and manufacture heavy duty street and racing clutches.
The mission statement at Clutch Masters has always been that increasing clamping pressure does not necessarily mean increased pedal pressure and all of the associated problems with a heavy duty clutch. Problems like premature clutch slave and component wear or the dreaded crank-walk in some applications. Today, thanks to Clutch Masters, increased holding pressure does not necessarily mean increased pedal pressure and the problems that can accompany it. By re-engineering the leverage or fulcrum point on the pressure plate through their Hi-Leverage technique, Clutch Masters has increased clamping power, often without changing pedal pressure. Designing heavy duty and high performance clutches with a very high clamp load and high coefficient of friction
is a fairly simple engineering task. However, to do so without increasing pedal pressure has not been so easy. Debunking the myth that an increase in pedal pressure must accompany a high performance clutch with increased clamping force has been difficult.
While other clutch manufacturers may make similar claims, Clutch Masters has been perfecting their craft for over 30 years. Their product has been proven over and over on the race tracks and in spirited street driving. We got to take a first-hand look at how they backed up their marketing claims in the shop where their clutches are made. Clutch Masters clutches are made in the USA, which sits well with today's tuners. They do outsource some stamping for spring hubs, pressure plates and clutch covers to ISO 9001 certified manufacturers. The Rialto facility is primarily assembly of high-grade parts from around the country. With skilled staff and plenty of quality control, you can be assured that your clutch will meet or exceed expectations. Starting with the components, they are treated for strength before assembly. The diaphragm springs are re-arched and heat treated to increase tension and gain between 10-40% more clamping force for superior engagement.
Heat treating can make the diaphragm more brittle but Clutch Masters has found the sweet spot between strength and shock resistance. Another tip for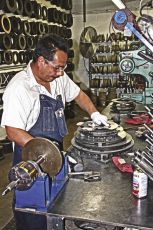 reducing pedal pressure is by producing a Hi-Leverage ductile iron casting with a redesigned pivot point to gain the perfect balance between a high clamp load and a stock pedal feel. With this design and the combination of top of the line components, it allows them to produce a pressure plate that delivers maximum clamping force with a minimal increase in pedal pressure. Disc components and friction materials are equally important; Clutch Masters makes every effort to source premium components and offer a wide variety of friction discs for all levels of performance. Clutch Masters also has a large offering of 2-Piece Billet Aluminum Flywheels for most applications. Ultra High Performance Custom Twin Disc assemblies are also available for many popular applications. Clutch Masters racing clutches and flywheels are SFI Certified.
Clutch Masters has done a solid job of seeing what is available out there in the market and improving upon it. Still got questions? Feel free to hit up www.clutchmasters.com or call them up at 909-877-6800 for any technical questions.