Written by Text By: Dave Pankew Photos By: Kevin Choi | 22 March 2010
Page 2 of 2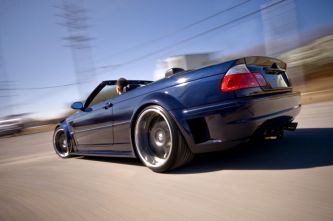 THE ESSENTIALS
Owner: Coung Phan
Location: Hagerstown, MD
Vehicle: 2002 BMW M3 Cabriolet

ENGINE
BMW 3.2L S54 inline-6

ENGINE MODIFICATIONS
K&N Intake
Race Flow exhaust
Rouge Engineering cut-out

WHEELS & TIRES
iForged Daytona wheels
F: 19x10-inch
R: 20x12-inch w/ 6-inch lip!
Continental Sport Contact 3 tires
F: 265/30R19
R: 305/25R20

SUSPENSION
H&R Coilovers
Ground Control Rear lower arms
Kmac camber kit

EXTERIOR
Flossman GTR Widebody kit
Asuka Designs vented carbon fiber hood
smoked corners
Black roundels
Umnitza headlights

INTERIOR
Coach Trim of Danbury, CT:
Black suede with white French stitching
Custom Sharpie Dash
Carbon Fiber fabric

AUDIO / MULTIMEDIA
Kenwood KVT-815 double DIN unit
JL Audio 10-inch w3v3 in a custom sealed enclosure
JL Audio 500.5 amplifier
JL Audio 500.1 amplifier
Tsunami wiring kit
SAVV 5-inch monitors
Phan contacted one of the industry heavyweights when it came to the custom rollers. Vince Wong at iForged is no stranger to the custom car scene and he spec'ed out a perfectly fitting 19x10-inch front and 20x12-inch rear boasting a 6-inch lip! The wheels were wrapped in Continental Sport Contact 3 rubber measuring 265/30R19 up front and a supercar sized 305/25R20 tire! To get the right stance, Phan dumped the car with H&R coilovers and dialed in the camber with a Kmac camber kit and added some Ground control rear lower arms.
Inside the cabin, Phan was inspired to do some custom work. He had the dash done in a custom graffiti pattern which he saw first on the Sharpie Lambo. Coach Trim of Danbury, CT took out the interior and began re-stitching in black suede with white French stitching and carbon fiber fabric by Eurodyne.com. The audio and multimedia assault started with the installation of a Kenwood KVT-815 double DIN unit. However, as Phan says, he didn't want to add too much weight and carefully selected the balance of products. He went with all JL Audio components and rocks a single 10-inch w3v3 in a custom sealed enclosure, JL Audio 500.5 amplifier and 500.1 amplifier. To connect these components together he bought a Tsunami wiring kit. Finally, he put in two 5-inch SAVV monitors in the custom trunk lid.
The 3.2L S54 engine is truly an engineering masterpiece and Phan knew enough to leave it alone. He added a K&N cold air intake and a Race Flow exhaust to help the car breather better. When Phan hits the open road, he flicks a switch to open the Rouge Engineering electric exhaust cut-out. Phan says the power levels will be elevated by a Horsepower Freaks Turbo kit before you read this article.