Written by Dave Pankew & Mark Pereira // Photos by: PAS Contributors | 08 October 2010
Page 5 of 12
-2003-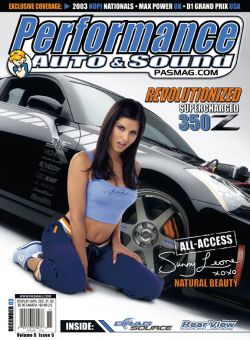 RevolutioniZed - Volume 5  Issue 5
Owner: Bill Stephen
Location: Toronto, ON
Vehicle: 2003 Nissan 350Z
Power: 400whp (est.)
Today, the 350Z is as common as almost any other tuner platform out there. But way back when the car was first released, the rush was on to modify them and a few hot project cars rose to the surface right away. One such car was the Z owned by Bill Stephen in Toronto, ON who got down to business right after he purchased it and drove it off the lot. This 350Z was fitted with Volk Racing TE-37 wheels wrapped in Dunlop SP-9000 rubber and its Brembo calipers peek through the classic Volk wheels. The suspension was ramped up with JIC FLT-A2 coilovers rocking 10kg springs at each corner. Stillen was one of the very first to market with forced induction for the Z33, as a Stillen supercharger now powered this potent VQ35DE. The Stillen blower kit ensures OE-like reliability and quality with around 60 more ponies at the wheels. Adorning the exterior was a clean VeilSide skirt package sculpted out of high-quality carbon fiber with a factory-like fit. On the audio tip, Stephen worked with Gemsen Distribution in Toronto and opted for all high-end JL Audio including: 10W6v2 subwoofers with a 500.1 amp to run them and VR 650CSi components run by a 300.4 amp. Of course all of the interconnects, power wire and fuse holders are JL Audio too! This smokin' hot Z was pretty special back then, making it one of our favorites of that year and a very memorable feature.
---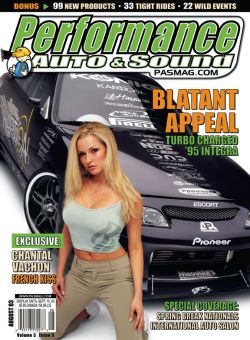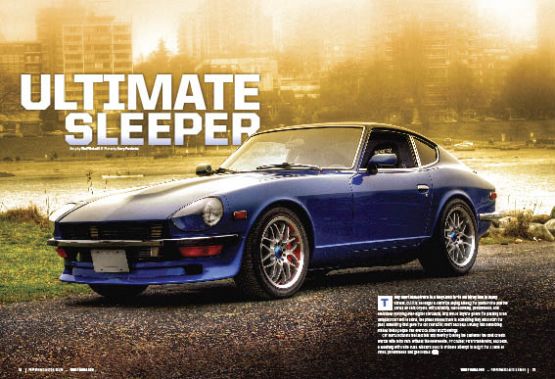 ULTIMATE SLEEPER - Volume 5 Issue 2
The Japanese are all about perfection, not necessarily pioneering but often known for making a good thing even better. So when the 240Z debuted back in 1970, the world was shocked to see how Nissan had interpreted some fiery sports cars from Italy and Britain. This potent machine has some timeless lines, a balanced chassis and an advanced suspension. The 240 was a threat on tracks around the world for over a decade and spawned a lineage of fierce Z-cars. This particular example we featured borrowed a more modern swapped powerplant from another mighty Nissan sportscar legend, the Skyline GT-R. This classic 240Z is a track terror thanks to the Skyline-sourced RB26 powerplant carefully squeezed under its hood. We simply had to feature this perfect blend of old and new bundled up in a perfectly restored and mint condition chassis.
---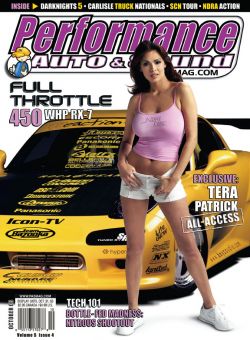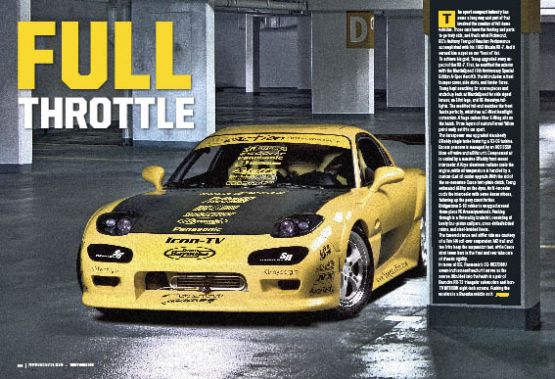 FULL THROTTLE - Volume 5 Issue 4

When it came to Japanese Supercars of the early 1990s, the Mazda RX-7 was in the crowd of front runners. Gaining a legendary reputation, the third generation RX-7 (coded FD3S) was light, fast and became a cult classic worldwide. Anthony Tseng's '93 RX-7 caught our eye and instantly landed a spot on our cover. With an exterior clad in Mazda's 15th anniversary A-Spec body kit consisting of front lip, sideskirts and fender flares Tseng's RX-7 was very JDM. He added RE Amemiya tails, C-West headlights and a huge carbon fiber wing. Under the lid, the RX-7 was blessed with a TD-06 GReddy turbo and a healthy GReddy front mount intercooler augmented with an NX N-tercooler. With over 450whp on tap from this setup, Tseng went with a Cusco twin plate to keep it harnessed. Keeping the flying FD connected to the ground are some Bridegstone S-03 Pole Position tires wrapped around 3-piece RE Amemiya wheels. Behind the rare Japanese wheels are a set of Rotora 4-piston brakes and TEIN HA coilovers. With a Panasonic headunit and Bazooka subs, speakers and amps, the audio hit hard and this Mazda was sure to get noticed!
---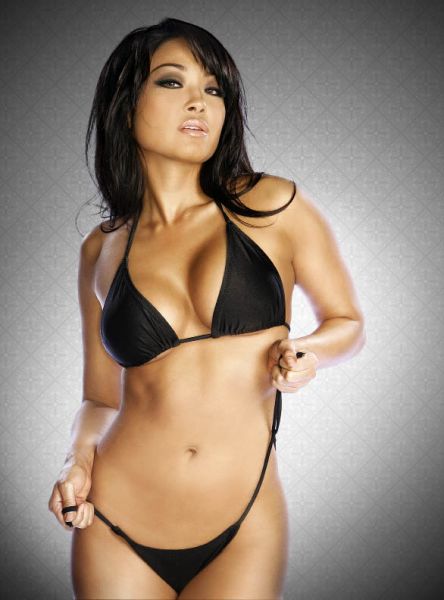 Natashi Yi


THE ESSENTIALS
Birth date: March 25
Sign of the Zodiac: Aries
Measurements: 34C / 24 / 34
Nationality: Korean
Hometown: Boston, MA
Turn-ons: Making out …it's so much fun
Turn-offs: Bad hygiene
Pet Peeves: LA traffic… Grrrrrr!