Written by Peter Kelly. Photography by Peter Kelly | 24 October 2017
This Kiwi Skyline is not too hot and not too cold - it's just right
To you, mid-July probably conjures up fond memories of long summer days, cold beers by the lake and barbeques in the back yard, but all the way down here in New Zealand? July is the worst.
July, for us, means mid-winter (being in the Southern Hemisphere and all), and it isn't even the fun type of white-out winter like you get; it's more of a grey and dull time of year that brings a damp, oppressive cold that you just can't seem to shake and seemingly endless bouts of sideways rain punctuated with weekly storms. As you could imagine, it's just about the worst time of year to be out photographing cars, but sometimes, when a subject just ticks all the right boxes, it's worth packing up the camera gear and leaving the warm embrace of the office.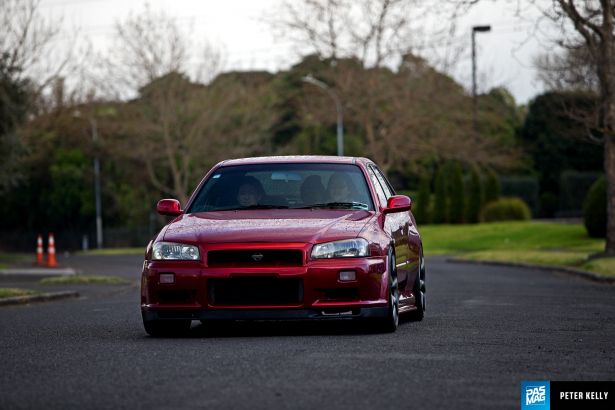 This is how I found myself standing in the middle of a deserted industrial area in Auckland one Sunday afternoon, soaking wet and freezing cold. My car was beached with a flat tire, there was yet another rain storm fast approaching, and I was rapidly running out of daylight. Everything seemed to be saying "just give up and go home," but I wasn't taking the hint, not with the sound of Dustin Ng's 1998 ER34 Skyline sedan approaching at what sounded like a great rate of knots. There was no mistaking the distinctive Toyota 2JZ bark, nor the sound of a big 60-mm Tial wastegate dumping exhaust gasses as the three-liter six came into boost somewhere a few streets over.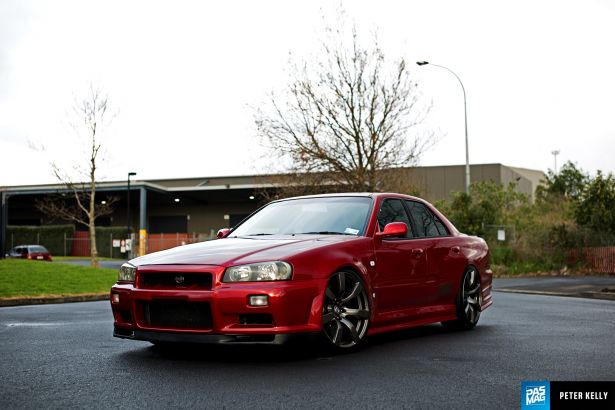 Dustin's ER34 soon rounded the corner and pulled up alongside. Needing to work quickly before the next rain storm settled in, I almost didn't have time to take a moment and appreciate the Skyline - almost. A true street car, the aesthetically simple ER34 finds a perfect balance without swinging too far one way or the other - power, handing, usability, looks and cost. It's subtle, yet aggressive. It's comfortable, yet fast.
"After building my Evo-powered Mitsubishi Mirage race car, I wanted something I could get more use out of," Dustin, who operates a motorsport-focused workshop in Auckland, explains. "The Mirage was 500 horsepower and 1,250 kilograms (2,760 pounds), but was terrible to drive on the road and only had two seats. The original idea for this car was to build something interesting on a budget that I could use to tow the Mirage to the track and enjoy with mates."
An ER34 Skyline sedan fit the bill perfectly, and as an added bonus, they're cheap and plentiful with plenty of aftermarket support here in New Zealand.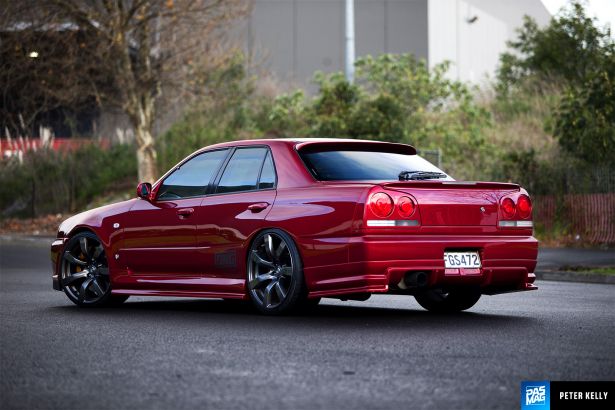 "Any Toyota sedan is either ugly or has a huge price tag in comparison," says Dustin. "I like the R34 front and low roofline, but don't like the flat rear guards. I first bought a cheap crashed car, but it was too far gone, so I found another base model GT that was missing a few parts. I took it to a panel beater to shape the rear guards into the wider GT-R style, but to be honest, the guards came out looking terrible so I started again with new panel beaters, GT Refinishers. I drove in with a pair of R35 wheels sticking two inches out of the guards and drove out with them nicely tucked under fresh all-steel guards."
In a similar fashion, the front end of the R34 stays away from fiberglass - Dustin wanted it to look right. After plenty of searching, he eventually found an entire genuine R34 GT-R front end, which once matched with a custom set of side skirts and rear lip, was coated in a factory Mazda deep red hue. To finish off the look, Dustin runs a set of massive R35 GT-R wheels.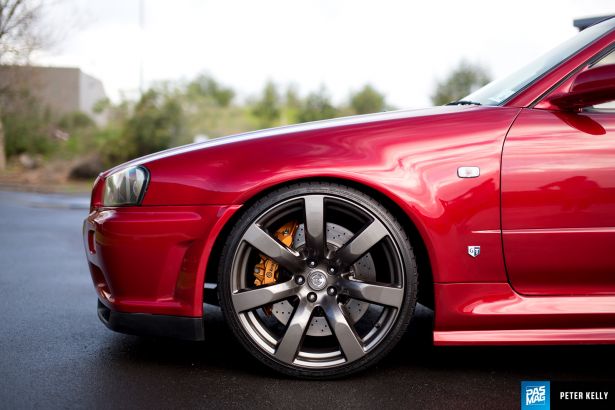 "I liked the look of the factory Rays Engineering wheels and wanted something other people wouldn't have," Dustin says. "I found a full set at a race workshop that was building an enduro GT-R, and as they were also upgrading the brakes I picked up the R35 Brembos too - big wheels need big brakes."
Although it's very common to see super aggressively styled cars here in New Zealand, especially of the rear-wheel-drive Nissan variety, that was never the path that Dustin wanted to go down for his ER34. "I wanted to build the car like you'd build a good hot rod. It's made better in every aspect, but it's sometimes hard to tell how." Also in keeping with the traditional hot rod ethos, wherever possible Dustin has used parts from other vehicles, only resorting to the aftermarket if there was no better option. Most obviously, that includes the Toyota 2JZ sitting between the front Tein Flex coilovers.
In a land where Nissan's RB motor is equal measure plentiful, cheap, and very well developed, why would Dustin cross-breed manufacturers by running a Toyota engine in a Nissan chassis?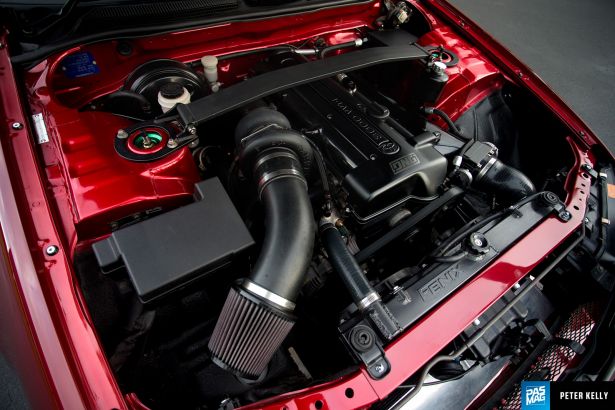 "It's the best of both worlds," says Dustin. "To build an RB that makes reliable horsepower requires a lot of love and isn't cheap. 2JZs sound amazing, have variable cam timing and can make the power much easier - plus the swap was very easy. I had the motor bolted up in a single night. I was never chasing big power for this build, but in normal 2JZ fashion it made big numbers without much stress."
Aside from a set of 278 10-degree lift cams, the motor is internally stock, but still easily strong enough to handle the 591 horsepower at the wheels supplied by a Garrett GTX 35/82 - a versatile turbo that is cheap and easy to find in wrecking yards across New Zealand, thanks to Ford Australia using it on its excellent four-liter straight-six Barra motors, as found in the ubiquitous Ford Falcon XR6T.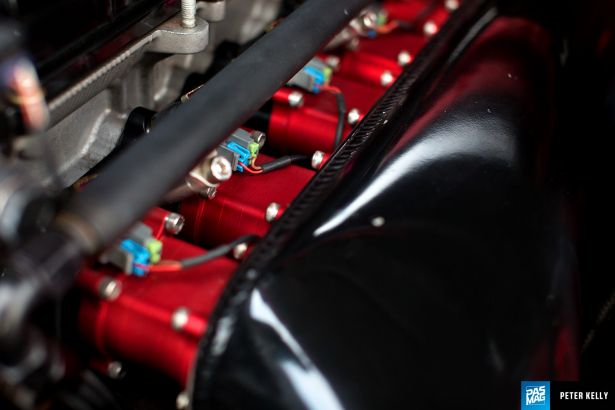 Backed up by a Getrag V160 six-speed Supra gearbox, the motor pushes its power out to the rear 285-wide Falkens via a GT-R diff and axles, which while strong, does present some challenges due to the ratio.
"The rear diff has a 4.1 final drive, while the Supra's is 3.2, so the lower gears are not great for traction, but at 100-kilometers-an-hour (62 mph) in sixth, you put your foot down and it puts you in the back of your seat instantly," Dustin grins. "The low-down torque with a smooth six cylinder and VVTi making boost at 1,300 rpm also make it nice to cruise, so providing you ease on the throttle around town, it's fine. Stomp on it though, and it goes straight to red line."
Even with a car full of people - sitting comfortably on modified Mitsubishi Evo seats front and rear - the R34 absolutely hauls and handles, and that's part of what makes this car so great. Often the more time and money we spend on cars, the less we get to use and enjoy them, but Dustin has his racecar for that; this machine is built to strike the perfect balance of what a good street car should be.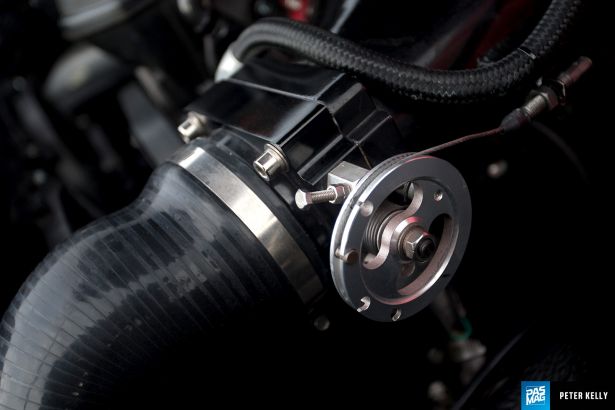 Sure, there's a bevy of far more extreme vehicles floating around my fair country that I could have also shown you, but Dustin's R34 sedan is, to me at least, the embodiment of a perfectly balanced build. It sits directly in that "goldilocks zone" of speed, looks, practicality, and drivability, all without being crammed full of a catalogue's worth of mega-dollar aftermarket parts.
Sure, my camera gear may have needed a few days next to the heater to dry out afterwards, and I'm pretty sure I ended up with pneumonia for my troubles, but after watching Dustin's ER34 slide down the street in the pouring rain, plumes of water spraying off the rear treads and flames licking the bumper as he made a break for home, I'll happily say it; I regret nothing.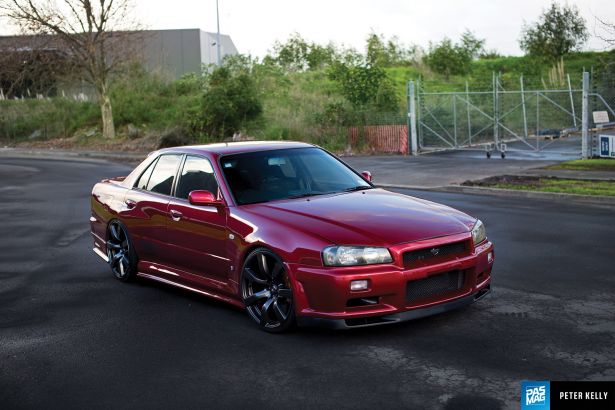 ESSENTIALS
Owner: Dustin Ng
Vehicle: 1998 Nissan Skyline GT (ER34)
Location: Auckland, NZ
Engine: Toyota 2JZ-GTE 3.0L I-6
Horsepower: 591 whp
SOCIAL
Facebook: Dustin Ng
Instagram: @dng_automotive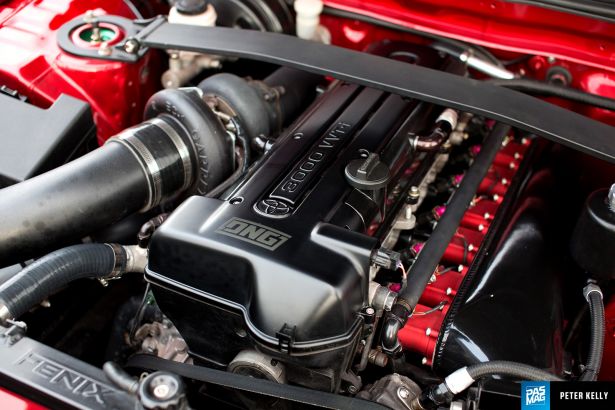 ENGINE
Toyota 2JZ-GTE engine swap
Custom (278 10-degree lift cams, intercooler piping, oil catch can, power steering reservoir)
Garrett GTX 35/82 turbocharger
TiAL 60-mm wastegate
GReddy (80-mm throttle body, blow-off valve)
Hypertune 3-piece billet intake plenum
ARP fasteners
ACL bearings
Bosch (044 fuel pumps (2), braided fuel return line, 1,200-cc injectors)
Aeromotive fuel regulator
Superspark ignition coils
Link (G4+ ECU, boost controller)
Fenix (alloy radiator, 14-inch fans (2))
Seam-welded engine bay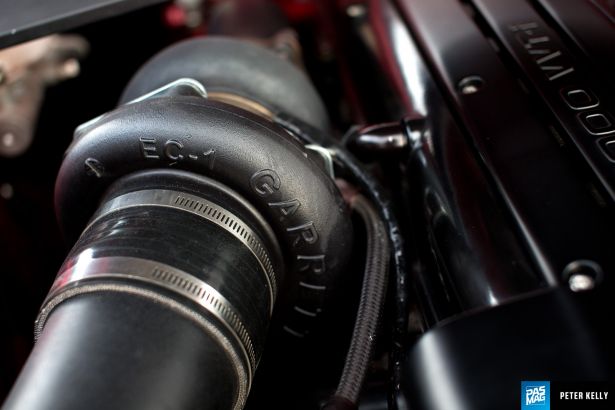 EXHAUST
Custom (3.5-inch stainless exhaust system, single-exit rear muffler)
Sinco turbo manifold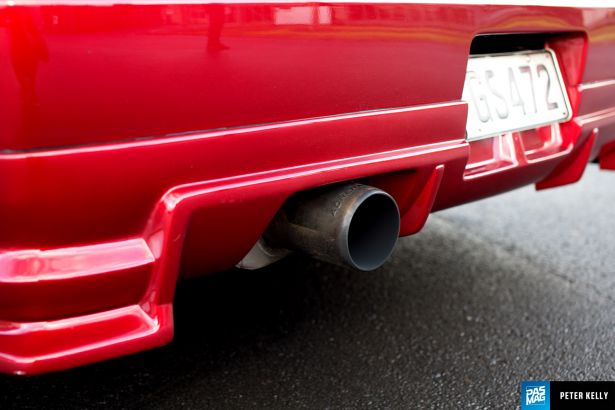 DRIVETRAIN
Getrag V161 six-speed manual transmission swap
Exedy twin-plate clutch
Toyota OEM flywheel
Nissan R34 GT-R (differential housing, axles)
Tomei LSD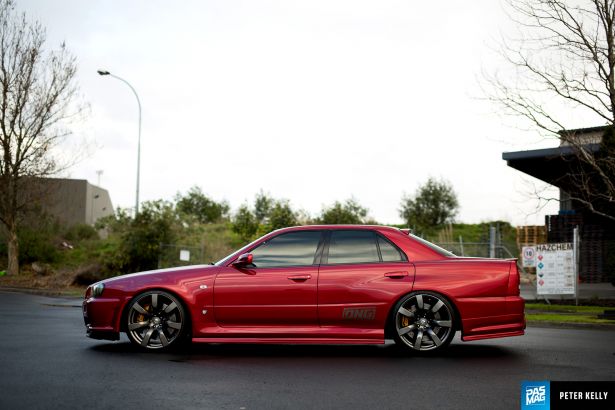 CHASSIS / SUSPENSION
Tein Flex coilovers (modified)
Hardrace rear arms
WHEELS / TIRES / BRAKES
Rays Engineering Nissan R35 GT-R wheels – 20x10.5 (f/r)
Falken Azenis tires – 285/35 R20 (f/r)
Brembo Nissan R35 GT-R brakes (6-piston calipers (f), 4-piston calipers (r), 380-mm 2-piece rotors (f/r))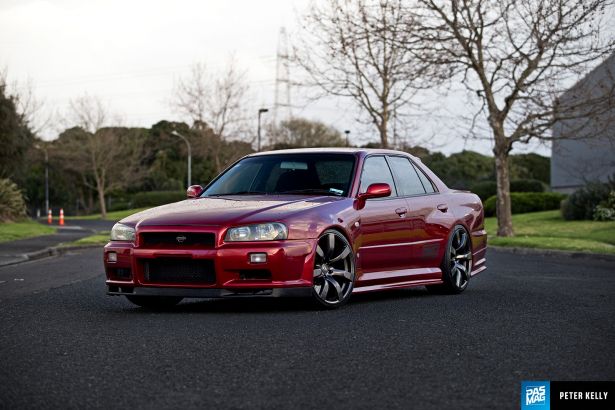 EXTERIOR
Mazda red paintjob
GT Refinishers steel rear widebody
Nissan R34 GT-R front end conversion
Custom (side skirts, rear lip)
LED tail lights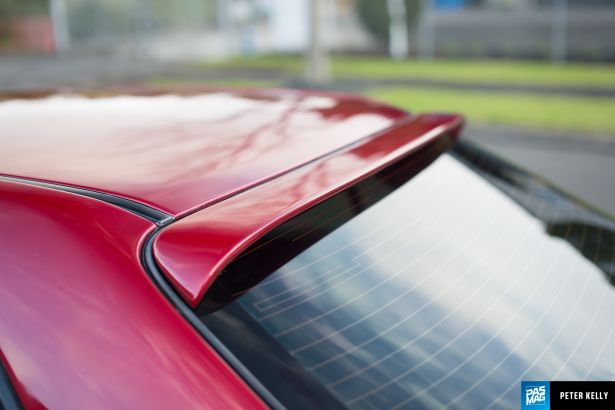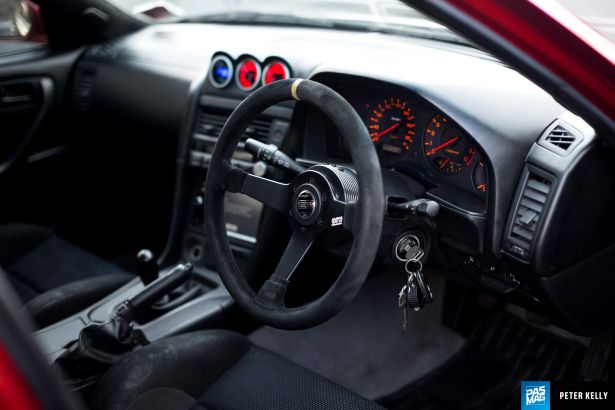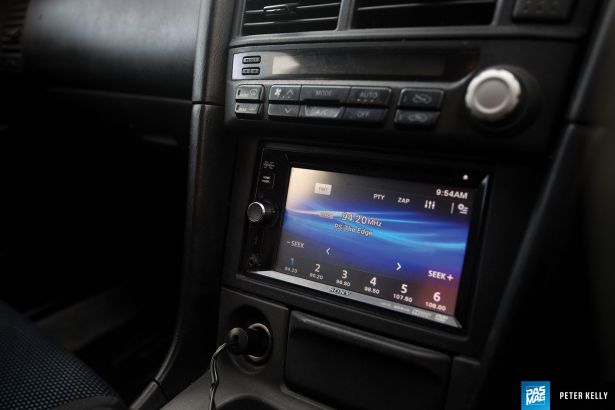 INTERIOR
Recaro Mitsubishi Evolution VII (front seats, rear seats)
Sparco steering wheel
Nismo gauge cluster
Autometer Shadow gauges (boost, temperature)
Wideband 02 sensor gauge
Nissan Skyline R34 GT-T dash swap