Written by Adam Gordon. Photos by Vlad Shurigin (Zuumy) | 10 August 2016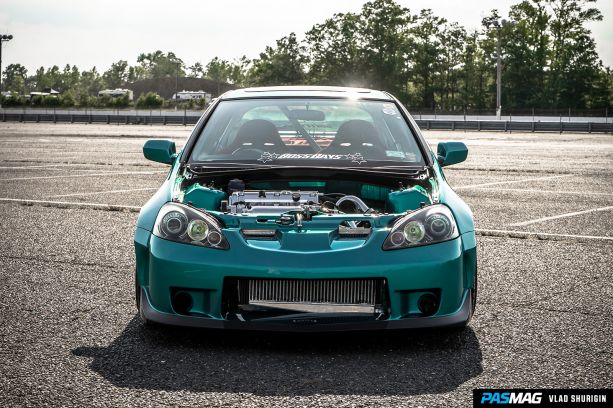 Steven Crespo first caught sight of the Acura RSX while playing Need for Speed Underground 2, one of the tuner world's most influential video games, but it wasn't until he purchased his own RSX that he really fell in love with the platform. "I first started with a basic automatic RSX, and after just a few years I upgraded to a Type S model," he writes, remembering the switch that started his modification journey.
Like many enthusiasts, what starts out as a plan for simple build quickly becomes something bigger after enough time. "Like many car enthusiasts, my intentions were simply to lower the car on D2 suspension with some nice affordable wheels. One thing led to another and I eventually found myself building a full-blown show car." This is a sentiment we see time and time again.
Unfortunately for Crespo, the first motor he had was blown up under boost, so he faced some budgetary setbacks when he needed to build a new motor capable of handling power. "After blowing my stock motor I decided I wanted to build a motor reliable enough to withstand the abuse of a turbo, so buying a stock motor and installing it in the car wasn't an option," he explains. "Although building a fully built motor was necessary, it was a major setback because it wasn't in the budget. I was lucky that at the time I had a good job, and with little time I was able to gather the money to continue the process of my build."
In completing the build, Crespo went with a variety of well-known and reputable brands to compliment his RSX. Spoon Sports, Backyard Special and ChargeSpeed are among some of the main points of interest on the car, but Crespo says that Anointed Aero – the company that designs the limited wide body fl ares on his car – is the one that stands out the most. Whatever aspect of this build you focus on, quality was the name of the game, and we respect a job well done. #pasmag
With 51% of the Popular Vote, Steven Crespo is the winner of the PASMAG Tuner Battlegrounds #TBGLIVE award category at Performance Motorsport Expo X Elite Tuner car Show in Edison, New Jersey, USA!
ESSENTIALS
Vehicle: 2003 Acura RSX
Owner: Steven Crespo
Location: Bronx, New York, USA
Engine: Honda K20A2 2.0L I4
Horsepower: 500 whp
Torque: 395 lb-ft
SOCIAL
Facebook: https://www.facebook.com/steveross.crespo
Instagram: https://www.instagram.com/fr3shkidst3v3

ENGINE
Full-Race (turbo kit, vertical flow intercooler)
Tial (wastegate, BOV)
Skunk2 Pro Series 70mm throttle body
Honda RBC intake manifold
Hybrid Racing fuel rail
Ktuned fuel pressure regulator
Walbro 255 fuel pump
Injector Dynamics 1000cc injectors
NGK spark plugs
Wisico (9.8 compression pistons, piston rings)
DownStar hardware
EXHAUST
Skunk2 Mega Power RR exhaust
Full-Race (Sidewinder header, down-pipe)
Skunk2 exhaust tip
Hasport mounts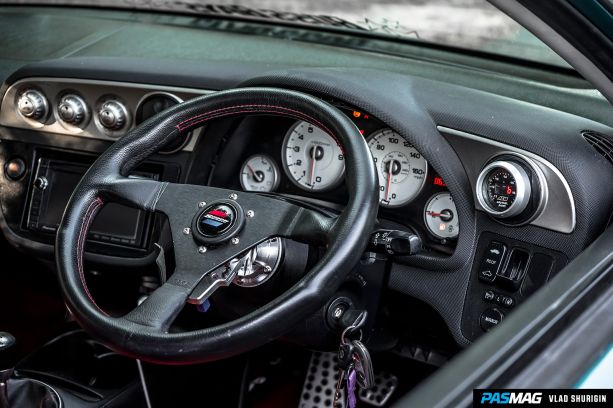 PERFORMANCE ELECTRONICS
Hondata Kpro ECU
AIM air-fuel and pressure gauges
DRIVETRAIN
Competition Clutch (stage 4 clutch, flywheel)
Syncrotech Carbon Syncros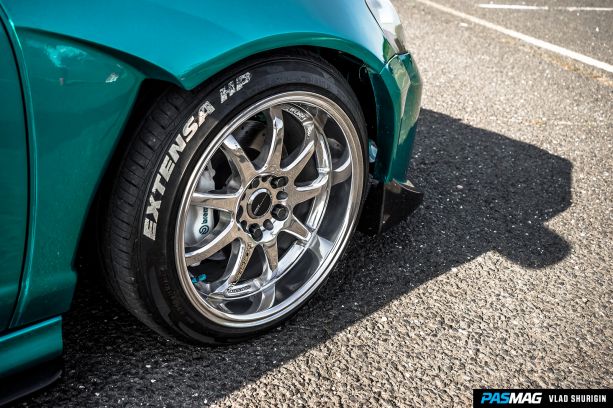 WHEELS / TIRES / BRAKES
Work Emotion XD9 wheels – 17x9.5 +15 (f), 17x9.5 +15 (r)
Toyo Extenza tires – 195/65R15 (f), 195/65R15 (r)
Brembo brake calipers
Stainless steel braided lines
CHASSIS/SUSPENSION
Progress Suspension
EXTERIOR
Anointed Aero V1 wide body flares
Backyard Special front bumper
Aspec rear lip
ChargeSpeed winglets
Seibon Carbon trunk
Mugen hood
Aztec Green Pearl paint
LIGHTING
Infinity M45 projector retrofit headlights
DC5 Type R taillights
INTERIOR
RHD DC5 Type R dash
Spoon Sports steering wheel
DC5 red Recaro seats
Takata Drift 3 harness
Type R floor mats
Autopower roll bar
AUDIO/MULTIMEDIA
Pioneer head unit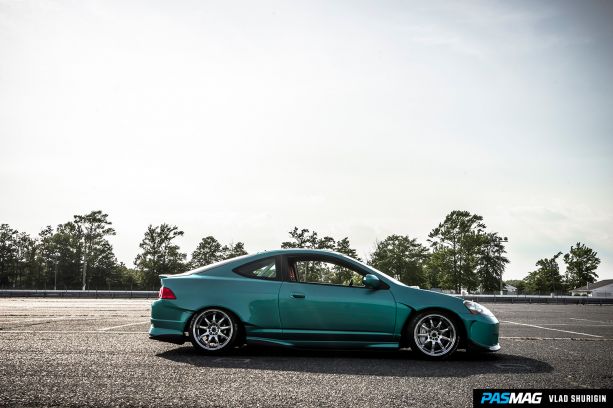 Contributor: Vlad Shurigin (Zuumy)