04 July 2016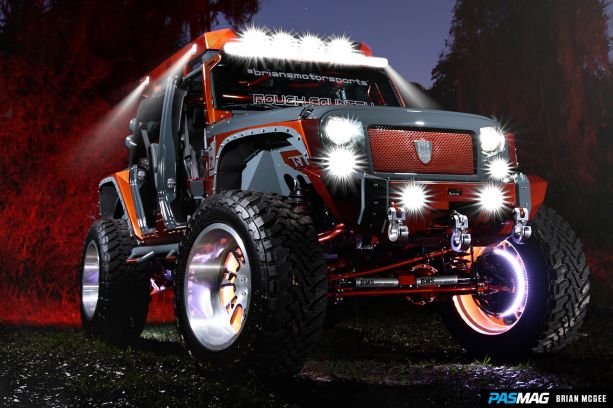 The off-road commando: Brian Hayes has always known that he wanted to build badass vehicles. For him, it was a just a fact of life. When he was 18 years old, he picked up a job at a shop and put a down payment on his first car. From there, the modification bug took hold and has held him under for 23 years.
In 2001, Hayes and his wife opened "Brian's Motorsports" in their backyard. By 2005, they had to move to a new, larger facility and hired on a full staff to meet demands for vehicle customization in Hendersonville, Tennessee. Today, Brian's Motorsports (BMS) is a recognized name that specializes in customizing trucks, classic cars, and their most popular export, Jeeps. In fact, BMS cranks five to 10 show-stopping Jeeps a week out of their bay doors.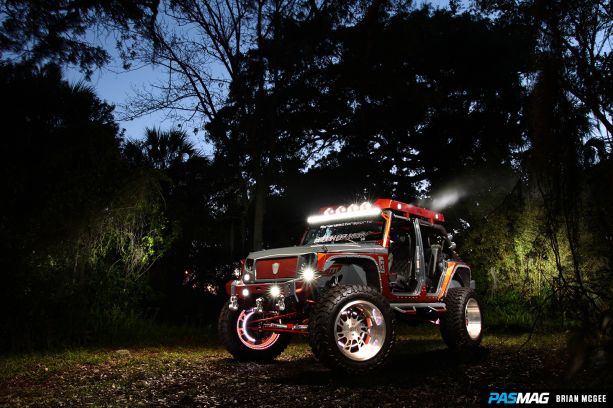 One of their latest creations is actually a personal one, and it has a name: Sgt. Steele. While the name definitely does fit the appearance of the Wrangler, Hayes, as a family man, had another influence in choosing the militarythemed moniker.
"I named the Jeep Sgt. Steele to pay respect to military people and soldiers everywhere," he says. "They don't get enough credit for the time they spend away from their families."
Fittingly so, Sarge is outfitted with Armor from Smittybilt's XRC armory. The catalogue of parts provides the Jeep with maximum protection and enough clearance to bound enemy obstructions, while also revealing the super clean DV8 inner fenders underneath. Up front, providing some angry eyes and signature snarl is a killer combination of a VPR Ultima front bumper, with Oracle Lighting's halo kit and a Rugged Ridge Spartan grille.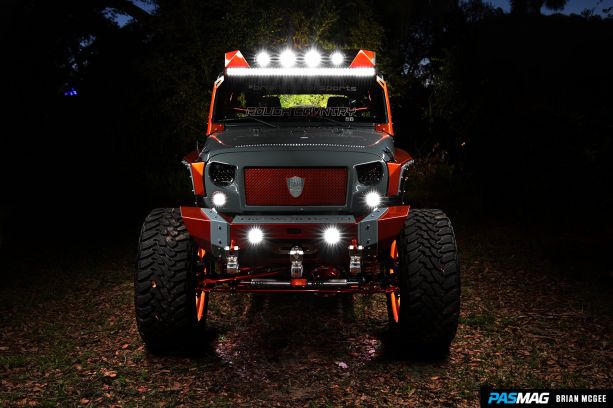 Backing up the "Steele" name, multiple custom-machined aluminum pieces take up residence all over the exterior of the Wrangler, which complement some pretty serious gray and orange powdercoating work.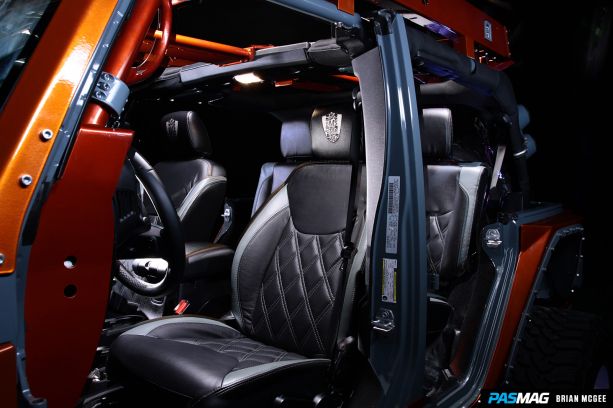 While the outside maintains the rugged exterior of a warrior, the inside can be a little cushy. Roadwire provides the luxury there with their diamond-stitched upholstery featuring gray inserts. The checkbox for heated seats were also ticked off , just in case it got a little cold on the trails at night. And trail-running at night shouldn't be a problem with eight LED light cubes and a 50-inch LED light bar from Rough Country, which are all controllable from an SPOD lighting switch panel.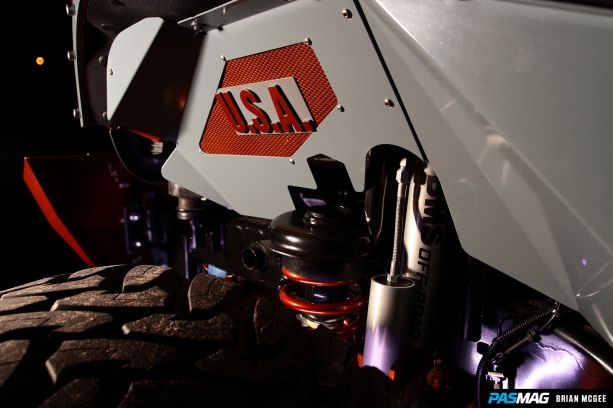 Speaking of Rough Country, BMS is the largest dealer of Rough Country's suspension lift kits, so of course they'd outfit Sgt. Steele with some altered altitude. A Long Arm 6-inch upgrade kit and 1.25-inch body lift provide a better vantage point. The kit's capabilities are then boosted by dual reservoir shocks and a steering stabilizer from Fox.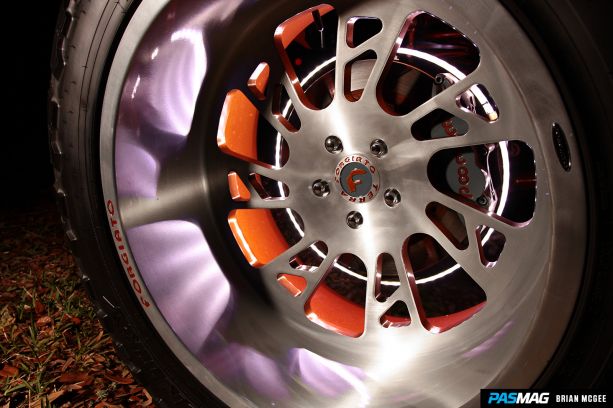 Hayes says that BMS's specialty has always been wheels, tires and audio/video upgrades, so it's no surprise that they've put some pretty impressive names to use on the Jeep. Forgiato is the name that takes up a shining place on each corner of the Wrangler, with their Veraso-T wheels in 24x12- inch sizing. Since the Jeep still has to be capable, no street tire would do here, so Hayes and his team snagged some Toyo Open Country M/T tires in a meaty 40/15.50. With the added oversized wheels and tires, as well as the Yukon 5.13 gearing, the Wrangler was going to need adjustments via the Superchips calibrator, which was an easy plug and play away.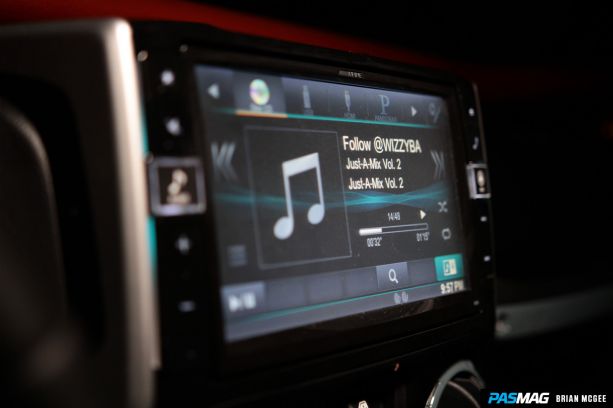 The audio department starts out strong with Alpine's X009-WRA head unit system. The Alpine unit integrates seamlessly with the Wrangler's dash, while creating a stylish upgrade and offering a host of features, like navigation, connectivity to just about any device, and retention of all your factory controls. Of course, it still plays music, a job it does even better when connected to the Kicker components, tower speakers, amplifiers and four 12-inch subwoofers in the back.
"The love of visualizing something and making it come to life is my motivation to build," says Hayes. "My favorite aspect with this build has to be the respect it gets from kids all the way to adults. Everyone loves it!"
We agree. With an action hero name, plus the looks and capability to match, how could you not love this thing? We just hope that between producing at least 20 Jeeps a month, Hayes and his team find the time to construct something even better in the coming years.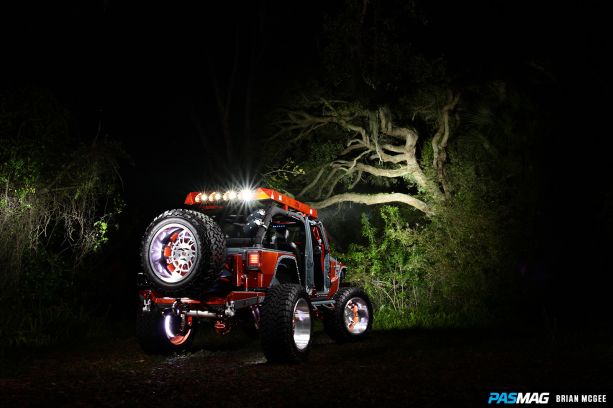 ESSENTIALS
VEHICLE: 2015 Jeep Wrangler
OWNER: Brian Hayes
LOCATION: Henderson, TN, USA
BUILT BY: Brian's Motorsports
ENGINE: Chrysler 3.6L Pentastar V6
ENGINE
Injen cold air intake
Superchips gear & tire size calibrator
EXHAUST
Rough Country exhaust loop
MagnaFlow stainless cat-back exhaust system
DRIVETRAIN
Yukon 5.13 gears (f/r)
G2 diff covers (f/r)
CHASSIS / SUSPENSION
Rock Hard Ultimate Sports Cage
Rough Country (6-inch Long Arm upgrade kit, 1.25-inch body lift, driveshafts (f/r))
Fox (reservoir shocks, steering stabilizer)
Steinjager quick disconnect sway bar endlinks (f/r)
G2 rear axle truss
WHEELS / TIRES / BRAKES
Forgiato Veraso-T wheels (brushed, powder-coated inner) – 24x14 (f/r)
Toyo Open Country M/T tires – 40/15.50 R24 (f/r)
Wilwood big brake kit (f/r)
INTERIOR
SPOD lighting switch panel
Roadwire (diamond-stitch & gray insert leather interior, heated seats)
EXTERIOR
Hornblasters 244 horn kit
Oracle Lighting halo kit
Rough Country (side steps, RS9500S rope winch, 2-inch LED cube lights (8), 50-inch LED light bar)
Smittybilt XRC (Armor fenders, Gen 2 rear bumper w/ tire carrier plates)
VPR Ultima front bumper w/ custom machined inserts
Monster Hooks billet hooks (f/r)
Factor 55 ProLink winch shackle mount
Rugged Ridge Spartan grille
DV8 inner fenders
JW Speaker taillights
AVW LED headlights
Fab Four roof rack
MOBILE ELECTRONICS
Alpine X009-WRA touchscreen head unit
Kicker (KS 6.5-inch component speakers, Marine KMTED 6.5-inch enclosures (2), Marine KMS67 tower system, KX2400.1 subwoofer amplifier, KX400.4 mid-range amplifier, wiring, interconnects, CVR 12-inch subwoofers (4))
Kinetic extra power cell
Contributor: Brian McGee