14 October 2015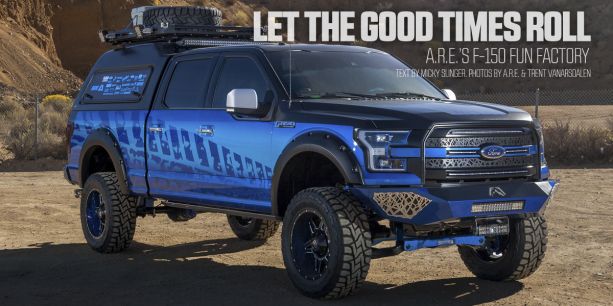 A.R.E.'S F-150 Fun Factory.
Running around SEMA is kind of like being at an exotic car show. In the same way that the fifth Ferrari you see is less exciting than the first, seeing the same vehicles at the show with the same things done to them, over and over again, can carry that same excitement factor. Things start to blur a little and you start being able to really differentiate which cars break the mold. When wading through Ford's packed internal presence, A.R.E.'s F-150 was one of those vehicles.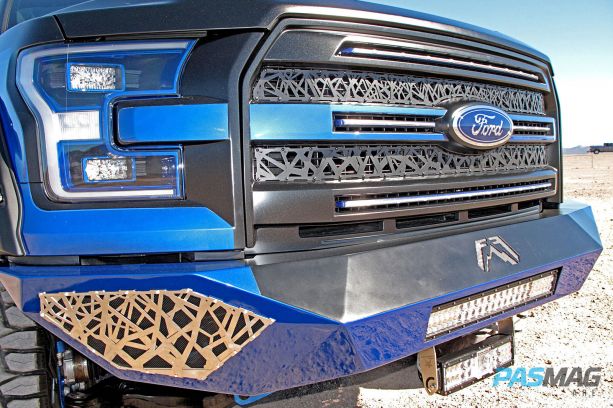 The big, blue behemoth towered over the Mustangs lined up beside it, shining away and packed up to the grille with goodies. Although it was spotless on the floor, its "extreme sports" theme hinted that you could drive it out the doors of the LVCC, into the desert and 'have a time' with the contents stuffed in the back.
"Extreme athletes have a lot of gear to take around to their different destinations," A.R.E. CEO Andy Clutter says of the extreme sports theme. "We thought showcasing a truck for these types of athletes would not only be cool, but a great way to show off how dynamic our products can be."
Indeed. Their ToolMaster HD fiberglass truck cap showed how impressive it is by fitting Tony Hawk skateboards, Shaun White snowboards, a 1987 reissue Harrow bike, three helmets and even a fridge, which all sit on top of twin PickupVault lockable bed storage units. This truck bed is a good time.
You'll notice that each of these things are each mounted to fit, but also to show off. There are some interesting techniques at play to accomplish that, and the man responsible is Trent VanArsdalen of Trent's Trick Upholstery.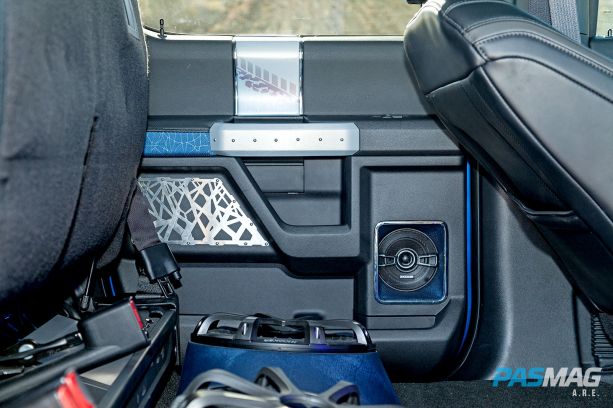 Trent, as all builders do, takes advantage of spare parts and odds and ends as often as he can. One of my favorite excerpts from our chat was, "With these builds, everything is just so close, so I had to go shopping in my attic." Knowing that this truck came together with repurposed materials ups the cool factor exponentially.
Look at the helmets dangling out the side window of the cap. How are those suspended there? Bicycle inner tubes. How do those skateboards and snowboards not knock around the bed? Big o-rings secure those things down. Where did those awesome cast aluminum arms that position the snowboard racks come from? They're plastic armrest inner-structures from an old van, painted to look like cast metal. Oh, and all of the hardware on the truck has been replaced with an upgraded billet aluminum or stainless steel component, which VanArsdalen manufactures. All of these killer ideas came from the mad mind of Trent.
"I also did the stainless steel, laser-cut work inside and outside the truck, which I call 'Mechanical Wilderness,'" says VanArsdalen. "I really tried to keep that theme throughout the whole truck."
The Mechanical Wilderness theme is featured on the bumpers, grille, inner door panels, interior inserts and even ghosted into the Skyjacker suspension components. That's dedication.
Paired with the snazzy Skyjacker components, Air Lift LoadLifter 5000 "helper" springs provide a bit of assistance with all that junk in the trunk. Air Lift actually made the four-hour drive from Michigan to Ohio, where Trent's shop is, to make the first F-150 system of its kind.
"They physically drove down and mocked [a system] up, then went back to their facility and made it, and then sent it back to me," VanArsdalen recalls. "It's a wireless remote control leveling system. It's almost like a garage door opener controller on the sun visor with three presets and manual settings on it for load."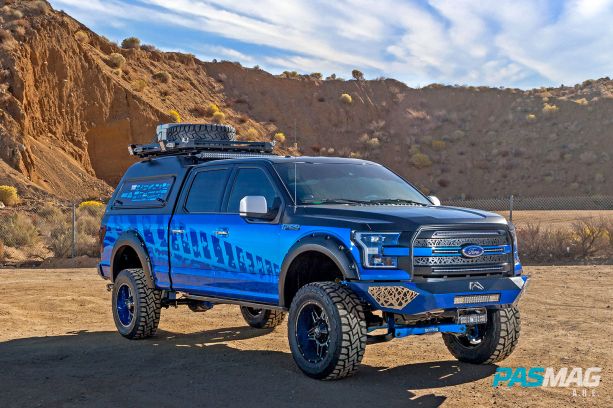 Of course the rest of the pickup has a rugged look to back up the components that make up this F-150 funfest. Fab Four bumpers get some custom touches and sit on the front and the back. Bushwacker pocketstyle fenders widen out over the upgraded DUB Monster Energy Edition 538MB wheels wrapped in do-it-all Toyo Open Country tires.
LED light bars from Rigid Industries take up residence all over the truck – front bumper, rear bumper, roof and Surco roof rack. And everywhere there's a light bar, there's a GoPro to capture the action to show off to your friends when you're back from playing around.
Inside, things are pretty comfy for a capable off-road truck. The F-150 was delivered to Trent as a Platinum, so it already had some tasty leather seats that feature airbags, heating and cooling. As nice as that would be for the driver, it posed as a bit of a challenge for VanArsdalen.
"They are airbag seats, so I can't officially stitch those at an upholstery shop because I have to have the seam that blows up and that becomes a whole issue," he explains. "I just gutted out the factory inserts and put those new inserts into the seats. They have cooling and heating in them, so I had to use special foam."
Under the newly trimmed seats sit Kicker subwoofers, three in a row, in a seamless install when the seats are down. The rest of the audio system is also Kicker, with components sitting in sunken speaker pods, which recycle the factory chrome trim rings, and an OEM radio interface to allow the modifications to happen in the first place.
Now, you're probably realizing that this truck has a ton of stuff to power. On top of audio, lights, two coolers and a fridge, there are also multiple integrated charging stations for both smartphones and GoPros. This is where Reikken stepped in. Of course, their batteries help carry some of the load, but one of their 110 inverters is the real Hercules in this setup.
"It's a reversed plug like an RV has, so you just plug the truck in the 110 and it powers the whole truck and all the accessories," VanArsdalen says. "It's all built right into the truck. Even the factory 110 in the truck is powered through the other system."
They left this truck on for three days straight at SEMA and then drove it out after with no problems. Enough said.
A.R.E.'s ode to extreme sports did very well at the show. Aside from stealing gazes from show-goers, the F-150 won a Ford Project Excellence Award, as well as a Mother's Shine Award. The latter of which, from Trent's words, would have still been awarded to the truck "if the thing was still in primer because of all the details."
This is show truck of the highest caliber. It has the looks, it has the performance, it has the goodies, and now it has the recognition it deserves. All of this came together in five weeks before SEMA. Can you imagine what it would have been if Trent had even another week with it?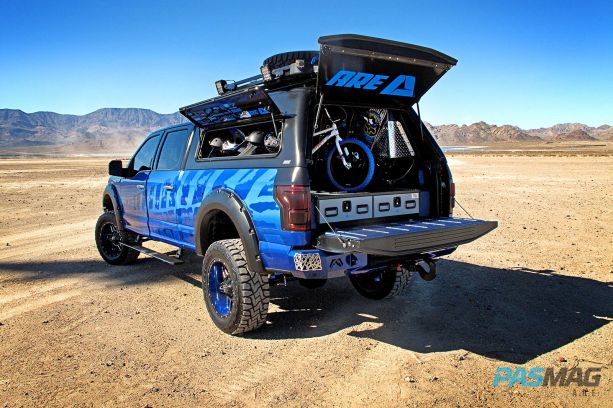 ESSENTIALS
Vehicle: 2015 Ford F-150 Platinum
Built By: A.R.E. & Trent VanArsdalen
Location: Baltimore, OH
Engine: 5.0L V8
Horsepower: 385 HP
Torque: 387 LB-FT
EXHAUST SYSTEM
Corsa exhaust system
WHEELS/TIRES
DUB Monster Energy Edition 538MB wheels
Toyo Open Country tires
CHASSIS / SUSPENSION
Air Lift LoadLifter 5000 air springs
Hellwig load & sway control
Skyjacker suspension
EXTERIOR
Lynch Concepts custom paintwork
Axalta paint
A.R.E. ToolMaster HD fiberglass truck cap
BOLT hitch lock
Bushwacker fender flares
Fab Four bumpers
Monster Hook hitch hooks
PickupVault lockable bed storage
Plain And Simple (headlights, taillights)
Rigid Industries LED lighting
Surco roof racks
INTERIOR
Trent's Trick Upholstery interior work
ARB (refrigerator, air compressor)
K2 Extreme coolers
MOBILE ELECTRONICS
Kicker audio
Reikken battery
GoPro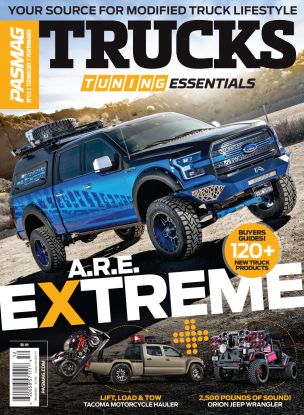 Order your copy of Tuning Essentials: Trucks, 2nd Edition, online at www.pasmag.com/backissues.