25 November 2015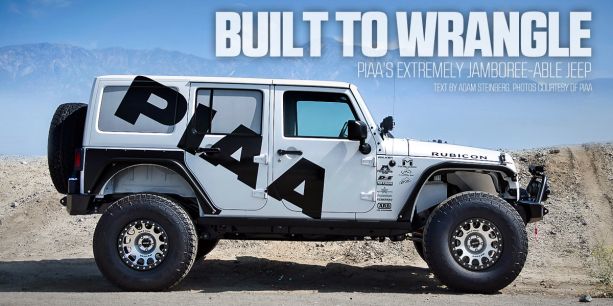 PIAA's Extremely Jamboree-able Jeep.
When an enthusiast decides to invest in a build, many find themselves working towards a similar goal. "I wanted to have the most unique show car/truck on the lot," or "I only used custom parts for my build" are quotes often seen in this line of work. Chris Olander, on the other hand, had a different goal in mind when building his 2015 Jeep JK Wrangler Rubicon Unlimited.
"Overall I wanted to build a vehicle that anyone else could build," says Olander. "Being in the accessory business, I often see really fantastic show vehicles, but they are built with one-off or fully custom parts. While that makes a great show car, it sometimes doesn't translate well into what most people can build."
To push his ideal, Olander couldn't have picked a better platform to build upon. The current generation of Jeep Wrangler boasts the reliability of being a great all around vehicle, as well as one of the largest aftermarket catalogs around. With seemingly endless choices, it's easy to build something crazy, or something clean and simple.
Keeping his build simple doesn't mean it's not without superior equipment, far from it. His front axles are paired up with a Dynatrac ProRock 44 diff and some heavy duty ball joints, complemented by G2 4.88 gears on the front and rear. Metal Cloak took care of his entire suspension, which includes a 3.5-inch lift kit and ARB long travel shocks. The Wrangler itself is rolling on Method 105 beadlock wheels and capable Falken Wild Peak tires.
"I have been very happy with the Metal Cloak Game Changer suspension system and Overline fenders," says Olander. "These two items give the Jeep the great ride necessary for long distance driving and the suspension travel needed for technical off-roading."
"The Falken Wild Peak tires combined with the Method beadlock wheels also contribute to great on-road manners and off-road capability with a quiet ride and the ability to run very low air pressure when on the trail," he continues.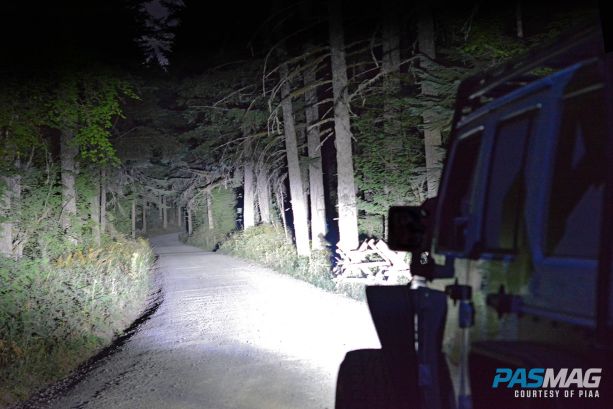 As you may, or may not know, Olander works for PIAA – a manufacturer of driving lights and accessories. So, of course, there's no shortage in that department. PIAA is responsible for the LP530 fog lights, LP570 driving lights and hybrid light bar on the front bumper, LP550 driving lamps on windshield mounts, RF18/RF10 bars on the forward roof rack, as well as RF3 flood lights on the rear and RF6 hybrids in the rear bumper as reverse lamps.
"With the modifications I have done to this JK, I have put together a vehicle that I can use as a daily driver, use for sales calls, drive 400-plus miles in a day, tow a trailer and take on tough off-road trails, such as the Rubicon here in Northern California," Olander explains.
With outstanding light output, performance-driven suspension and all the right off-road accessories, Olander and his team at PIAA put the Rubicon to the test at the Jeepers and Jeep Jamboree in Northern California and Oregon. While it's yet to come home with any awards, the team says the vehicle has performed "with outstanding results thus far" and plan to make appearances at upcoming events in the near future. Be on the lookout at your next jamboree!
All totalled, the build took three months to complete, which Olander says was the most difficult part of bringing his Wrangler to life.
"There were no real challenges to the build besides the time frame I had to keep," he explains. "It was a challenge to get the vehicle done in time for my first shows and events. I did a six-month build in about three months."
Completing the entire build in his garage from start to finish could have very well amplified the three-month challenge, but in the spirit of a true enthusiast, Olander says he just can't get enough of the hands-on experience of building his own vehicle.
This isn't Olander's first rodeo either, having already accomplished custom builds with a 1979 VW Rabbit, 1962 Jeep CJ-6, 2002 Subaru WRX, 2012 Birkin (Lotus Super 7).
"Back in 2002 I built an '02 Subaru WRX for show and work use," Olander says. "This car was used in our SEMA booth that year and served as my daily driver and show vehicle for over 100,000 miles. It ended up being a great car to drive; close to 300 horsepower, handled great and was very reliable."
There seems to be an obvious theme when it comes to Olander's builds: practicality and reliability.
"As many people involved in the automotive aftermarket, cars are my hobby as well as my job; I just can't leave one alone," says Olander. "I really like the idea of personalizing a vehicle, but at the same time keeping the upgrades functional and the finished product reliable and drivable."
Being the third generation of the Wrangler family, Olander's Rubicon has managed to keep to its off-road roots while still turning heads on the streets. As for his initial goal, the balance between a daily driver and weekend toy has been undeniably accomplished.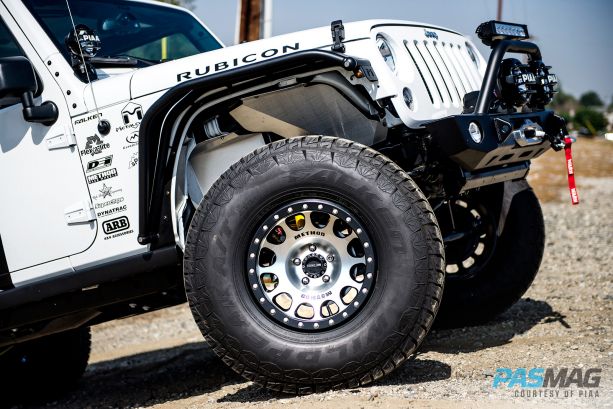 As seen in:
PASMAG Tuning Essentials: Trucks, 3rd Edition
(available online at www.pasmag.com/backissues)
ESSENTIALS
2015 Jeep JK Wrangler Rubicon Unlimited
OWNER: Chris Olander
LOCATION: Cameron Park, CA
ENGINE: FCA 3.6L Pentastar V6
ENGINE MODIFICATIONS
aFe Power (air filter, throttle body spacer, GT air intake)
Superchips
Flashcal ECU
EXHAUST
aFe Power (Hi-Tuck exhaust, Y-pipe)
DRIVETRAIN
Dynatrac (ProRock 44 axle housing (f), heavy duty ball joints, G2 4.88 gears (f/r))
WHEELS / TIRES / BRAKES
Method 105 Beadlock wheels - 17x9 (f/r)
Falken Wild Peak A/T tires - 37x12.50 (f/r)
CHASSIS / SUSPENSION
ARB Old Man Emu Long Travel suspension
Metal Cloak (Game Changer 3.5-inch lift kit, Duraflex control arms)
EXTERIOR
Expedition One JK Core Series bumpers (f/r)
Metal Cloak (Overline fenders, LED taillights)
Rock-Slide Engineering step sliders
PIAA LED Lighting (LP530 bumper fog lights (f), LP570 bumper driving lights (f), H13 Extreme white plus bulbs, RF18 hybrid bumper light bar (f), LP550 driving lamps, windshield mounts, RF18/RF10 bars on roof rack (f/r) RF3 roof rack flood lights (r), RF6 hybrid in bumper as reverse lamps (r))
Graphics by Liquid Refreshments
Gobi Stealth roof rack
Warn Zeon 10-S winch
INTERIOR
Design Engineering Inc. Boom Mat hard top insulation
Rock Hard 4x4 Ultimate sport cage
AUDIO / MOBILE ELECTRONICS
Kenwood (KAC-M1804 4-channel amplifier, KEN-KSC-SW11-1 subwoofer)
sPOD 8-Switch Special Edition distribution blocks
ARB Twin-Air air compressor
SPONSORS
aFe Power, Superchips, ARB, Dynatrac, Method, Falken, Metal Cloak, Expedition One, Rock-Slide Engineering, PIAA USA, Liquid Refreshments, Gobi Stealth, Warn Zeon, Design Engineering, Rock Hard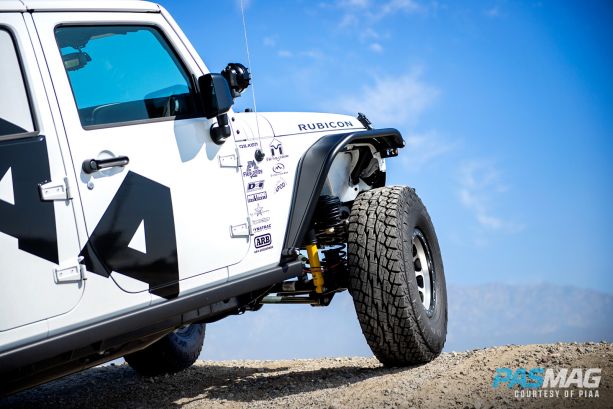 Contributor: Adam Steinberg