02 December 2015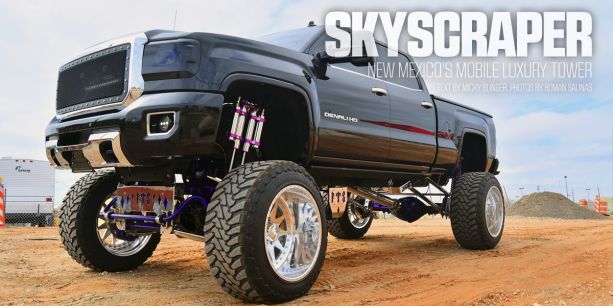 New Mexico's Mobile Luxury Tower.
A skyline is sometimes all you need to identify a city. For example, New York's Empire State Building or Toronto's CN Tower are famous and timeless identifiers of their respective locations.
Weirdly, there's a strange happening in New Mexico these days, as there's a new addition to the skyline, but it keeps moving around the Hobbs area. After some investigating, we managed to track down its owner and brought him in for questioning. It turns out the traveling tower is, in fact, Iram Ochoa's lifted GMC Sierra Denali HD. To be fair, anyone could have made the mistake.
If you're into lifted trucks repping some serious wheel hardware, you'll know of this Sierra. You've probably seen it plastered all over the various truck pages you follow on Instagram. Ochoa's online alter ego on Instagram has amassed over 65,000 followers. Come for the awesome truck, stay for the hilarious commentary and pictures.
"It's a clean build," explains Ochoa. "For this reason, it attracts people that own lifted trucks, and also those that don't. When that's the case, you end up with many admirers because it can fit into any demographic."
As most of you know, when a GMC gets a "Denali" badge, that truck essentially becomes a Cadillac – leather-trimmed everything, the latest tech and multimedia and some power to back it all up. The 1500 model is nicely equipped and very popular (over a million sold since 2000), but Ochoa, a seasoned builder of F250s, had to go for the 2500 model with the 6.6L Duramax V8 turbo-diesel under the hood. Paired with a fully locking rear diff for on-the-go off-roading if needed, and an exhaust brake system that uses the engine compression to create negative torque in order to slow the Sierra, it's the complete package of luxury and performance.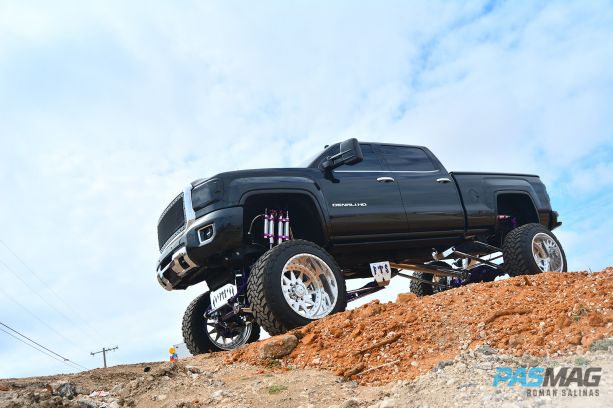 If you had a truck like this, would you change up anything right away? For most, it would be hard to justify laying a hand on a truck of this caliber, but it wasn't even a question for Ochoa. He took this house-on-wheels and put it on 15-inch stilts, effectively turning the Sierra into something to the tune of a Trump Tower. The Full Throttle suspension kit covers all bases – lift shocks in the front, coilovers in the rear, and sway bars, strut bars and control arms all around.
When you're running a luxury tower, you need an impressive ground floor. To attract attention, sometimes good and sometimes bad, Ochoa is running some killer American Force wheels with some mind-blowing specs. His Honor MP8 multi-piece forged wheels measure 24 inches up and down, and dish out 16-inches wide! Their high-polish finish strikes a stark contrast between the mostly dark truck, and we wouldn't be surprised if these mirror-like dishes have been used for more than a couple selfies. As you can see from the pictures, Ochoa isn't afraid to let the Toyo Open Country tires smoke like they've got a bad habit.
"The truck is a fun truck to drive and it turns heads everywhere I go," he laughs. "It also gets pulled over a lot – a bunch of unneeded attention at times, which is never fun – but I use these experiences with my audience. It only increases the truck's popularity!"
Now, you can't have a truck like this and be all show and no go. The Duramax turbo-diesel puts out a respectable 397 horses and an astounding 765 lb-ft of torque out of the box, but in the world of trucks, there's always a plug-in tuner to help make things go a little harder, faster, stronger. In this case, the gift of extra power comes from PPEI Tuning's ECU tune, which cranks the almost 400 horsepower to 550! To let his fans (and the authorities) know he's coming, Ochoa enlisted the help of Altered Attitude to build him a custom exhaust. The bellowing five-inch stainless pipe hanging off the rear is the awesome result.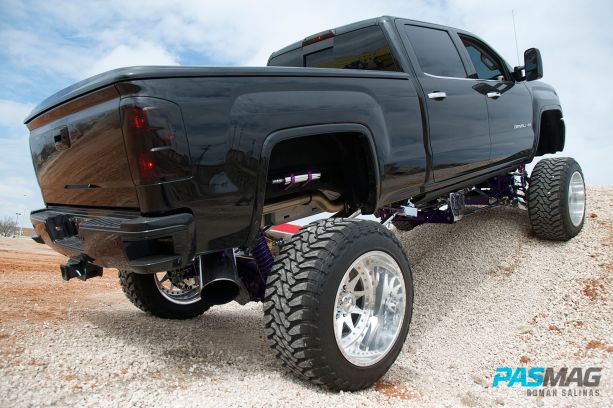 Altered Attitude also helped out Ochoa in the looks department by custom building him his headlights and taillights. The headlights are definitely a highlighting feature on the build. With black housings and dark tints, they look almost painted when not in use, but when the switch is flicked, you can see the purple LEDs that line the top and bottom (also matching the purple suspension work) and green LED halos that stare out of the middle of the lamps.
"Altered Attitude builds very impressionable trucks," endorses Ochoa. "The Sierra Denali build is by far the most attractive build that I have owned."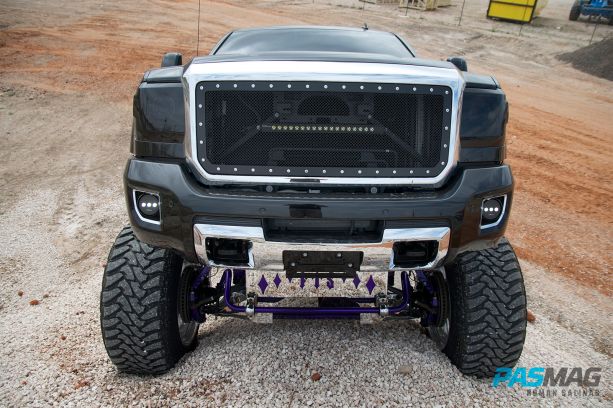 Bolstering the custom headlights with some more attitude up front is the T-REX grille, which hides an LED light bar behind its riveted and meshed gape. To really finish the truck off, Ochoa went for an Undercover Lids tonneau cover out back. It cleans things up on an already pristine truck.
"I'm proud to be its owner," Ochoa says.
After wrapping up our investigation, we feel that Ochoa's truck should have a spot on the Hobbs, New Mexico skyline – it definitely makes an impression. You'd buy a "Wish you were here" postcard with a picture of this truck smoking tires on it, right? Thought so.
As seen in:
PASMAG Tuning Essentials: Trucks, 3rd Edition
(available online at www.pasmag.com/backissues)
ESSENTIALS
2015 GMC Sierra 2500 Denali HD
OWNER: Iram Ochoa
LOCATION: Hobbs, NM
BUILT BY: Altered Attitude Inc.
ENGINE: GMC 6.6L Duramax V8 Turbo-diesel
HORSEPOWER: 550 hp
SOCIAL: @ill_teach_you_how_to_skate
ENGINE
FASS Fuel Systems fuel pump
PPEI Tuning ECU tune
EXHAUST
Altered Attitude custom 5-in. stainless steel exhaust
WHEELS / TIRES / BRAKES
American Force Honor MP8 wheels – 24x16-in. (f/r)
Toyo Open Country tires – 15.50x40 R24 (f/r)
Steel braided brake lines
CHASSIS / SUSPENSION
Full Throttle (lift 2.5 shocks (f), coilovers (r), sway bars (f/r), strut bars (f/r), control arms (f/r)
EXTERIOR
T-REX grille
Undercover Lids tonneau cover
Custom (headlights, taillights)
SPONSORS
Full Throttle Suspension, Altered Attitude Inc., American Force Wheels, Undercover Lids
Contributor: Roman Salinas