Written by Adam Steinberg. Photos by Elliott Powell | 27 October 2015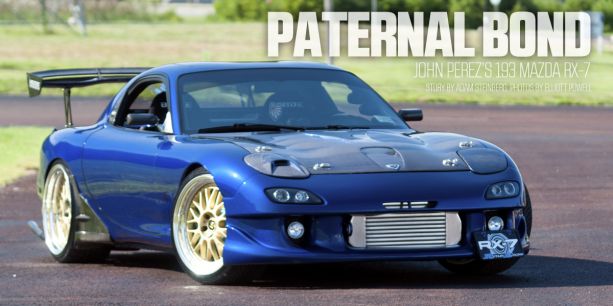 John Perez purchased his 1993 Mazda RX-7 10 years ago in New York as a project for him and his son. It's always been a dream car for the two, and is Perez's third custom build after his Toyota Supra and Honda Prelude. In fact, it's his son's passion for cars that first drove Perez into the building scene.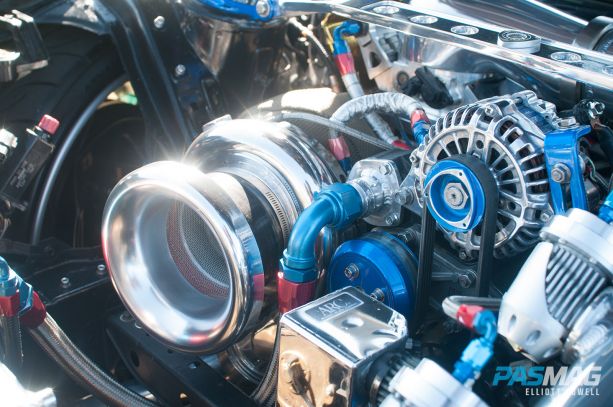 Over the next five to six years, beginning in 2005, the father and son duo invested nearly $100,000 on everything from a Precision wastegate to a Garrett GT42R turbocharger; two of which don't even begin to scratch the long list of engine mods. Perez acknowledges that the amount of cash dropped on an RX-7 may seem excessive to some, but that's overweighed by the bond he and his son shared. "Regardless of how expensive and time consuming the project was, the events and time my son and I spend together are priceless," he says.
Ironically, the RX-7 was initially intended to be strictly for show, but after much criticism on its speed, the two decided on an engine rebuild, which has since become a favorite for Perez. As the two worked on the car, they decided to try keeping it, not only as JDM as possible, but as unique as possible. In doing so, Perez aimed for parts like RE-Amemiya and LEG Sport, which are rarely seen on North American soil.
The RX-7 has since seen its fair share of shows; travelling to Maryland, Atlantic City, Philadelphia and New York City to name a few. As for inspiration during the build… let's just the say Perez and son are no strangers to watching Fast and Furious or playing Need for Speed.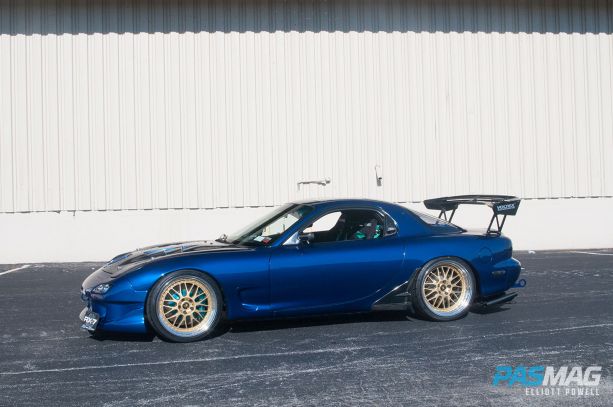 #TBGLIVE WINNER | 62% OF THE POPULAR VOTE | TUNER EVOLUTION: PHILADELPHIA| OAKS, PENNSYLVANIA, UNITED STATES
ESSENTIALS
1993 Mazda RX-7
LOCATION: Utica, NY
CAR CLUB: CNY Boost Junkies
ENGINE: Mazda 1.3L 3-Rotor Rotary (13B)
HORSEPOWER: 815 WHP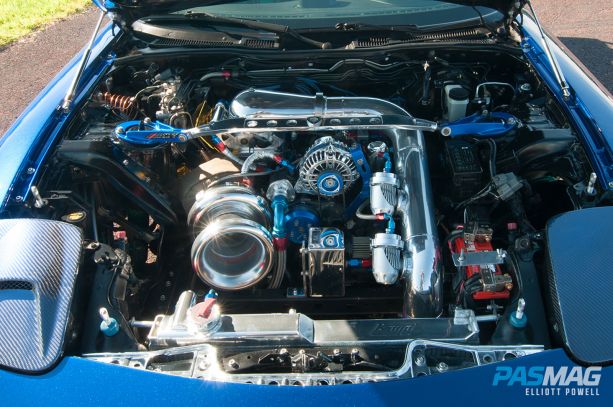 ENGINE
PFS (bridge/semi-peripheral ported 13B, dowel pinning, wire tuck, water injection kit)
Aeromotive 340 fuel pump (2)
Top Feed (1000cc fuel injectors, primary injector fuel rail)
Pro EFI (128 ECU, Smart ignition coil, CAN gauge, boost control solenoid, I-Boost switch, wideband O2 kit)
Garrett (4-row intercooler core, GT42R turbocharger)
Xtreme Rotaries semi-peripheral port intake manifold
HKS Racing Type 2 blow-off valve (2)
NGK race spark plugs
ARC oil catch can
GReddy pulleys
Koyo radiator
Precision 66-mm wastegate
K&N air filter
Klotz Benol castor oil
Evans coolant
Wiggins clamps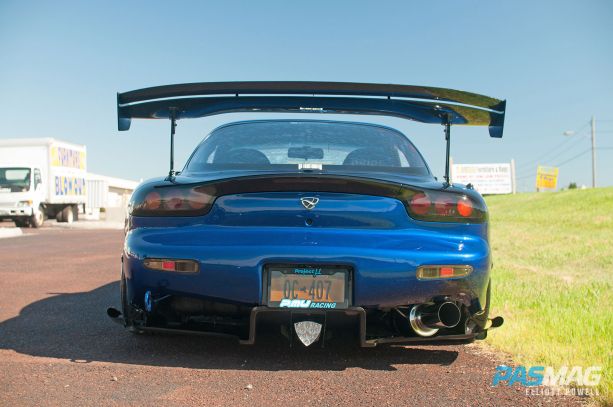 EXHAUST
4-in, center muffler mid-pipe
4-in, exhaust system
DRIVELINE
RX7store.net differential bar
GReddy differential cover
WHEELS/TIRES/BRAKES
Project Kics R40 NeoChrome lug nuts
Work VSXX wheels (gold, step lip) - 19x9.5 (f), 19x10.5 (r)
ADVAN Neova ADO8 tires - 235/35/19 (f), 255/30/19 (r)
CHASSIS/SUSPENSION
1995 R1 transmission swap
ACT (pressure plate, XACT flywheel, 6-puck race clutch, Xtreme counterweight)
B&M short shifter
Carbonetics 2-way metal LSD
RX7store.net (4.33 gears, chromoly axles)
ATTAIN urethane differential bushing set
SR Motorsports powerplant frame
TEIN Super Drift coilovers w/ EDFC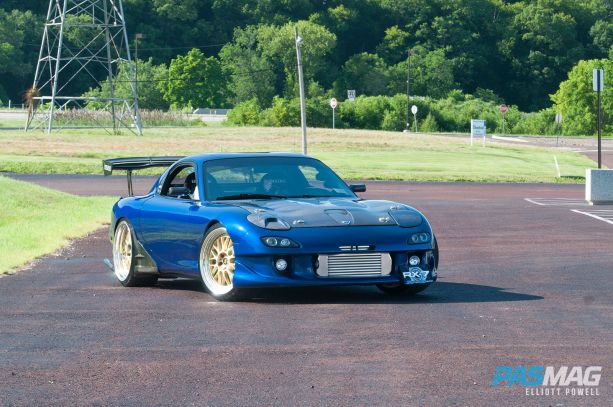 EXTERIOR
Custom blue pearl paint
H2 mid-base pearl on carbon fiber
RE Amemiya N1 (front bumper, side skirts)
Leg Sport carbon fiber rear ducts
Cusco hood pins
FEED (carbon fiber door handles, tow hooks)
Seibon Carbon scoot hood
Craft Square carbon fiber mirrors
Carbon Fiber (hatch, scuff pads, rear diffuser, air ducts)
Voltex Type 3 GT carbon fiber wing
RaceOnUSA carbon fiber headlight cover
URAS (reverse lamp, rear side markers)
Efini front / rear badge
Mazda RX-7 '99-spec taillights
Ultra Crystal headlights
HID Xenon 8000K bulbs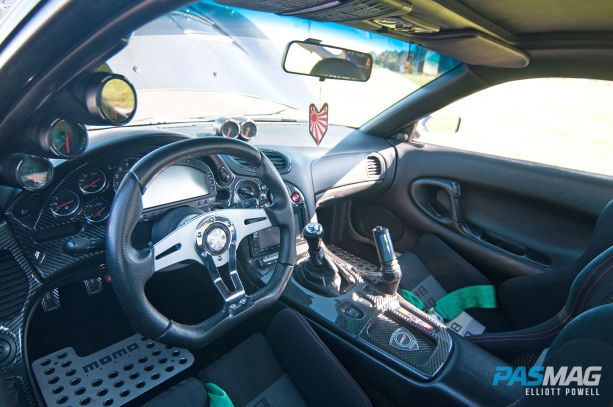 INTERIOR
MOMO (carbon fiber shift knob, Gotham racing pedal, Grid T-200 aluminum plate, steering wheel)
FEED carbon fiber badge
Vento carbon fiber interior
Custom floor mats
BRIDE carbon Kevlar gradation seats
TAKATA gel harness pads
Works Bell steering wheel hub w/ lock
NRG harness bar
AIM MXL Strada
Defi Blue Racer Series (boost 52 mm gauge, EGT 52 mm gauge, volt 52 mm gauge)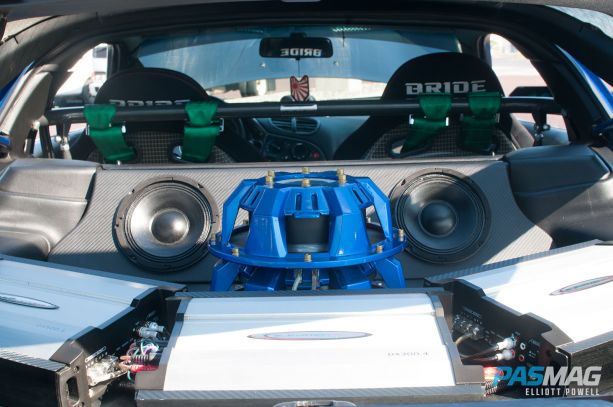 MOBILE ELECTRONICS
Pioneer AVH-P4000DVD head unit
Elevation Audio (custom install, Pro 12-in. subwoofer, DX 300.4 amp, DX 500 amps (2), Loud & Clear 6-in. speakers (2))