Written by Jacob Leveton | 06 August 2015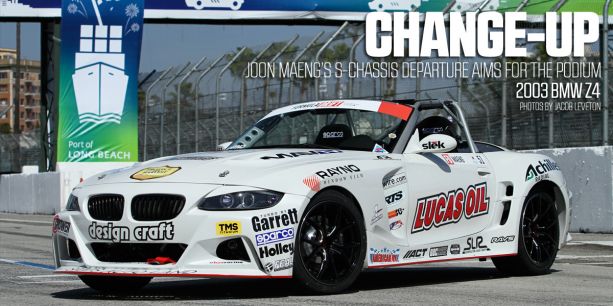 Standing out on the Formula Drift grid with a V8-powered Nissan is tough. Although Joon Maeng's S13 was one of the most developed on the grid, he knew he needed something different to peak sponsor interest. After the 2014 season, Maeng began a quest to find his next drift car. Luckily, searching for a car only meant going on a few test drives, and after a few fun afternoons, he knew his new car would carry a different badge: the roundel of BMW.
Maeng teamed up with longtime drift car fabricator Gary Castillo and his Designcraft Fabrication shop to build the new chassis. Castillo has built some of the most iconic and unique drift cars in the series including the Falken Tire G35, RS-R S2000, and the NTB Falken RX-8. Maeng bought not one, but two different BMW Z4 chassis, with the intent to build one into a fully competitive drift car while the other would be turned into a street-able demo and practice car. The competition car was dropped off at Castillo's shop in Westminster and the transformation was underway.
First up, the entire chassis was stripped down to a bare shell and roll cage fabrication was started. All chassis wiring was stripped, as a custom motorsport wiring harness from RyWire was planned, and all sound deadening and interior pieces were removed. After the roll cage was fabricated, custom brackets for the Sparco Pro ADV seats were built to keep Maeng well below the top halo line of the roll cage. A Tilton floor-mounted pedal set replaces the stock pedals, with custom reservoirs for the front brakes, rear brakes, and second e-brake caliper all integrated.
The OEM BMW dash was retained per the letter of the rules, but the normal display gauges, HVAC controls, and normal driver controls were left out. Replacing all sources of notification is a single Motec C125 dash display in the normal gauge cluster surround. The Racegrade motorsport keypad on the dash replaces the ignition and many other switches. If it looks too simple to actually function, thatís much the design of the "business-first" goal of this drift car.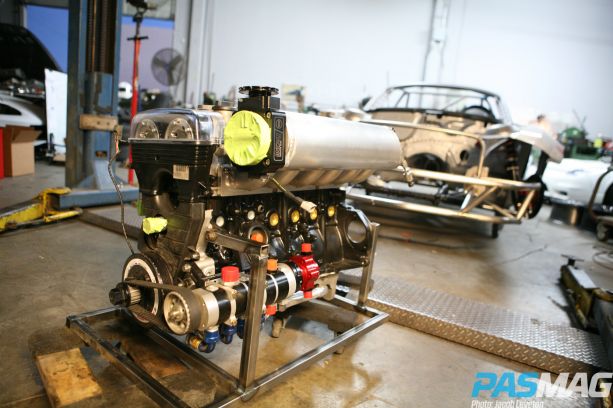 Under the hood, a Duttweiler Performance built 2JZ motor replaces the normal BMW inline-6. Maeng knew he wanted the best-of-the-best partnering on the build, and when Duttweiler offered a 1,000 crank horsepower package that could be built and engine dyno simultaneously as the chassis was being built, it was an easy decision.
"Duttweiler is known for pushing big, reliable horsepower, and they know all the tricks to keep this motor reliable," says Maeng.
Duttweiler utilized Crower Stage two cams and connecting rods, JE pistons and ARP fasteners secure everything. Power is cranked through the Doc Race intake and exhaust manifolds through the Garrett GTX3582 ball bearing turbo, pushing well over 800 horsepower to the rear wheels.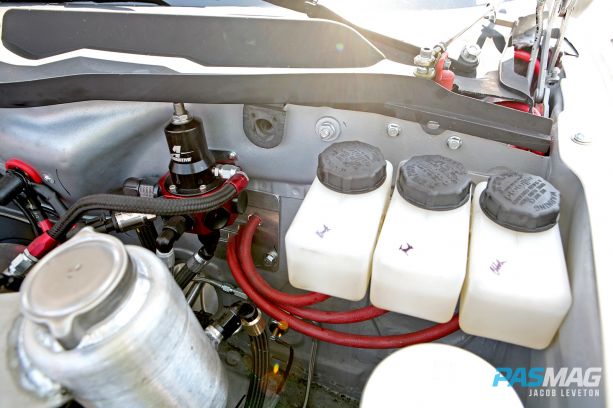 Fuel is provided by a full Aeromotive setup including pump, pressure regulator, and fuel rail, with Holly Performance fuel injectors spraying the cylinders. Excess boost is relieved by the TiAL blow-off valve and wastegate, with air passing through a K&N air filter and cooled by the GReddy GTR intercooler before entering the engine. Duttweiler also put together a custom multi-stage dry sump setup to ensure the engine is lubricated with Lucas Oil products at all times.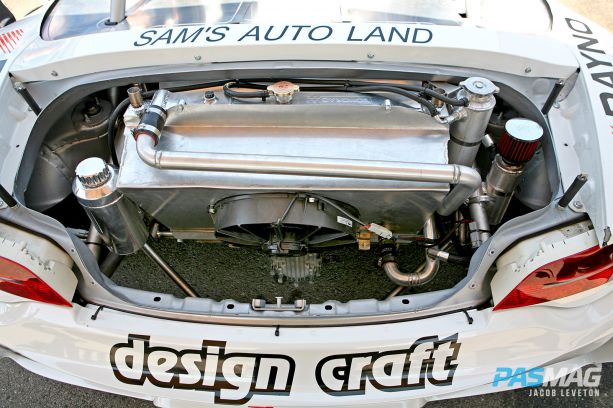 Notably missing from the engine bay is the radiator, which was relocated to the trunk area - both to provide more air circulation, as well as to protect the radiator from potential battle damage. The trunk also holds an eight-gallon fuel cell, which is enough for a handful of passes. Under the fuel cell, the RTS quick-change rear end spins custom Designcraft fabricated axles, which use a custom mix of components to get a combination that can hold the 800-plus horsepower. All that power is pushed through 18-inch Rays G07FXX wheels and Achilles 123S tires.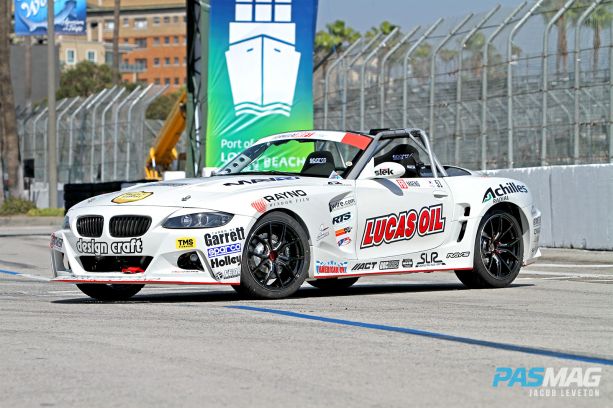 Outside the car, the Slek Designs wide body adds nearly three inches in width to each corner, with matching side skirts as well as front and rear bumpers, and gives the car a sinister appearance. Ride height is set by custom Feal Suspension coilovers, with a "CAN'T WAIT TO SHOW THE POTENTIAL OF THIS CHASSIS. I KNOW IT HAS ALL THE COMPONENTS TO GET ON THE PODIUM!" mix of SLR Speed and custom Designcraft suspension arms allowing for a full range of steering and suspension geometry adjustments. All the bodywork was sprayed in BMW Alpine White, while the interior and engine bay get a coat of Titanium Silver before reassembly.
When Castillo and Maeng first started discussing the build, Castillo knew that the partnership had potential to be good.
"Joon is unlike any other driver I've worked with," Castillo says. "He wants to build a good car, but he's open to try some of my crazy ideas!"
Although the car is still very early in the development cycle, both driver and fabricator have already come up with a long list of improvements and tweaks that will be made over the course of the season to help get the car to a competitive level. Maeng is quick to praise the work of Castillo and the team.
"This car was really a dream build from the beginning," he exclaims. "I can't wait to show the potential of this chassis. I know it has all the components to get on the podium!"
With an attitude like that and a build as thorough as this one, it seems like only a matter of time before this car is on top.
We swung by Designcraft Fabrication just a few weeks before the season opener in Long Beach to see the car mid-assembly. We got a really up-close look at some of the details of the car, but were asked to keep the specifics under wraps until the car was fully dialed in. From the custom rear-mount radiator setup with the hot pipe that just narrowly clears the trunk, to the details of the fuel system, there's a lot of great fabrication and uniqueness that can be overlooked when all the bodywork is hung. If you ever get a chance to look under and around this car, you definitely should take a closer look!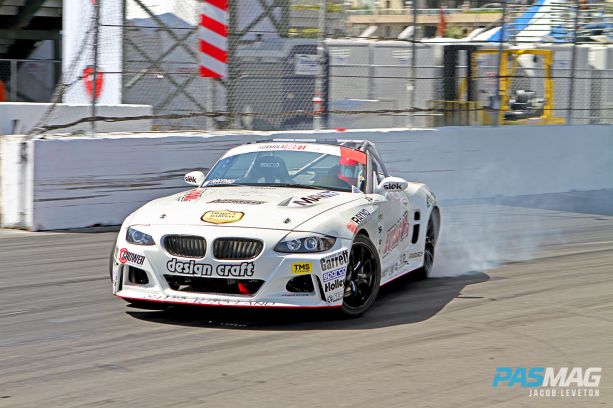 ESSENTIALS
OWNER: Joon Maeng
VEHICLE: 2003 BMW Z4
BUILT BY: Joon Maeng, Designcraft Fabrication, Duttweiler Performance
ENGINE: Toyota 2JZ-GTE 3.0L V6
HORSEPOWER: 820 HP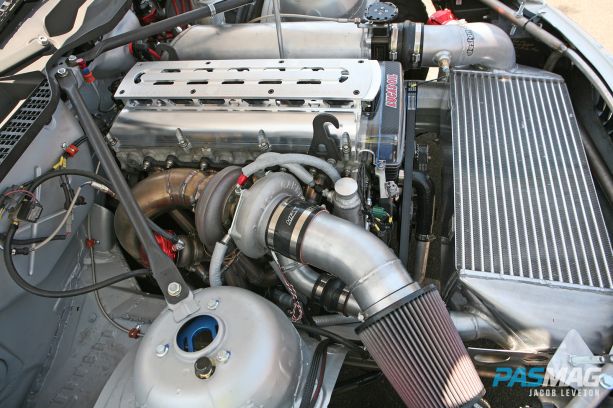 ENGINE
Duttweiler Performance (built Toyota 2JZ-GTE, custom multi-stage dry sump system, timing control)
Garrett GTX3582 turbocharger
Crower (Stage 2 camshafts, 86054J cam gears, billet connecting rods)
JE Pistons custom pistons
ARP fasteners
RyWire (custom wiring harness, ignition wires, ignition coils
Doc Race (intake manifold, 90 mm throttle body)
Aeromotive (fuel pump, pressure regulator, fuel rail)
Holly Performance fuel injectors
Tial (blow-off valve, wastegate)
K&N air filter
GReddy GTR intercooler
Lucas Oil lubricants
Bakers Precision 8-gallon fuel cell
HPS Racing hoses
NGK Iridium spark plugs
Designcraft Fabrication grounding system
Holley Performance ECU tune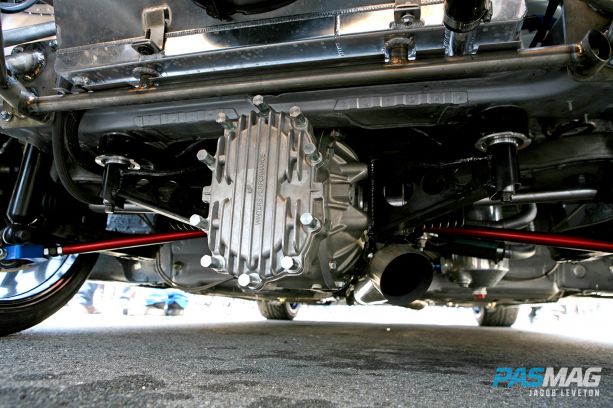 DRIVETRAIN
Advanced Clutch Technology (triple disc clutch, flywheel)
Race Tech Services (racing transmission, quick-change rear end)
Designcraft Fabrication (axles, driveshaft)
EXHAUST
Designcraft Fabrication (exhaust system, custom quick release exhaust mounts)
Doc Race exhaust manifold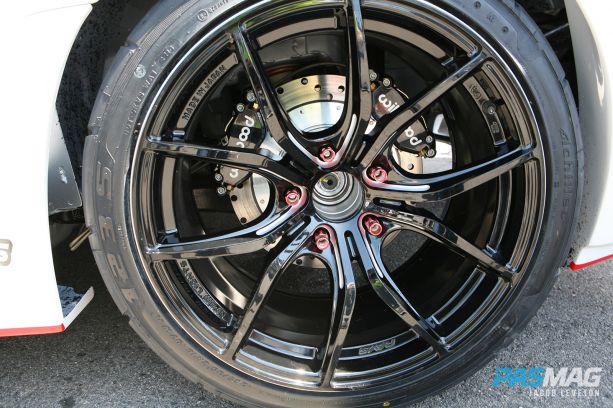 WHEELS / TIRES / BRAKES
Rays G07FXX wheels ñ 18x8.5 +35 et (f), 18x9.5 +35 et (r)
Achilles 123S tires ñ 235/40 R18 (f), 265/35 R18
Wilwood brake kit - TC6 6-piston calipers, Dynamic Mount 12-in. drilled rotors, pads (f), Dyna Pro 4-piston calipers, Dynamic Mount 12-in. drilled rotors, pads (r)
Stainless steel braided brake lines
Second E-brake caliper
Designcraft Fabrication custom brake reservoirs
Lucas Oil brake fluid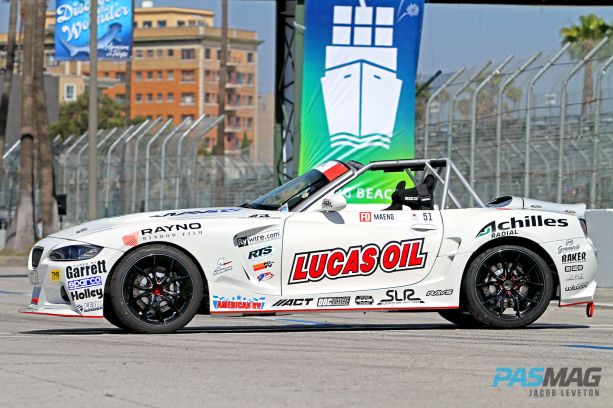 CHASSIS / SUSPENSION
Designcraft Fabrication (roll cage, sway bars, control arms (f/r))
Feal Suspension custom coilovers
Swift springs
SLR Speed angle kit
Achilles Motorsport urethane bushings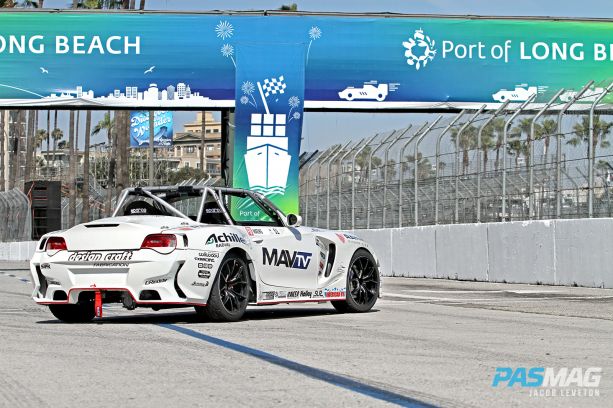 EXTERIOR
Slek Designs (wide-body fenders, bumpers (f/r), side skirts, hood)
APR Performance spoiler
Spyder Auto headlights
Projector fog lights
BMW Alpine White paint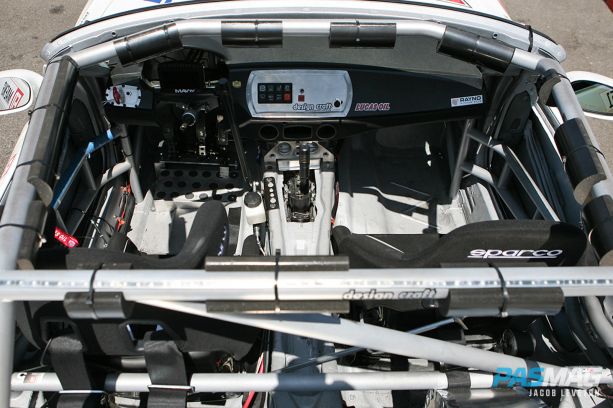 INTERIOR
Sparco (Pro ADV seats, steering wheel, 6-pt. harnesses)
Designcraft Fabrication (custom seat brackets, shift knob)
Tilton floor-mount pedal set
RyWire gauges
Motec C125 dash display
Racegrade motorsport keypad
BMW Titanium Silver paint
SPONSORS
Lucas Oil, Mav TV, Protect The Harvest, Rayno Window Film, Design Craft Fabrication, Duttweiler Racing, Achilles Radial, Holley Performance, Sams Auto Land, Sparco USA, Titanium Metal Supply, Crower, APR Performance, Turbo By Garrett, Advanced Clutch Technology, American RV Inc., Slek Designs, Aeromotive, LSAuto, SLR Speed, Race Tech Services, HPS Racing, RyWire, Baker Precision, Doc Race, Twins Turbo, Granatelli Motorsports, Brodix Cylinder Heads Inc., JE Pistons, K&N Filters, Feal Suspension, Rays, CX Racing, ARP, Wilwood, Vortech Superchagers, GReddy, OCD Works, Achilles Motorsports.
Contributor: Jacob Leveton