Written by Randi Bentia | 27 May 2013
Brian Requena pays tribute to the good old days with his 1996 Honda Civic. He grew up admiring low riders and eventually fell in love with the Honda Civic, specifically the EK hatchback chassis. As a member of Team Elevated in Brampton, ON (Canada), he stays true to the elevation of the sport we like to call aftermarket tuning. He's contemplated selling the Civic to possibly work on a different car, but he continued to follow his passion with custom and unique modifications, of which help set his Civic apart from the rest.
Written by Randi Bentia. Photos by Arthur Malczewski
Brian tried to put together something that would describe the passion he has towards cars and the uniqueness of each class.
"I picked a 1996 Honda Civic because (quote) when you grow up in a Portuguese family, your brothers will have a Civic (end quote)." Growing up, Brian got inspired by low riders and as a result, he wanted a nice, low car. So, he slammed it and put low rider logos.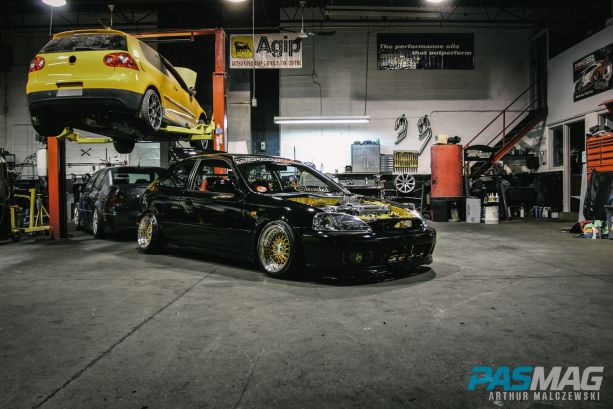 Brian still had a soft spot for German cars. He equipped his Civic with a set of BBS RS Wheels but he felt that he was still missing something.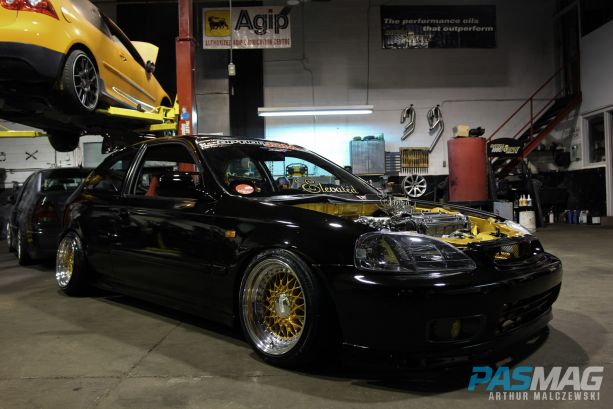 Brian had this inner love for hot rods, "when you see a hot rod, the first thing you notice is its insanely clean engine bay." So, he did the best he could by putting all of this together to create the vehicle he has today.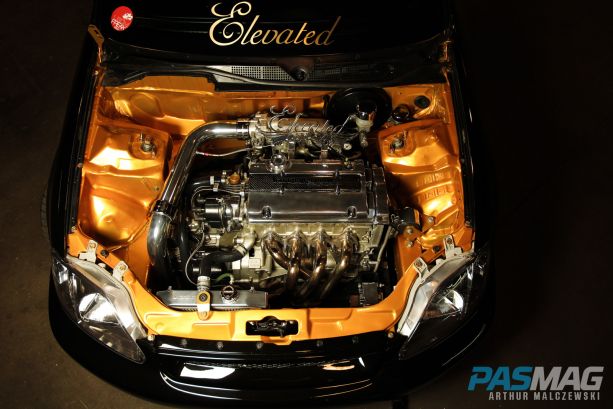 "Most importantly, do what you love and do it with the people you love. That's all that matters."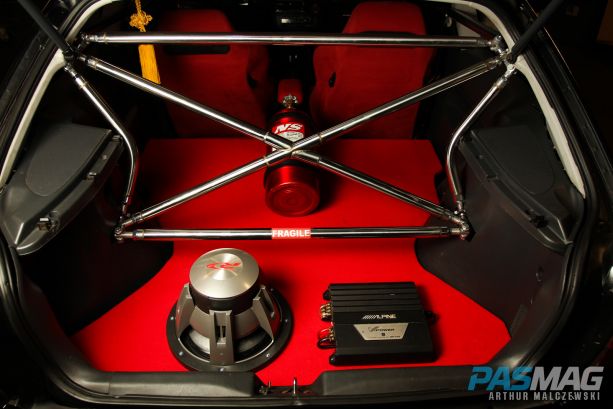 ESSENTIALS // Owner: Brian Requena // Location: Brampton, ON. Canada // Vehicle: 1996 Honda Civic Hatchback // Car Club: Elevated
Tuner Battlegrounds Live Event: Fitted - Toronto, ON - May 25, 2013
ENGINE MODIFICATIONS // 94 H22a motor // Engine Port and Polished Head // Blueprinted // Eagle (Pistons 13:1 compression, H Beam connecting Rods // ARP Headstuds // Walbro 255lph fuel pump // RC370 injectors // Energy Suspension bushing kit // Nitrous Supply 150 shot wet kit // Custom elevated show plaque // Shaved bay // Three stage paint // Downstar spike bolts (headers, valve cover, shock tower) // Tucked fuse box // Relocated alternator // Innovated relocation bracket // Fully polished (dizzy, valve cover) // Carbon fibre spark plug cover // Heater core removed // Relocated battery // Tucked (harness, brake lines, fuel lines, headlight wires, rad fan) // Mishimoto half rad // B18c ECU Chipped 2 step @3500 // Jumper Conversion harness // Spoon polished oil cap // Polished (cold air, spector clamps) // Password:JDM (bolts and washers, rad stay, V-Ttec cover) // AEM fuel pressure regulator // Benen traction bar // Polyurethane mounts // Russel (stainless steel hoses, fittings, -6 fuel filter) // B&M fuel Gauge // OEM new spark plug wires // 12" blocks rad fan
EXHAUST // 4-2-1 headers // 2.5 straight pipe punched everything
DRIVETRAIN / SUSPENSION // Exedy 3 puck Clutch // Fidanza flywheel // S2k clutch master // Cusco 1.5 way LSD // YONAKA race drive shafts // 4.9 Final Drive // Unorthodox Racing Lightweight Pully // Steel braided clutch lines with Russel fittings // PIC (10k fronts, 8K rear) // Skunk2 camber kit (f/r) // Blocks copper control arms // ASR polished brace // Beaks bar // H&R extended studs // Miracle X bar
WHEELS / TIRES / BRAKES // BBS RS Wheels // Nexen tires; 195/45 R15 (f) // Toyo T1RS Tires; 195/45 R15 (r) // SIR rear disk conversion // Centerline rotors // Hawk HP pads // Rear brake lines relocated inside
EXTERIOR // 2008 java black pearl paint // CTR (bumper (f/r), fenders, doors, side skirts, OEM front lip, rear lip, grill, side mirrors, headligts) // Endless zeal wing (one of)
Alex built riser brackets // 2000 taillights // Yellow fogs // Rear fog // Stanley custom plate brackets // Carbon fibre hood // 10k HIDs // Garage 16 tow hook
INTERIOR // Broadway rear view mirror // Apex controller // CTR (cluster, door panels, red carpet) // OEM fog switch // Red Recaro seats // Red arm rest // Black red stitching shift boot // Blocks Neo chrome shift knob // Black dash // Elevated B2C bars (Chrome dipped) // Nardi steering wheel // NRG quick release hub // Hella battery // Custom (elevated plaque, back floor Wrapped in Ctr red fabric // Authentic Mugen pedals // Custom back floor // Wrapped in Civic Type R red fabric // Racing harnesses
AUDIO // Clarion 6x9 speakers // Kenwood speakers // Alpine (V-Power mrp-m500 amplifier, Type-R 10" 500RMS amplifier) // Custom floor plan wrapped in recaro fabric
SIR tweeters // 7" LCD screen
SPONSORS // OPTIONJDM // Battleground performance // Garage16