Written by Dave Pankew | 01 February 2010

Written by Dave Pankew | Photos by Jacob Leveton
The one thing we can count on seeing at every SEMA Show is improvement. It was truly impressive to see new hardware and products on display from the aftermarket despite a tough economy. Their were many impressive builds from the outrageous mid-engine V8 Genesis Coupe by Rhys Millen to the Canadian-built Super Cuda powered by a twin turbo V10 topping out at 208 mph. We even saw a couple of past PAS features with enough tweaks to consider them fresh but then there was K&N, who took one of their former features and tore it up to create a Time Attack assassin.
K&N Engineering Inc. of Riverside, California is famous the world over for providing performance filters with effective filtration for anything that moves. Their dominance in the marketplace means that they have the funds to do just about anything they want. K&N has a substantial facility in the 909 that houses a skunk works that boasts a huge shop and R&D area where the magic happens. Our main man there Nestor Cabrera gave us the inside scoop on this G35 and, had we not heard it directly from him, we never would have believed it.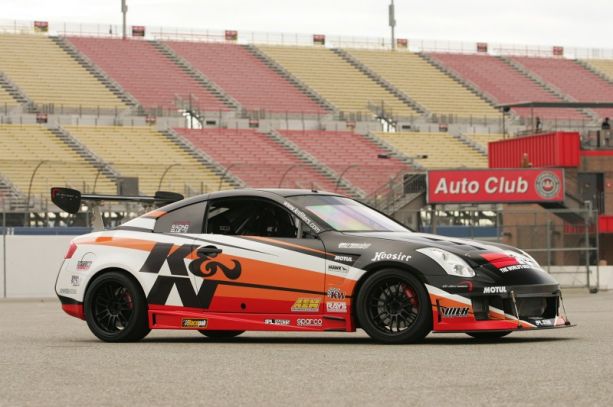 This particular G is actually one that K&N has had since 2003. The final round of modifications was not only extreme also represented the final tweaks they would make to the car since this is the third version of its existence. The final version you see here was purpose built to make a statement on the road course ahead of the pack.
The project got underway by completely stripping the vehicle, sandblasting it and seam welding the chassis. All of the metal was removed forward of the strut towers and replaced with tubing for weight reduction and to set the stage for custom wizardry. The block was machined, balanced and blueprinted before the cylinders were plugged with CP Pistons slugs. The pistons were bolted up to Pauter forged Chromoly rods pushing a knife-edged crankshaft. The heads were ported and polished then filled with SuperTech stainless steel intake valves and Inconel exhaust valves. The assembly was then bolted back with ARP studs sandwiching Cometic headgaskets.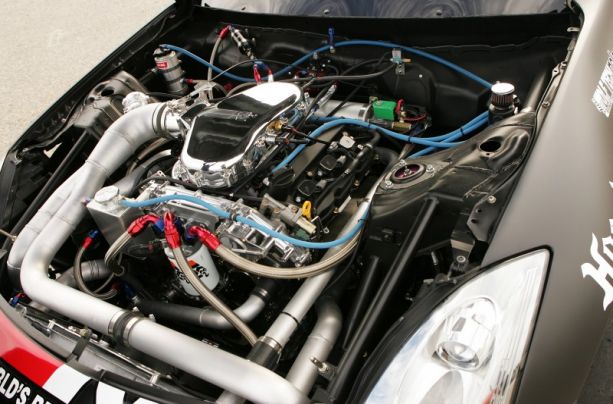 The twin turbo system was a major consideration for a critical balance of response and power. A Jim Wolf Technologies (JWT) system was chosen featuring quick-spooling Garrett GT30 turbos. Air is hauled in with a K&N Series 69 intake and flows around the engine with custom intercooler piping by K&N. The compressed air is chilled with twin Bell intercoolers, before heading through an Accufab throttle body and custom K&N plenum. Any excess air is vented by a monster TiAL blow-off valve to prevent surge on the high RPM compressor wheels. To fuel the fire, K&N technicians added a custom fuel system using an Aeromotive S1000 pump, fuel pressure regulator and RC Engineering 750cc injectors. Post combustion, the fumes are channeled into JWT downpipes connected to a custom K&N stainless steel exhaust.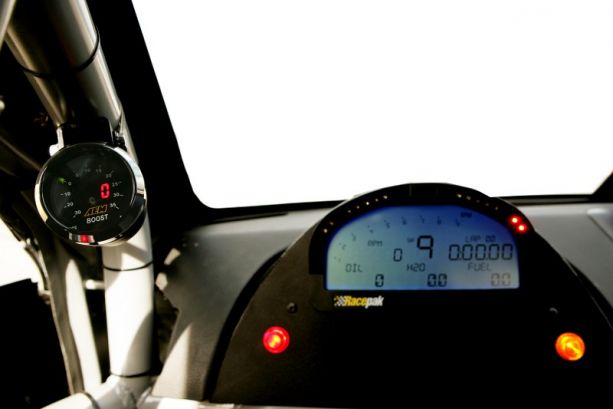 After the AEM wideband was installed and the AEM EMS standalone connected, the G was fired up. The tuning commenced on the K&N dyno and the final numbers had the K&N crew feeling pumped. The car put down a respectable 512 whp with 440 lb-ft. of instant response to rocket out of the corners and keep pulling until it was time to brake. More jam meant that the driveline needed a boost and K&N pulled no punches by installing Tilton gear. A Tilton 4.5-inch triple plate sintered metallic clutch was installed along with a Tilton ultra lightweight flywheel. But the clutch didn't get installed into the questionable Infiniti 6-speed box but rather a Tremec Dodge Viper tranny modified to fit. The power is transmitted from there through an Inland Empire Driveline aluminum driveshaft, a Quaife LSD and Driveshaft Shop stage 5 axles.
Since the build was meant to be used on the track, the running gear was carefully selected and tuned. A set of KW Suspension Competition coilovers were selected for ride height and dampening tweaks. A Speedway Engineering front sway was installed to eliminate roll and STILLEN upper control arms were installed to play with the rear camber. Additionally, STILLEN rear trailing arms, toe arms and custom lower control arms were blended in. To maintain rigidity, some SPL Parts differential bushings and solid sub-frame mounts.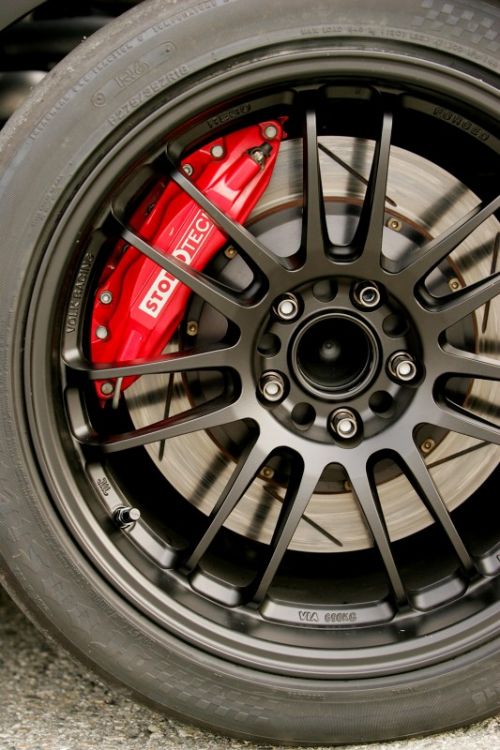 K&N didn't cut any corners on the grip gear. The team selected Volk RE30s in matte black measuring 18 x 9.5-inches up front, and 18 x 10-inches in the rear. The official tire sponsor is still being discussed and they have specified they will be running a DOT R-Comp 265 mm up front with 295 mm rears or possibly a full slick. Lurking behind the spokes are StopTech ST45 4-piston calipers with 355 mm floating rotors. Clamping down on the rotors are Hawk Competition pads pushed by hydraulics filled with Motul RBF600.
During the extensive chassis modification a Redline Time Attack-spec cage was added. The multi-point Chromoly cage adds to the rigidity of the car and ramps of the safety for the driver. A pair of Sparco Pro 2000 racing seats were added and draped with Sparco 5-point harnesses. A Sparco Competition 260 steering wheel handles the drive inputs and a B&M short shifter was added to bang the next gear. To relay engine vitals, a Racepack Digital Dash replaced the cluster, complete with a datalogger for the team to dissect the numbers.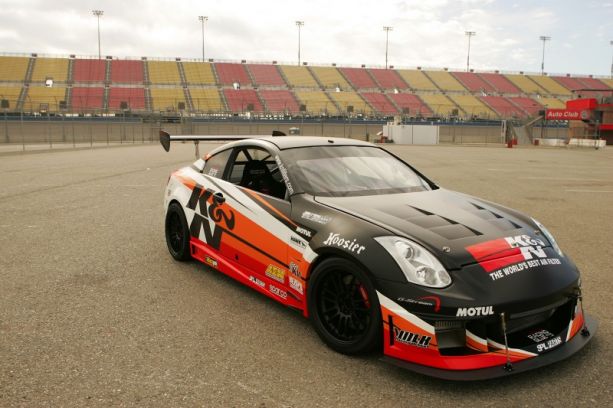 Up next were some of the more important considerations in order to reduce weight and to manage the air flow to keep it glued to the track. Seibon was contacted to pitch in with their carbon fiber: hood, fender, trunk and even doorskins to shave off precious pounds.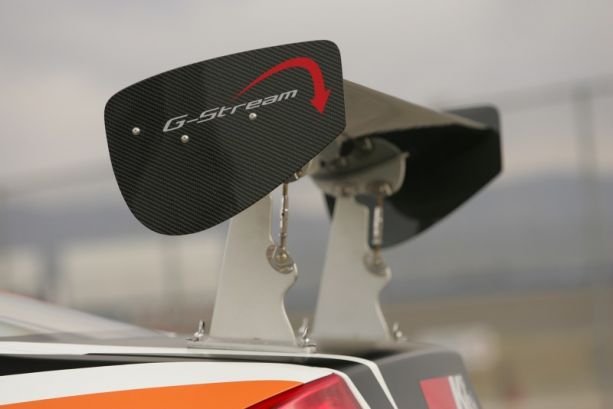 A G-Stream adjustable carbon fibre wing was added for downforce along with a Competition Performance front splitter to reduce lift. Before Race Design plastered on the vinyl, the pivotal piece was the Viral Sport front bumper, which Cabrera informs us is the only one in existence
With the right team, the funds and the facilities, the K&N crew was sure to build a monster. Although a wealth of aftermarket parts exists, K&N decided to fabricate a lot of items to showcase their capabilities right down accessories like the billet battery tie down! They have certainly outdone themselves with this build and if they contract a ringer behind the wheel, they should do some damage in 2010. Whether it is Redline Time Attack or any other track event, look for the G35 to cause a ruckus in Unlimited RWD.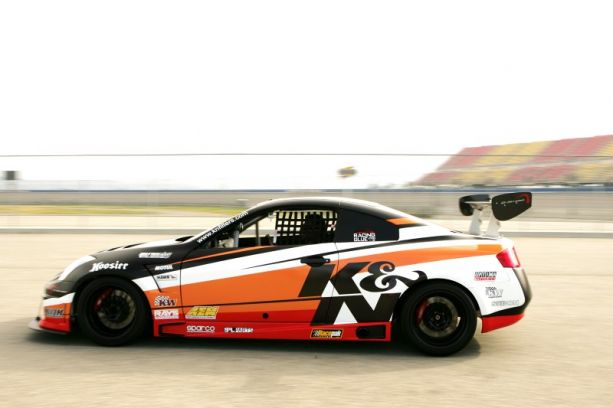 ESSENTIALS
Owner: Nestor Cabrera/K&N Engineering Inc.
Location: Riverside, California
Vehicle: 2003 Infiniti G35
Power: 512whp/440lb-ft
Engine: Nissan 3.5L VQ35DE
ENGINE MANAGEMENT
AEM EMS
Wideband UEGO Controllers
DRIVETRAIN
Tilton 4.5-inch Triple Plate Sintered Metallic Racing Clutch
Tilton Performance Nissan Lightweight Flywheel
Tremec T56 Dodge Viper 6-spd with Adapter Plate and QuickTime Steel Bell Housing
Driveshaft shop Level 5 Axels
Inland Empire Driveline Service Custom Aluminum Driveshaft
Quaife LSD
ENGINE MODIFICATIONS
SuperTech Stainless Steel Black Nitride intake Valves
Inconel 751 Nickel Base Exhaust Valves
Jim Wolf Technologies Twin Turbo System
K&N Intake 69 Series Intake System with Custom Intercooler Plumbing
Accufab 75mm Throttle Body
K&N CNC Billet Plenum Design Intake Manifold
Aeromotive Pro Series Boost Reference EFI Regulator
Jim Wolf Technologies Camshafts
Bell Custom Twin Intercoolers
TiAL Blow off Valve
RC Engineering 750CC Injectors
Pauter 4340 Vacuum Chrome Moly Forged Connecting Rods
96mm CP Forged Pistons
CP Plasma Moly Ductile Iron Piston Rings
Cometic Head Gasket
ARP Head Studs
Jim Wolf Technologies Cast Turbo Manifold
Jim Wolf Technologies Downpipe
Custom K&N Exhaust
WHEELS, TIRES, BRAKES
Rays Engineering Volk Wheels RE30 in Flat Black; 18x9.5-inch (f), 18x10-inch (r)
Stop Tech ST45 4-Piston Calipers
355mm 2-Piece Floating Slotted Rotors
Hawk Competition Pads
XRP Stainless Steel Braided Lines
SUSPENSION
KW Automotive Competition Coilover System
KW Automotive Custom Springs
Speedway Engineering Sway Bar
STILLEN Upper Control Arms
STILLEN Rear Trailing Arms
STILLEN Toe Arms
STILLEN Custom lower control Arms
SPL Parts Differential Bushings
SPL Parts Solid Sub-Frame Mounts
TEIN inner and out tie rods
EXTERIOR
Viral Sport Front bumper
Seibon Carbon Fiber Fenders
Seibon Carbon Fiber hood
Seibon Carbon Fiber Doors
Seibon Carbon Fiber Trunk
G-Stream Adjustable Wing Aero Spoiler
Competition performance Products Front Carbon Fiber Splitter
Carbon Fiber Rear ¼ Windows
Custom Graphics by Race Design
INTERIOR
Racepack Digital Dash and Data Logger
B&M Short Shifter
Sparco Competition 260 Steering Wheel
AEM Air/Fuel Gauge
Competition Roll Cage
SHOUTOUTS
K&N Engineering Inc.
KW Suspension
SPL Parts
Motul Lubricants
Sparco USA
Optima Batteries
Rays Engineering
Volk Wheels
Mackin Industries