Written by Mark Pereira // Photos by Bryan Fross | 01 February 2010
Page 1 of 2
The life span of everything must come to an end be it a car, truck or even a building. Yet here and there, the monumental work of others quite often isn't destroyed but rather celebrated and the Ford Excursion is definitely one of those creations. Big, brash and unapologetic, the Excursion took the already excessive SUV craze and made a mockery of it with this monster. The gargantuan 9-seater truck is almost 10,000 lbs. and can carry the contents of a 1-bedroom apartment with ease. Don Brooks of Big Tyme Industries decided this Excursion would tower above all others on a grand scale.
After three dedicated years, the Excursion went from a capable diesel hauler to something rarely seen on city streets. "I'm married with 5 children and needed a big vehicle… so I chose the Excursion for obvious reasons," says Brooks. The diesel engine makes lots of power and is great for hauling around town. We wanted to have something different that stood out and could be a rolling billboard for the company, showcasing what we are capable of building at Big Tyme."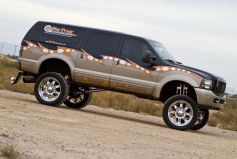 A big time rolling showcase indeed! The work started on the motor to make the diesel crank out enough torque to pull down a large house. The intake was replaced with an Airaid unit and the exhaust is a heavy duty MBRP stainless steel unit with a 4-inch turbo back and a menacing 6-inch tip. "It's straight piped and sounds like a jet plane while it's spooling up!" says Brooks. Industrial injection was contacted for some bigger injectors and a new tune to add 60 hp. When the dust settled, the mighty Ford 6.0L diesel laid down 468 whp with a staggering 937 lb-ft. of torque!
With almost 1,000 pounds of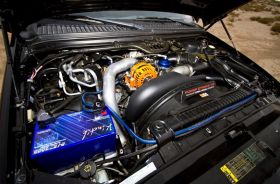 torque under the hood, Brooks did not pull any punches on the exterior of the truck. Starting with a blacked out Harley Davidson Edition Excursion he left most of the truck black but added splashes of colour. More specifically, House of Kolor Champagne and Bitter Sweet II paint were added by Super Stripes in Las Vegas. After the work was done, many coats of clear with wet sanding in between meant the paint would be mirror gloss.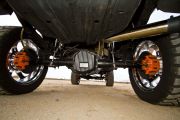 The suspension is really what sets this truck apart. An Icon Vehicle Dynamics lift kit that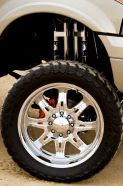 raises the spindles 10-inches from stock. A set of Fox Racing shocks were added for rough terrain and Icon sway bars to keep it from tipping over. Then a set of rollers were added to keep the Excursion high and dry above the rest of the traffic. Weld Racing stepped up to supply a set of 24 x 12-inch wheels, a totally custom design of which these are the only four. The custom rollers were wrapped in Toyo Open Country mudders measuring 37 x 13.50 R24 all around. All that extra weight at each corner meant that this vehicle would be about as easy to stop as a bus. So Brooks went out and sourced some Ford Racing brakes measuring 14-inches with 4-piston calipers.
The inside of the Excursion was like nothing we have seen in a while with its functional yet wild approach to the interior. Fat Boy Customs in Las Vegas, Nevada completely gutted the inside of the beast and got to work recovering and redesigning everything in sight. The seats were recovered in Black Tuscany leather with Crocodile skin inserts by Katzkin. The whole interior is recovered in a suede tribal theme from door cards to headline and every panel in between. The carpet is a deep pile provided by Mercedes Benz in trademark black throughout.
Finally, the stage was set for a monumental multimedia install. Something that Soundstream Audio would spend hundreds of hours completing and threw all of the highest rated equipment they had at the project. The headunit is the legendary VIR-7355NRBT unit provided a double-DIN LCD venue for video and navigation. The sound processor is a Soundstream BX-4EQ which cleans up all of the audio signals from the source unit. From there the lows head to twin Soundstream TRX-1000D amps where the signal
is boosted before it feeds twin Soundstream TSQ 124 12-inch 4-Ohm woofers with dual voice coils. The vented enclosure is jazzed up with over 1200 LED lights placed around them which totally sparks up the entire install. The mids and highs are delegated to the Soundstream TRX-4.420 twin amps. These amps feed an army of speakers including 12 Tarantula TRC.60C in the doors and cabin along with a dozen 1-inch dome tweeters. The rear fill is facilitated by four Tarantula SST6-9 mounted in the rear of the cabin. The system is connected with KnuKoncepts wiring, fuses and distribution blocks all ignited by a pair Kinetik HC600 batteries with an HC2000 lurking under the hood. There are a number of additional monitors and DVD found throughout the cabin as well. The front monitors are Soundstream VHR-79 touch screen monitors while the rears are VCM-13DBGs all fed by multiple sources including a Soundstream DVD unit in the rear console.
Sound, style and a whole lotta attitude is really what this Big Tyme / Soundstream build is all about. Well, that and more torque than that of five lesser trucks. With no plans for slowing down, look for this rig at MECA and iASCA shows near you in 2010.
Read on for Full Spec Sheet