Written by Jacob Leveton | 10 November 2014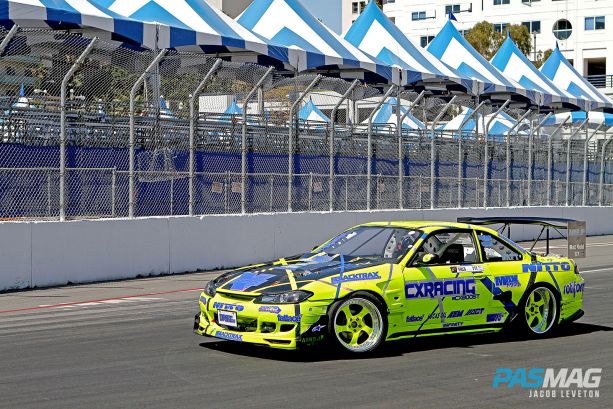 Written by Jacob Leveton | Photos by Jacob Leveton
As you eye the Formula D grid, there are certain cars that stand out. They tend to be either the oddball that you wouldn't expect to be a competitive drift car like the Scion tC or Dodge Viper, or one with a popping paint job and graphics that burn your retinas. When you get to the piercing paint job on the CX Racing Nitto Tire Nissan S14.5, your eyes definitely stop for a moment. Diving deeper into the build, you realize this isn't just your average Chevy-powered Nissan drift car.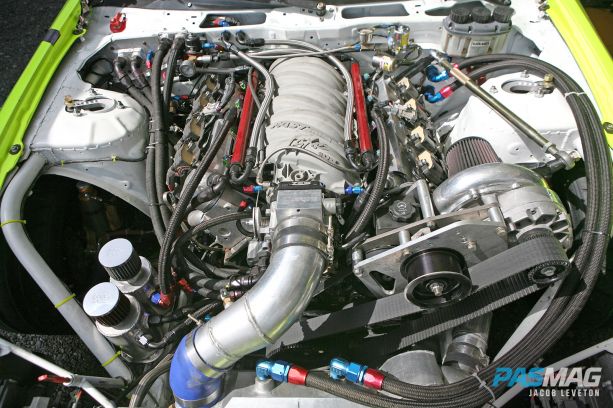 Matt Field built this car for his third Formula Drift season, deciding he needed to evolve from the S13 he started the series in. Initially, the chassis was relatively simple: he reused the same Chevy LQ9 V8 motor commonly found in the Cadillac Escalade and other SUVs. An iron block with aluminum heads, it shares a good amount of geometry with the LS3. After a successful 2012 season, which included an insane tandem battle with 2012 champion Daigo Saito in the final event of the season, Field felt he needed to step it up for 2013.
After some careful planning, a partnership was formed with Vortech Superchargers that would change the shape of Field's program. Before the supercharger was mounted, the entire motor was refreshed with LS3 components: a 408 stroker kit, Weisco pistons, Callies Performance Dragonslayer crank and a Fast 102 mm LSX intake manifold paired with a CX Racing throttle body. The motor was mounted using a Daft Innovations mount kit and wired with a custom Jordan Innovations harness.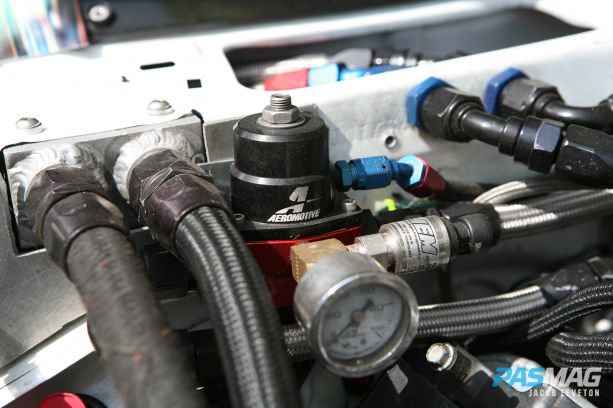 With the motor back in the chassis, the car was taken to Blacktrax Performance in Milpitas, Calif. where Jei Chang was enlisted to fabricate the Vortech YSi supercharger and all the supporting components. CX Racing stepped up to become a title sponsor for the car and contributed the large intercooler, all charge piping and couplers, an air-to-water intercooler box and water pump. To provide room for the charger and associated hardware, a CX Racing radiator and all associated lines are mounted in the rear of the chassis. Boost is managed by the Synapse wastegate while fuel is provided by a slew of Aeromotive products, including the in-tank eliminator fuel pump, lines and fittings, fuel pressure regulator and the fuel rail. Boost mapping and the appropriate air-fuel ratios are handled by an AEM Infinity ECU, pushing out approximately 900 horsepower and 800 lb-ft of torque with the help of nitrous.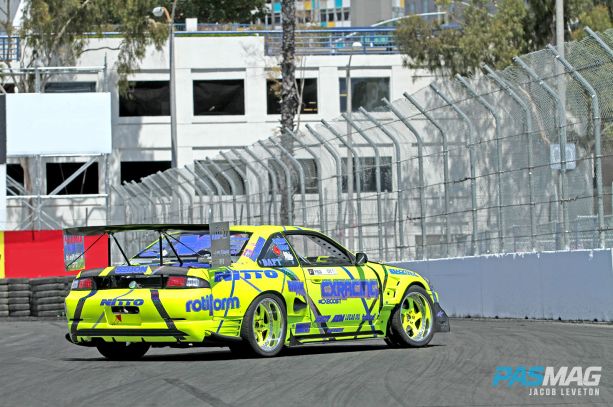 With the power to keep up with any car on grid, Field and his team turned their attention to the rest of the chassis. All suspension arms, knuckles and coilovers are from Parts Shop Max, turning well over 60-degrees of steering angle while conforming to the Formula D rulebook, which limits the ability to move suspension mounting points. Rebuilt OEM Nissan Z32 calipers handle braking in the front and rear respectively, with an additional Z32 caliper connected to a hydraulic e-brake, proving that not every part on the car needs to be aftermarket to work well.
Inside the car, a pair of Sparco Racing seats and Crow Enterprises harnesses keeps Field planted behind a custom color-matched Grip Royal steering wheel and a full array of AEM gauges.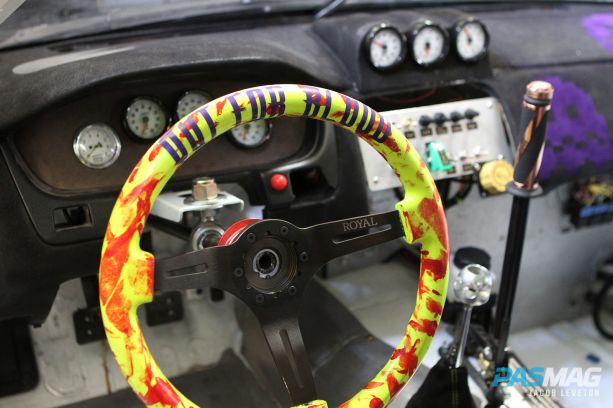 The cockpit is protected by a full roll cage with door intrusion bars. The car was quite stylish before a single coat of paint was even laid on the body panels. 326Power's 3D Star bumpers and skirts are paired with Dmax S15 conversion fenders, and Battle Garage and Origin Labs fender flares now greatly complement the S14's natural bodylines while a Seibon Carbon carbon fiber hood and trunk help reduce weight.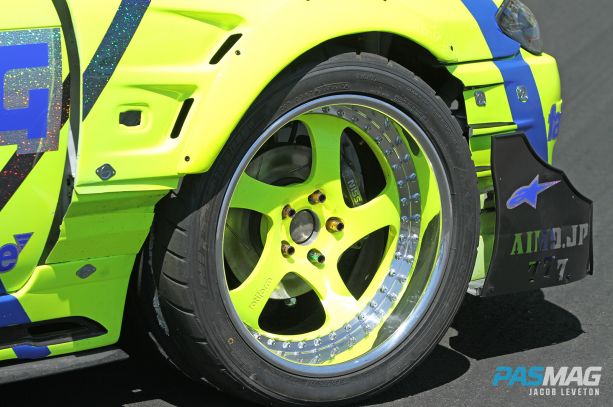 The 18-inch front and rear Rotiform TMB wheels have custom teal powder-coated faces that have become a bit of a trademark for Field, and are wrapped in sticky Nitto NT-05 tires sized 255/35 R18 and 295/40 R19 in the front and rear, respectively. Crown Autobody in Milpitas, California sprayed the entire car in Field's signature, retina-burning highlighter yellow.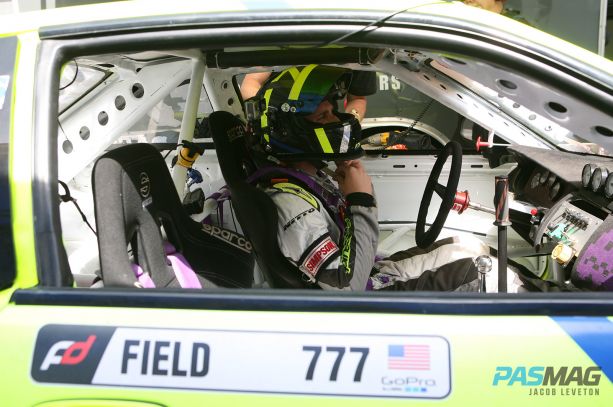 Entering the 2014 season, hopes were high for Field and his team. After opening a new shop dubbed "The Drift Cave" in the off-season and shifting from another tire manufacturer to the new Nitto tires, the goal of repeating 2013's first career podium in Texas and top 10 finish seemed very achievable. Electrical gremlins kept Field off the grid at the first event in Long Beach, however, and although a top-four finish at round three in Miami looked to be a turning point, Field has been troubled with tough judging calls against some of the top drivers in the series. There's no question he and his S14.5 will be a force to be reckoned with in coming season. After all, this chassis has proven to be competitive with any car on the grid.
At just 24-years-old, Field has built one of the higher horsepower S-chassis cars in Formula Drift. It has proven to be competitive with any car on grid and earned him a Formula D podium. That success saw him open his own fabrication and drift setup shop, and while top veteran drivers like Chris Forsberg, Vaughn Gittin Jr. and Dai Yoshihara have been competing for more than a decade, it's only a matter of time before Field's youth and skill eclipses his elders.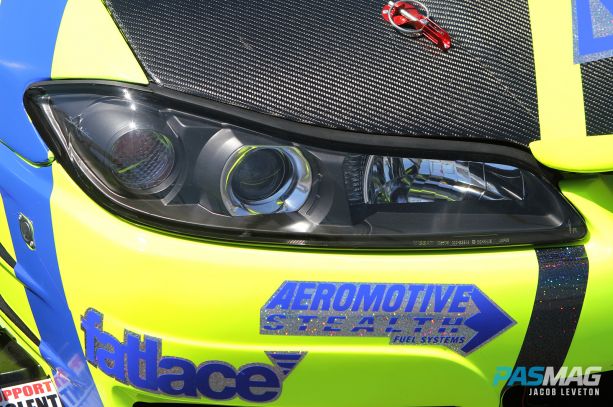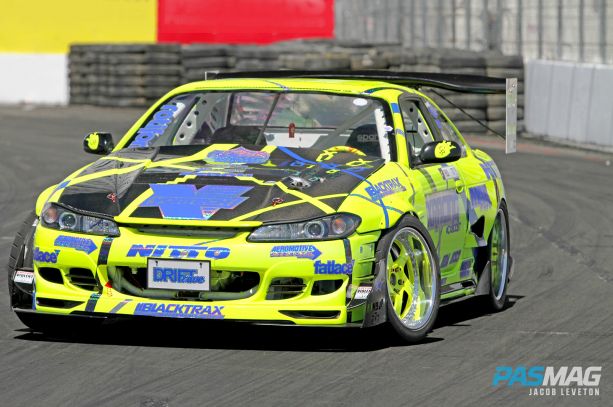 ESSENTIALS
Driver: Matt Field
Vehicle: 1997 CX Racing / Nitto Tire Nissan S14.5
Engine: Chevrolet LQ9 V8
Horsepower: 901 hp
Torque: 888 lb-ft
ENGINE MODIFICATIONS
Chevrolet (LS3 components, 408 stroker
Vortech (YSi supercharger, 50 mm cog setup)
Weisco pistons
Callies Performance Dragonslayer crankshaft
Daft Innovations engine mount kit
Canton (Accusump, oil pan)
FAST 102 mm LSX intake manifold
CX Racing (throttle body, intercooler, intercooler piping, couplers, radiator, radiator lines, air to water
intercooler box, air to water intercooler pump)
Jordan Innovations wiring harness
AEM Electronics (Infinity ECU, sensors)
K&N (air filter, oil filter)
Synapse wastegate
Pyrotect custom fuel cell
Aeromotive (Eliminator in-tank pump, fuel rails, fuel pressure regulator, fuel lines, fuel fittings, fuel filters)
Injector Dynamics 1,000 cc injectors
Lucas Oil 20W 50 motor oil
Ignite E85 race fuel
Tuned by Jei at Blacktrax Motorsports (Milpitas, CA)
DRIVETRAIN
G-Force G101A transmission
ACT (twin-plate clutch, flywheel)
Drift Cave/Speedway Engineering quick-change setup
Driveshaft Shop axles
Lucas Oil transmission fluid
CHASSIS / SUSPENSION
Parts Shop Max (Limit Break suspension (f/r), coilovers, knuckles, tie rods)
WHEELS / TIRES / BRAKES
Rotiform TMB custom powder-coated teal wheels – 18x9.5 -5 et (f), 18x10.5 -5 et (r)
Nitto NT-05 tires – 255/35 R18 (f), 295/40 R18 (r)
Nissan Z32 brake calipers (front, dual rear)
Parts Shop Max hydraulic handbrake
EXTERIOR
326Power 3D Star body kit
Seibon Carbon (carbon fiber hood, carbon fiber trunk)
Nissan S15 front end
Dmax S15 front fenders
Battle Garage front fender flares
Origin Labs rear over-fender
Aim-9 (wing, aero)
Paint by Crown Autobody (Milpitas, CA)
INTERIOR
Grip Royal custom steering wheel
AEM Electronics gauges
TD Garage flocked dash
Sparco Racing seats
SPONSORS
CX Racing, Nitto Tire, Blacktrax Performance, Lucus Oil, Vortech Superchargers, Parts Shop Max, Rotiform, Fatlace, AEM Electronics, Swift Springs, VIS Racing, OMG Drift, Daft Innovations, ACT, Aeromotive, Grip Royal, Pro Tex Sports, Ignite Race Fuels, Pyrotect Safety, Synapse Engineering, K&N Filters, Ignited Clothing, Hardcore Clothing JP, Endless Racing
Matt Field's Nissan 240sx is featured in PAS Dec/Jan 2015 (Order HERE)