Written by Jordan Lenssen | 11 June 2014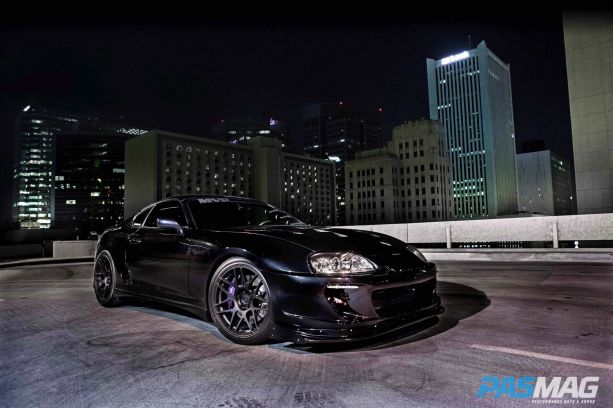 All business. It's immediately evident that Tyler Pflanz's Supra speaks for itself. It's a tuner's dream and the competition's worst nightmare. The black on black on black hides some of the finer details, but when it comes to a Supra, that's just the way you want it. The car has a history for a reason, and Pflanz set out to take that platform and somehow push it to the next level.
Text by Jordan Lenssen. Photos by Justin Muir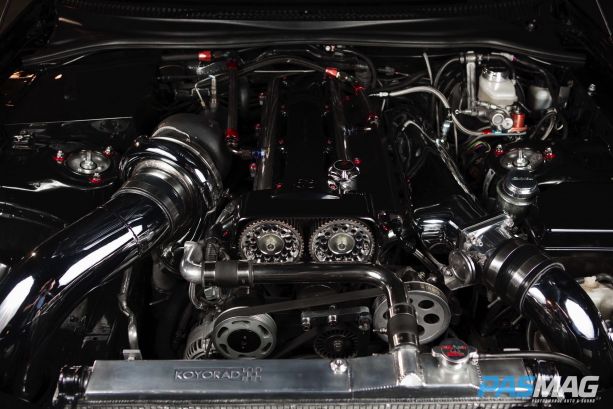 The Supra owes its roots to Toyota's Celica and the legendary 2000GT, with the Mark I debuting in 1978 as a Celica Supra, a rear-wheel drive model based on Toyota's A-platform, the same one used by the Celica until it was reconfigured to the front-wheel drive T-platform in 1985. Using a straight-six motor based on same M engine used in the 2000GT, the Celica Supra was designed to be the preeminent GT car, set to challenge Datsun's Z, despite a measly output of just 110 horsepower on both the 2.0-liter and 2.6-liter engines.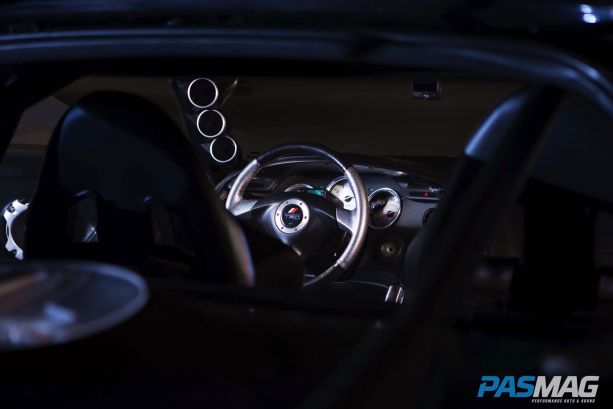 It wasn't until 1986 and the Mark III MA70 that the Supra effectively cut ties with its predecessor, leading to significant changes that helped create the legend we know today. Suspension was swapped for double wishbones in the front and rear, output was raised to 200 horses and a turbocharger was later introduced. But most notable was the introduction of a new flagship family of powerplants – the JZs.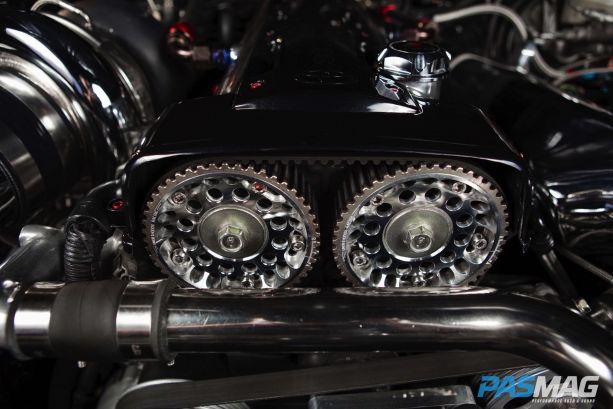 Before the move was made to the new inline sixes entirely, the 7M-GE and 7M-GTE had their swan song as Toyota's first North American distributorless engines, offering more precise timing and 200 naturally-aspirated horsepower and 230 turbocharged horsepower, respectively. Hinting at Toyota's vision of the Supra as the ultimate sports car, the Mark III even offered an acoustic controlled induction system to maximize air compression, and user-adjustable electronic suspension.
When the first JZ engine hit the pavement, it did so in a monstrous way as the 1JZ-GTE in twin-turbo configuration. Equipping the JZA70 Mark III chassis in 1990, the Japan-only 1JZs stamped their mark with authority, culminating in the 2.5-liter Supra Twin Turbo R with the R154 five-speed transmission, an upgraded Torsen LSD, Bilstein suspension, Recaro seats and more. It was just a hint of things to come.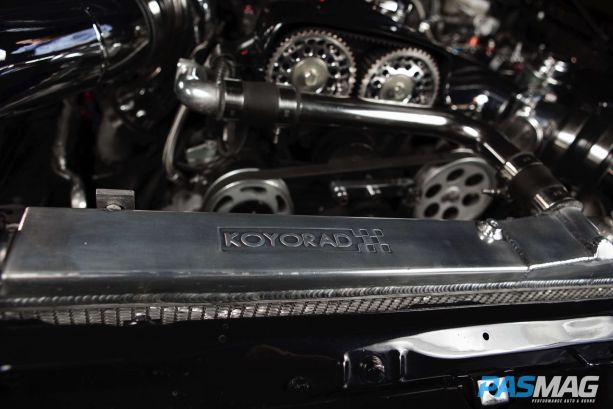 Sure, the Supra's history could go on for pages – heck, we could do an entire issue on it – but fast forward to Pflanz's 1993 A80, and it is a perfect culmination of the model's history. Not only does he keep the beauty of the latest and last iteration of the Supra intact, he expands on each individual aspect with meticulous homage that only adds to its beauty.
Pflanz had his first encounter with the Supra when they were still in production. Immediately, the car struck a chord with him. He was too young to drive, too young to know the potential of the car, but there was just something about it that hooked him.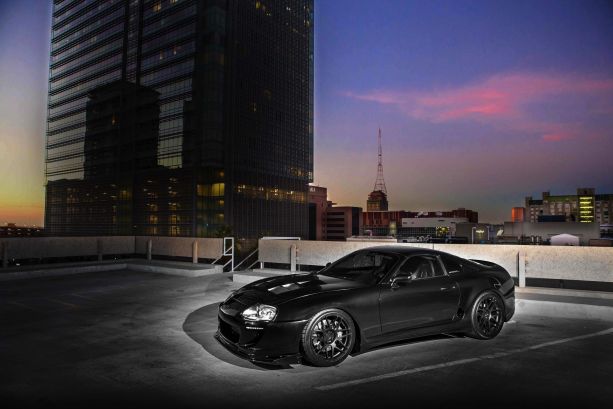 "I had seen Corvettes, Vipers, Mustangs, you name it, but none of them had the effect that seeing my first Supra did," Pflanz says. "This was well before Fast and The Furious, and before the first Supra broke 1,000 horsepower. At the time it was just a car that had that awe inspiring effect on me."
That obsession led to a succession of Supra builds – three, in fact – and while this latest might be the most monstrous of all, it only came after a disastrous fire completely destroyed his previous build, an ultra-rare 3.4-liter twin-scroll 2JZ-GE Supra.
"I had just spent years building my 3.4-liter "small" turbo Supra with the intention of road racing it," he says. "I basically redid the entire car and it was finally ready to be broken in, but on the way back from Import Face-Off in 2008, the car suffered an electrical fire that was caused when the previous owner suffered a driver side fender collision. The Carfax was clean and he made no mention of this.
"I watched as years of my life burned to the ground, trying frantically to keep the fire from spreading. In the end, it was still declared a total loss. I thought I was done building Supras and didn't want to go through that again."
That was until he laid his eyes on this beast that same year: a fully-built 1993 twin-turbo Supra. His original intent was to take the car and compete in drag competitions rather than road races, but within 500 miles of buying it, it nearly suffered the same fate as the last.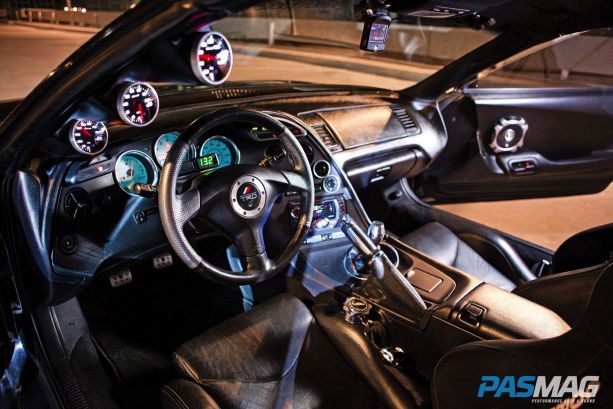 The engine was imbalanced and failed, the sound system almost caught fire, and there were too many shortcuts on the build to even list. His options were pretty cut and dry: sell it and lose the money and potential, or tear it down and make it into something bigger than he'd ever done.
So Pflanz set out to create the ultimate Supra – one that could capture best in show and dominate on the track in the same weekend.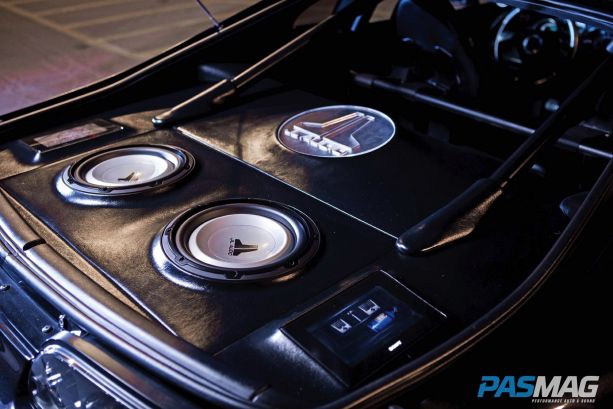 At first glance, it might appear he tackled the performance of his new car first, but because his audio was the first thing to fail, it was the first thing he fixed. Starting up front, a JVC KW-XG700 controls a tasteful selection of components and subs: 6.5-inch JBL GTO components in the doors and Alpine Type Rs in the rear. Two JL Audio 10W1v2-8 subwoofers sit neatly tucked in a custom vinyl-matched enclosure underneath the rear glass hatch and are powered by Rockford Fosgate 200a Punch and Power amplifiers, complimented by custom laser-cut plexiglass with a red underlit JL logo. The system provides enough power while still allowing the performance aspects of the car to operate uninhibited. When speed is of the utmost concern, Pflanz can remove the entire enclosure in about 10 minutes. Considering many people expect this car to be all about power, the sound is just icing on the cake.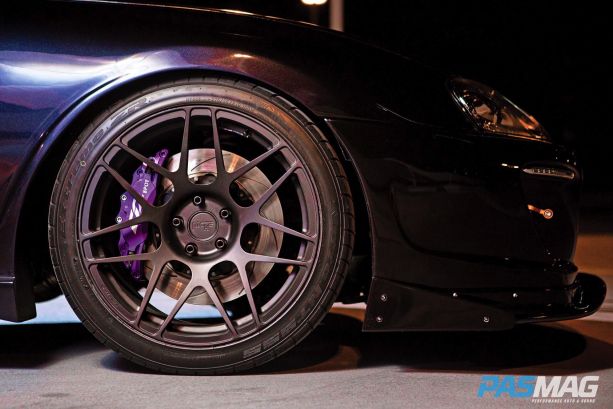 As this, his third Supra build, Pflanz wanted to make it look badder than anything before, so he chose jet-black Aston Martin cosmos paint to dress the car. Covering the Ridox front bumper, front fenders, Siebon Carbon TS hood, Bomex sideskirts, Do-Luck Type 1 rear fenders and Trial rear bumper, the paint gives subtle highlights to the seamless flow of each component for one of the truest exterior Supra builds ever. Paired with the immaculate widebody work, the unison of each individual piece gives the appearance of an OEM Supra on steroids, the way the car was meant to be.
Taking that ideology under the hood, Pflanz's 2JZ is dressed to kill. There's chrome literally everywhere. It can make some powerplants look too flashy, but here, it does nothing but intimidate. The beefy Unorthodox cam gears, giant SP81 turbocharger and Sound Performance turbo manifold scream brute power, further reinforced by the Koyorad radiator, customized Virtualworks intake manifold and high-flow PHR fuel rails.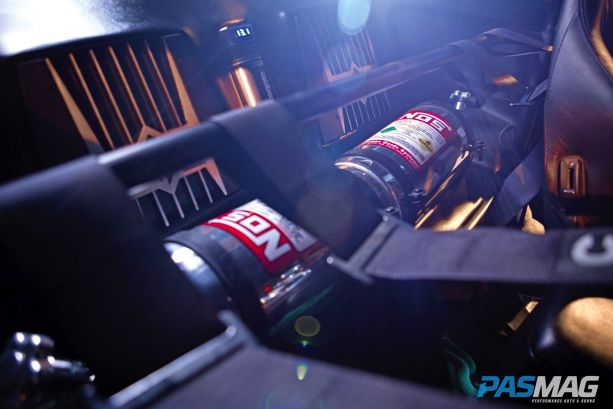 Inside the block is an array of parts built to withstand all the power Pflanz can put out, with .20 over CP Pistons, GSC 274 camshafts, BC Brian Crower valves and springs, a complete port and polish and more. When all is said and done, the system cranks out a mind-numbing 1,141 SAE horspower and estimated 832 lb-ft. of torque for a 9.89-second, 154-mph quarter mile. If you're wondering, yes, the Supra is equipped with a six-point roll cage, Sparco racing seats, and Corbeau harnesses.
Anyone who knows Supras is aware the stock Getrag V160 transmissions are overengineered to withstand a very high torque limit, but Pflanz is pushing numbers far beyond the norm. To handle shifts under load, he employs an RPS carbon clutch and flywheel before a Torsen Helical LSD transfers that power to the rear wheels. Stopping is provided by an eight-piston D2 Racing big brake kit up front and Supra brake kit in the rear, modified for drag use.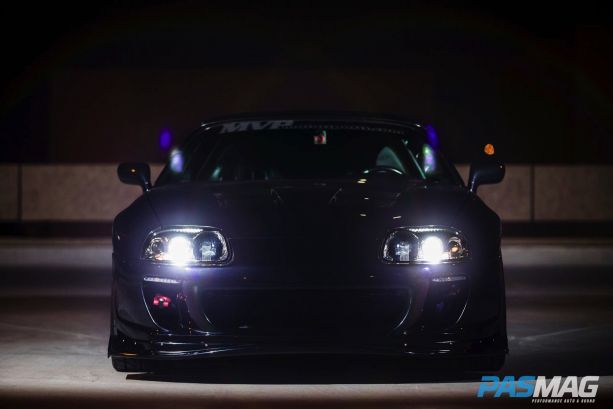 Pflanz's Supra has been making waves throughout the industry since he completed his six-year project, but many of our readers caught wind of it during last year's inaugural Tuner Battlegrounds competition and subsequent title showdown at the 2013 SEMA show. Many felt victory was a sure thing as one of the most complete and capable Supras on the continent, and while Pflanz narrowly missed the trophy as the peoples' choice, there's no denying the workmanship in his car. Save for the big brake kit, a set of Niche Monotec Pulse wheels and an App-Tronics Stealth Interceptor, his car came out of the competition the same way it went in. It's a testament to his vision and the realization of the car he first saw as a kid, back when he wanted to create a Supra that was a class above the rest.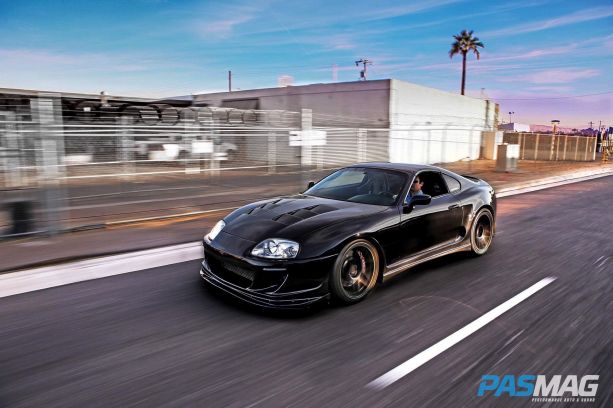 ESSENTIALS // Owner: Tyler Pflanz, Vehicle: 1993 Toyota Supra, Location: Arizona, USA, Horsepower: 1,141 hp, Torque: 832 lb-ft
ENGINE MODIFICATIONS // Ported and polished, SP81 turbocharger, Koyorad Radiator, CP Pistons .20 over, Carillo H-beam rods, BC Brian Crower (+1 mm valves, valve springs, retainers), GSC 274 camshafts, Unorthodox cam gears, Accufab 90 mm throttle body, HKS SSQ blow-off valve, Tial (blow-off valve, 44 mm wastegate), PHR fuel rail, HKS Type R intercooler, 4-in. intake side intercooler piping, 3-in. turbocharger side intercooler piping, Custom 5-in. cold air intake, Sound Performance turbocharger manifold, Customized Virtualworks intake manifold, Injector dynamics Injectors, Walbro triple fuel pumps, SP ABS heat shield, Customized oil catch can, JEGS Elite Series fittings, GReddy (oil cooler, alternator pulley, power steering pulley), Meziers electric water pump, Dual AAP fans inside shroud. SPAL puller fan (between radiator and intercooler), Flush mounting bolts (replaced M6 bolts), 119 studs, Mojo Performance coil packs, XS Power battery
EXHAUST // Powerhouse Racing (4-in. titanium exhaust, tips), Sound Performance (manifold, down pipe), Intense Power 4-in. mid pipe
DRIVETRAIN // OEM V160 Getrag transmission, RPS (carbon clutch, flywheel), Torsen Helical LSD
WHEELS / TIRES / BRAKES // Niche Monotec Pulse wheels – 19x10 (f), 19x12 (r), Michelin Pilot Sport tires – 265/35 R19 (f), 345/30 R19 (r), D2 Racing big brake kit – 8-piston calipers, 356 mm slotted rotors (f), Rear brake caliper swap to utilize drag wheels, Project Kics Racing composite R40 lug nuts
SUSPENSION / CHASSIS // HKS Hipermax III coilovers, Cusco rear strut bar
EXTERIOR // Ridox (front bumper, Varis front fenders), Shine Auto front splitter, LED Light bar turn signals, Custom Bomex side skirts (molded in), Seibon Top Secret carbon fiber hood, Trial rear bumper, Custom Do-luck rear widebody
INTERIOR // Sparco (Monza seats reupholstered in Italian leather with titanium stitching, pedals), 5-point Racing Harnesses, TRD steering wheel (silver and black), MVP polished shift knob, TTC (aluminum gauge bezels, aluminum shifter bezel, AC dial bezels), Line-lock switch on dash, Electric cutout switch in glove box, L.E.D and Sony LCD switches in glove box, Reverse EL glow cluster gauges, 3-gauge A-pillar pod, Defi Gauge (oil pressure, fuel pressure, EGT), GReddy (Turbo Timer, Profec B Spec-II boost controller), Rear seat delete (with nitrous bottles and amp rack), Reupholstered and recovered door panels, NRG floor mats, Custom SFI-spec 6-point roll-cage with removable swing-out bars
AUDIO / MULTIMEDIA // JVC KW-XG700 double-DIN head unit, JBL GTO 6.5-in. component speakers custom mounted in doors, Alpine Type R 6.5-in. component speakers mounted in rear, Rockford Fosgate (Punch 200a amplifier, Power 200a amplifier, RFC1D 1-Farad capacitor), JL Audio 10W1v2-8 subwoofers (2), Custom laser cut Plexiglas with red L.E.D. backlit JL Audio logo, Sony I-Frame screens, App-Tronics Stealth Interceptor, Custom upholstered sound system
Senior Editor: Jordan Lenssen // Contributor: Justin Muir