Written by Jacob Leveton | Photos by Jacob Leveton | 19 October 2013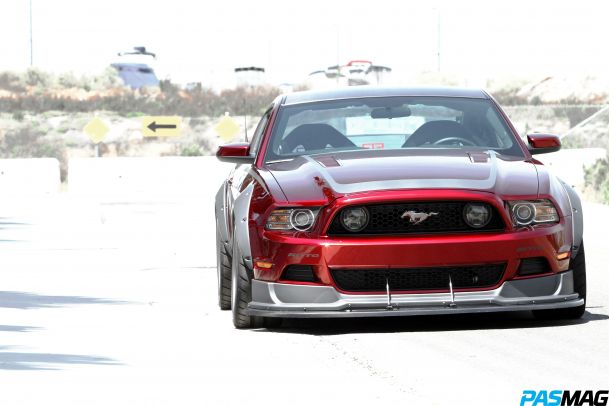 Building project cars is an essential part of marketing any automotive product. As a car care company, Mothers needs to go that extra mile to have a head-turning appearance. For 2013, Mothers teamed up with Vaughn Gittin Jr.'s RTR brand to debut the first RTR Spec 3 to the world at the 2012 SEMA Show. This car is an incredible mix of style, power and sound fit for an iconic brand like Mothers Car Care.
| | |
| --- | --- |
| | |
Starting on the exterior, all Mothers cars are given a special hue of red as part of the brand's tradition. For this paint job, the color was created with the new two-stage, waterborne Candy Carizzma line of BASF paint. The trademark RTR front lip spoiler, side skirts, rear diffuser and aluminum rear wing are complemented by the new fender flares and front split- ter, available only on the Spec 3 version of the RTR. An RTR graphics kit complements the Mustang's lines while making it stand out from the standard fare. Each corner is styled with HRE's new 501 mesh wheel in 19x10.5 front and 19x11.5 rear fitments, wrapped in Nitto NT05 tires all around. The styling combo of wheels, paint and bodywork give this car a look that is simply menacing.
| | |
| --- | --- |
| | |
Under the hood, this RTR has as equally as much bite. A Ford Racing supercharger pushes over 600 horsepower through a Ford Racing Torsen differential to the rear wheels. An RTR carbon fiber driveshaft and RTR axle-back Magnaflow exhaust help free up some spare ponies, while the K&N intake filter, American Racing headers and X-pipe keep the air moving through the motor. Stomping on the pedal results in an instant response from the rear wheels that scream for mercy. Surprisingly, the car doesn't drone or echo inside the cabin when cruising around town, but there's definitely some bark coming from the exhaust when the engine is given the throttle.
| | |
| --- | --- |
| | |
Inside, the driver and passenger are treated to a pair of re-trimmed Alcantara and RTR-logoed Sparco racing seats, finished by renowned upholstery company Stitchcraft. Each door card has been trimmed to match, with large RTR logos on Alcantara panels. The rear seat has been removed to accentuate the rear brace and a custom harness bar allows the Takata racing harnesses to be safely mounted – a must in a car with this much power.
One of the best features of this car is the upgraded Reus audio system. Although there are no signs of it at first glance, the nine-speaker, 540-watt system is paired with a 10-inch subwoofer concealed in the trunk. Better yet, it still maintains all the factory Ford SYNC features.
"When you crank the stereo up in this car, it's amazing how realistic of a sound stage you will hear," says car owner and Mothers VP Jim Jolloway. "You can hear every little strum of a guitar or bang of a drum. I've never had a street car like this where each instrument is so distinct. It's really fantastic! You wouldn't think a car like this has an audio system that matches the performance under the hood, but this is my daily driver, and I love listening to music on my cruise in to work."
While the car may look like a show queen, it gets driven hard and regularly. Holloway even races it at amateur events and does ride-and-drive events for Ford, giving customers a feel of what the Ford Racing supercharger is capable of.
This year, the car took part in the Hot Rod Power Tour - a seven-day, 1,400-mile journey through five Midwest states, showcasing the RTR's drivability and striking good looks. It will be auctioned off at the Barrett-Jackson Scottsdale auction January 12-19, 2014, with proceeds going to charity. That will make for one very lucky bidder.


ESSENTIALS
Owner: Jim Holloway
Vehicle: 2013 Ford Mustang RTR Spec 3
Club Affiliation: Mothers Car Care
Engine: 5.0L Supercharged V8
Horsepower: 650 hp @ 7,000 rpm (est.)

ENGINE MODIFICATIONS
Built by Autosport Dynamics, Charlotte, NC
Tuned by Adam Brown of Revolution Performance
Ford Racing Supercharger
American Racing 1 ¾-in. custom headers
K&N (air filter, billet oil filter by Pure Power)
Ford Racing radiator
AFCO heat exchanger

EXHAUST
American Racing 3-in. X-pipe
Magnaflow exhaust

DRIVETRAIN
Built by EMI Racing, Huntington Beach, CA
Stock Ford 6-speed manual transmission
Exedy Hyper Twin racing clutch
RTR carbon fiber driveshaft
Currie Performance axle package w/ billet housing ends
Ford Racing 3.55:1 ring & pinion drive ratio
Ford Racing Torsen LSD

SUSPENSION
Built by EMI Racing, Huntington Beach, CA
JRi Shocks RTR front/rear suspension
RTR Tactical Performance (front/rear stabilizer bars, Watts-link rear suspension installed by Autosport Dynamics)
Whiteline (Watts-link bushings, sway bar bushings)

WHEELS / TIRES / BRAKES
HRE Vintage Series 501 3-pc.wheels – 19x10.5 (f), 19x11.5 (r)
Nitto NT05 tires – 275/35 R19 (f), 335/30 R19 (r)
RTR brakes
Ford Racing brake duct system

EXTERIOR
Completed by Autosport Dynamics, Charlotte, NC and Jim Holloway, Mothers Polish, Huntington Beach, CA
RTR (epoxy carbon composite dry carbon fiber roof, carbon fiber rear splitter, front chin spoiler, carbon fiber front splitter, rear spoiler, carbon fiber fender blisters (f/r), rear deck lid trim panel)
Shelby GT500 rear bumper
BASF R-M Onyx HT two-stage Candy Carizzma (Mothers Red) by Chris Guinn, Deshler's Collision Repairs, Orange, CA & Kelly & Son the Crazy Painters, Bellflower CA
Cerakote Ceramic Coating Graphics by Kelly & Son the Crazy Painters, Bellflower, CA

INTERIOR
RTR (serial number badging, rear cross brace, rear seat delete, embroidered floor mats)
Custom Sparco front seats by Stitchcraft Custom Interiors, Westminster, CA (RTR Spec 3 leather/alacantara)
Takata four-point racing harnesses
Optional Ford SYNC w/ voice command

AUDIO / MOBILE ELECTRONICS
Reus Systems, Orange, CA (head unit, component speakers)

SPECIAL THANKS
EMI Racing of Huntington Beach, CA
CorteX Precision Racing Technology, Sonoma, CA