Written by Jacob Leveton | Photos by Jacob Leveton & Jose Chocar | 19 October 2013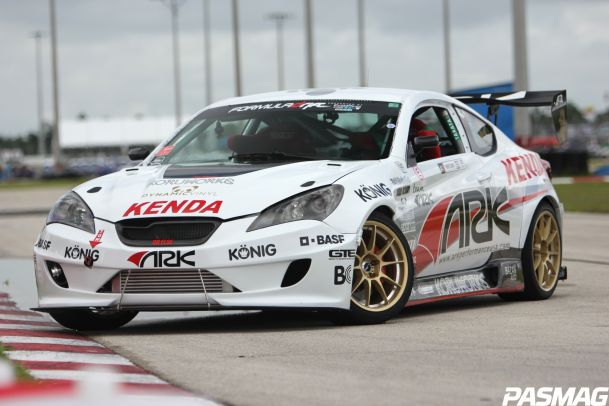 At the 2012 Formula D Season finale at Irwindale Speedway, Dennis Mertzanis had a major crash in qualifying that caused significant damage to his Fuel Culture Kenda Tires Nissan S13 chassis. While the motor was salvageable, the rest of the car was considered a write-off. As planning began for the 2013 season, Mertzanis was at a crossroads. He had a VQ35-powered S14 in his stable that could be refreshed but was significantly underpowered for Formula D, and he wasn't sold on making it his 2013 competition car. Fortunately, aftermarket tuner ARK Performance maintains its headquarters just a few miles from Mertzanis's shop in Ontario, Calif., and was contemplating building a drift car with one of its previous SEMA showpieces. ARK Performance has built several cars for the Hyundai booth at SEMA, but has never campaigned any of them in a competitive motorsport. After some discussions with Mertzanis, the decision was made to enter Formula D.
| | |
| --- | --- |
| | |
| | |
| --- | --- |
| | |
Luckily for ARK Performance, Mertzanis is not only a talented driver but also a Hyundai engineer. In previous years, Rhys Millen campaigned a Genesis, but in his absence the ARK car would be the only Gen-coupe on grid.
First for the team was building the car using ARK's own product suite. For the engine — a header, down-pipe, test pipe, engine mounts and custom exhaust (all from ARK) were added to bump the power. The inside of the motor was pulled apart and stroked using a Brian Crower kit, which pushes displacement to 4.0 litres, while JE Pistons and a custom Garrett turbocharger kit help give the car 590 horsepower and 560 lb-ft of torque. Power pushes through a Spec Stage 4 clutch and Cusco two-way LSD to keep the tires spinning.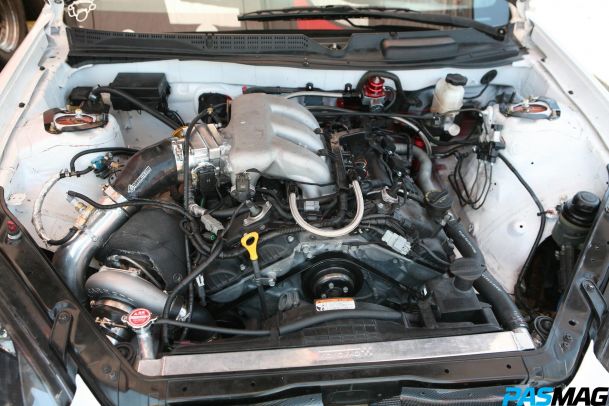 Outside, a full ARK SFX aero kit is fitted to the car. The kit includes new front and rear bumpers, wide front fenders, rear over fenders and a carbon hood. In addition, a CFX carbon grill, carbon trunk and side skirts give the car an aggressive look. The exterior is coated in white BASF paint to give the livery the cleanest possible canvas. Featuring Arki, the Team ARK mascot, the scheme accentuates the sleek and stylish lines of the Genesis coupe while highlighting Kenda tires, Konig wheels and Koru Works — the key team sponsors. Rounding out the look of the car are gold 18-inch staggered Konig Milligram wheels, which have been tried and true for Mertzanis over the past three seasons.
| | |
| --- | --- |
| | |
StopTech brakes provide the necessary braking power, and Parts Shop MAX coil-overs and suspension arms help keep the geometry in check during drifts. ARK front and rear sway and strut bars also add rigidity to the chassis, controlling body roll for maximum power transfer as the car gets sideways. The biggest changes inside the car are the custom Formula D-spec roll cage, RMR carbon dash, center console and a pair of Sparco racing seats. Takata harnesses keep Mertzanis in place, while an AiM Sports dash display provides him with details under the hood. Aside from the ARK Performance custom wiring harness, an AiM Sports steering wheel and Safecraft fire suppression system, the interior is relatively simple.
| | |
| --- | --- |
| | |
Mertzanis and the ARK Performance team have big goals. Not just for this season, but beyond. "We're excited to see what this car is capable of," says Mertzanis. "Rhys showed everyone this Lambda chassis can be competitive and we're going to prove he's not the only one who can earn results in the car." Combining their talents, ARK performance and Mertzanis will be looking to climb the Formula D standings and be a competitive team on the Formula D circuit for years to come.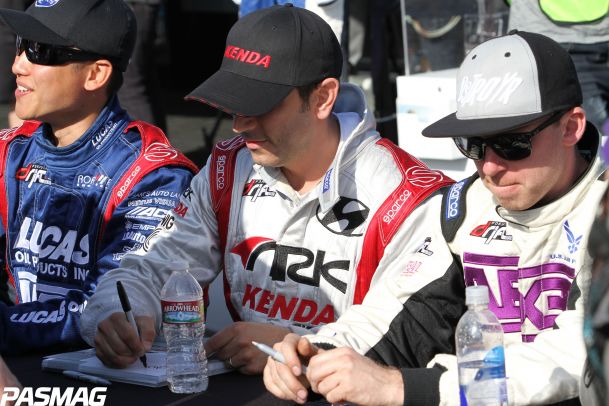 ESSENTIALS
Vehicle: 2012 Hyundai Genesis
Driver: Dennis Mertzanis
Team: Team ARK
Engine: Hyundai Lambda V6
Horsepower: 550 hp
Torque: 540 lb-ft

ENGINE MODIFICATIONS
ARK Performance (blueprint and planning, engine mounts, custom fuel rail)
Aeromotive Adjustable Fuel Regulator
ARP Head Studs
Brian Crower 4.0L Stroker Kit
JE Pistons
Koyo (radiators with cap)
Turbokits.com turbocharger kit
NRG oil catch can

EXHAUST
ARK Performance (custom Formula D exhaust system, downpipe and test pipe, headers)

DRIVETRAIN
Cusco two-way LSD
SPEC Stage 4+ clutch and flywheel package

CHASSIS / SUSPENSION
Parts Shop MAX Full Suspension Setup (coil-overs, front upper control arms, front knuckles, front A arms)
ARK Performance (custom roll cage, sway bars (f/r), front upper strut bar, custom dash bar)

WHEELS / TIRES / BRAKES
Konig Milligram Gold wheels - 18x9.5 +35 (f), 18x10 +25 (r)
Kenda Kaiser KR20 tires – 235 (f), 265 (r)
StopTech brakes – Six-piston big brake kit, steel braided brake lines

EXTERIOR
ARK Performance (SFX bumper (f/r), front fenders, rear over fenders & CFX side skirts, carbon grille, carbon hood, carbon trunk)
APR (Carbon GT wing, front splitter, carbon GT3 mirrors)
V-LEDs (bulb kit, brake lights)
BASF paint
Dynamic Vinyl graphics

INTERIOR
RMR (Carbon dash, center console)
AiM Sports (Strada digital display, steering wheel)
Sparco Racing seats
Takata six-point harnesses
Custom engine start switch
ARK custom wiring harness
Moroso (battery relocation kit, toggle switch kit)
Safecraft fire system
NRG short hub
JEGS roll bar padding

SPONSORS
ARK Performance Inc, Konig Wheels, Kenda Tires, Koru Works, Parts Shop MAX, Brian Crower, APR Performance, HEXIS, BASF Refinish, Spec Clutch, Koyo Racing, Takata, AiM Sports, V-LEDS, NRG