23 May 2013
We've all had an obsession that started simple but got out of hand. For Matt Tom, the item in the collection was the Garson D.A.D Swarovski Crystal A/C Louvers. A little bling for his eco-friendly daily driver was all it was supposed to be. Over 40,000 crystals later (hand laid by Tom himself), the car has become a rolling piece of art.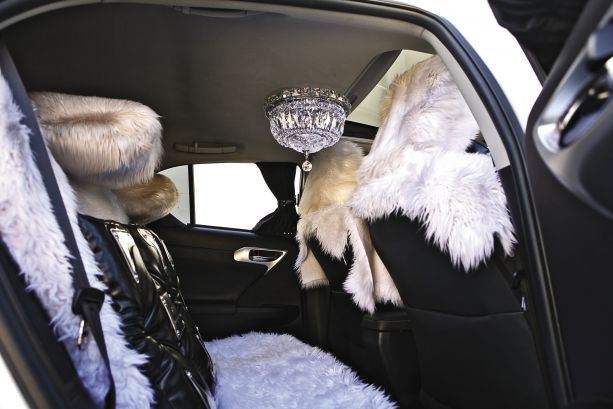 Tom originally purchased the car shortly after graduating from college with a Bachelor Degree in Nursing. A techie at heart, Tom was fascinated in the Lexus hybrid-drive system, so he chose the CT200h over several other options he was considering. A set of wheels that were far from what is considered 'acceptable' nowadays were his first mod, but with poor offsets and style, they're not fit for mention. After being guided towards the ClubLexus online forums, Tom took inspiration to plan out his next phase.
Attending Wekfest in February 2011 was a turning point for Tom. There, he made the decision to take the car down for a few months and overhaul everything at once. The first U.S. Lexus CT Aimgain body kit was imported (and integrated with IS-F exhaust tips), Air Runner's fully integrated air suspension and AccuAir eLevel system was arranged, and Tom ordered and placed the over 40,000 Swarovski crystals on various parts of the car. It's easy to see that substantial time and planning was done to ensure all elements of the car were cohesive.
Keeping with the Eco theme, faux fox fur was used in the interior to give a plush and luxurious look. Tom learned to sew in order to make the seat covers and trim pieces, breaking several needles before getting the hang of it. He even made the bamboo floor, choosing it because of its sustainability and durability as hard flooring. Rounding out the interior, the authentic Swarovski Crystal Chandelier replaces the traditional dome light, built of the highest quality crystals available for chandeliers. Every possible piece from Garson D.A.D. has been integrated into the build, including monogram curtains with tassels and ties, square cushions, neck pads, mirror and crystal mirror faces, along with other elements. Custom iJDMtoy interior LED and strip lighting keeps the interior bright at night and when entering and exiting the vehicle.

Under the hood, the 2ZR-FXE motor is relatively unmodified. In less than two years, Tom has racked up more than 45,000 miles on the car, so modifications have been kept to a minimum to preserve drivability. An Injen short-ram intake and Amsoil oil filter help the motor breathe, while the exhaust is stock, save for the IS-F exhaust tips. Popping the hood, the OEM engine and battery covers have been paint-matched, giving the bay a clean and tasteful touch.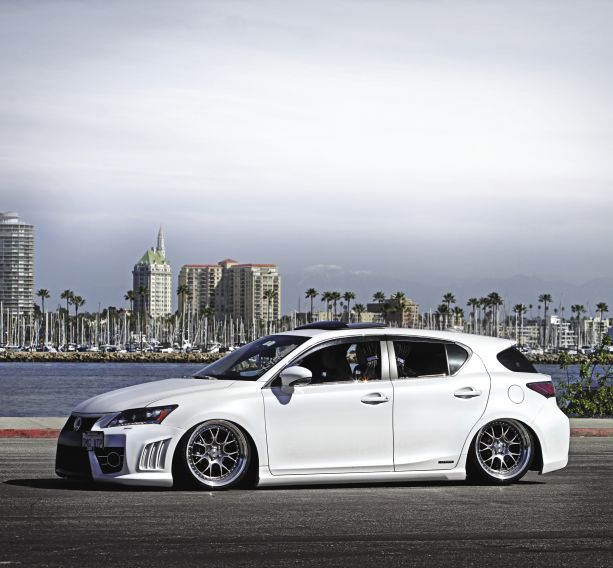 With 'stance' being an important element in any VIP build these days, Tom was approached by SSR Wheels to partner and debut the Professor MS3 three-piece wheel. Danh Vo from Tanabe USA did the measuring for the offsets, and 19x9 +37 fronts and 19x9.5 +30 rears are just millimeters away from the OEM regenerative brakes. In the trunk, PowerBass stepped up to provide bumps in the trunk through a pair of 10-inch S-T10D dual coil subwoofers, powered by an ACA-500.1D amp. The PowerBass 3XL-6502 six-inch mids and 3XL-2S 1.25-inch tweeters are paired with a PowerBass ACA-480.2 amp and ACA-240.2 amp respectively. The audio system was built by Tuan Nguyen, president of Supreme Society car club out of his TN Auto Inspired shop in Alhambra, California.

In the past year, the car has turned heads and racked up several awards at local shows including Best Lexus, Best Hybrid, Best Interior, and even Best of Show. Tom recognizes that his car isn't everyone's taste, but he's ok with that.
"My build is very unique and is a product of my vision. It's unhindered by other people's opinions on how a car should be built," Tom says. "My interpretation of VIP style is something that is unique, luxurious and above all, one of a kind." Safe to say, Tom's mission has been accomplished.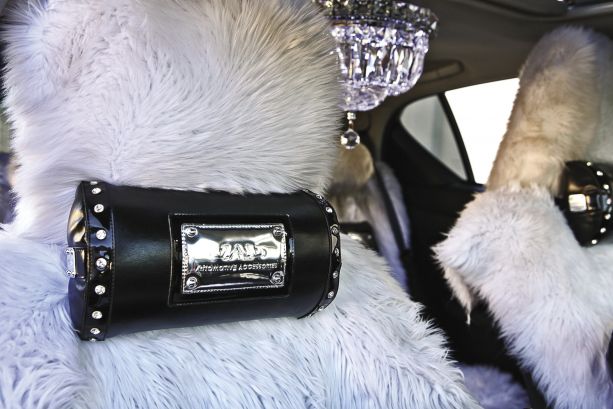 ESSENTIALS
Vehicle: 2011 Lexus CT200h
Driver: Matthew Tom
Club Affiliation: Supreme Society / R-Rydes
Engine: 1.8 L 2ZR-FXE
Engine Modifications
Amsoil dry air filter
Injen short ram MR air intake
Exhaust
Lexus IS-F quad tips
Drivetrain
Toyota Continuous Variable Transmission with power split device
Chassis / Suspension
Air Runner air suspension
KYB shocks
Yamaha gas dampers
Wheels / Tires / Brakes
SSR Professor MS3 wheels – 19x9, +37 (f), 19x9.5, +30 mm (r)
Achilles 2233 tires – 225/35ZR19 (f), 235/35ZR19 (r)
Lexus OEM hybrid regenerating brakes
Exterior
Aimgain Hybrid Sports full body kit (bumper (f/r), FRP trunk spoiler, side skirts)
Lexus (F-Sport upper grille, full LED headlights, OEM LED taillights)
Hella rear foglamps
Swarovski Crystal Elements (40,000+)
Oracal 970RA matte black vinyl
Interior
Custom faux fox fur upholstering (eco-friendly and sustainable)
Swarovski (crystallized elements (40,000+), A/C vent rhinestones, mink/crystal chain in white, crystal jewel wheel fragrance, trimmed crystal chandelier, Strass crystal)
Garson D.A.D. (monogram - leather steering wheel cover, curtains w/ gloss tassels)
Luxury (square cushion, neck pads, type gloss, mirror, type leaf and luxury crystal mirror face, push starter brooch, leather smart key cover, type gloss)
iJDMtoy (interior overhead LED lighting, LED strips)
Custom bamboo (flooring, VIP front table, trim)
Audio / Mobile Electronics
PowerBass (S-T10D 10-in. dual coil subwoofers (x2), 3XL-6502 6.5-in. full range speakers (x4), 3XL-2S 1.25-in. tweeters (x2), S-352 3.5-in. speaker (x3), crossovers, ACA-500.1D class-D monoblock compact amplifier, ACA-480.2 two-channel compact amplifier, ACA-240.2 two-channel compact Amplifier, fuse holder, 4-gauge wiring, 1.2-Farad capacitor, three distribution blocks)
Optima Yellow Top DS46B24R battery
Sponsors
SSR Wheels, PowerBass, BeatSonic, iJDMToy