23 May 2013
Page 1 of 2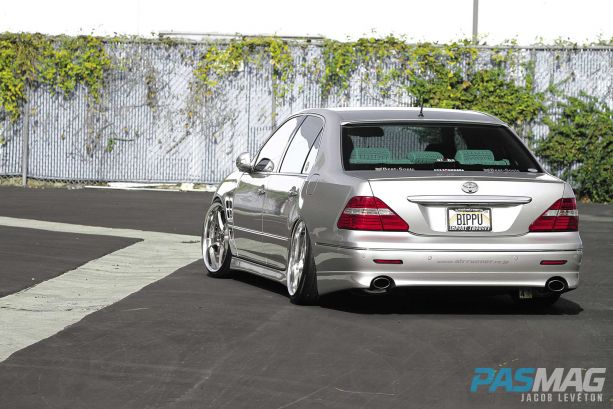 When Lexus released the LS430, it was designed to be a comfortable family mover. After seeing some of the aftermarket options for it, Samson Mak knew the car could be transformed to the perfect tuner. The owner of a car audio shop in Hawaii, Mak knew that audio would be an integral part of his build. Additionally, he went out of his way to ensure the factory options would remain fully operational as they came from Lexus, something which is often overlooked by many tuners. To the untrained eye, you could make the mistake that Mak's car rolled out of the dealership fully optioned out.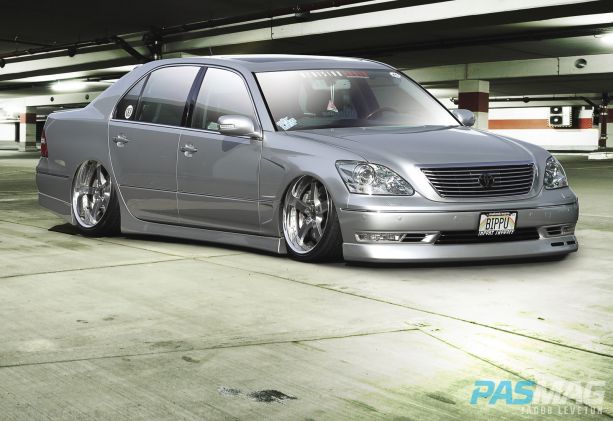 Outside, the car was mildly upgraded. Taking inspiration from the Japanese VIP scene, Mak used some aftermarket parts to simply accentuate the body lines, not re-shape them. On the bumpers, a Silk Blaze front lip matches up to OEM Toyota Celsior (the Japanese version of the Lexus LS) side skirts and rear lip. OE JDM Toyota Celsior headlights and a front grill replace the Lexus units, while optional JDM Celsior fog lights fill the bumper openings. Trunk and roof spoilers from Admiration Japan give the car a more aggressive look, while Artisan Spirit fenders provide a touch of custom without being too gaudy. Custom blinker mirrors were crafted from an OEM Toyota Tacoma mirror, and Valenti puddle lights greet the driver and passenger upon entering and leaving the car. Otherwise the exterior of the car was kept simple.
The most aggressive appearance modification was actually made via the suspension. Mak teamed up with Air Runner suspension to utilize their 'On the Ground' setup and keep the car as low as possible. Nagisa Auto suspension arms keep all the alignment settings in check at any height, while Toms Japan braces help keep the chassis stiff.
At each corner, a set of Work Equip E05 wheels are dressed in Hankook V12 EVO tires; 20x10 with 225/35R20 rubber up front and 20x11 wrapped in 245/35R20 in the rear. Stopping power is provided by a set of Brembo GT eight-piston calipers in front, gripping 380 mm rotors and four-piston Brembo GT calipers in the rear, gripping 345mm rotors. With the upgrades, the car rides like luxury but can stop on a dime, keeping driver and passengers safe and comfy.
Under the hood, the 4.3-inch 3UZ-FE motor only received light modifications to help the motor breathe efficiently. A Tom's Japan air filter replaces the stock unit, while a Tanabe Medallion exhaust provides better flow. Voltage is regulated by an A'PEXi grounding kit, while a Blitz throttle controller helps improve response. The engine bay also received carbon covers to update the look a bit but was kept simple.
Taking inspiration from the Japanese VIP scene, Mak used some aftermarket parts to simply accentuate the body lines, not re-shape them.