Written by PAS Staff | 26 March 2013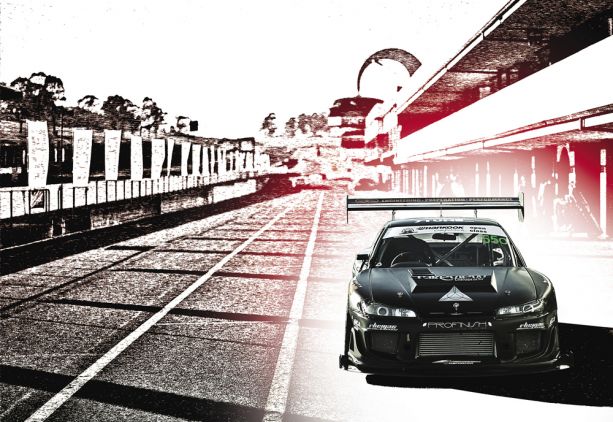 Written by Steven Loung | Photography by Dino Dalle Carbonare
We here at PASMAG mostly feature cars from the United States, Canada and sometimes from Japan. Rarely do we see a car come our way that has more of an international flavor. That's why we jumped at the chance to showcase Australian native Simon Podlewski's Nissan 180SX, a wild beast of a vehicle that Podlewski and Aussie auto shop Morpowa put together for the sake of tearing up time attack courses.
As you can imagine, for a car focused on time attack, performance is everything. And that is apparent as soon as you pop the hood of this bad boy where the engine has been swapped for a 3.0-liter Toyota 2JZ customized with six cylinders by Rhemac Performance, another Australian auto shop, so it almost resembles the GTE member of the engine's family. The big difference is that instead of twin turbochargers giving it that extra kick, a single Garrett GTX 35/40 turbo has been installed. Other significant performance upgrades include Bosch 2,200 cc fuel injectors and fuel pump, a PWR intercooler and a MoTeC M800 ECU. All told, this set-up generates a whopping 710 horsepower at the wheels.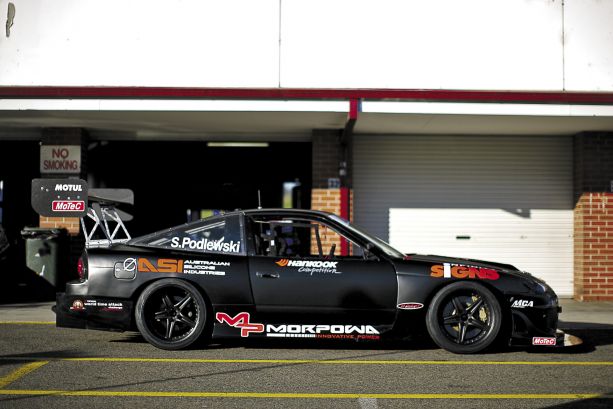 As important as the engine mods are, there are other major factors at play in order maximize the car's potential on race day. One such factor is aerodynamics – that's what the entire focus of this 180SX's exterior is all about. Employing the help of famed aerodynamicist Andrew Brilliant – a man who's helped many IndyCar and American Le Mans teams fine-tune their aero packages – Podlewski and company most notably widened the front fenders and added a front splitter for improved engine cooling. The splitter was also installed in order to strike a balance with the tremendous amount of downforce the massive rear wing produces.
Moving to the wheels, you'll see the wells have been tubbed out for the sake of the massive 18x10.5-inch ROH Modena wheels and Hankook Ventus TD Z221 tires. As far as stopping power goes, there are Alcon six-piston front calipers and Brembo GT-R rotors and calipers in the back with Ferodo DS3000 brakes pads at all four corners.
Connecting the engine's power to said wheels, the drivetrain has also been completely redone with a Tremec T56 six-speed manual transmission, Xtreme twin-plate clutch and a Nismo two-way LSD. MCA dampers, Whiteline sway bars and Ikeya Formula adjustable arms, knuckles and steering spacers keep the driveline about as smooth as 710 horses is going to get.
The interior of the car is intentionally very spartan so that race performance may be optimized. The passenger and rear seats have been removed while the driver's seat has been replaced with a Velo podium bucket seat. The old helm has also been swapped in favor of an OMP Racing 320 mm Carbon S steering wheel. The dash has been upgraded with a custom instrument binnacle and a MoTeC LCD dash unit, whereas the area where the back seats used to be is now home to a custom multi-point roll cage.
Most interestingly found in the interior is the crank for a hyrdraulic e-brake – something you'd expect to see in a drift-spec car, but not really in a time attack one. This feature, in all likelihood, was included because it's possible Podlewski was intending to enter drift competitions with this car. (The Aussie was also an accomplished drifer, nicknamed "Pitbull" for his aggressive style, before catching the time attack bug.)
Finally, as previously stated, the entire vehicle was put together by Morpowa. The shop, located in South Australia, was first founded by Simon's father Mark; and it was because of Simon that the shop shifted its focus to performance, ultimately allowing him to put together this monster. With all things said and done, building a car for time attack and having nothing to show for it would be pretty sad. Fortunately – or perhaps even expectedly – Podlewski's 180SX has performed up to standards, highlighted by a second place finish in the Open class at the car's World Time Attack debut back in 2011.
ESSENTIALS // Model: Nissan 180SX // Built by: Simon Podlewski // Location: South Australia, Australia // Engine: 3.0 L 6-cylinder 2JZGTE // Horsepower: 710 WHP
ENGINE MODIFICATIONS // Engine swapped for 2JZ customized with 6 cylinders by Rhemac Performance // Ferrea stainless valvetrain // Titanium retainers // Garrett GTX 35/40 turbo // Tial external wastegate // BMC cone filter // PWR intercooler // LS2 electronic throttle // MoTeC M800 ECU // Bosch (2,200 cc/min fuel injectors, 044 fuel pump) // Wilwood remote brake bias adjuster
EXHAUST // 6Boost exhaust manifold
DRIVETRAIN // Crower connecting rods // T56 six-speed manual transmission // PPGearbox dog engagement gear set // Xtreme twin plate clutch // Nismo two-way LSD
CHASSIS / SUSPENSION // MCA dampers // Whiteline swaybars // Ikeya Formula (adjustable arms, knuckles, steering spacers)
WHEELS / TIRES / BRAKES // ROH Modena wheels – 18x10.5 (f/r) // Hankook Ventus TD Z221 tires (f/r) // Alcon six-piston frontcalipers // Brembo GT-R rear calipers and rotors // Ferodo DS3000 brakes pads (f/r) // Hydraulic e-brake
EXTERIOR // Silvia S15 front end conversion // Widened front fenders // Front splitter // Rear spoiler // Tubbed wheel wells
INTERIOR // Passenger and rear seat delete // Custom multi-point roll cage // OMP Racing 320 mm Carbon S steering wheel // Velo podium bucket seat // MoTeC LCD dash unit // Custom instrument binnacle
SPONSORS // Morpowa // Infinity Signs // Hankook Tires // MoTeC // MCA Suspension // Rhemac Performance