28 January 2013

Writte by Eric Eikenberry / Photography by Kevin Choi
Elmer Lee's widebody 240 was built against all odds
How far would you go to build the car of your dreams? Would you have the guts to stretch and pull the body like taffy until you had the perfect shape? Would you be willing to rebuild your car three times before your first show? Would you have the patience of Job when it came time to deal with shoddy shop work, or just plain bad luck? Elmer Lee has all of that in spades, as this wonderful interpretation of a Nissan S14 may be one of the widest 240s we have ever seen. Lee's journey has definitely been a 'road less traveled' and we're sure he wouldn't wish his luck on anyone else, but when push comes to shove, a man's gotta do what a man's gotta do.
"I will start with a little background of myself. I've always been into cars. I have been in the car scene since 1997, however I've been more of a Honda/Acura guy. Five years ago, I came across my first wide body Nissan 240SX and fell in love! I was determined to get into the Nissan game. After searching for a few months, I came across a 1995 Nissan 240SX with an automatic transmission, an authentic BN Sports Blister wide body with the Kouki front end conversion, and 19-inch Deep Dish Amistad wheels. It was dumped on Megan Track coilovers. I was set on buying this car."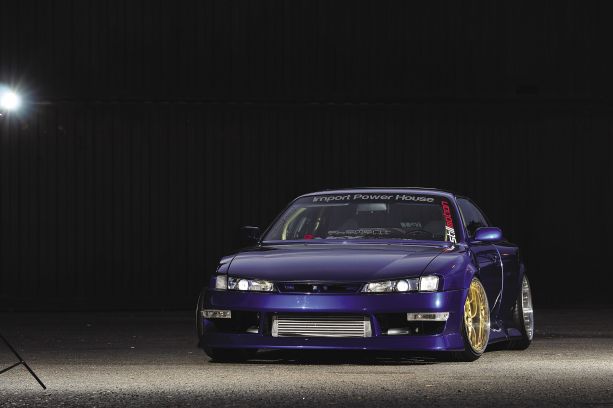 "My story begins here. At the time, I was living in Scottsdale, AZ and flew to Seattle, WA to purchase the car and drive it back home. The drive back was the biggest nightmare. The seller sold me a POS (piece of shit), therefore I literally broke down eight times! A few times in the Northern California area and the rest while I was driving from Southern California to Arizona. Issues ranged from failed wheel bearings to overheating, a cracked radiator, a major oil leak, worn tires (because of toe issues), the power wire to the battery being held with electrical tape, to minor flooding in my interior from rain and poorly-tubbed fenders." Strike one.
Completely undeterred, Lee had a friend with a nicely cared-for 1995 240SX in maroon metallic. Feeling that chassis was a much better starting point he snagged it and transferred the BN Blister wide body kit, the wheels, and the Kouki front end conversion to it. To tub the rears and refinish everything in a Nissan 350Z metallic blue, Lee made use of a body shop in the Phoenix area which shall remain nameless.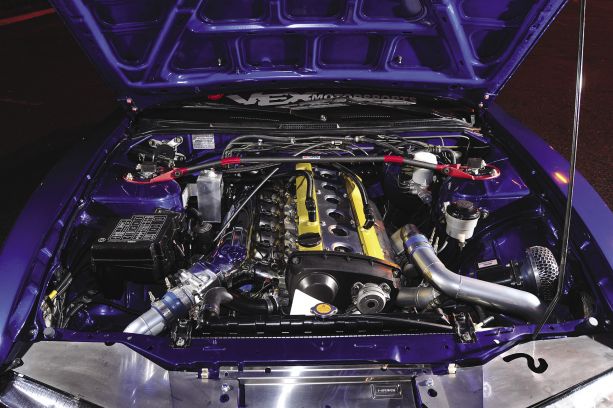 "To make a long story short, I was not too happy with the paint shop's work, which took about eight months to semi-complete," Lee said. "As you can sense, I've encountered a lot of bad luck. It's been a love/hate relationship with a lot of bad luck." Strike two.
Still obsessed with 'going wider,' he resorted to the time-honored approach; saving up a lot of money. His goals were even wider wheels, more power in the form of a swapped motor with a turbo attached and, a "wide body on top of a wide body." Of course, it is easy to get side-tracked. Browsing the forums one day he discovered a guy with the same Amistad wheels, only in larger sizes. He had to have them. It took four months before the owner parted with them and Lee swapped his rears to the front to install the new 12-inch wide rears. He jumped from 19x10 fronts and 19x11 rears, to 19x11 and 19x12s, which is a respectable setup no matter what neighborhood you roll in.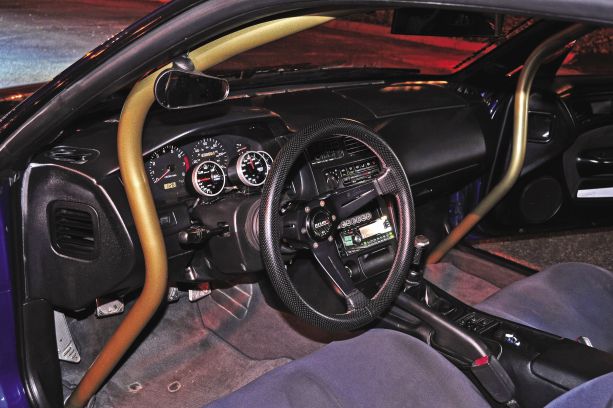 Having one itch satisfied meant it was time to address the power issue.
"Once I saved up enough money to do my motor swap, I headed to Import Power House in Phoenix to have Ramsey and Will begin my Nissan Skyline motor swap. I've been going to IPH for many years. They've always treated me right and have never steered me wrong. It is extremely rare to find shops like this nowadays. They have since become family to me."
Lee let them stuff in an RB25DET S2 with a GReddy intake manifold, HKS blow-off valve, manual boost controller, giant front-mounted intercooler, a Stage 2 clutch, and an Apexi exhaust system. The wires were "partially tucked" and a custom gold-finished valve cover was installed for a very clean, tidy engine bay. He even has working air conditioning!
Clever readers will have noted by now that the Silvia in these photos does not wear Amistad wheels. And there's a perfectly good, if slightly loony reason why. Lee found an even crazier set of wheels he had to buy.
"At this point, I came across a set of insanely aggressive Weds Kranze ERM's that were discontinued - I had to have them! I came across these wheels on a forum that a guy posted. I asked him to sell them to me and he would not. I spent six months trying to get him to sell me the wheels. Every month I offered him a price that I was willing to pay. After six months, he agreed to sell them to me. The downfall of these wheels they were heavily oxidized and needed to be refinished very badly. I sent the wheels out to get the lips straightened and polished, the faces stripped of chrome and powder-coated gold, new Weds Valve Stems, and then re-assembled. I took the wheels to Robert and Ryan at Element Motorsports in Gilbert, Arizona. They have been my go-to guys when it comes to wheels and tires, as well as stretching. They are another shop that has never steered me wrong. Thanks guys!"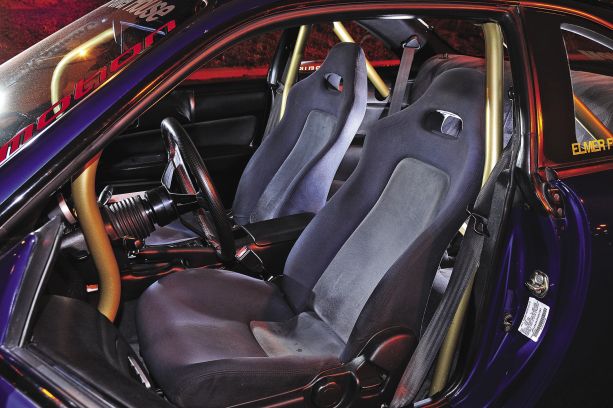 Enter Han Wong and Intense Motorsports in Chandler, Arizona. "As the Nissan Skyline swap finished, I took my car to Han at Intense Motorsports to repaint and wide-body the car. Seeing that they had done many wide conversions, from which they've also been featured numerous times, I knew they were the guys to use," Lee said. "At last, the car was built to my standards and is what you see today. Han, JJ, Oliver, and Jeremy did a lot of extra work to get this car to where it's at."
"Right after the car was finished, I moved to San Jose, California so I had it shipped. This is where I met a guy named Tony who introduced me to the guys with StillMotion. They are the reasons why I began showing my car at shows. It's always great meeting others with the same passion for cars. What I love about the car scene is the gathering and fellowship. Our most recent trip was to WekFest Los Angeles. The best part of driving to LA from the Bay Area was the cruise there and back and the stops we made on the way; to relax and hang out, the time we spent together at the show, as well as the new people I met," Lee said. It didn't hurt that his only repair for this trip was a new radiator, or that he took home a huge trophy. For Lee, this was simply a good chance to "enjoy the drive" as Nissan has suggested for years.
Lee's "ElmerFlush" sticker on the side glass is only one of many delightful touches that show how thoroughly this machine is built. The front and rear Stoptech brakes filling the wheels, the gold-finished Cusco roll cage, the Skyline R32 seats and JDM power-folding mirrors might go completely unnoticed with the attention the incredibly-deep 11.5- and 12.5-inch Weds receive. Lee may have spent more on his wheels than he's spent on entire Hondas in the past, but we simply can't suggest it wasn't money well spent. It is survival of the fittest out there and after five years under construction, Lee is finally enjoying his time as the top dog.
ESSENTIALS
Vehicle: 1995 Nissan 240SX
Owner: Elmer Lee
Engine: RB25DET S2
Horsepower: 400 hp
Engine Modifications
RB25DET S2 swap
Custom plug cover
Suspicious Garage custom catch can
Powder-coated gold valve cover
GReddy intake manifold
Partial wire tuck
HKS blow-off valve
Turbo XS manual boost controller
Import Power House front-mount intercooler and turbo piping
Apexi Power FC w/ controller
Defi Control Unit
Functional A/C
Exhaust
Apexi GT Spec exhaust system
Drivetrain
Clutch Masters Stage 2 clutch
Chassis / Suspension
Tein Flex coilovers w/ Tein Electronic Dampener Force Controller
Apexi carbon fiber strut bar
RMF front tension bar
NISMO power brace
S15 rear sway bar
S15 front lower tie bar
6 Custom rear control arms
Whiteline rear subframe bushings
Wheels / Tires / Brakes
Weds Kranze ERM - 19x11.5 -53 mm (f), 19x12.5 -35 mm (r)
Toyo T-1S - 265/30R19 (f), 285/30R19 (r)
StopTech big brake kit, six-piston calipers with 15-in. rotors (f)
StopTech big brake kit, two-piston calipers with 14-in. rotors (r)
Exterior
Authentic BN Sports Blister wide body kit w/ custom fender flares (wide body on top of wide body)
3M Clear Bra on front end
C-West flush-mount wing
Vertex hood spoiler
Kouki head light conversion w/ 6K HID low beams/3K HID high beams
Kouki tail lights
JDM power folding mirrors
Custom Titanium burnt bolts for wide body kit
Interior
Nissan Skyline R32 seats
NISMO shift knob
Defi 60mm gauges: water temp, oil pressure, boost
Gold Cusco six-point bolt-in roll cage
Nardi steering wheel
LED interior lights
Razo pedals
Audio / Mobile Electronics
Alpine CDA 7998 head unit
JL Audio 500/1 amplifier
JL Audio 300/4 amplifier
Diamond Audio 6.5 component speakers
MB Quart 6.5-in. coaxial speakers
12-in. subwoofer
Sponsors
Ramsey and Will @ Import Powerhouse in Phoenix, AZ
Dave @ RS Machine in Norwalk, CA
Robert & Ryan @ Element Motorsports in Gilbert, AZ
Chris aka BIG C @ Ksport in Gilbert, AZ
Han, JJ, Oliver, & Jeremy @ Intense Motorsports in Gilbert, AZ
Efrain @ Suspicious Garage in Phoenix, AZ
Jesse & Brian @ Vex Motorsports in San Jose, CA
Rob @ ZCar Garage in San Jose, CA
My Crew StillMotion
And lastly, James for selling me his 240SX