28 January 2013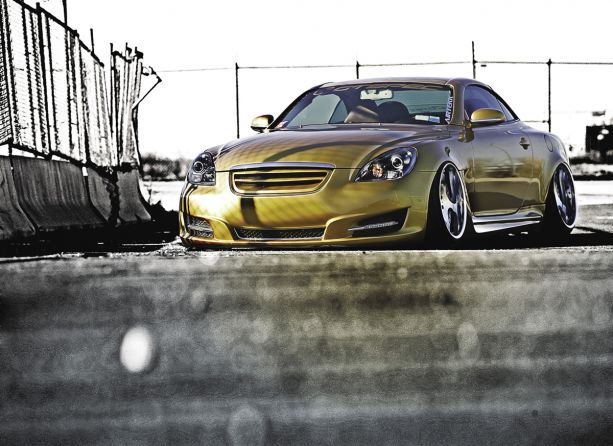 Written by Terence Gamble | Photos by Terence Gamble
William Chau's VIP'ed out soarer flys high and scrapes low
This Lexus SC430 luxury convertible was purchased by William Chau in 2006. Chau originally bought the car with no intention to build it, but was dead set on driving it with the top down. He also didn't know what the future held for the car, saying, "I wanted to part ways with the car once children came into my life, but after bringing the car out and meeting a lot of car enthusiasts, I began brainstorming to build something different in the car scene."
Upon discovering the VIP scene, Chau instantaneously fell in love with the styles of each car. Once he got a taste of what the scene was like, he decided to become a member of Liberty VIP Car Club, participating in the local and national car shows.
You're probably wondering what this Lexus SC is pushing horsepower wise. This VIP is Chau's daily driver and he isn't afraid to get it dirty, wet, or catch some sun on a hot day. His SC430 4.3-liter V8 VVTI is accompanied by a custom fabricated exhaust with Job Design tips that lets the car breathe well at wide open throttle. The polished Injen air intake and custom gold motor accents keep the engine bay looking smooth and luxurious.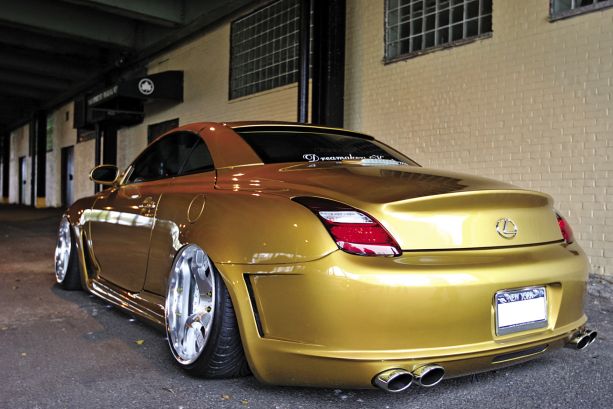 The style in this Lexus SC430 goes completely beyond what it looked like coming off the manufacturer line. The exterior ranks in a class by itself. Dream Makers Kustoms carefully designed the custom body kit, with a one-off front bumper leading to the Tom's roof spoiler and custom rear bumper.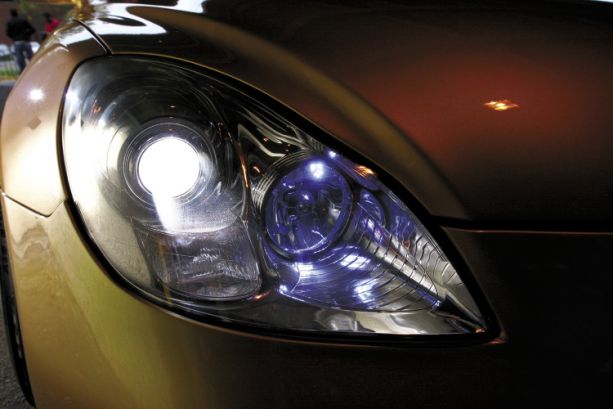 The front bumper was mocked and fabricated from a 2012 Jaguar XJL, with custom placed 2012 Mercedes-Benz R Class LEDs and a Blitz grill that shuttles air to the beefy V8. Chau decide to go with an authentic look by upgrading the headlights and taillights from the 2006 Lexus SC430. Dream Kustoms struck oil with the Gemini Gold color scheme to dress this car in.
Four puddle LEDs spot the ground under the custom side skirts, which meet up with the 2012 Lexus IS-F fenders. Tucked under the pulled wheel wells are a set of Weds Kranze Bazreia 19s wrapped in Nexen N3000 tires. Chau chose to fabricate Lexus LS400 four-piston calipers with cross drilled and slotted rotors, complete with steel-braided lines to stop the car from 65 mph in mere seconds.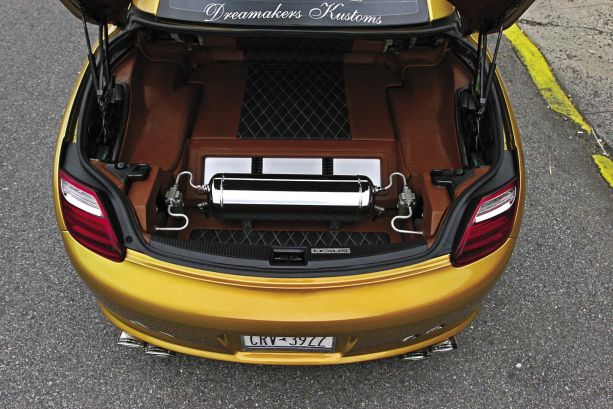 This beauty is supported all the way around with BC Racing coilovers, pressurized by Universal Air Suspension (UAS). A polished compressor enclosed in the trunk controls air flow on-the-fly with an E-Level Controller at hands reach. Speed bumps won't stop this Lexus from crawling over and slamming back down.
Seeing the car in person, there is no aspect that remains untouched. Once you sit and gaze at the superior work by Idealistic Designs - the custom seats, arm rests, front and back door panels you know this isn't close to ordinary. The diamond-shape panels are crafted and stitched to precision and the saddle-color leather compliments the rest of the car when Chau pops the lid.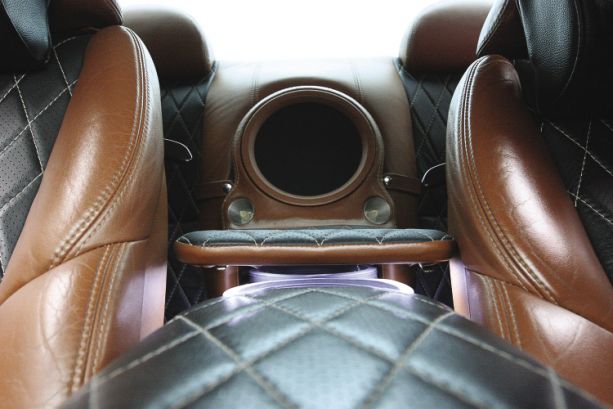 The trunk is set off with one 750.1 amplifier supplying hidden twin Sundown Audio eight-inch subwoofers. Beyma midrange and midbass Pro Series speakers and six Beyma AST-09 Screaming tweeters circulate the interior. Dual JL Audio HD1200.1 amplifiers are enclosed in custom spaces to give continuous power while a Pioneer AVIC -Z130BT high-resolution touch screen controls this well rounded piece of machinery.
Will enjoys showing his current build in the VIP community and the local car shows. With any more work Chau would put this car over the top, but he insists on doing just that. Whatever he has planned, there's no doubt already that his three years of hard work have paid off, making this Lexus the epitome of class.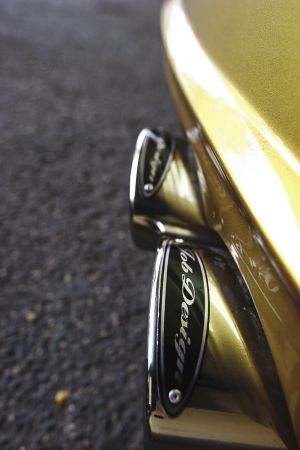 ESSENTIALS
Vehicle: 2003 Lexus SC430
Driver: William Chau
Team: Liberty VIP
Built By Idealistic Designs: NJ Dream Makers Kustom: Endicott, NY Infiniti Auto & Sound, Ravspec / GTSpec
Engine: 4.3L V8
Horsepower: 300 hp
Torque: 325 lb-ft
EXHAUST
Custom Exhaust
Job Design Tips
CHASSIS / SUSPENSION
BC Racing Coilovers
UAS Airbags
WHEELS / TIRES / BRAKES
Kranze Bazreia Silver Polish, Gold Bolt Wheels – 19 x 10 (f), 19 x 11.5 (r)
Nexen N3000 tires – 235/35R19 (f), 265/30R19 (r)
Lexus LS400 brakes
Drilled, slotted rotors
Steel braided Lines
INTERIOR
Custom interior
Diamond stitched inserts
Saddle color leather
AUDIO / MOBILE ELECTRONICS
Pioneer AVIC-130BT
Audio Control Three.2 equalizer
Audio Control 6XS crossover
JL HD 750.1 amplifier, JL HD 1200.1 midbass amplifier, JL HD1200.1 midrange amplifier
Sundown Audio SA-8 (x2) sub, Beyma Pro 10 MI midbass (x2), Beyma Pro 8 MI midrange (x3), Beyma AST-05 & AST-09 tweeters (x6)