Written by Dave Pankew // Photos by Jason Rosvick | 07 December 2009
Page 1 of 2
With every crisis, there is a silver lining. Regardless of the state of the company, GM has had some great highlights in their line-up, especially the aggressive-looking Pontiac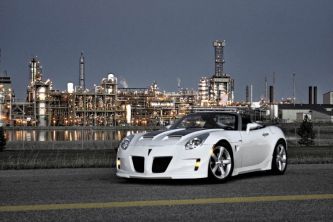 Solstice roadster. Mike Maguire of Lloydminster, AB has made his Solstice a labor of love. He has even named the vehicle "Emiley" in honor of his late daughter, Emiley Elizabeth. "I brought the car home from the showroom in 2005 and began researching supercharging options right away," laughs Maguire. "My first attempt netted 251whp at 7psi making it the first supercharged Solstice in North America. I just wasn't happy with the power and decided to redo the 2.4L Ecotec and its forced induction system."
Today, the car has come a long way from where it began three years ago. Since not much was available, Maguire went with another custom supercharger install that upped the ante to 304 horsepower at only 5.5psi after installing a custom water methanol injection system. The system was tuned with a Kenne Bell computer by Lyndon Wester at Wester's Garage and Maguire maintains, "He's a genius." The intake is a custom cold air box with a carbon fiber air box. Custom long tube headers were fabricated by Focuztech into a custom Magnaflow exhaust by Dave's Auto Service. Then James at Shinny's Sweatshop got to work on the endless amounts of polishing in and around the engine bay.

Drop the top and you see why Maguire spends a lot of time in this car. Inside carbon fiber pods attached to the upper windshield are a quartet of Auto Meter gauges including: boost, fuel pressure, A/F and EGT.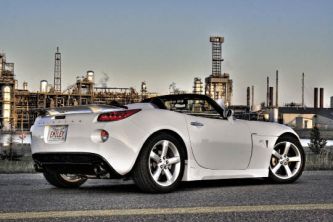 The seats are covers made by Katzkin made of both leather and suede. The door panels feature suede inserts which continues onto the console and lower dash. The suede headliners feature some custom engraving with the name "Emiley" in stylish script. Some stainless racing pedals are complimented by brushed stainless 'Solstice' door sills.
The overall look of the car is dramatic even if at the time of our shoot it had stock rollers on. We don't feature many cars with stock rubber but the 18-inch 5-spokes look proper with the slightly lowered stance. The lowering comes courtesy of Eibach Pro Kit springs and the handling was bumped up by Eibach sway bars and Energy Suspension bushings. The bodykit is an RK Sport carbon fiber kit including sideskirts, rear valance, front bumper and rear wing. The hood is a carbon fiber RK Sport 'Dual Ram' with some carbon fiber stripes left unpainted. Maguire added some trick accessories including carbon fiber Pontiac badges, Supercharged badges and a compact antennae.
For now, Maguire maintains this work is still in progress but the brakes have been put on with the new addition to the stable…a 2009 Nissan GT-R. He recently took delivery of an Ivory White GT-R and plans to make it look similar to this creation. But he says the lightweight Solstice makes Shelby Mustangs and Vettes nervous with its 107.5hp per 1000-pound power-to- weight ratio. With a few more tweaks, this car will be that much more dangerous.

Read on for Full Spec Sheet