Written by Ricky Chu. Photos by Icon Media | 27 November 2012
There are people that just mosey on through life by doing the bare minimum and others that do things big – Big Mike is the latter.
Taking a 20-year-old car and trying to make it relevant again isn't the easiest thing because a 1992 Honda Prelude isn't quite a classic yet but, for those of you who haven't heard of Big Mike, he's kind of into building these Honda cars as his history shows with a CRX Si, two Civic Sis, a Civic EX, and an Accord EX wagon. For the seven years that the Prelude has been in his possession, he's taken it to levels where even old school hot rodders are paying compliments. The latest rebuild of the car took close to three years to complete but the majority of it was put together in just three months. What's even more amazing is that this all came to fruition in Mike's driveway during one very hot California summer.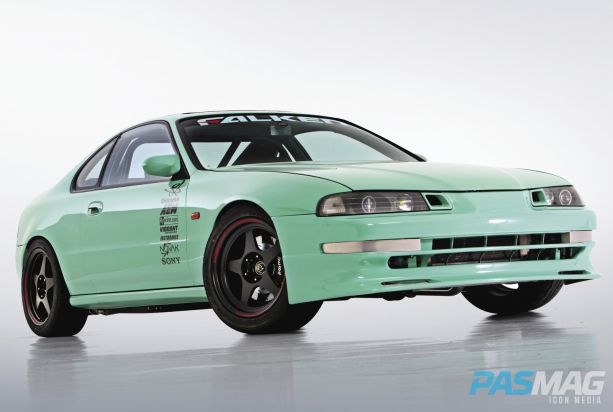 For decades now Honda enthusiasts have been able to extract the maximum amount of power out of the small displacement motors that were originally designed to be fuel efficient. Then when engine swaps became feasible, the possibilities were endless. Out came the stock H-series motor and fitting nicely in its place was an F20B out of a 2000 Prelude equipped with 57mm Kinser individual throttle bodies.
Eight 450cc Bisimoto Engineering injectors, a Walbro fuel pump and an Aeromotive fuel pressure regulator work on delivering overpriced California fuel to the thirsty 2.0L four-banger. To ensure that this highly complex setup can function together properly, an AEM V2 engine management system and High Output IGTB "smart" coils were put into place to keep everything in check.
A V2 header was fabricated up at Bisimoto to go along with a custom made exhaust system consisting of all Vibrant Performance components. After the motor was all set, the next step was to make sure the gear box was up to par. Mike had GearSpeed rip the M2A4 apart then rebuild it with brand new Honda bearings and seals. Before sealing it back up, the GearSpeed crew slapped in a set of carbon syncrhos and a Wavetrac limited slip differential.
All of this might seem a little overkill for a mere streetcar because it really is, however, Mike's Prelude was built to do more than just make double-double runs at the local In N' Out. It was a car built to compete and did just that in the most recent FF Battle at Streets of Willow racetrack. But as track cars go, it takes more than just a beefy engine to keep up with the rest of the pack. Function Form Type 2.75R coilovers and Eibach springs start off the suspension duties while a Whiteline rear sway bar and Tanabe rear strut bar work to stiffen the chassis. An Explicit Speed Performance front traction bar teamed with Falken RT-615 tires and Wilwood Superlite big brakes ensures that Mike's Prelude stays on the track and doesn't end up somewhere in the dirt.
Without a doubt, the first thing that catches people's attention is the exterior of this Prelude . Though, somewhat subtle, the execution and selection of parts used is what makes it stand out. A Charge Speed front lip adds some aggressiveness to the stock front bumper and flows with the various JDM BB4 accents such as headlights, rear bumper, and fenders. LR Auto Body sprayed the car inside and out with the signature Falken teal PPG paint then finished it off with a House of Kolors clear coat. One thing that Big Mike isn't big on is flashy graphics so Cary at eLCee Envisage did a simple vinyl sticker roll call down the doors to give acknowledgement to sponsors that contributed to this build.
The most unique feature of Mike's car, however, is the interior which was custom made by him and his friend with a good old fashioned sewing machine. They stitched together black bandanas, suede, and vinyl then wrapped the seats for a look you won't see on any other car unless someone out there is biting styles.
There's a good chance you've seen Mike's car somewhere or the other as his Prelude has been winning at car shows, competing on the track and has been seen in other magazines because it's just that dope. Rest assured that when you put down this issue of PASMAG it won't be the last time it'll be within your sights because cars of this caliber don't tend to just fade away like a bad hangover. We don't know what else Mike can possibly do to make it even more extreme but we're sure he'll find something.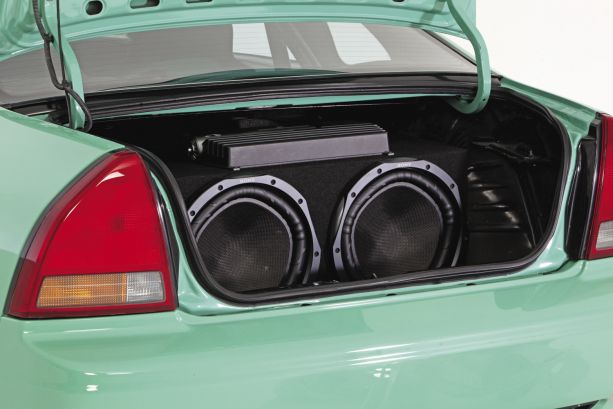 ESSENTIALS
Vehicle: 1992 Honda Prelude
Driver: Big Mike
Engine: 2.0 L F20B
ENGINE MODIFICATIONS
RYWIRE customized radiator
G&J Aircraft AN -16 fittings and lines
Kinsler 57mm Individual throttle bodies with staged injection
Aeromotive fuel pressure regulator
Walbro 255 lbh fuel pump
Bismito Engineering (cam gears, 450cc injectors)
NGK (spark plugs, ignition wires)
AEM (high output IGBT "smart" coils, V2 engine management system, UEGO wideband O2 sensor, EPM)
ARP stainless steel bolts
EXHAUST
Vibrant Performance custom fabricated exhaust (StreetPower stealth muffler, stainless steel tubing, mandrel bent elbows, bottle resonators, V-band assemblies)
Bisimoto Engineering custom V2 header
DRIVETRAIN
Bisimoto Engineering 8.9 lbs flywheel
Rebuilt M2A4 transmission
GearSpeed carbon synchros
Wavetrac LSD
CHASSIS / SUSPENSION
Function Form prototype Type 2.75R coilovers
Eibach (springs, anchor bolts, ball joint camber kits)
Whiteline 22mm rear sway bar
Tanabe rear strut bar
Explicit Speed Performance front traction bar with front torque mount
WHEELS / TIRES / BRAKES
Desmond Regamaster EVO wheels (NSX Spec) – 17 x 9 (f), 17 x 8 (r)
Falken Azenis RT-615 tires – 245/45R17 (f), 225/45R17 (r)
Willwood Superlite brakes (12.6-inch slotted front rotors, four-piston calipers (f), slotted and drilled rear rotors (r))
Hawk DTC-05 brake pads
Motul brake fluid
Fastebrakes.com stainless steel brake lines
EXTERIOR
Charge Speed front lip
JDM BB4 (rear bumper, fenders, headlights, side markers)
Custom JNF (aluminum cowl, aluminum bumper deletes)
Custom nostril vents
eLCee envisage graphics
Vison Type MC carbon fiber mirrors
INTERIOR
Custom interior using black bandanas, suede and vinyl
Maven countersunk weighted shift knob
Personal green stitch steering wheel
AEM gauges
Bucket seats with color-matched frames
Autopower four-point race roll bar with weld-in cross and harness bars
AUDIO / MOBILE ELECTRONICS
Sony (XAV-63 head unit, XM-GS100 Class D sub amp, XM-GS400 amp, SX-GS120L subwoofers (x2), XS-GS1720S components, XS-GT167A rears)
Odyssey PC-680 battery
SPONSORS
AEM, Autofashion, Bisimoto Engineering, Falken Tire, Fastbrakes.com, Function/Form, GearSpeed, Gear-X, G&J Aircraft, Jackson Racing, Jason Noren Fabrications, LR Autobody, L*CON Race Cars, Novak Mechanical, Pro-Car Innovations, RYWIRE, SONY, Vibrant Performance, Wavetrac, Weksos