26 September 2012
Page 1 of 4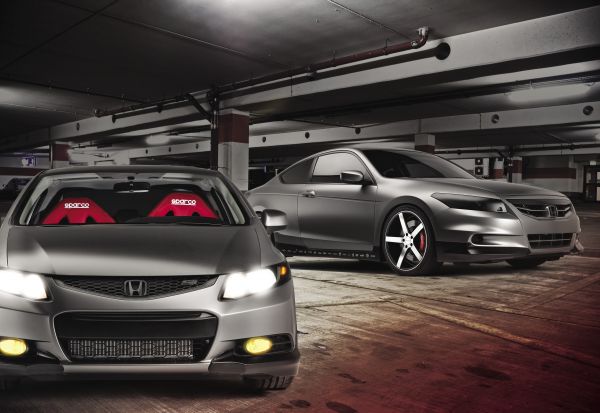 In an era where everyone wants to be different, personalizing your ride is an excellent opportunity to showcase your car and make a statement about who you are. Honda has been the platform of choice for the performance aftermarket scene since its inception. The PASMAG Remix program is designed to reconnect the Honda brand with grassroots enthusiasts everywhere and demonstrate the benefits of working with Honda vehicles.
After the success of the first series of PASMAG Remix cars, the challenge for the second series was to take it to the next level by significantly enhancing the performance of these already very capable vehicles. To accomplish this, we opted for the help of a turbocharger for the Civic Si and a supercharger for the Accord Coupe, so read on to find out all about these two remixed Hondas.
---
Remix Civic Si Coupe
Honda wrote the rules of sport compact performance, developing fast and agile cars that broke all previous horsepower-per-litre records. The 1990's and early 2000's were all about performance compacts and Honda led the charge for an entire generation with vehicles like the CRX, Prelude and, of course, the Civic.
Now in its ninth generation, this iconic nameplate continues to be one of the most popular enthusiast platforms the world over. Back to reclaim its rightful spot in automotive tuning, Honda Canada and Performance Auto & Sound Magazine (PASMAG) partnered to build this Remix Civic Si Coupe.
The 2012 Civic Si Coupe, while instantly recognizable from a design perspective, features some significant changes compared to the outgoing model. These include a new interior and updated exterior touches, but the biggest change – and the one that has garnered the most attention – is under the hood. Namely, its larger 2.4-liter DOHC four-cylinder i-VTEC engine. Due in large measure to increased displacement, this mill cranks out 201 hp and gets a whopping 22% more torque than the eighth-gen Si. The better news for the enthusiast is that there's plenty to be gained beyond that from a tuning perspective.
Showcasing the performance potential and increasing the engine's output were key to this build. For this Civic Si, that meant adding a little boost through use of a turbo. Team PASMAG, working together with International Automotive and Custom (IAC) in Woodbridge, Ontario, carefully selected the suppliers for this project based on each component's contribution to the overall performance and aesthetics of the vehicle. Nothing would be frivolous and the car's appearance would have to turn heads. With the mission firmly established, the search for partners reached as far away as California and Japan.
Under the hood, a Full Race turbo kit designed specifically for the 2.4L engine with a Borg Warner EFR 7163 turbo forms the centerpiece of the build. Installed by the experts at Defcon Racing in Thornhill, Ontario, this mod practically doubles the output to over 400 hp!
To accentuate the car's more aggressive nature, Team IAC treated the body with black trim to provide contrast with the stylish Frozen Grey paint and added a carbon fiber hood from Versus Motorsport to shave some weight. The factory headlights are replaced by a set of Eurolite HID low beams as well as a pair of Philips Crystal Vision Ultra Bright high beams. A Honda Factory Performance (HFP) body kit complements the aggressive performance look.
The Si chassis received some notable upgrades too. First, the original suspension already offers a great ride and solid handling, but for the Remix Civic Si Coupe, a set of fully-adjustable HSD coil-overs dramatically lowers the ride height whilst allowing the dampening to be set hard or soft. The OEM wheels have been exchanged for 19x8.5-inch König Avanti alloys, which are held in place with McGard PASMAG laser-engraved tuner lug nuts and wrapped with 235/35 Continental Tires. Wilwood Superlite 6R front brakes featuring six-piston calipers clamp down on 13-inch two-piece slotted rotors.
Inside the cabin, Team PASMAG's desire to make a statement in style and technology was answered by long-standing partner Johnston Research and Performance (JRP), which has replaced the factory seats with red Sparco Chrono bucket and installed a Momo Race Evo shift knob and Momo Gotham Racing pedals for precise inputs. Eurolite LED Lighting is now found throughout the cabin to complete the feeling of enhanced, driver-oriented performance.
Best Buy's Geek Squad in Toronto is responsible for the audio and multimedia upgrades, which saw the OEM stereo replaced by a Kenwood DNX6180 double-DIN multimedia DVD receiver with navigation and Bluetooth. This head unit has just about every feature one could want: Garmin GPS, CD and DVD playback, iPod and iPhone USB connectivity and Bluetooth powered by Parrot wireless technology. An impressive 6.1-inch touchscreen offers vivid image quality and an intuitive GUI. Kenwood has also contributed its KAC 8405 amp, which drives an Alpine SBE-10PR subwoofer and powers a quartet of Kenwood speakers throughout the cabin. All of the wiring and hook-ups necessary for high-fidelity audio comes by way of Stinger Audio.
With tight deadlines to build the Remix Civic Si Coupe for Honda Canada, there was no time to waste. Despite having such little margin for error, the project was completed on time thanks to the outstanding efforts of Team IAC, Best Buy Canada and Defcon Racing. The results speak volumes for what can be accomplished when you choose the right partners. Continue reading to check out the Remix Accord 2.0, which features a different flavor of customization!