Written by Jacob Leveton | 28 August 2012
After two years of amateur drifting and three years as a professional, Matt Powers decided his trusty old Nissan S14 was overdue to retire. Backed by video game giant Electronic Arts and its Need for Speed franchise, the car has served the California native well from his side skirt scraping amateur days in Oceanside to his first professional podium on the streets of Long Beach course.
For 2012, Powers has taken all of the knowledge and experience from his previous car to build the new vehicle you see here. Starting off with a bone stock S14 that Powers purchased from a fellow drift enthusiast in Southern California, it didn't take long for Powers and his crew chief Costa Gialamas to strip it down to a shell at Costa's shop Gialamas Technical Innovations (GTI) in Costa Mesa.
All OEM wiring, sound deadening, interior panels and the running gear have been removed to give the car a fresh slate. The factory seams have been skip welded to increase rigidity while a custom "Costa-spec" roll cage maximizes safety in the event of a side impact similar to the one Powers experienced in New Jersey last year. Gialamas carefully fit the main hoop as close to the factory sheet metal as possible to maximize safety and room in the driver compartment. With the cage installed, GP Motorsports did all of the wiring before the motor transplant got underway.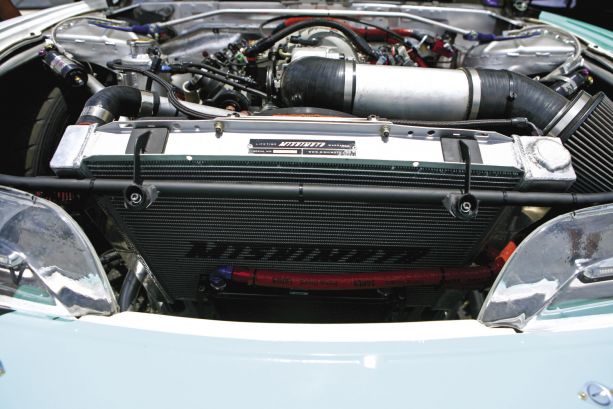 The progression of professional drifting has seen instantaneous torque delivery become a requirement – a big reason V8 engines are becoming the majority for competition cars. The LS7 motor is the same powerplant from his previous car, though it has been refreshed for a new season of drifting and mounted with set of GTI engine mounts that keep the powerplant as low and as central to the car as possible. Stock output is upgraded with a Katech cam and valvetrain, Fast low profile LSX-R intake manifold and Hooker headers with the power being driven through an ACT clutch, G-force GSR four-speed transmission, Driveshaft Shop axles and a Winters quick change rear differential. Exhaust is handled by a custom setup boasting Burns stainless products while a Holley EFI controller takes care of engine managemen. The fuel system features a custom trunk-mounted fuel cell, Aeromotive fuel pump and regulator plus a pair of Fast fuel rails. A Mishimoto dual-pass race radiator, custom oil cooler and Earls stainless lines helps keep temperatures in the operating range. This setup is good for more than 520 horsepower and roughly 500 lb-ft of torque at the wheels
Inside, the cabin is race car plain and simple. The dash is now a carbon fiber piece, which is completely empty minus the STACK instrument cluster and a few toggle buttons. The center console was removed and, outside of an enlarged transmission tunnel, switch panel and hydraulic e-brake, the middle of the car is quite bare. Sparco Corsa racing seats, steering wheel and safety belts replace the OEM units.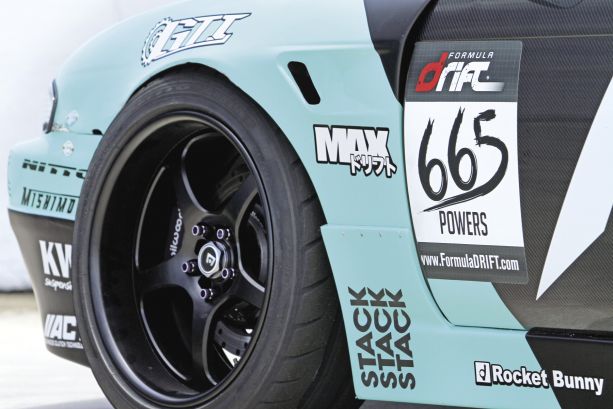 Under the corners, the KW three-way adjustable motorsport coil-overs are custom-made to Powers' specifications to provide plenty of squat for forward bite and yet remain stiff for lateral grip. Powers specifically praises the KWs not only for their ease of adjustability and feedback with every adjustment, but also for the amazing track-side support as well. Paired with the coil-overs are Parts Shop Max control arms and suspension links to allow the team to dial in the camber while steering knuckles (also from Parts Shop Max) permit the incredible amount of steering angle necessary to keep the car from spinning out.
Powers is known for being one of the most stylish drivers on the circuit. His 2012 vehicle has been outfitted with aero parts by Rocket Bunny, including the front and rear bumpers, side skirts and fenders, while a Seibon carbon fiber hood, trunk and doors help keep the car as light as possible. The asymmetrical livery is designed by Need for Speed to be more simple than the leopard and zebra print he's used in years past and, although Powers has preferred vibrant-colored wheels in the past, this year's Motegi Trak Lite 18x9 wheels are a more neutral black color. The wheels are wrapped in Nitto NT05 tires.
Powers' new car has proven to be successful immediately in Formula D, earning a top four finish at the first event of the season in Long Beach. Powers is looking to improve on his sixth place overall finish in 2011, an effort that earned him the award for 'hardest charging' driver of the season as well as the 'most improved' from 2010. Currently sitting in the top 10 in championship points, Powers plans to finish the season strong and, hopefully, earn his first podium in the new chassis before the season is over.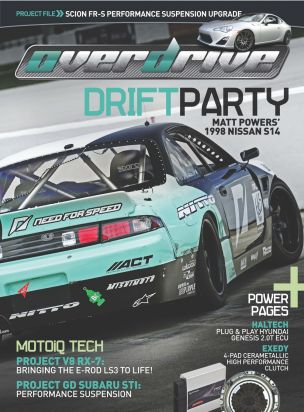 ESSENTIALS
Vehicle: 1998 Nissan S14
Name: Matt Powers
Team: Deal With It
Built by: Gialamas Costa at Gialamas Technical Innovations (GTI)
Engine: Chevrolet LS7
Horsepower: 520 whp
Torque: 500 lb-ft
ENGINE MODIFICATIONS
Mishimoto dual pass radiator
FAST LSX-R intake manifold and fuel rail
Holley EFI
Hooker headers
Aeromotive fuel pressure regulator
Earls stainless braided hoses
Katech torque cam and valvetrain
Dailey dry sump oil system
Royal Purple fluids
EXHAUST SYSTEM
Burns stainless custom exhaust
DRIVETRAIN
G-force GSR four-speed transmission
ACT clutch
Driveshaft Shop axles
CHASSIS / SUSPENSION
KW coil-overs with remote reservoirs
Parts Shop Max suspension links and knuckles
EXTERIOR
Seibon (carbon fiber hood, trunk, doors)
Rocket Bunny body kit
WHEELS / TIRES / BRAKES
Motegi Trak Lite – 18x9, +5 (f/r)
Nitto NT05 tires
Wilwood four-piston brakes
INTERIOR
GTI Roll Cage
Stack (DVL, multifunction dash, data logger)
GP Motorsports wiring
Wilwood pedal box
Sparco (Corsa seats, harnesses, steering wheel)
SPONSORS
Need for Speed, Nitto Tires, ACT, Mishimoto, Brian Crower, GTI, KW Suspension, Motegi, Parts Shop Max, Seibon Carbon, Holley EFI, Earls Hose, Stack, Alpinestars, Replay XD, Rocket Bunny, Royal Purple, Wilwood, Driveshaft Shop, Burns Stainless