Written by Jacob Leveton | 30 July 2012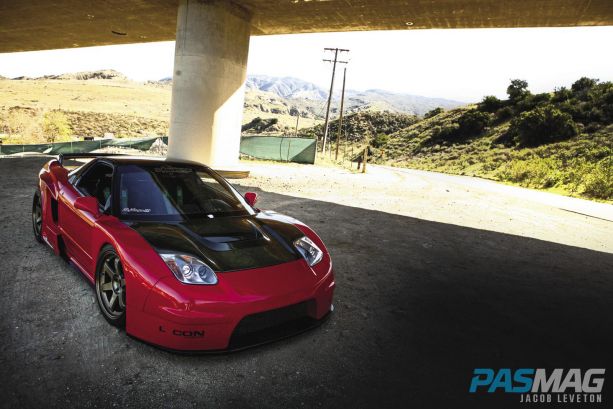 Tony Khamly has a bad case of A-D-D. His Acura NSX has been "finished" no less than three previous times. Each time he gets to a point where he's happy with the car, a month or so later the car is sitting in his garage collecting dust due to boredom. After a few months of not touching the car, he tends to sell off parts and start redoing it.
This car's previous twin-turbo setup made nearly 600 hp, but Khamly didn't like the power delivery so he sold that setup and switched over to a belt-driven Vortech centrifugal supercharger system that makes a more manageable 400 hp. Before installing it, however, the C30A motor got re-built in preparation for high pressures with JE 9:1 compression pistons and NSX Type-S cams driven by Science of Speed cam gears.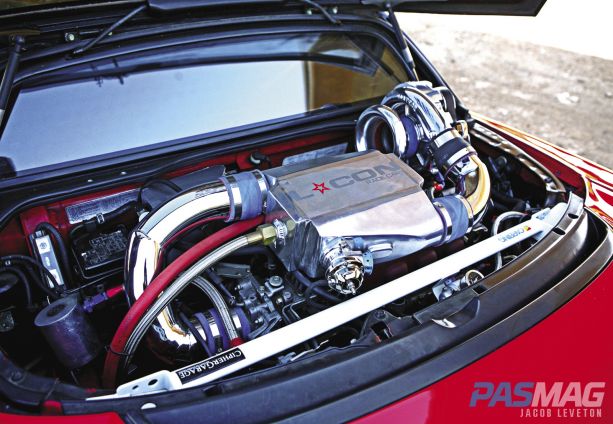 The supercharger pushes air through L*CON piping and a modified Science of Speed air-to-water intercooler with integrated Greddy Type RS blow-off valve. A Walbro fuel pump and AEM fuel pressure regulator pushes fuel through RC 440 cc injectors while exhaust gasses rush through custom L*CON fabrication piping. In an effort to keep the motor in one piece, Science of Speed rocker arms have been added along with billet motor and transmission mounts that reduce flexing.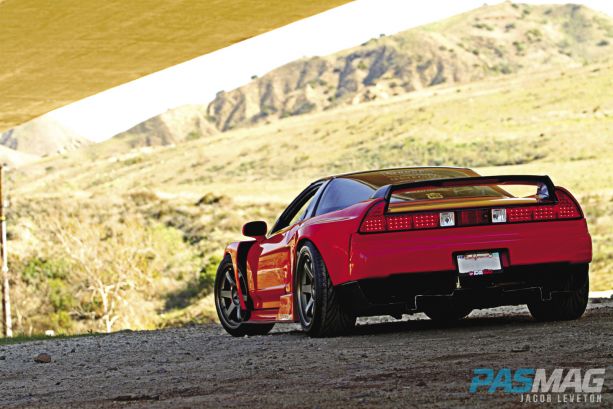 The most obvious modification to the NSX is the Sorcery wide body kit. It's further customized with a Kyushu Danji-modified front bumper, which eliminates several ducts that come on the normal Sorcery kit, and a Downforce-R hood and rear wing. The head and are taillights are 2002-spec versions – the rear of the car is finished with a custom carbon fiber diffuser inspired by the JGTC – and looks menacing from every angle.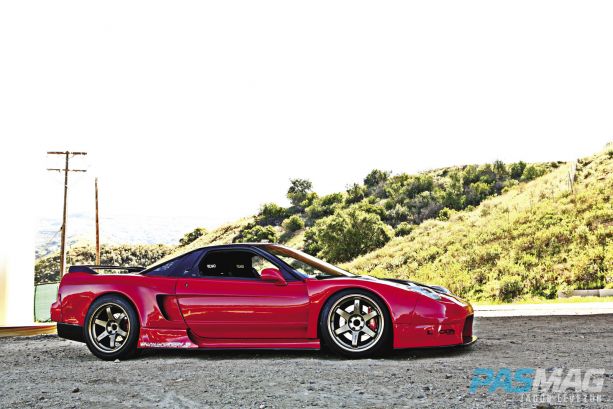 Previously, the car wore a rare set of Work S1C wheels, which give way to a set of concave Volk CE28s, though it's currently wearing these concave Volk TE37 wheels instead. The factory Acura Formula Red paint has been the only consistent part of the car that has remained the same through all of the revisions.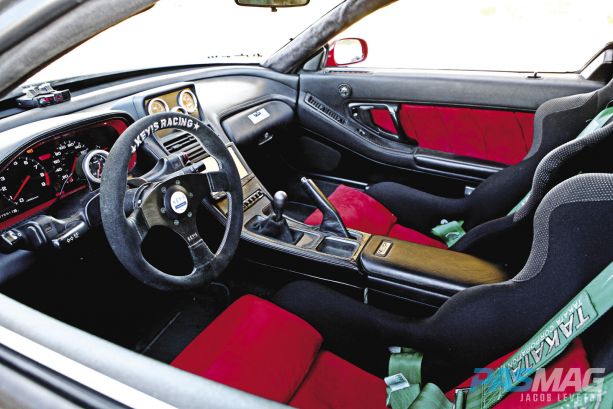 Inside, Khamly took a "business before pleasure" approach to the cockpit, which features Recaro SPG seats, Takata harnesses, suede KEY!S steering wheel and Gruppe M shift knob. The car is routinely driven on the street. So, a carbon-trimmed JDM Honda navigation pod displays a trio of gauges from AEM and Apexi. The Apexi boost gauge on the steering column shows how much power is being thrown to the rear wheels from the engine, which is just feet from your head. Consisting of an Eclipse navigation head unit, MB Quart components and a Zapco competition amp powering an eight-inch JL Audio subwoofer between the seats, the car stereo carries over.
Through all its different iterations, Khamly says the current one attracts the most attention and gets the most looks. Although now more than 20 years old, the Acura NSX design is still a head-turner. Then again, the loud whine of the supercharger and the rumble at idle (that only increases as the car revs us probably) also contribute to the looks this NSX gets. But, that's beside the point.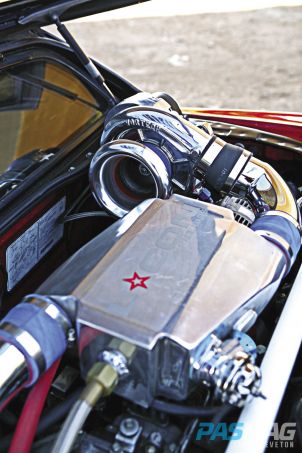 ESSENTIALS // Name: Tony Khamly, Location: Anaheim Hills, California, USA, Vehicle: 1991 Acura NSX, Engine Code: C30A, Horsepower: 400+ whp
ENGINE MODIFICATIONS // Vortech supercharger, GReddy Type RS blow-off valve, Science of Speed (cam gears, rocker arms, big bore throttle body, oil pump gear, motor/trans mounts, modified intake manifold), JE pistons and rings, Koyo radiator, Samco hoses, NSX Type S camshafts, ARP head studs and cosmetic head gasket, Walbro fuel pump, RC 440 cc injectors, TMR lines and fitting, AEM (EMS, filter, regulator), LCON custom intake piping and filter, Custom air-to-water intercooler and piping, NGK Iridium IX spark plugs
EXHAUST SYSTEM // LCON Custom headers, down-pipe, muffler and custom straight pipe exhaust system
DRIVETRAIN // NSX-R (short gears, final drive transmission, differential), Comptech short shifter and clutch
CHASSIS/SUSPENSION // Welbilt Kustom harness bar, Buddy Club race-spec coil-over suspension, Comptech Race (anti-roll bars, non-compliance rear beam, toe links), Science of Speed bushings, NSX-R chassis bars
WHEELS / TIRES / BRAKES // Volk TE37 (concave) – 18x19 +22 mm offset (f), 18x10.5+18 mm offset (r), Toyo T1R – 245/40 R18 (f), 285/40 R18 (r), JBT big brake kit (13-in. front rotors, 12.5-in. rear rotors, four-piston calipers (f/r), stainless steel brake lines), Dali Racing carbon brake deflectors, Motul Dot 5 brake fluid
EXTERIOR // Formula red paint and shaved emblems, Sorcery wide body kit, Kyushu Danji modified front, Downforce R hood and wing, 2002 NSX headlights and taillights
INTERIOR // Apexi (boost gauge, oil pressure, water temperature, turbo timer), AEM UEGO wideband, Key!s Racing steering wheel, Recaro SPG seats, Takata harnesses, Gruppe M shift knob, NSX-R (shift boot, nav pod, carbon dash kit), NRG quick release, Momo hub
AUDIO / MOBILE ELECTRONICS // Eclipse AVN navigation, Zapco competition amp, JL Audio 8-in. subwoofers, MB Quart components