Written by Giancarlo Pawelec | AutoMotoFoto.net | 07 June 2012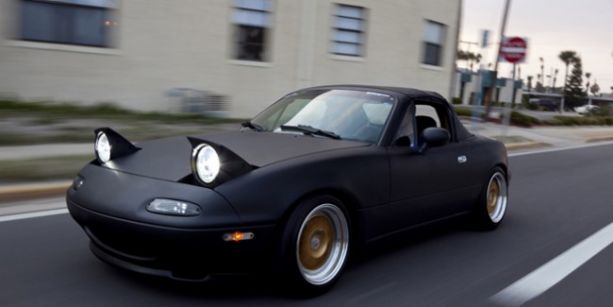 It's not everyday that you meet what I would call a true enthusiast in the scene, especially one without the common ride and add-on goodies seen at shows. Matt Lamphier is a clear example of what the heart of the tuning scene is all about. He is a young gun hailing from Deltona, Florida, USA and had his unique ride (this matte black Miata which he built) in the tuner section of Spring Break Nationals, with no need for sponsors or a crew backing him… a one man show.
Lamphier's vision for the Miata was fairly simple, take an already great factory track-tuned chassis and tweak it while adding some much-needed modern style. The 1992 Miata went down a dark path in terms of appearance despite its "cute" appeal to many in way of a custom flat black chalkboard paint job and yes, you can actually write on it! The front end received a GYR lip, LED switchback turn signals, HELLA headlights, a set of Krypton 6,000k HIDs while the rear got smoked taillights with an LED light conversion.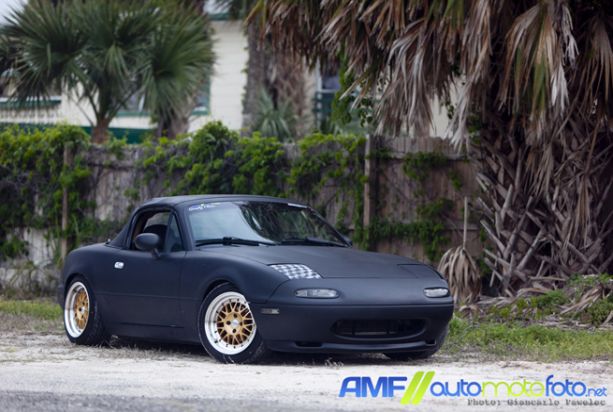 The evil stance of this once mild-mannered coupe is thanks in part to a set of Raceland coilovers. Further suspension enhancements to tighten up this bad boy came in way of Energy suspension bushings and a pair of strut bars front and rear from Cusco.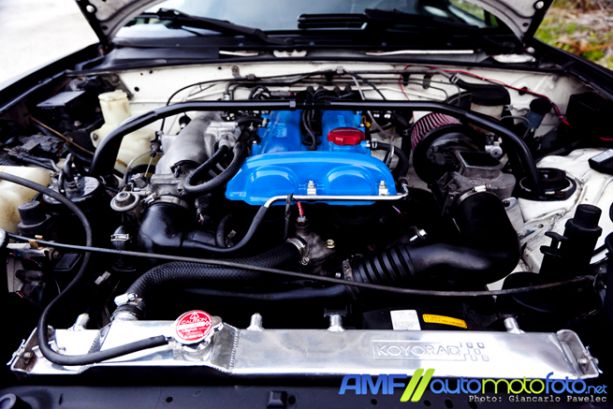 Under the chalkboard painted hood, Matt cleaned up the engine bay and again only tweaked what needed to be done. The factory 4-cylinder engine produced plenty power, but lacked some breathing. Lamphier installed a MAF adapter intake system, OBX headers and 55mm Koyorad radiator. The bread and butter of the engine sits just under consisting of a custom 2.25-inch catback exhaust system that feeds into a titanium coloured turndown muffler, similar to the JDM-trend with top tuners.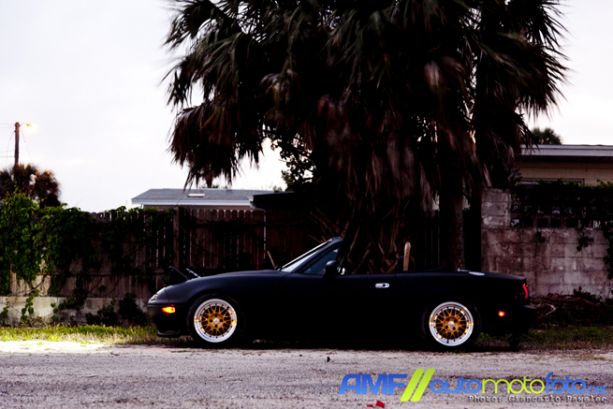 Further tweaks for this dark pony included the deletion of the air condition system and power steering. Although most would consider Lamphier to be mad in the head, his reasoning is purely from an enthusiast point of view – if it's heavy, it's out!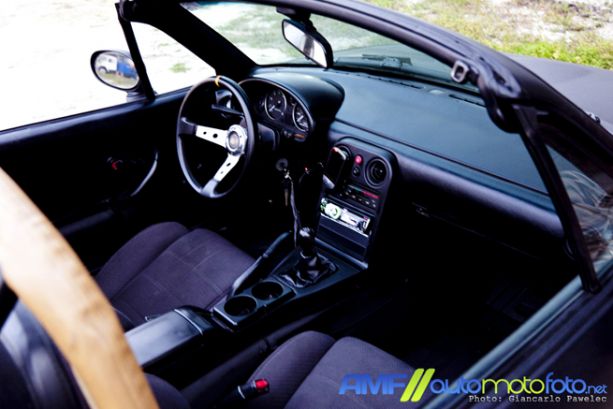 Inside the cockpit, Lamphier faces a MOMO steering wheel and an NRG short shifter and shit knob combo. Saving his head from turning into a fruit bowl in case of a roll over, Lamphier installed a Harddog Version 1 rollbar system.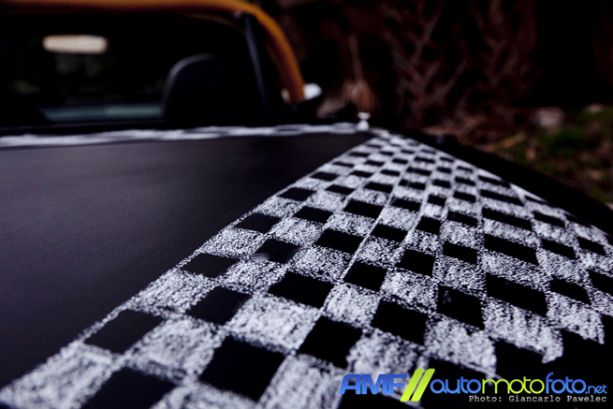 Despite what one might think, the chalkboard paint is an awesome idea! One day you can have something on your car, the next something else and despite what you might think, it truly is a matte finish making anything look sinister… and with good reason. Checked flag anyone?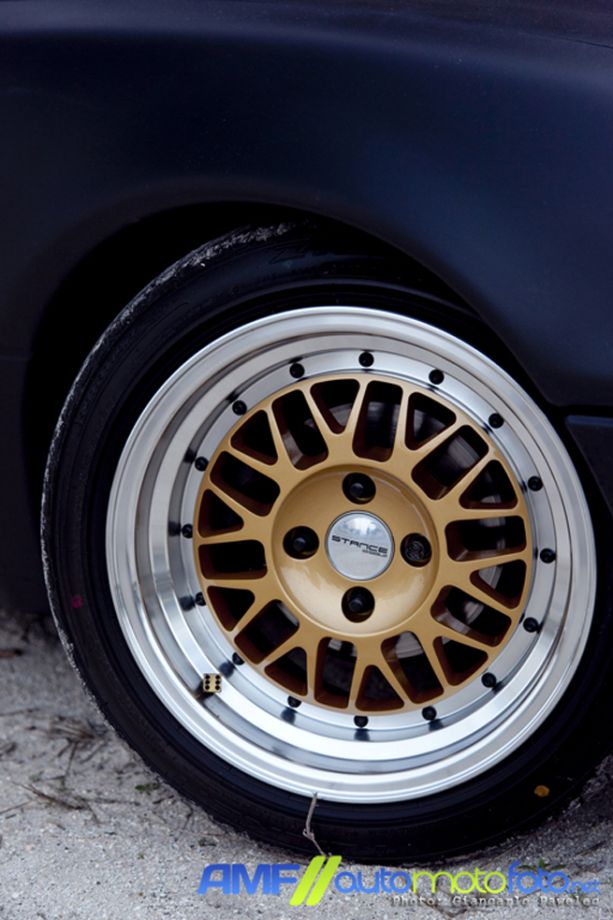 The rollers of choice for the Miata are a set of 15-inch Stance Mindset wheels sized at 8-inches all around and finished in brushed gold. A set of Falken 512 tires sized at 195/50/15 provide the gripping action needed for this best selling sport coupe. Tucked neatly under the front wheels are Brembo rotors while a set of OEM rotors fit the back and Hawk pads all around.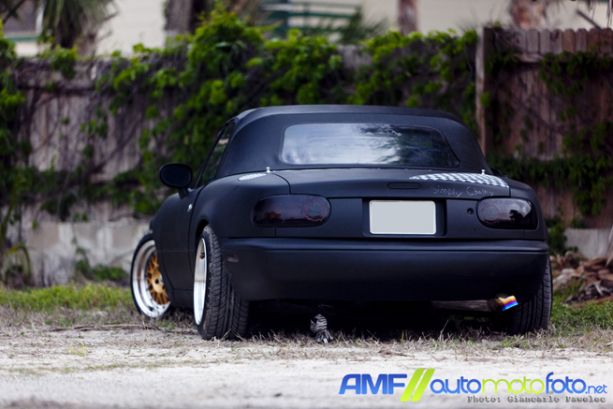 So, what's the best part about this Miata? How about the fact that it was all built by Matt Lamphier. At times, it is refreshing to see that no sponsors or endless budget assisted in making an enthusiast's dream come true, instead… lots of elbow grease and persistence. As Matt puts it, "Thank you to everyone who has taken anytime in appreciating my hard work and my car!" – No Matt, thank you for building it!
EXTERIOR // GYR Front Lip / Smoked Taillights with Red and Amber LED Lights / LED Switchback Turn Signals / Glass HELLA Headlights / Krypton 6,000k HID Kit / Custom Flat Black Chalkboard Paint
INTERIOR // NRG Short Shifter with Shift Knob / MOMO Steering Wheel / Harddog Version 1 Rollbar
AUDIO / MOBILE ELECTRONICS // JVC R610 Head Unit / Pioneer Door Speakers
WHEELS / TIRES / BRAKES // Stance Mindset 15×8 +25 Offset All Around / Falken Ziex Tires 512 195/50/15 / Brembo Front Rotors / OEM Rear Rotors / Hawk Brake Pads
SUSPENSION // Energy Suspension Bushings / Raceland Coilovers / Cusco Front Strut Tower Bar / Cusco Rear Strut Tower Bar
ENGINE // MAF Adaptor Intake / OBX Header / Koyorad 55mm Radiator / Air Conditioning Delete / Power Steering Delete
EXHAUST // Custom 2.25? Catback Exhaust with Burnt Titanium Turndown Muffler
SPECIAL THANKS // To everyone who has taken anytime in appreciating my hard work and my car
FUTURE MODIFICATIONS // LSX motor swap
More features at www.automotofoto.net.