Written by Shaun Keenan | Photos by Garrett Wade | 23 May 2012
Bridging the gap between Japanese and American muscle.
---
Enjuku Racing might be best known for its Nissan 240 and 350Z builds and killer Formula Drift cars, but for the last years' SEMA show, owner Ken Harrison was looking to try something a bit different. And by all accounts, this 2011 Hyundai Genesis Coupe certainly qualifies as such. It doesn't really matter whether it was a 2.0 T or 3.8 GT model either. The only thing that does matter is a 5.7L LS1 V8 engine is in there now!
Having been a dominant force in the Nissan tuning market for years, Enjuku Racing has been looking to break into other enthusiast markets. "The Hyundai Genesis is a great platform and we wanted to be the first to put a supercharged LS1 into a brand new Gen Coupe," says Harrison.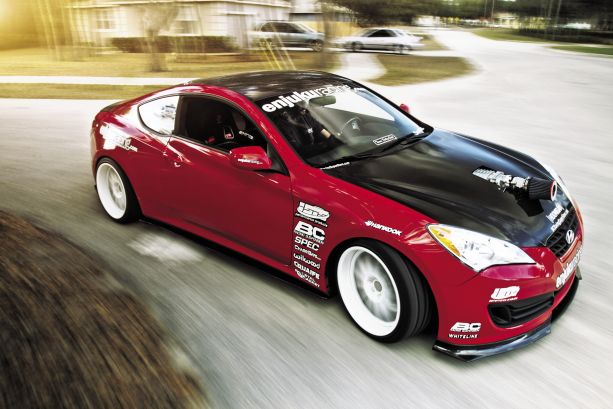 Naturally, all the engine work and mods have been done at Enjuku's HQ in Minneola, Florida. After purchasing the car in May 2011, it's taken a few months and between $25- and $30-grand to trick out this rear-wheel drive sports car in a befitting manner. The donor engine is from a 2000 model year vehicle, so the Enjuku crew has prepared it for big horsepower by first refreshing it with Trick Flow cylinder head and valvetrain upgrade kits. CheaTR LS2 cams from Thunder Racing are also installed before the Magnuson roots-style supercharger, which features a 90 mm Edelbrock throttle body that pokes through a Vis Racing carbon fiber hood. Enjuku now sells the engine mounts as a kit and long-tube headers that it developed for this application, which terminates at the custom Isis Performance race dual exhaust.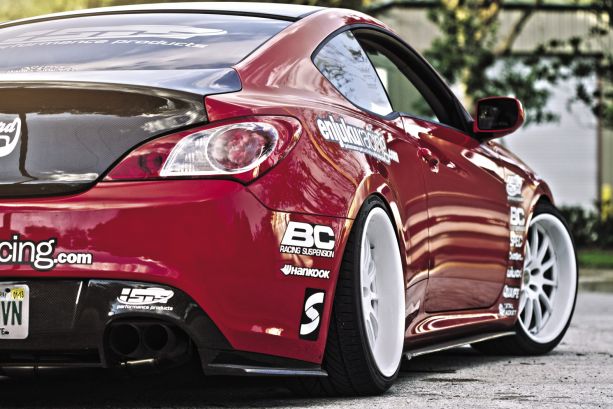 Enjuku has taken great care to leave the chassis intact and do this particular swap without cutting into the frame, so theoretically the stock engine and hood could go right back in. In their absence, however, a MTI Racing air-to-water intercooler chills the air going into the system while fuel is pushed toward 42-pound Ford fuel injectors by an Aeromotive Stealth fuel pump. An Isis Performance fuel pressure regulator and MSD ignition wires support the NGK TR7 spark plugs. To support the massive increase in horsepower and torque, which is now estimated at 600 hp and 575 lb-ft, a Tremec T56 manual has been built to stage two specification by TickShift and paired up with a stage three Spec clutch and billet steel flywheel. Leaving nothing to chance, Enjuku Racing installs a Quaife limited-slip differential and its own brand of heavy-duty drive shafts.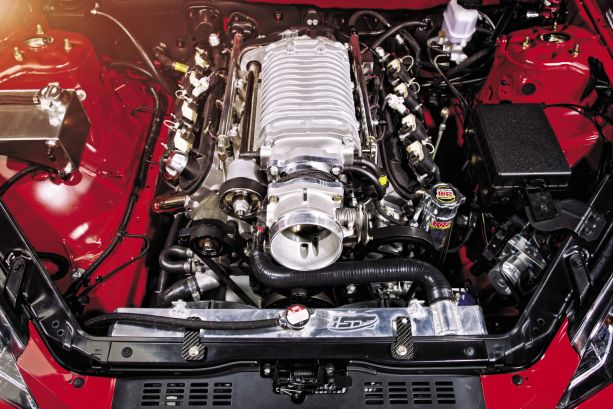 In preparation for its debut in the BC Racing Suspension booth at SEMA, the Gen Coupe is matched up with a set of 30-way adjustable BR Type coil-overs and aggressive, contrasty TA02 19-inch wheels, plus Whiteline sway bars and a bevy of tie arms, rods and such to stiffen up the whole car. Hankook Ventus tires and Wilwood front brake upgrades complete the set up from a mechanical standpoint. From a looks standpoint, Vis Racing has tied off all loose ends with several carbon pieces, including front lips, side skirts, trunk, roof skin as well as a new rear diffuser that accommodates quad tips.
Besides the Spargo Spring 5 seats and cam lock harness, the only other upgrade to point out is the rainy are Pioneer AVH-P4300DVD seven-inch widescreen head unit that takes care A/V duties and a whole lot more.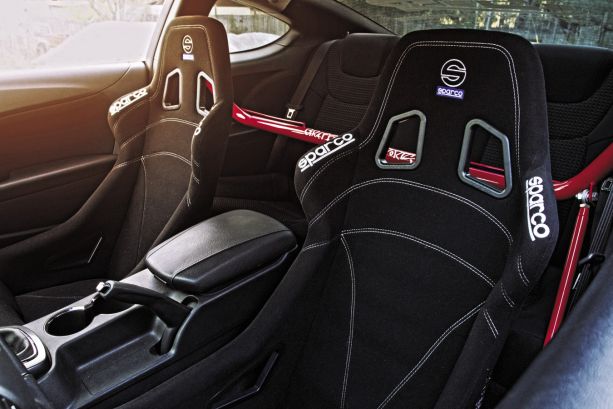 It remains to be seen how popular this engine swap will become in the Hyundai Genesis community, and though we wished this car were going to be a real drift car, you just have to give Enjuku Racing big props for even going down this road.

ESSENTIALS
Vehicle: 2011 Hyundai Genesis Coupe
Owner: Enjuku Racing
Location: Minneola, Florida
Engine: 5.7L LS1 Supercharged
Estimated Max Horsepower: 600 hp
Estimated Max Torque: 575 lb-ft
Top Speed: ~180mph
Website: www.EnjukuRacing.com
ENGINE MODIFICATIONS
Enjuku Racing (long-tube headers, engine mount kit)
Trick Flow Specialities (cylinder head, valvetrain)
Magnuson Roots-style supercharger
Edelbrock 90 mm throttle body
ISIS Performance fuel pressure regulator
Aeromotive Stealth fuel pump
Thunder Racing CheaTR LS2 cams
MTI air-to-water SC intercooler kit
Ford 42 lb. fuel injectors
NGK TR7 spark plugs
MSD ignition wires
DRIVETRAIN
SPEC (stage 3 clutch, billet steel flywheel)
TickShift stage two T56 six-speed manual transmission
Enjuku Racing driveshafts
Quaife limited-slip differential
EXHAUST
ISIS Performance race exhaust
EXTERIOR
VIS Racing (carbon lip spoiler, side skirts, rear diffuser, carbon hood, roof skin)
WHEELS / TIRES / BRAKES
BC Racing TA02 Wheels – 19x10 (f), 19x11 (r)
Hankook Ventus tires – 255/35R19 (f), 285/30R19 (r)
Wilwood Brakes – 14-in. 2pc. slotted and drilled rotors, six-piston calipers (f)
Enjuku Racing brake lines
CHASSIS / SUSPENSION
BC Racing BR Type coil-overs
Whiteline sway bars
ISIS Performance (front tension rods, rear traction rods, rear toe rods, rear camber arms)
INTERIOR
Sparco (Spring 5 seats, cam lock harnesses)
AUDIO / MOBILE ELECTRONICS
Pioneer AVH-P4300DVD head unit
SPONSORS
Enjuku Racing
ISIS Performance
BC Racing Suspension
SPEC Clutches
ChaseBays
Wilwood Brakes
Quaife LSD
Ross Metal Jack
Whiteline
Hankook Tires