Written by Jacob Leveton | 23 May 2012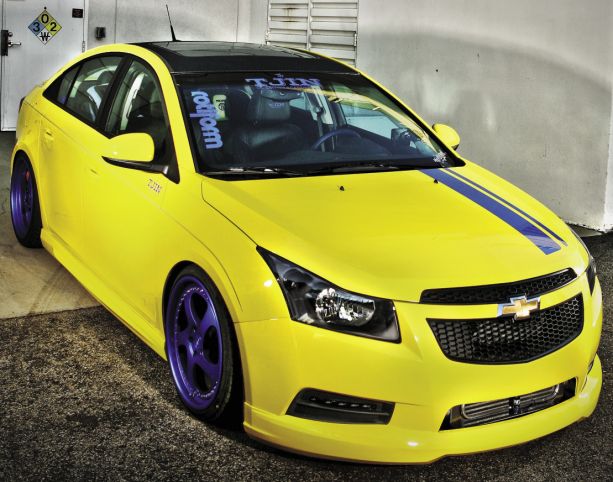 Written by Jacob Leveton | Photos by Jacob Leveton
The perfect blend of function and fashion upgrades.
Ten years ago, Neil Tjin and his "aLL sTaR" car club were known in Miami, Fla. for building cars on their own budgets and dreaming of awards at car shows like Hot Import Nights. In 2005, Tjin partnered with Turtle Wax to tour around the U.S. and showcase his successful Nissan 240 SX show car before giving it away at SEMA.
The "Tjin Edition Tour" has since evolved into the "Tjin Edition Roadshow" as a way to the showcase the cars he builds with the help of select marketing partners. This immaculate Chevrolet Cruze is one of the latest build-ups and it draws inspiration and experience from his more than 60 previous car builds. Not only does it turn heads, it showcases Chevy's latest sport compact sedan offering nicely.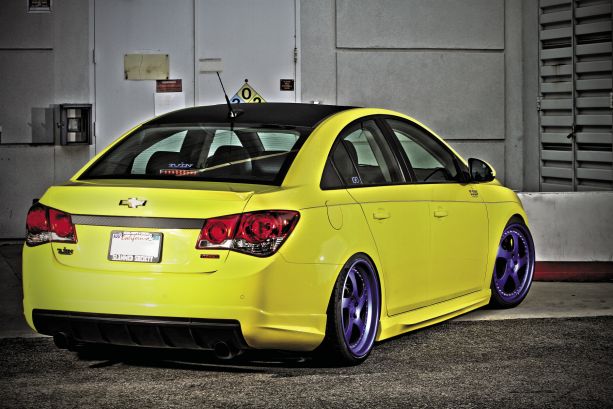 One of Tjin's signature elements on any build is the color palette. For this Cruze, the maize and blue livery of the Michigan Wolverines served as inspiration for the bright yellow paint job with contrasting blue accents. The front lip, side skirts, rear valence and carbon fiber wing are courtesy of 3D Carbon while Wraptivo's universal carbon wrap has been used on the roof to add more contrast. The blue pinstripes, which have become another signature of Tjin Edition builds, is the handiwork of well-known pinstripe artist Jeff Styles. The lighting system has also been customized by Light Wurkz and now features Ignited HIDs.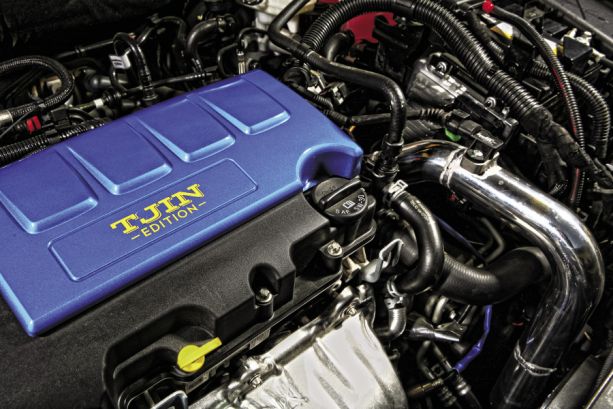 Under the hood, upgrades to the 1.4L turbocharged engine have been kept to a minimum to keep the gas mileage high. Unique Fabrication has managed to add a little more pep via it custom-made Vibrant front mount intercooler and Nitrous Express intercooler sprayer that provides extra power on demand. Polished custom intake piping and down-pipe help maintain an OEM-like appearance while a MagnaFlow exhaust gives off a more aggressive aftermarket sound. The engine bay is painted using the same DuPont Candy Sunburst Yellow paint job as on the exterior of the car, while the valve cover got a blast of blue and "Tjin Edition" badging to finish things off.
At the corners, 19-inch custom blue powdercoated Rotiform TMB wheels and Falken FK45s tires give the car an aggressive style while maintaining a comfortable ride. To improve the car's handling and keep it planted in corners, Pedders fully-adjustable coil-overs have been paired with a custom set of Unique Fabrication sway bars. Custom-painted six-piston Baer calipers clamp down on 14-inch cross-drilled rotors in the front, with a similar configuration behind the rear wheels.
Inside the car, both the front and rear seats have been wrapped in black leather with a custom blue diamond-stitched pattern in the seat and bottom cushion. The door panels, dash, trunk and various interior accent pieces by LR Interiors have gotten the same pattern and embroidery treatment. And, since Tjin often drives this car himself and accommodating his son Colin and new daughter Kylie is a priority, a pair of Recaro child seats is tasked with keeping them strapped in and safe. A custom dual-vent TVS900 sunroof by Webasto helps bring as much of that Florida sunshine and air into the cabin as possible.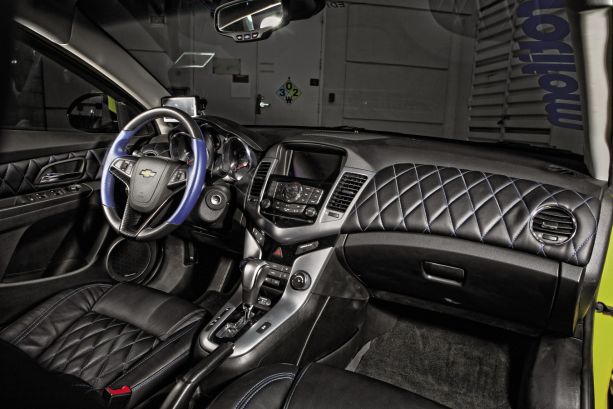 Tjin grips an ACE Customs steering wheel and monitors engine vitals via custom-integrated GlowShift gauges in the dash. His interactions with the police are minimized via an Escort iQ radar detector and ZR4 radar jammers. All audio components have been replaced with Realm speakers and amplifiers. There are new component speakers in the doors, a custom amp rack in the trunk and a pair of 10-inch subwoofers connected with Scosche wiring and interconnects. To provide the best possible sound inside the cabin while keeping road noise out, a layer of sound deadening material preceded the installation, which also features a pair of custom-painted Nitrous Express bottles with remote bottle openers in the trunk.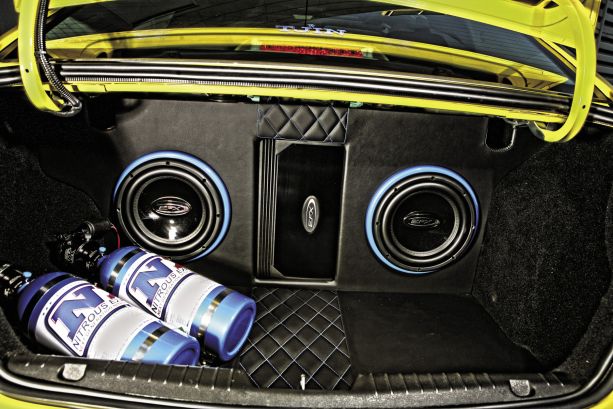 Having received an overwhelming response from his seven Tjin Edition featured builds at the 2011 SEMA show, Tjin's truly does enjoy driving around Miami in the Chevy. It isn't over-the-top by any stretch, but it is a perfect blend of function and fashion. If you're in Florida, keep an eye out for this stylish and classy daily driver in grocery store parking lots; or, watch for it in your area as the 2012 Tjin Edition Roadshow is already well underway!
ESSENTIALS
Vehicle: 2011 Chevrolet Cruze
Owner: Tjin Edition
Location: Miami, FL. USA
Engine: 1.4L turbo
Web site: www.tjineditionroadshow.com
ENGINE MODIFICATIONS
Unique Fabrication custom intercooler piping
Vibrant front mount intercooler
Nitrous Express intercooler sprayer
DuPont painted engine bay and valve covers
Royal Purple oil
EXHAUST
Magnaflow Performance exhaust
CHASSIS / SUSPENSION
Pedders Fully adjustable coil-overs
Unique Fabrication sport sway bars
Unique Fabrication down-pipe
WHEELS / TIRES / BRAKES
Rotiform TMB wheels – 19 x 8.5 (f), 19 x 9.5 (r)
Falken FK452 tires – 215/35R19 (f), 225/35R19 (r)
Baer Brakes – six-piston calipers, 14-inch cross-drilled rotors (f/r)
EXTERIOR
3D Carbon (front lip, side skirts, rear valance, wing)
Wraptivo wrap (roof, trunk accents, wing)
Unique Fabrication (customized front bumper, shaved bumper lights)
DuPont candy yellow paint
Jeff Styles pinstriping
Light Wurkz (LED headlights, taillights)
Ignited HID lighting
Third Shift Studio custom emblems
Tangent Bolts bolt kit
INTERIOR
LR Interiors (full custom interior reupholstery, gauge pod)
GlowShift digital gauges
Unique Fabrication 4-pt. harness bar
Recaro child seats
Nitrous Express (bottles, openers)
ACE Customs steering wheel
AUDIO / MOBILE ENTERTAINMENT
Realm (10-inch subwoofers (x2), amplifiers (x2), component speakers)
Escort (iQ radar detector, ZR4 jammers)
Braille batteries
Scosche (wiring, interconnets, sound deadening)
SPONSORS
DuPont
Unique Fabrication
Royal Purple
MagnaFlow
Nitrous Express
ACE Customs
GlowShift
LR Interiors
Scosche
Braille Batteries
Baer Brakes
Beltronics
Falken Tire
3D Carbon
Wraptivo