Written by Dave MacKinnon | Photos by Icon Media | 23 May 2012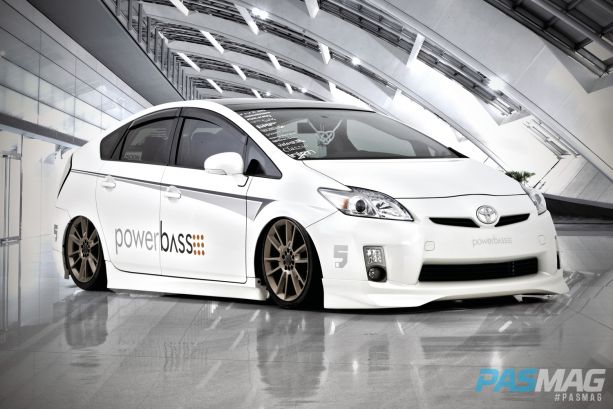 Written by Dave MacKinnon / Photoraphy by ICON Media
We at PAS aren't just fond of fuel-spitting, fire-belching track cars, nor are we snobs in terms of audio systems as well. We are sensitive to the realities of the world and can appreciate a well-executed custom hybrid vehicle (or electric if that be the case) when it comes our way. Take, for , this 2010 Toyota Prius owned by Rodney Esteban of Lakewood, Calif. He's got it all in there – looks, music and creativity.
Esteban set out to build this Prius almost two years ago with a desire to blend his fondness of cars with his education in green business and sustainability. He also wanted something different from his previous vehicles – a Civic, 4Runner and xB – so different it is. Wanting to help kick-start the Prius tuner movement, Esteban got in touch with Troy Sumitomo of Five Axis, who offered a sponsorship in the form the one of its ultra-clean ground effects kits. The installation and paint are done by the Imperial Body Shop while silver vinyl graphics by Sticky Fingers Designs were to follow.
To further modernize the look of the car, the exterior lighting is upgraded with O-Nex HIDs, LED running lamps and LED front flashers from MBRO Japan as well as taillights. JDM mirrors with LED entry lights and turn signals are also part of the upgrades.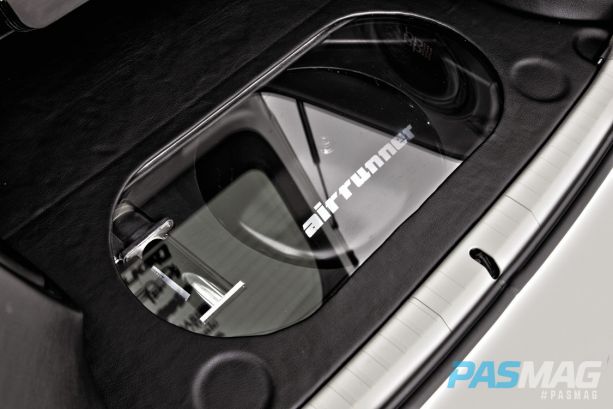 The Prius features an Air Runner SP Low air suspension system that includes a VIAIR 380C compressor, pancake-style reserve tank, bellowed struts for the front and airbags for the rear. A Tanabe Sustec front chassis brace and Cusco center brace stiffen the chassis while Five:AD S6:F wheels wrapped in Falken Ziex 215/40R18 tires serve as the rolling stock.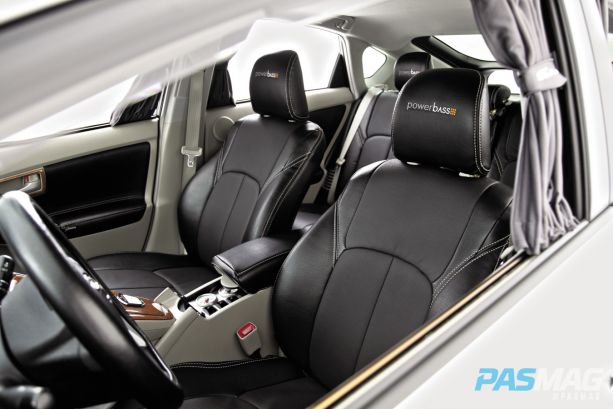 The interior features a plethora of accessories. An OGS electronic push-button shifter panel and Clazzio custom stitched leather reupholstery are a few of the more common modern upgrades, but, in a more classic VIP theme, Esteban went with a Lexus-inspired birds-eye maple wood trim kit from CARiD. To drive the theme home, a Junction Produce Fusa and Shiro Tsuna (ropes inspired by traditional Japanese folk art) have been added along with privacy curtains and a steering wheel cover from Bellezza. The windows are covered in 3M Crystalline window film for full UV protection and complete the look.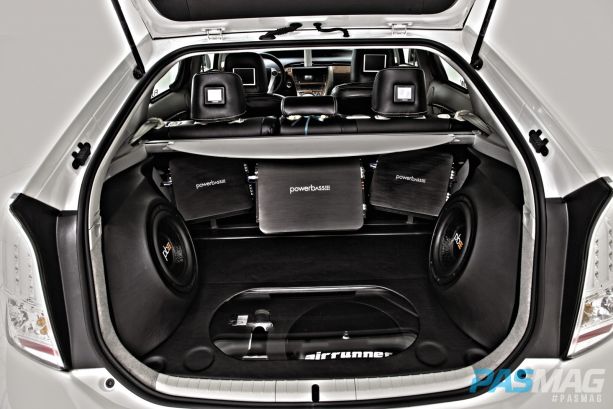 The PowerBass audio system is integrated with the factory head unit via Audison's bit Ten processor – the unit's DRC remote is tucked up under the center console. Three PowerBass amplifiers feed the speakers and subwoofers in the system. The first two (ASA 400.4x) amplifiers power two pairs of 2XL-60.3 three-way components mounted in the stock locations. Class D power for the two 10-inch subwoofers come via a 1,000-watt monoblock amp (1000.1Dx). The subs are housed in Clazzio leather-wrapped fibreglass enclosures on either side of the trunk while the amps float high above the trunk floor on a custom fabricated amp rack. The system also features a pair of Accele five-inch headrest monitors as well as three-inch monitors in the rear seats. The system is wired using PowerBass XTK-4 power wire.
While working on his Prius, Esteban embraced social media to garner interest and keep the sponsors happy and up-to-date. There's an article on the build-up found on Priuschat.com that's had more than 120,000 views. And, the resulting enthusiasm has worked in his favor in terms of collaborating with sponsors.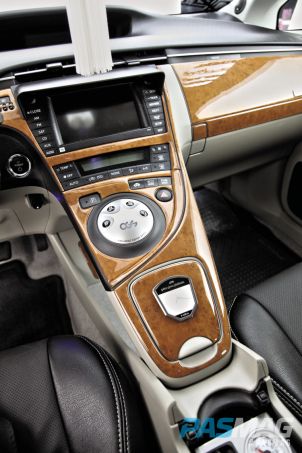 Esteban recently teamed up with PowerBass and Gene Ahlo from X'Quizit Designs to help get the car ready to blow minds at the 2012 CES show. Moving forward, he plans to add the Plugs +100 plug-in conversion system that will ensure the on-board batteries before to be topped up before starting out on a drive. The system is said to add 100 miles of range for the little fuel-sipper.
It's truly amazing how a little creativity and hard work can transform a mild-mannered commuter into a very cool show car. We are sure that just as Esteban appreciates what he thinks is done; another great idea will pop into his head. Maybe you can make it a convertible with a pop-up wind turbine? You never know. #pasmag
ESSENTIALS
Owner: Rodney P. Esteban
Vehicle: 2010 Toyota Prius
Location: Lakewood, CA, USA
Engine Displacement: 1.8L
Club Affiliation: Fuscion
ENGINE MODIFICATIONS
Injen air intake
CHASSIS / SUSPENSION
Air Runner Suspension (Super Low Down version, four gallon pancake air tank, front bellowed struts, rear bellowed bags)
Viair 380C air compressor
Tanabe USA (Sustec front strut tower bar, under brace)
Cusco USA center power brace
WHEELS / TIRES / BRAKES
Five Axis Design S6:F wheels – 18x7.5 (f/r)
Falken ZIEX ZE912 tires – 215/40ZR18 (f/r)
MGP caliper covers
EXTERIOR
Five Axis Design body kit
3M Clear Pro paint protection
Colgan custom front mask
Toyota (JDM side visors, commemorative "10 Years of Prius" emblems)
O-Nex (TR-1 dry carbon fiber roof, rear deck, HID headlights and fog lights, daytime running lights)
HB 65 personalized plates
Shaved rear wiper
Beat Sonic shark fin antenna
Sticky Fingers Design vinyl graphics
Spec D Turning LED taillights
MBRO Japan LED front flashers
V-LEDS lighting
JDM mirror housings with LED flash and entry feature
Beat Sonic door entry LED courtesy lighting
INTERIOR
Bellezza Luxury VIP curtains and steering wheel cover
CarID Lexus birds-eye maple wood trim
The Tint Factory 3M Crystalline window film
Interior sound deadening
OGS electronic gear shifter
Clazzio leather interior and neck pillows
Air Runner classic gauges
Audison remote
LUXER1 Japan LED accent bulbs
iJDMToy foot well LED lighting
Junction Produce VIP Fusa and Shiro Tsuna
AUDIO / MOBILE ENTERTAINMENT
PowerBass amplifiers (ASA 400.4x class A amplifier (x2), 1000.1Dx class D amplifier)
PowerBass speakers (MID2D 10-in. subwoofers (x2), 2XL-60.3 three-way components (x2), two-way coaxial thin mount speakers (x2))
PowerBass three-way PB Extreme Series electronic crossover, XTK-4 fuse holder and wires
Audison bit Ten Signal Interface Processor
Beat Sonic Navigation / DVD bypass switch
Accele (5-in. front headrest monitor (x2), 3-in. rear headrest monitor (x2))
NAV-TV OEM navigation iPhone – TV interface
SPONSORS
Five Axis Design, Falken Tire, Powerbass USA, Injen Technology, Tanabe USA, Air Runner Suspension, Spec-D Tuning, Sticky Fingers Design, 3D Carbon, MGP Caliper Covers, Tintfactory.net, Clazzio, Beat Sonic, Cusco USA, Island Motorsports, Imperial Body Shop, Clear Pro Automotive Film, Gene Ahlo / X'Quizit Designs, Newport Autosound, Accele Electronics, Nav-TV