23 May 2012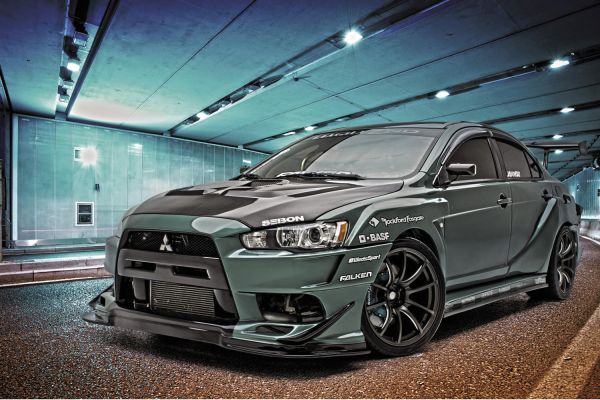 Fitted with a custom widebody, fully tuned engine and a booming system, it's evlyine to a T.
---
If there ever was a car to grace the pages of PAS that I wouldn't mind owning myself, let the record show this just might be it right here. So, hats off to you my brother from another mother, Jabowski (a.k.a. Jay Bhee) Estacio of San Diego, Calif. for your amazing 2008 Mitsubishi Lancer Evolution GSR.
From the five-speed manual transmission and custom High End widebody kit right down to the British Racing Green paint job and Rockford Punch in the trunk, I swear to you this is the car I drive in my recurring dream. The one where I destroy The Stig's power lap time around the Top Gear test track while jamming out to James May singing along to Daft Punk's One More Time in the seat next to me. I have to keep pinching myself because I too call her "Evyline" and even May's seat design is to a T. This month's cover story is giving me the creeps actually. All the more reason to read on.
"I chose this car because it had just come out when I bought it in January 2008," says Estacio, a RN at the UCSD Medical Center. "I was inspired by my friends and teammates to build this car and, since my previous cars were rear-wheel-drive, I wanted to try an all-wheel-drive car this time."
"It was one of the first Evo 10s running on the street around here," he says. Estacio's tuned 2006 Nissan 350 Z Touring Edition and 2002 Honda S2000 are well-known in the scene. As an established member of team auto concept elite, he understands what it takes to have a car that stands out in a sea of Southern California tuners.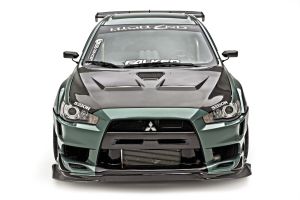 You see, the first iteration of this project received plenty of attention after it went through a whirlwind of upgrades to be ready for the 2008 SEMA Show where it was first spotted in the Eneos Oil booth. In 2009, Evyline was on display in the Samco Sports booth and, in 2010, it was Seibon Carbon's turn. Consistently raking in all kinds of media accolades and top awards, it has taken Estacio years to get it just right!
One look is enough to confirm just about everything but the kitchen sink has been thrown at it. In terms of looks, the already aggressive Evo 10 has been made over by Camarillo's High End Performance and none other than PJ Bonafacio. High End's custom wide body kit has built-in provisions for airflow and cooling via integrated splitters, lower chin spoiler, rocker panels and rear diffuser that looks killer with an Evo-R carbon fiber front bumper cover (center section) paired with matching Seibon Carbon vented hood and trunk. Ralliart taillights have been swapped in while further aerodynamic improvements come via Jun Auto mirrors, Mitsubishi wind deflectors, a Perrin shorty antenna and the large Voltex Type-V GT wing. Once High End Performance had finished outfitting the car, it was sent off to PJ Bonafacio's body shop where he personally shot it with BASF racing green paint.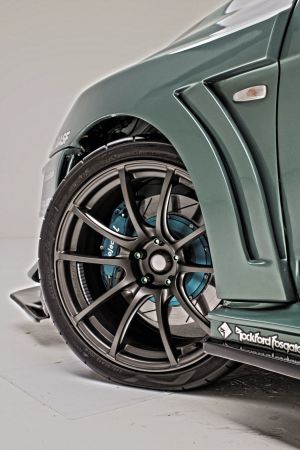 As you might expect, Mitsubishi's 4B11 turbocharged four-cylinder is substantially bolstered with many HKS parts to improve on the factory numbers. For starters, the stock turbo setup is replaced by a full GT kit consisting of a GT3240 turbine with an A/R 0.73 and new front and bypass pipes. A Racing Suction Reloaded intake kit, Type 2 intercooler, SSQV III blow-off valve and GTII 50 mm wastegate help on the air side while a HKS fuel rail, adjustable fuel pressure regulator, Top Feed 1,000 cc injectors and Super Fire racing spark plugs help out with fuel and spark. The raspy tone plays through a MXP test pipe resonator and stainless HKS Hi-Power twin exhaust.
Road Race Engineering in Santa Fe Springs is credited with the engine work, including fortifying the cylinder head with Cosworth MX1 grind camshafts and ARP studs, porting the OEM exhaust manifold and fitting the supporting cast of HKS turbo outlet pipes, suction pipes, oil lines, caps and other parts. An electronic valve controller and turbo timer are found in the cockpit for easy access to different programs. To help reduce parasitic loss for the engine and AWD drivetrain, the AC system has been removed thanks to a kit from AMS. The engine bay's clean show finish comes courtesy of gold-colored Dress Up Bolts and various custom carbon fiber covers and panels throughout.
The Evo MR comes with a twin-clutch SST automatic transmission with paddle shifters that would be just insane with this setup. But, as a driver, I love the fact the GSR's five-speed manual transmission is being put to good use here albeit with some major upgrades in the form of a six-puck race clutch kit and Prolite flywheel combination from ACT.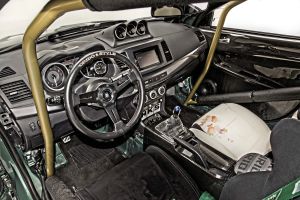 After testing and tuning on the dyno, Road Race Engineering achieves 569 hp and 384 lb-ft of torque at the wheels. Considering a stock 2008 Evo GSR makes 248 hp and 254 torques on the dyno, that's 129 percent more horsepower and 51 percent more torque getting to the wheels now. To make it sing in the corners, the chassis is fully stitch-welded and reinforced with a number of Cusco braces and bars to stiffen the front, rear, floor, sides and, of course, the suspension. The gutted interior also features a 10-point custom roll cage by Huezo Racing for both safety and extra rigidity; and, there's even a Beatrush engine roll stopper to shore up the physical connection from engine to chassis – the benefits are improved throttle control and improved driver feedback as well as better traction during front/back weight shifts.
The suspension is upgraded with Cusco's Zero-1 adjustable coil-over kit working in conjunction with 27 mm front and 25 mm rear sway bars that can help fine-tune the balance. Combined with Wedsport SA-55m 19-inch wheels and grippy Falken FK 452 tires and this thing hooks up to just about anything! Project Mu brakes sporting 13.98-inch SCR Pro two-piece forged rotors and six-piston calipers (stock Brembo discs are 13.8 and 13 inches with four- and two-piston calipers in the front and rear respectively) are installed to bring stopping performance up to par with the rest of the upgrades.
Inside, the atmosphere is all about performance and functional style rather than that cutesy Hello Kitty crap! The Bride Vorga Japan reclining seats are pretty sweet – Special Edition for him and one-off Kimono Edition for her – as is the Orido Style steering wheel from Nardi, that's as comfortable as it gets. The titanium shift knob is from Evo-R along with the crown meter cover and temperature controls cover. Note the integrated electronics found alongside the custom shift boot. The carbon fiber center console is also custom and does have a Bride armrest, but you can clearly see there is little in the way of sound deadening in here, Seibon carbon door panels notwithstanding. There is a Defi boost gauge near the steering wheel and Stri gauges for fuel pressure, oil pressure and temperature housed in an ATI gauge pod atop the center dash at eye and camera height. Since the car is all business, a Beatrush rear bulkhead plate closes off that trunk area for a clean look.
Instead of a racing fuel cell back here, however, there's a complete Rockford Fosgate audio system that looks permanent but can be removed fairly easily for track outings. The trunk is finished using custom carbon and fiberglass panels that display Rockford's T1D212 subwoofer, Power T1000-4ad sub amp and crossovers. There are 6.5-inch Power T3 component speakers mounted in both the front and rear doors with a single source – a Sony XAV-60 – found in the upper dash. Munoz Auto Styling is responsible for the interior.
"Patience is the main reason this build is now complete. There were many obstacles encountered throughout the process that almost made me give up and just stop building the car," Estacio admits. "But, with the help of friends and teammates from High End Performance Camarillo and New York and Auto Concept Elite, my family, my mentor Ben Abutin and my fiancée Trisha, I was able to persevere and stay inspired to finally finish the project."
"During the long hours and through all the obstacles, I just kept on thinking why I began this build. The passion and love for cars is what made me hold on and continue. Building this Evo has been an unforgettable experience because with this build I gain more friends, family, meet new faces and attend different car events and shows."
There's all that, of course. Plus, now you've got one heck of a car to drive or show. It's a win-win win!
ESSENTIALS
Vehicle: 2008 Mitsubishi Lancer Evolution GS-R

Owner: Jabowski (Jay Bhee) Estacio

Location: San Deigo, Calif.

Horsepower: 569 hp

Torque: 384 lb-ft

Web site: www.autoconceptelite.org

Club Affiliation: Auto Concept Elite
ENGINE MODIFICATIONS
HKS (GT3240 turbo 54T A/R 0.73, Suction Reloaded air intake kit, turbo outlet pipe, suction pipes, oil lines, D1 Limited Edition oil/rad caps, fuel rail, adjustable fuel pressure regulator,  type 2 intercooler, SSQV III blow-off valve, GTII 50 mm wastegate, Top Feed 1,000 cc injectors, Super Fire racing spark plugs M45XL; Type S electronic valve controller, Type 1 LCD turbo timer)

Road Race Engineering (built cylinder head, ported OEM exhaust manifold)

Cosworth MX1 grind camshafts

ARP head studs

Beatrush engine roll stopper

AMS AC delete kit

Mishimoto radiator

GReddy radiator breather tank

Samco (custom hose kit, coolant hoses)

Dress Up Bolts gold engine bay bolts

Rexspeed (hood dampers, intercooler panels, radiator panel)

Custom carbon fiber (fuse box cover, battery terminal covers)
EXHAUST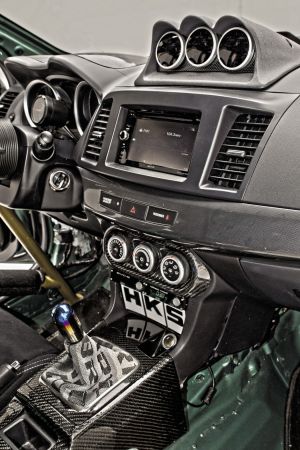 HKS Hi-Power exhaust

MXP test pipe resonator
DRIVETRAIN
ACT six-puck race clutch kit (ME1-XTR6)

ACT Prolite flywheel

AMS shifter bushings
CHASSIS / SUSPENSION
ARC front strut bar

HKS Kansai rear tower bar

Cusco (Zero-1 coil-over kit, 27/25 mm front/rear sway bars, rear tower bar, floor center power brace, lower rear member power brace, lower rear side brace, V-2 lower arm bars)
WHEELS / TIRES / BRAKES
Wedsport SA-55m wheels – 19x10.5 (f/r)

Falken FK 452 tires – 285/35 R19 (f/r)

Project Mu (SCR Pro 14-in. rotors, Forged Sport six-piston slim calipers, pads, braided lines – f/r)
EXTERIOR
High End Performance custom wide body kit

Evo-R front bumper carbon cover and inserts

Jun Auto aero mirrors

Perrin shorty antenna

Seibon (carbon fiber hood, trunk)

Voltex Type V GT spoilers

Ralliart taillights

BASF Racing Green paint
INTERIOR
Huezo Racing 10-point custom roll cage with Port camera mount

Seibon carbon fiber door panels

Vorga Japan (Limited Edition Bride driver seat, Kimono Edition Bride passenger seat)

Evo-R (titanium shift knob, CF center temp and crown meter covers)

Nardi Limited Edition Orido-style steering wheel

Splash hub

Worksbell QRS quick release

Takata harnesses

Bride custom shift boot

Stri gauges (oil temperature, oil pressure, fuel pressure)

ATI gauge pod

Defi White Racer boost gauge

Bride custom arm rest

Custom carbon fiber center console

HKS Kansai rear tower bar

Beatrush rear bulkhead plate

Sony Handy Cam
AUDIO / MOBILE ELECTRONICS
Sony XAV-6 head unit

Rockford Fosgate (Power T1000-4ad amplifier, T1D212 subwoofer, T3652-S 6.5-in. Power T3 component speakers, RFK4X installation kit)
SPONSORS
Eneos Oil

Bride

High End Performance Camarillo

High End Performance New York

Seibon

Falken Tire

ATI/STI Racing

Samco Sports

Wedsport

JPrint

Rockford Fosgate

Mishimoto

Mothers

Dress Up Bolts

ACT

BASF