Written by Dave Pankew | 27 November 2009
When Clarion puts together a rolling audio showcase, they always nail two very important criteria on each and every build. The first, they have to produce stunning audio fidelity, clarity and frightening amounts of bass. The second item usually isn't a factor in most audio builds, but Clarion wants it to look as good as it sounds. No gimmicky subwoofers for steering wheels, no super flashy fiberglass everywhere and certainly no unsightly plexiglass windows. It has to be clean, simple, and functional and most of all… LOUD!
Such was the case with their latest build, a once practical Subaru WRX wagon. This is an all Clarion demo build and the mission was simple, take a 2004 Impreza WRX wagon and make it still daily drivable, but ensure it can make the ground shake with its modest audio install.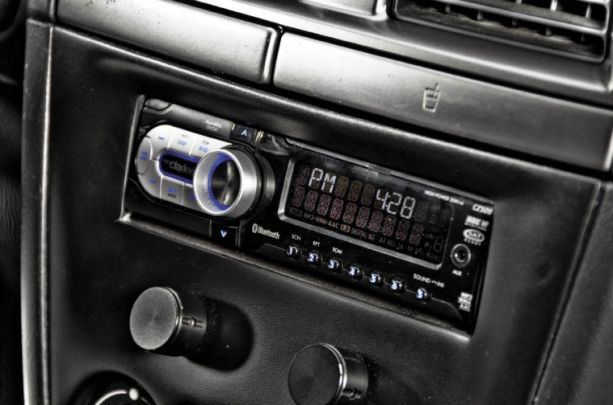 However the crazy Clarion crew had another idea in store for this subtle Subaru. The Clarion team of experts under lead installer Peter Johnson of Orange, CA started tearing up the interior and removing the once practical rear seats. All of the factory sound deadening was removed to make room for trusty Scosche Accumat …Everywhere! The dash is redesigned in a custom fiberglass version, painted to match flawlessly. The entire rear hatch area was commandeered to make way for the baddest artillery in Clarion's arsenal.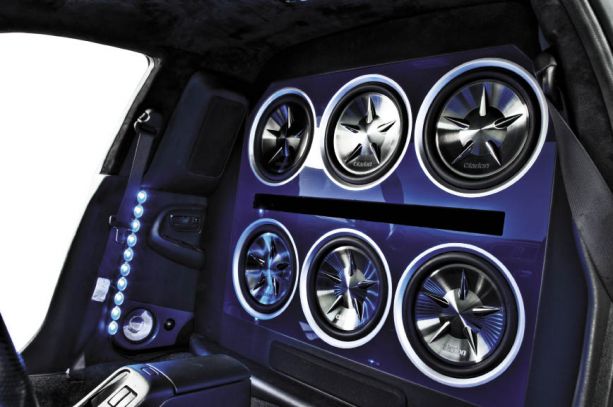 "We have a total of 12 subs in the hatch," smiles Mike Fukuda, a Clarion of America employee. "If you thought our impressive Clarion Canada-built Hyundai Tiburon demo car was loud, wait 'til you hear this!" As the volume went up, you feel your insides getting jolted around your body and swear you lost some sense of balance as the forceful sound pressure this thing generates is immense. The bass line comes from a grand total of 12 thumping Clarion PXW1252 subwoofers sunk into a custom fiberglass enclosure. The ported enclosure provides multitudes of tight, slamming bass from the polypropylene woofers rated at 1,000W of peak power. Six woofers are mounted along the vertical wall facing the front seat backs, then six additional woofers lurk behind it to pound sound waves out the port. The lows are driven out of six mono block Clarion DPX1151 amps that churn out 1,550W at 10hm, three of which are mounted visibly upon opening the rear hatch.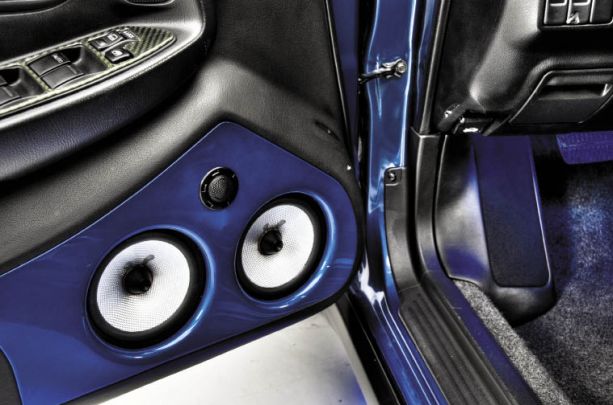 The mids and highs are produced by a total of eight component speakers. In the mid range are a pair of Clarion SRU1720M's which can handle 350W. These 6.75-inch speakers are found in the rear doors bombarding the occupants with a robust mid-range sound and striking highs. Mounted inside color matched fiberglass door inserts, these mids are powered with a single Clarion APX4361 680W 4-channel amp.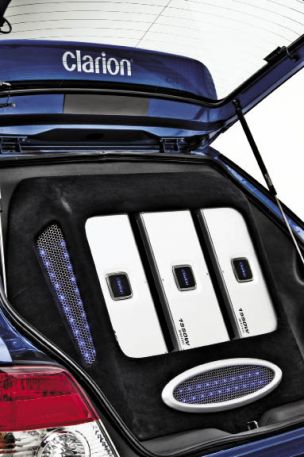 Four additional Clarion 5.25-inch components are powered by a pair of Clarion APX4361 680W 4-channel amps to reproduce the crisp, bright highs. These speakers and their related 1-inch dome tweeters are all wired up with crossovers found underneath the driver's seat. The entire system is connected with Scosche wiring, fuses and distribution blocks all lit up with four powerful Kinetik HC1400 batteries.
The source unit is a Clarion CZ509 Bluetooth headunit sunk into the factory single DIN location. Responsible for the sound reproduction, the sources of this unit include: CD-DA, CD-R, CD-RW, iPod and satellite radio. Although the unit does feature a 50Wx4 onboard amp, it isn't needed considering there is well over 10,000 watts of amplification onboard!
In terms of performance modifications, the investment has been minimal but noticeable. A Skunk2 stainless steel exhaust was added to improved sound and some extra ponies. The suspension was replaced with a more capable TEIN FLEX coilover with 9K springs all around to prevent any sagging. The wheels are 17x8-inch Enkei RPF1's wrapped in sticky high performance Toyo T1R 235/40R17 all around.
W felt the wrath of this Clarion system first-hand at CES 2009 in Las Vegas. After a severe beating inside the car at full volume, (at the suggestion of Clarion's resident prankster Kevin Kuenzie) he was seen wobbling around after stepping out with a big grin. "Every bass note feels like a Rick Flair wrestling slap to the chest," Pereira laughs. For the crew at Clarion, that's exactly the kind of testimonial they set out to achieve and the natural high their products are more than capable of marketing.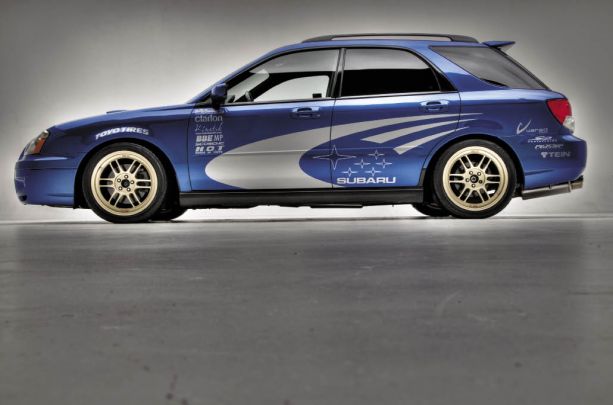 ESSENTIALS
Owner: Clarion USA
Location: Cypress, CA
Vehicle: 2004 Subaru Impreza WRX
Engine: Subaru 2.0L EJ20 flat-4
WHEELS & TIRES
Enkei RPF-1 wheels 17x8-inch
Toyo T1R 235/40R17
SUSPENSION
TEIN FLEX coilovers
AUDIO & MULTIMEDIA
Clarion CZ509 CD-DA/CD-R/RW Bluetooth headunit
Clarion APX4361 680W 4-channel amplifier x3
Clarion DPX11551 1550W mono amplifier x6
Clarion SRU1320M 250W 5.25-inch component speakers x6
Clarion SRU1720M 350W 6.5-inch component speakers x2
Clarion PXW1252 1000W Polypropylene subwoofers x12
Kinetik HC1200x4
Scosche fuse holder
Scosche power wire
150Amp alternator
Scosche Distribution Blocks
Scosche Accumat
Shoutouts
Scosche, Varad, Kinetik, SP Engineering, Evasive and Peter Johnson of Orange, CA