Written by Dave Pankew | Photos by Jacob Leveton | 27 November 2009
When Ken Gushi stormed onto the scene 5 years ago he was only 17. The young Japanese American was drifting before he had a license. Gushi was the subject of every conversation season after season because everyone had high expectations for him. Now slightly older and much wiser, he is back but in a new platform – a Scion tC. Not just any Scion tC obviously but one converted to rear wheel drive featuring extensive chassis modifications. His age has never been a factor before but his success is going to come at a price – a price Gushi is more than willing to pay.
Gushi has been paying his dues, first in a 240, then in a Mustang. His Scion is slightly unorthodox and has been in development for a while. Considering this chassis was never designed for anything like this, there were some growing pains. However, now that the tC mystery is decoded, there is actually another one in the series piloted by Tanner Foust for Rockstar. With a custom drivetrain and chassis modifications, Gushi's Scion is repainted, retuned and out on the Formula D circuit to cause a ruckus.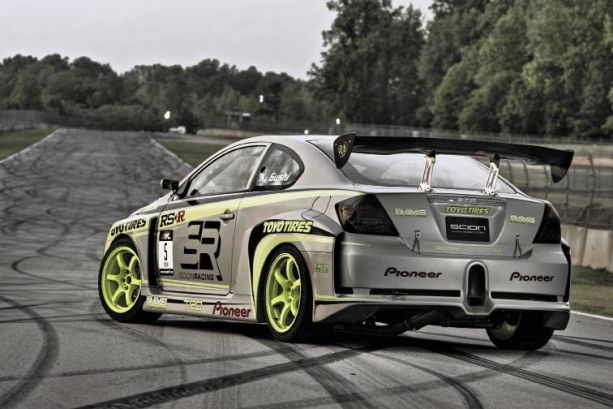 At the heart of the project is an engine adored by Toyota-philes but relatively unknown to everyone else. The Toyota BEAMS (Breakthrough Engine with Advanced Mechanism System.) engine, is an inline-4 manufactured by Toyota by tuned by Yamaha. The cast iron block is complemented by a lightweight aluminum cylinder head. This particular 4th generation 3S-GE is from 1998 complete with a dual VVTi variable timing system that pumped out 207hp @7600rpm. Although it found its way into a few JDM models, the most recognizable was the Altezza RS200 (the Lexus IS300).
However, that was the stock BEAMS mill. Gushi's is barely recognizable. With a 2.2L TODA stroker kit, the car makes much more down low and is eager to spool up the menacing turbo. A Garrett GT3037 turbo has been mounted up to a custom turbo manifold of intertwined stainless steel tubing. An HKS Wastegate regulates the boost before dumping hot gases into a custom stainless 3-inch downpipe and exhaust. On the chill side, compressed air heads to a custom front mount intercooler before slamming the BDL 72mm throttle body. Fuel is pulled through a pair of Bosch in-line pumps before meeting an SX fuel pressure regulator and billet fuel line for distribution. The high octane sprays out a quartet of Bosch 850cc injectors into the lower compression chambers that sometimes see a shot of nitrous.
Since the tC is a front-wheel drive platform, there were no limits to what components could be used to put the power down. The transmission was pulled and tossed in the scrap bin and a custom tunnel was created for a 4-speed G-Force GSR transmission. A custom-spec Tilton triple clutch was added to keep the torque under control for the 2.2L. A custom aluminum driveshaft was crafted to connect the motor to the diff housing. A 2-way KAAZ LSD was fitted up in the pot for some serious sideways action.
The suspension of course needed to be fully reengineered for the alternative purpose. A set of RS*R i-Shock coilovers were added for increased adjustability and ride height. An adjustable front TRD sway bar ensures the body-roll in the car is all but a distant memory for Gushi. Factory pressed steel control arms have been redesigned in tubular steel for strength with all the needed adjustments for the Scion Racing techs to tweak. Lastly a set of custom tie rods extended the steering angle well beyond anything Toyota engineers had envisioned.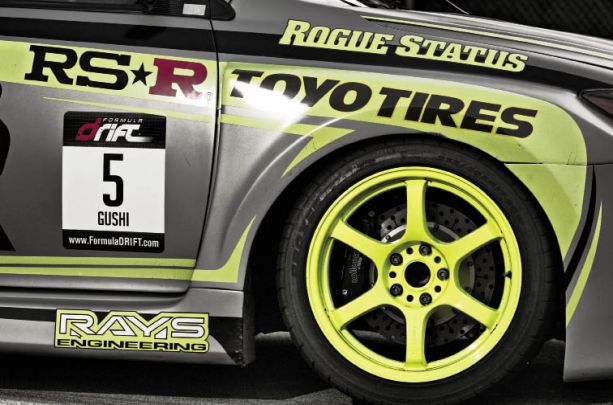 The striking neon green of the wheels makes them immediately recognizable. A set of Gram Lights 57D wheels built by Rays Engineering are found in the wells with 17x9.0-inch fronts and 18x9.5-inch rears. These lightweight rollers are wrapped in Toyo R1Rs with 235/40R17 up front and a regularly replaced 255/35R18 rear. Lurking behind the green spokes are Wilwood 6-piston front brakes gripping 355mm cross-drilled rotors. The rears are an innovative custom design using 2-piston calipers and a cross-drilled rotor that is also gripped by a 4-piston hydraulically operated caliper.
The look of the Scion has been completely revised and couldn't crank out some better snaps for our feature. The steel grey visageof the car is thanks to BASF that supplied the R-M flat Grey Carrizma paint. The entire widebody was completely custom fabricated including front and rear bumpers, all four fenders and sideskirts. The rear deck was capped with a carbon fiber C-West spoiler sitting on aluminum stanchions. Afterwards all of the necessary sponsor logos were slapped on the side of the vehicle to let the crowds know who put this together.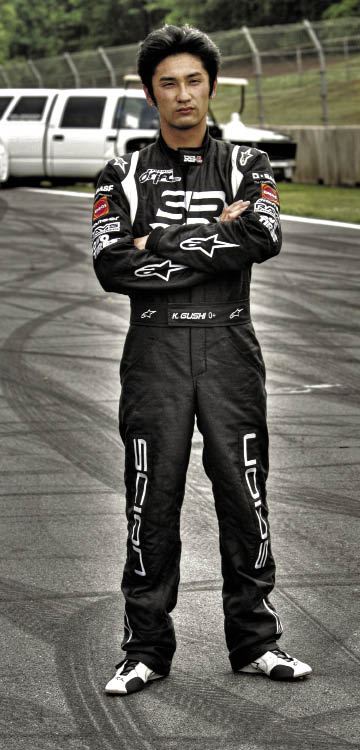 Inside any competition car you won't find many creature comforts. They are loud and the vibration of solid mounts is obnoxious but Gushi still kept the cup holders for the odd latte. In terms of functionality, Sparco stepped up to the plate for Gushi. They supplied a set of Corsa seats complete with 6-point harness draped over them to keep occupants in place. A Sparco shift knob, pedal set and 330mm wheel were added for all of the driver inputs, while the MoTec digital dash relays all of the vitals to Gushi. Finally a Design Craft FD-approved 6-point roll cage was added should any of the sideways antics go awry.
With the growing pains out of the way, Gushi now has a competitive vehicle. With major sponsors such as Scion, Pioneer, Toyo and RS*R the team has all of the resources they need to be a threat.

ESSENTIALS
Owner: Ken Gushi
Location: Torrance, CA
Vehicle: 2009 SCION tC Drift Car
Power: 450WHP (EST.)
ENGINE
Toyota 2.0L 3SGE BEAMS inline-4
ENGINE MODIFICATIONS
Garrett GT3037 turbo
HKS External Wastegate
Custom Intercooler
TODA 2.2 L Stroker Kit
BDL 72mm Throttle Body
SX Fuel Regulator
SX Fuel Pump
Computer-controlled Edelbrock Nitrous System
Bosch 850cc injectors
ENGINE MANAGEMENT
Motec M400 Engine Management.
DRIVETRAIN
G-Force 4-speed GSR Transmission
Tilton triple carbon clutch
Kaaz LSD
Custom Aluminum Driveshaft
SUSPENSION
RS-R i-Shock Coilovers
TRD Adjustable Front Sway Bar
TRD Rear Sway Bar
Custom control arms
Custom tie rods
WHEELS/TIRES
Rays Engineering Gram Lights 57D
F: 17x9.0-inch / R: 18x9.5-inch
Toyo R1R tires (235/40R17 front, 255/35R18 rear)
BRAKES
Wilwood 6 piston Front Caliper
Wilwood 2 piston Rear Caliper
Wilwood 4 piston Rear Caliper (Hand Brake)
Wilwood 2-piece cross drilled Rotors
EXTERIOR
Custom concept wide body kit
Paint by BASF/Carrizma Colors R-M Flat Grey
INTERIOR
Sparco Corsa seats
Sparco 6-Point Harnesses
Sparco Steering Wheel
Sparco Shift Knob
Design Craft Custom 6-Point Cage
Motec Digital Dash Display
SHOUT-OUTS
Scion Racing
Pioneer
ENEOS
TOYO Tires
BASF
TRD
Rays Engineering
RS-R
Rogue Status
Motec Nate