Written by Dave Pankew | Photos By Somya Siva | 27 November 2008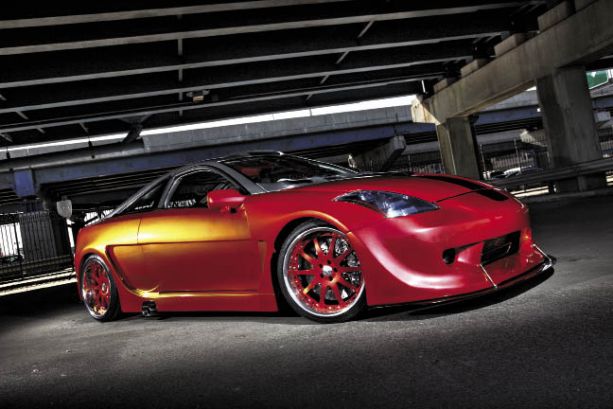 Over the near decade I've been in the industry I've seen many trends arrive on the scene and others fade out fast. Then again, I've been an enthusiast for two decades and been following imports since there were anemic little rust buckets that domestics with 200-something horsepower V8s with slushboxes used to beat up on. The situation has changed for Japanese imports, especially after the early to mid-nineties when many exciting JDM cars made it over like the Supra, RX-7, 300ZX, 3000GT, NSX and of course the Skyline that was making bold moves in other markets. The performance of these smaller displacement cars inside much lighter chassis threw the car world upside down and the tuning scene took off in North America. Aside from the performance market, the show scene became dominated with done up imports many of which were fresh approaches to building custom cars. There really was no benchmark and thousands of projects emerged around the continent, many we'd like to forget too.
However, Pete Colello of Harrisburg, PA is one of those car enthusiasts that continues to push the envelope of styling and gadgetry onboard his 2002 Toyota Celica. Many will know this car as the vehicle that wore a 2-tone silver and blue paint job that cleaned-house at HIN for a couple years until it underwent some surgery. Colello who is the former builder of a Ford Focus, has picked his platform here but isn't one of those owners that is satisfied with what has been accomplished. He knows full well other enthusiasts we gunning for him and he decided to switch up the bodywork and paint. "In 2008 the Celica was in the shop having the color change and was only able to attend 11 Shows!" Colello states. "But at all 11 shows it won Best of Show and 28 specialty awards." Many other competitors would be happy with those results having toured all year with HIN.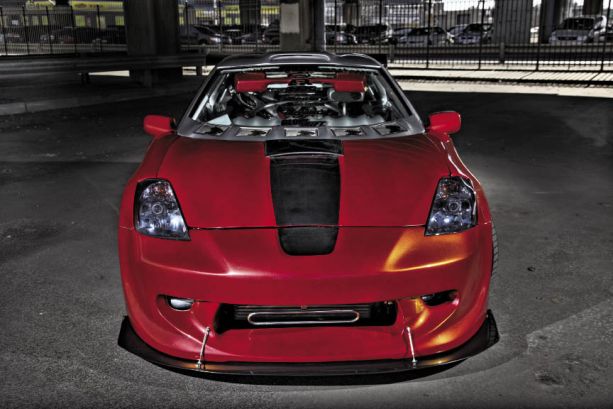 As a 24 year old Architecture Major at Temple University in Phildelphia, PA, Colello is short on time. The demands of the program mean that he has to be awake at all hours to take care of his academic requirements and fuel his passion at the same time. The Celica was purchased in 2002 brand new as a daily to get to and from university, but Colello just couldn't stop at a few mods. Before he knew it, the car was taken off the road and under going intense modifications inside and out. A blend of power and performance in an innovative package that only a future Architect could dream up.
"I started doing a lot of research and planned how to modify the Celica. At this point though I knew what I really wanted to build would require some assistance. I put together proposals for various companies asking for their support. I was able to secure some sponsorships and was able to start the project," says Colello. As luck would have it, Colello made some solid magazine contacts and got a feature. Not just any feature but a cover feature! For the entire 2005 and 2006 season, the Celica was under the knife. Everything was gutted, the interior was completely redesigned and shows no signs of ever having OEM Toyota parts. With miles of fiberglass matt, gallons of paint and resin, the interior was something completely unexpected.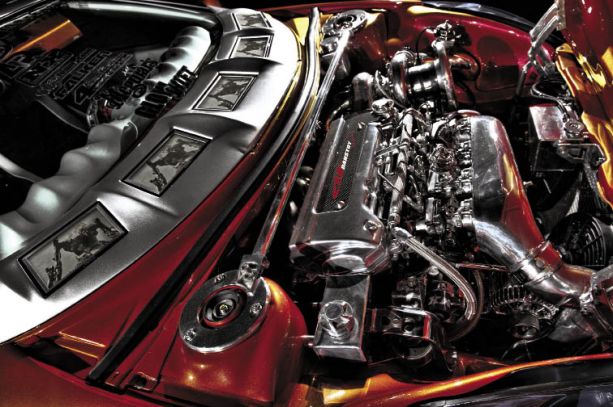 The HIN crowd and the NCCA crew who were judging the car didn't expect it either. Show after show, its won top honors and achieved something no show car had ever done in the import scene. Colello's car won two show circuits in 2007 by bagging the 2007 DUB Best Tour Vehicle and 2007 NCCA Most Consistent Vehicle. Also in the 2007 season, the wins also consisted of 15 Best of Shows and 103 specialty awards! Basically, he had done what he set out to accomplish and in 2008, took it to a new level.
The exterior has been through several iterations over its history. The most recent version is an APR GT300 widebody kit that has been customized, modified and molded to finish what we have here. The carbon fiber hood is painted and motorized to compliment the APR carbon fiber front splitter, rear diffuser and wing. The headlights were converted to Nissan 350Z and the tails are from an IS300, which as most agree look at home in this chassis. Everything on the car has been shaved including,gutters, door handles, sunroof, antenna and the rear wiper. The undercarriage has been shaved and custom painted and everything has been chromed and polished. Even the wheel wells have been painted at the hands of bodyman Bob Dructor. Then the entire project was drenched in several coats of custom Sherwin-Williams orange paint with a silver 2-tone to set it off.
The rollers would need to be stunning to attract attention of the judges and fans alike. A set of ABG forged wheels were custom painted to match the car with a polished lip. Up front are a set of 19x8.5-inch wrapped in Falken FK452 tires measuring 225/35R19 while the rears are 10-inches wide wearing 265/30R19s. To get the correct stance, Air Runner was contacted to develop a custom air suspension to raise and lower the car at the touch of a button. The brakes are also custom with monoblock calipers up front 8-piston clamping down on 15-inch rotors, while out back the 6-pistons are clamping down 14-inch rotors.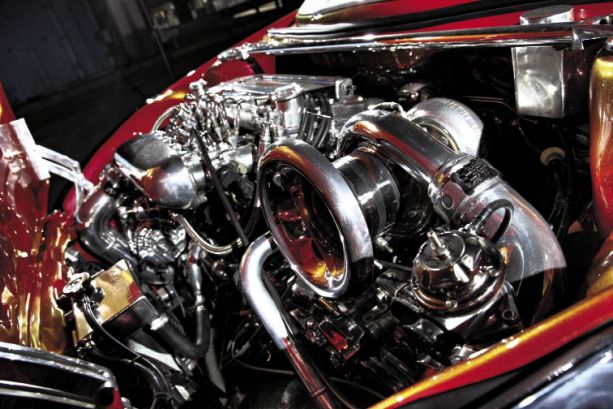 Under the lid it is clear that the focus of this car is more than skin deep. In fact, Colello had the motor pulled and sent to Danstoy in Sante Fe Springs, CA for a fresh build. The 1.8L IZZ-FE motor received Darton sleeves and was filled with forged rods and CP 9.0:1 pistons in anticipation of some boost. And boost it got with a Precision Turbo 60-trim snail matted to a custom tubular header. To manage the boost, a TiAL 44mm wastegate was added, while a GReddy Type RS regulates the excess air on the cool side. A network of custom intercooler piping snakes through the car into a custom front mount. The fuel system is ramped up by an external fuel pump feeding RC Engineering 750cc injectors. Danstoy tuned the car using the TEC3 standalone to make some good jam and the results are impressive. Without using the NX direct port system or the N-tercooler, the Celica made 450whp and that meant the driveline would soon tap out. So a 6-puck ACT and Fidanza lightweight flywheel were added to put the power down.
The main thrust of the project was of course the interior, which is like nothing out there on the scene. The dash was completely redesigned in fiberglass and the new upholstery work began at Town Sound in Hanover, PA. The seat was custom made with fiberglass and the seat area reupholstered in suede.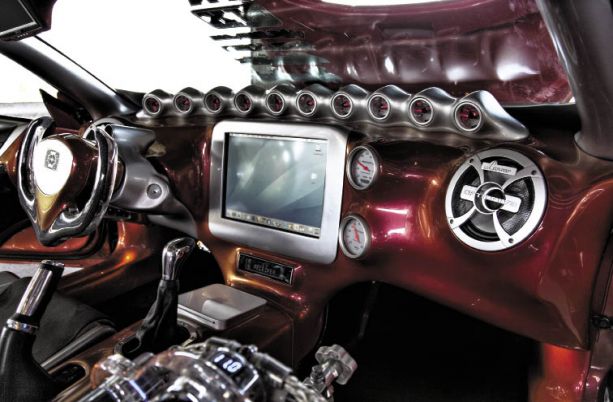 Colello added a few off the shelve parts like a Momo Tomahawk shift knob and a Momo Pitstop e-brake handle. A wealth of Glowshift gauges are found up front and center in a custom fiberglass enclosure. The battery of 52mm customizable gauges include: boost, water temperature, fuel pressure, oil temperature, transmission temperature, voltmeters, fuel level, ultra shift light, tachometer and programmable speedo. Even the steering wheel has been redesigned using fiberglass, carbonfiber and plexiglas.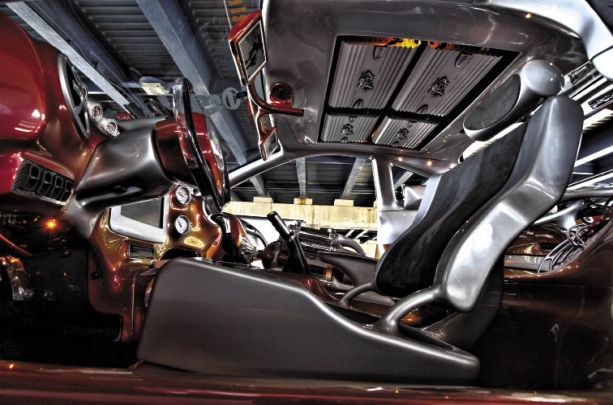 In the sound department, Colello received top marks. Just one look it is clear what the judges were thinking. Starting with a Lanzar CD/DVD/MP3 player, the signals are fed to a Mac Mini mounted in the console for fine tuning. The signals are then fed to a pair of Lanzar 1600W amps and a pair of 800W amps all mounted in the roof hence the reason why the sunroof was deleted. The amplified signals are sent to four Lanzar 15-inch woofers for the lows and Lanzar 6.5-inch components found throughout the car. Colello insisted on a PS2 gaming system at the time which can be played on any one of the over 15-screens found on the car. They are found in the headrests and visors as well as a motorized screen the rises up fron the trunk floor. Then around the front windshield are 5 LCDs sunk into a custom fiberglass enclosure. In the passenger area is a custom fiberglass construction that houses the NX bottle and five 1.0-farad capacitors on display.
Colello would like to thank the people that made this all possible to include the following: Sponsors over the years (4ever Kustoms, APR, Falken, Glow Shift, Lazar, Mobile Spec, NX), Town Sound in PA, Bob Dructor 717 mortoring in PA, WRTeam, Fishman in FL, Creative Car Audio & Motorsports in CA, Danstoy Performance in CA and Autogear in CA and my Mom as well. In the future, we look foward to Colello coming out strong with a new platform as it is rumored this is the last version of the successful Celica.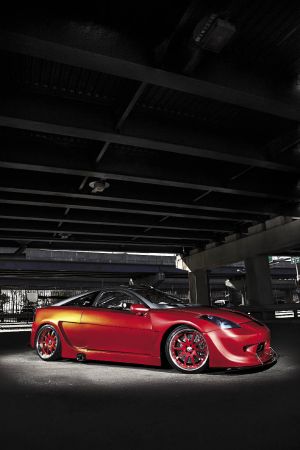 THE ESSENTIALS
Owner: Pete Colello
Location: Harrisburg, PA
Vehicle: 2002 Toyota Celica
Power: 450whp (est.)
EXTERIOR
Custom Wide Body (sides)
2- Tone Paint Scheme (Sherwin-Williams)
APR GT-300 Front and Back bumpers
APR GT-300 Carbon Fiber Wing
APR Carbon Fiber Front and Back Splitter
Headlight Conversion – Nissan 350Z
Taillight Conversion – Lexus IS300
Custom Side Mirrors w/ camera &monitor
Fiberglass Cowl along Windshield w/ 5 Lanzar Monitors
Roof Scoop (fully functional to cool amplifiers)
Motorized & Reversed Hinged Painted Carbon Fiber Hood
Shaved Door Handles w/door poppers
Sparco Gas Lid
Door Strickers - Chrome Dipped
ENGINE / PERFORMANCE / DRIVETRAIN
1.8 L 1ZZ Engine
CP Pistons Compression 9:1
Forged Rods
Darton Sleeved
Cylinder Head
Crower Springs & Retainers
Full Race Port By Danstoy
Crower Cams
Fuel Injection/ Fuel Management
RC engineering 750 cc RACING INJECTORS
Custom stainless steel braided lines & AN fittings
Custom Fuel Cell By Danstoy
Electromotive TEC3 Full Stand Alone ECU Wired by Danstoy
AEROMOTIVE high Horsepower Fuel Pump
AEROMOTIVE Fuel Pressure Regulator
44mm Black top Individual Throttle Bodies
Custom Aluminum Intake Manifold By Danstoy
Custom Aluminum Air-box by Danstoy
Turbo Kit By Danstoy
Precision Turbo: 60-1 Compressor, Turbine Stage 2
0.63 A/R Housing
Custom Stainless Steel Equal length Headers
Custom Stainless Steel Down-pipe
Custom Lower Exhaust pipe with Magnaflow Tip
Custom intercooler piping Wiggins Anodized Clamps
Custom Intercooler piping
Greddy Blow-off valve
Tial Waste-gate
Nitrous Express Direct Port System
Nitrous Express N-ter Cooler Sprayer
Custom Bent NX Lines & Fittings
Shaved Engine Bay
APR Flex Bar (Polished)
Custom Aluminum Power Steering reservoir by Danstoy
Custom Brake Master cylinder Cover
Custom Alternator Bracket
6 Puck Action Clutch
Undercarriage
Undercarriage completely shaved and custom painted orange
Completely Shaved and Painted Wheel Wells and custom painted orange
Custom 3 pc. Front 15" Drilled Rotor w/Engraving MM
Custom 8 Piston Front Calipers Chromed w/Name Engraving
Custom 3pc. Rear 14" Drilled Rotor w/Engraving MM
Custom 6 Piston Rear Calipers Chromed w/Name Engraving
GTS Complete Rear Break Conversion
Hotchkis Camber Link Kit
Stainless Steel Brake Lines
Airrunner Suspension Kit (2-1gal Air Tanks, Braided Hard lines, Polished Fittings)
Every Part of Undercarriage is Polished/Chromed
WHEELS / TIRES
19 x 8.5 ABG Forged Custom Wheels(front)
19 x 10 ABG Forged Custom Wheels (rear)
Falken FK452 Tires
INTERIOR
Full Fiberglass Interior w/ Carbon Fiber Inserts
Plexy/ Carbon Steering Wheel (with controls for deck)
Custom Fiberglass Seat w/ Suede Inserts
Custom Nitrous Bottle Holder (made of plexy)
Mercedes Black Carpet
Momo Pit-Stop E-Brake w/ custom boot
Momo Tomahawk Shift Knob
Ractive Carbon-look Boot
Project Mu Pedals (Polished)
Glowshift 52mm gauges:
Air Pressure Gauge
Vac/Boost Pressure Gauge
Water Temperature Gauge
Fuel Pressure Gauge
Oil Temperature Gauge
Oil Pressure Gauge
Transmission Temperature Gauge
Air/ Fuel Ratio Gauge
Voltmeters Gauge
Fuel Level Gauge
Ultra-Shift Light
Standard Tach
Programmable Speedometers
AUDIO / MULTIMEDIA
Lanzar CD/DVD/MP3 Player
Lanzar 6.5-inch Two-way Coaxial Speakers
Lanzar 6.5-inch Component Systerms
4 x 15-inch Lanzar Subwoofers (w/ Fishman Grill Covers)
Lanzar 1600 Watt Amplifiers (mounted on roof)
Lanzar 800 Watt Amplifiers (mounted from roof)
20-inch Sharp Monitor (motorized out of back)
15-inch Elo Touchscreen for Mac (custom mounted in dash)
2 x 9-inch Pyle Monitor (custom mounted in doors)
5 x 7-inch Pyle Monitors (mounted in cowl)
2 x 7-inch Pyle Monitors (in side mirrors w/ camera)
2 x 7-inch Pyle Monitors (mounted in roof w/ camera)
2 x 6.5-inch JVC Monitors (mounted at back window)
5 - Lanzar DVD Players (custom mounted on hatch)