29 February 2012
Southern Californians are known for their affinity of cruising by the beach in their cars, and this 2011 Camaro SS Roadster is the perfect vehicle for the job. Built by DSO Eyewear CEO Chris Mangum, this drop-top beauty captures everything that local Angelinos love about their cars – the wind in their hair, the sun in their eyes, and a growl under the hood. Being that this is the second Camaro Mangum has built with Chevrolet, he knew he'd have to step it up from his previous project. Mangum designed a car with a plush and comfortable interior to enjoy the drive, visual appealing to attract attention, and a stereo to keep pedestrians entertained.
Mangum chose the OE-styled 3D Carbon ground effects, side vents and spoiler to accentuate the already-stylish body lines GM carved from the factory. Classic Design Concepts provided the rear diffuser and sport roll bar which Mangum wrapped with Carbon fiber, and both provide sleek black accents to contrast with the BASF Iridium Silver paint. SLP's ZL hood features an active intake to keep the engine bay temps down, a throw-back to Camaros of previous generations. When Mangum passes you on the freeway, you won't be able to avoid noticing the Niche Type 45 wheels in 22x9.5" up front and 22x11" in the rear, wrapped in Pirelli P Zero Nero 255/30/22 and 305/30/22 tires. Up front, PIAA headlights and Oracle Lighting fog lights and side markers illuminate the road. The entire front end was given a Star Shield Clear Armor treatment, keeping the front end, hood, headlights, and mirrors clear of rock chips and imperfections. Should a bug or two decide to attempt to mate with the front end, Mangum always has a bottle of Mothers ShowTime detail in the car to get the car back to freshly-waxed condition.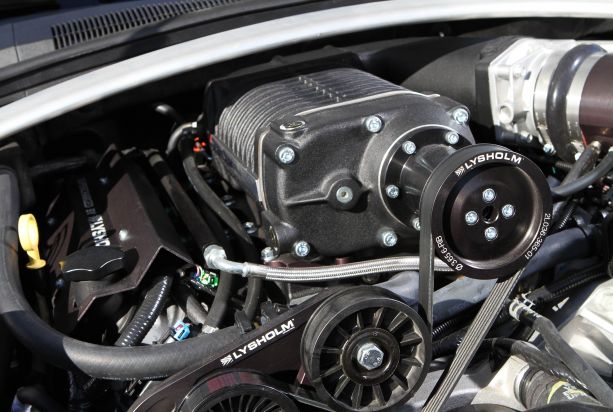 Under the hood is the crown jewel of the car. A Lysholm twin-screw supercharger puts more than 580hp and 540 lb-ft of torque thru the LS3 engine and to the wheels, providing instantaneous power on demand. K&N filters take care of the air coming into the engine, while a Gibson X-pipe and dual exhaust handles the air leaving the engine. AMSOIL synthetic fluids have replaced all of the factory-filled fluids, and an Odyssey Extreme battery powers the prowl of the motor every morning. An Eddie Motorsports SS sill plate and dress up kit and L&G Enterprises paint work provide the perfect finishing touches.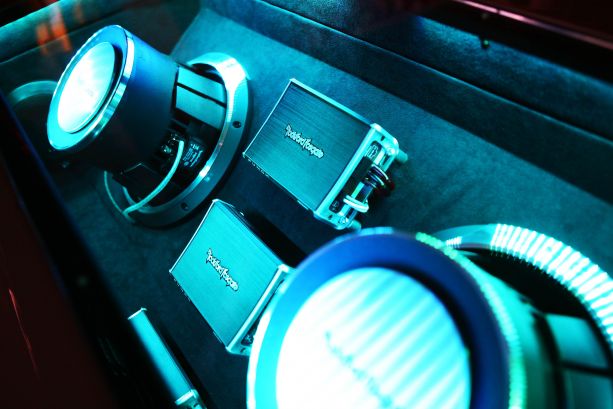 Cruising around in this roadster for a weekend will bring a smile to your face because of the incredibly-stable handling it achieves. The corners are supported by a full Pfadt suspension setup of coilovers, sway bars, and suspension bushings, with a Hotchkis strut bar and subframe brace helping to tie everything together. Stopping power is handled by Brembo Gran Tourismo 6-piston calipers clamping 15" 2-piece floating rotors in front and 4-piston calipers clamping a similar set of 15" 2-piece rotors out back. To say this car handles better than the 'land barge' tag often given to previous generations of domestic muscle cars is an understatement.
Inside, passengers are greeted by plush Tuscany leather Katzkin seat covers, accented in perforated raven suede inserts. The driver controls shifts through the Hurst Comp shift kit and billet paddle shifters and stomps on a pair of SRP aluminum pedals. Mangum covered the rest of the interior in custom Katzkin raven suede from the pillars, door panels, center console, and bezels and trim to give the feeling of luxury, while Coverking floor mats keep the footwells spotless. Although a drop-top car is always enjoyable to drive, the Rockford Fosgate-powered stereo system definitely adds to the fun. All sounds are controlled by the Sony XNV-770BT 7" touchscreen double-din head unit, which features TomTom Navigation, neatly cradled in a Scosche full color touch screen dash kit, with A/C and Climate controls. All wiring was provided by Rockford Fosgate, which powers a trio of Fosgate amplifiers. In the doors, P152S door components take care of the highs and mids, while a pair of 10" P3D2 subwoofers are powered by a dedicated PBR300x1 amp per woofer. The bass setup is configured where the back seats would normally sit, and features custom Orical Ambiant lighting under the clear view acrylic section of the roadster cover. When walking by this Camaro, the acrylic audio enclosure definitely catches your eye, with the exposed Rockford Fosgate magnets 10" woofers peeking out from behind.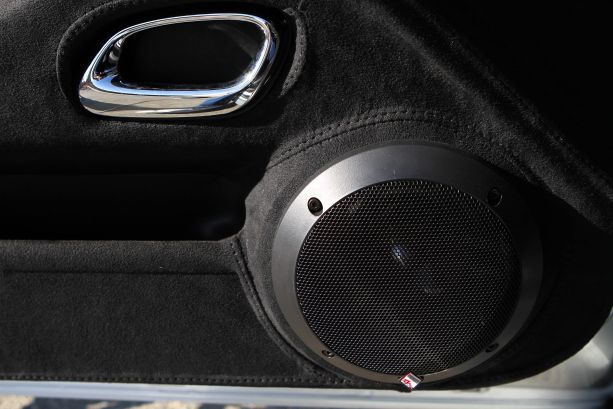 At first glance, it may appear as if GM's 100th Anniversary logo in the Roadster cover came from the factory that way, but the special touch was added by Mangum prior to the SEMA unveiling. Although GM hadn't specified to Mangum or other car builders that they would be focusing on the 100th anniversary of the brand at SEMA, Mangum caught wind of it in speaking with friends who work at Detroit HQ at a recent Barrett-Jackson auction. His integration of the logo into the cover was a special surprise he hadn't previously included in his renderings and proposal, but a welcome one for the GM team.
DSO Eyewear & Mangum Automotive Designs has built more than 30 auto, truck, bike, and boat builds in the last 12 years, and their Camaro Roadster is yet another example of why OEMs continue to work with the brand and Mangum. DSO's roots are in the action sports industry, but their evolution into a lifestyle brand has been a calculated and successful move. With professional athletes and celebrities wearing their product, DSO has enjoyed increase publicity in recent years. As their cars continue to expose their brands to new consumers, their sunglasses continue to keep drivers and consumers protected. We can't think of a better way to enjoy the sun and surf of Southern California than with the top down, tunes cranked up, and DSO sunglasses wrapped around your head!
ESSENTIALS
Vehicle: 2011 Chevrolet SS Camaro Roadster
Owner: Chris Mangum / Mangum Automotive Designs (MAD Industries)
Location: Costa Mesa, CA
Horsepower: 580HP
Engine Code: LS3
ENGINE
Supercharger: Lysholm Twin-Screw Supercharger
Air Filter: K&N High Performance Filter
Engine mounts: PFADT Performance
EXHAUST
Exhaust: Gibson Exhaust Dual X-Pipe Cat Back Stainless Exhaust with Black Ceramic Power Coated 4.1/2 Tips
EXTERIOR / CHASSIS
Ground effects & Side vents: 3dCarbon
Rear Tail: 3dCarbon
Hood: SLP – ZL hood
Sport Bar and Rear Diffuser: Classic Design Concepts
Headlights: PIAA - performance, Headlamps bulbs and Froza wiper blades
Fog Lamps: ORACLE Lighting Technologies High intensity LED Fog Lamps Blub
Side markers: ORACLE Lighting Technologies
Other modified body parts: Mangum Automotive Designs - Roadster Cover with Audio Build out Clear view Acrylic
Paint colors: BASF - Iridium Platinum Silver custom paint & Clear, Glasurite 90 line
SUSPENSION
Suspension: PFADT Race Suspension coilovers
Sway Bars: PFADT Race Suspension
Urethane Bushings: PFADT Race Suspension
Hotchkis - Strut tower brace and sub frame brace
WHEELS / BRAKES
Front Wheel: 22"x9.5" Niche Type 45
Rear Wheel: 22"x11" Niche Type 45
Front Tire: Pirelli S P Zero Nero tires 255/30ZR/22
Rear Tire: Pirelli P Zero Nero tires 305/30ZR/22
Front Rotor Size: 15" (380x32mm) 2-piece floating rotors
Front Brake Calipers: Brembo Gran Turismo High Performance Brake System, 6-piston Monobloc calipers
Rear Rotor Size: 15" (380x28mm) 2-piece floating rotors
Rear Brake Calipers: Brembo Gran Turismo High Performance Brake System 4-piston Monobloc calipers
INTERIOR
Ambient Interior lighting: ORACLE Lighting Technologies & PIAA
Shift Knob: Hurst
Steering Wheel: DSV Customs
Shift Boot: Hurst - Billet Paddle Shift kit, Comp Stick Shift kit
E-Brake Boot: DSV Customs
Seats: Katzkin Interiors
Floor Mats: Coverking
Custom Suede & Leather covered interior: MAD Industries for DSO Eyewear
AUDIO / VIDEO
Head Unit: Sony - XNV-770BT 7" with TomTom navigation
Sub Amps: Rockford Fosgate PBR300x1 Amp (2x)
Midrange Amps: Rockford Fosgate PBR300X4 Amp
Subwoofers: Rockford Fosgate P3D2 10" Subs (2x)
Mid Range: Rockford Fosgate P152S component (2x)
Tweeters: Rockford Fosgate P152S component (2x)
Rockford Fosgate: High Performance Signal Cables, Power & Ground Wires, Power distribution, Circuit breakers.
Batteries: Odyssey Battery
Scosche Industries - Double din dash kit and Wiring Harness
PASSPORT - 9500ix Radar and Laser Defense provided by Escort
Enfortrace – GPS Tracking & Security System
SPONSORS
DSO Eyewear
LYSHOLM Supercharger
Vortech Engineering
Brembo
Pirelli Tire
Odyssey
Hurst
K&N Filters
Mothers
Rockford Fosgate
BASF
Katzkin Interiors
PFADT Performance
Gibson Exhaust
PIAA
MHT Luxury Wheels: Niche Brand
Oracle Lighting Technologies
Escort
Hotchkis
AMSOIL
SONY
Scosche Industries
SRP Racing
DSV Custom Interiors
3dCarbon
Classic Design Concepts
SLP Performance
L&G Auto Body & Paint