Written by Dave MacKinnon. Photos by Jay Canter. | 24 January 2012
Page 1 of 2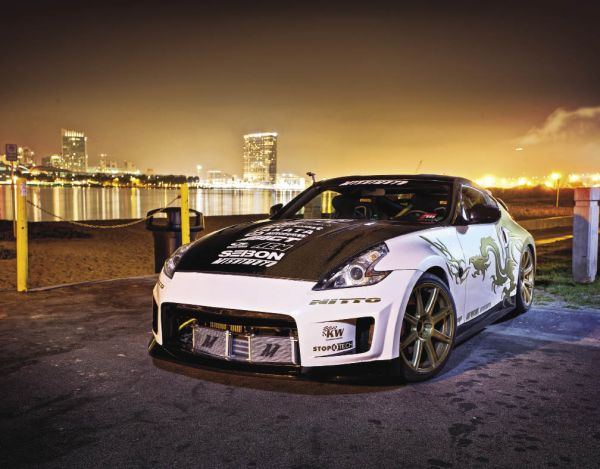 While out doing errands the other evening, I heard the rasp of a well-tuned engine going the other way – a quick glance over my shoulder and I saw the tail end of a bright orange Datsun 240Z. It put a smile on my face – simple and pure, and surely a load of fun! The Z-car platform has grown in size over the years, and we give credit to Nissan for keeping it alive and evolving when their rival have let nameplates like the Supra and RX fall by the wayside.
---
Andrew Goodman of Mishimoto loved the style of the new 370Z. The company he works for is well known for their high performance heat exchangers – so being first to market with products for the latest Z, known to have thermal issues, made this build a perfect fit.
Nissans V6 motors are fantastic! They are balanced, smooth and must be nearly perfect given that you can get them in almost any of their vehicles larger than a Sentra. Goodman wanted a bit more from the 3.7L mill under the hood, so a call to Stillen produced one of their Vortech V-3 Superchargers, air intakes, an intake manifold, fuel pump and a set of injectors. Goodman, of course, chose Mishimoto intercoolers to cool the air on its way inside the motor. Up Rev tuning and AEM X-Wifi data monitoring combined to make about 525hp. Keeping it all reliable is a Mishimoto radiator, carbon fiber rad cap, dual oiler kit, thermostat, carbon catch can, silicone hose kit and lots of heat wrap and heat tape. A Mishimoto A/C condenser, air diversion panel and power steering cooler round out a shopping cart full of goodies. Goodman filled the motor with Amsoil fluids, and chose Drop engineering for engine and transmission mounts while an ACT clutch feeds it all rearwards.
The choice of exhaust system on a car is critical – it's like the tie you wear with your suit – get it wrong and the whole look and feel falls apart. Goodman had an Apexi RSX Titanium exhaust system flown over from Japan, and he claims it is the first one in to the country. Nice tie!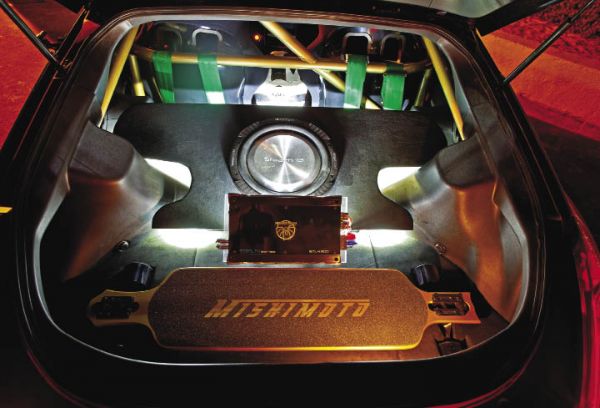 With power and reliability in check, it was time to address putting that power to the ground. Work Emotion XC8 19-inch wheels were chosen. They are wrapped in Nitto Invo tires sized at 255/35 are fitted to nine inch wide fronts and 285/30 engulf 10 inchers out back. Braking duties were given to four-piston calipers from Stop Tech and two-piece 355mm slotted rotors. Keeping things planted are KW Variant 3 coilovers located by Drop Engineering adjustable control arms and traction arms. Topping it off are Drop Engineering Lug Nuts – keeping everything in place!