05 August 2011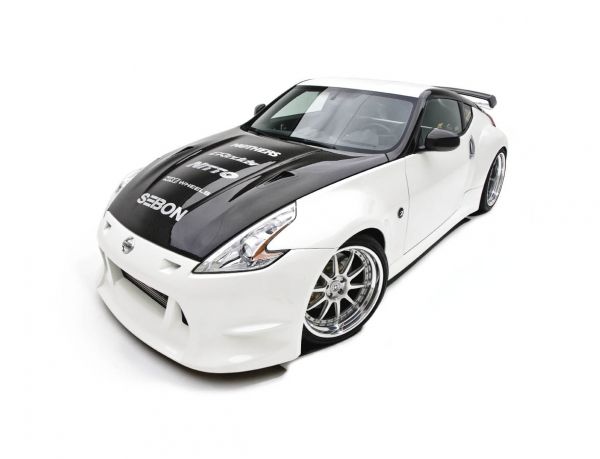 Launched in 1969 by Datsun (now known as Nissan), the Z quickly gained much success for its beautiful sports-coupe design, performance figures and affordability compared to European counterparts. Fast forward nearly half a century to the sixth generation and the Z lives on with the introduction of the 370-model. Powerhouse tuner GReddy and aero manufacturer SEIBON teamed up for this purpose-built twin-turbo 370Z seen here marking a milestone for future generations. As SEIBON Carbon put it, "we wanted something awesome" and so they built it. From factory the Nissan 370Z came with fluid-like design cues, but like most project vehicles the exterior could not remain stock for long. A complete SEIBON MBK 1 widebody aero kit was installed which includes the replacement of nearly every body panel except for the doors. An array of carbon fiber goods from the SEIBON catalogue consisting of a GTR-style hood, mirror covers, door pillars, rear hatch and GTR-style trunk spoiler add a much needed race appeal to the sleek coupe. The final exterior tweak comes in way of an LED lighting system designed by Raybrig for GReddy.
Under the carbon fiber bonnet is the recently debuted GReddy "Tuner Turbo Kit." Capable of reaching 450whp at 7.1psi from the stock VQ37-engine through a pair of TD06SH-20G turbochargers, this all-in-one kit is a no-brainer must-have. Feeding air in are twin Airinx intake systems while the dual intlet / outlet Type-23R intercooler sets the cold charge. A set of cast-iron exhaust manifolds paired to dual Type-T wastegates secure boost levels while twin racing downpipes and dump tubes allow for the backpressure release into a GReddy Spectrum Elite exhaust system. With the addition of forced induction to the naturally aspirated engine, GReddy bumped up the fuel system with a set of six 440cc injectors, upgraded fuel pump, regulator and return line.
Managing the freshly turbocharged V6-engine is a pre-programmed, plug-n-play GReddy eManage Ultimate unit that allows for fine-tuning of fuel delivery and ignition. Furthermore, the piggyback ECU allows for adjustment of the crucial air flow meter so as not to lean out the native NA engine. A Profec B-Spec 2 electronic boost controller lets the 370Z-TT breathe fire through pre-set boost levels switchable on the fly. For engine monitoring and diagnostics, GReddy installed their Informeter – Touch because one can never be too safe especially during tuning sessions on the dyno.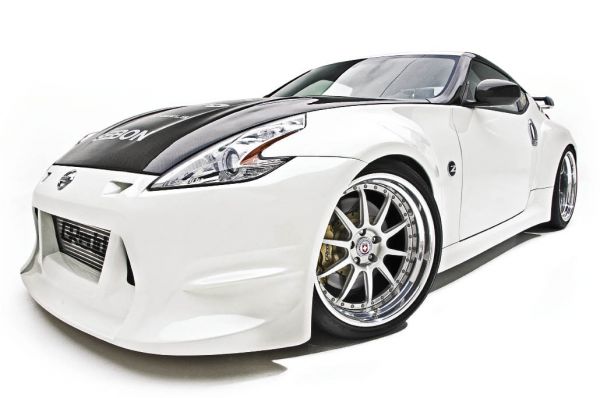 With double the power from the twin snails, planting it to the tarmac poses another challenge. For this, GReddy threw on their Type-S adjustable coilover suspension kit and tossed the factory comfy-ride setup aside for more grip and a meaner stance. Completing the stance of this boosted Z is a set of 20-inch HRE C93 3-piece wheels sized at 10.5-inches at front and massive 12.5-inches at rear. The tire of choice is none other than Nitto's Invo line with 285/30 wrapped around the front wheels and 345/25 at back, enough to fill the widebody aero package and make any Italian exotic tremble. Stopping this wide beast is a pair of 6-piston calipers matted to 14-inch rotors at front and a smaller 4-piston setup with 13-inch rotors in the back. Building a project vehicle backed by decades of racing history is no easy task, thanks to two aftermarket giants and hours of preparation this Hakone white 370Z has set the benchmark. With the addition of a twin forced induction system doubling the power output, a unique widebody aero kit, carbon fiber details and a rolling package capable of making hearts skip a beat, is it obvious why Nissan enthusiasts gawk at the sight of this hard-tuned coupe. One thing is for certain; the availability of off-the-shelf parts for the Z leaves European counterparts scrambling to compete yet again – and that's a good thing!
| | |
| --- | --- |
| | |
---
ESSENTIALS // Owner SEIBON 370Z • LOCATION City of Industry, California, USA • engine Nissan VQ37VHR • Vehicle 2011 Nissan 370Z • power 450whp
EXTERIOR // SEIBON MBK 1 Widebody Aero Kit (front bumper, rear bumper, side skirts, front fenders and rear fenders) • SEIBON carbon fiber gtr-style hood • SEIBON carbon fiber pillar covers • SEIBON carbon fiber mirror covers • SEIBON carbon fiber rear hatch • SEIBON GTR-style trunk spoiler • GReddy by Raybrig 370Z LED lighting system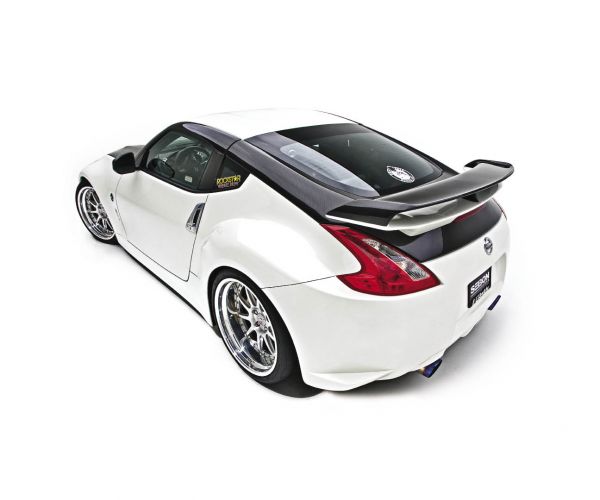 ENGINE MODIFICATIONS // GReddy Tuner Turbo Kit • Twin TD06SH-20G Turbochargers • Cast-Iron exhaust manifolds • Dual Type-T external wastegates • Racing downpipes and w/g dump tubes • Dual inlet / outlet Type-23R front mount intercooler • Twin Airinx air intake system • High volume cast aluminum oil pan • Optional 370Z fuel enrichment set • (6) 440cc fuel injectors • Upgraded fuel pump, regulator and return line conversion • Spectrum Elite SE Exhaust System • Oil filler cap
ENGINE ENTERTAINMENT // Pre-programmed, plug-in GReddy eManage Ultimate • Informeter – Touch engine monitor and diagnostic • GReddy Profec B-Spec2 electronic boost controller • Full auto turbo timer Wheels / Tires // (F) 20"x10.5" x (R) 20"x12.5" HRE C93 3-piece wheels • (F) 285/30/20 tires (R) 345/25/20 tires Nitto Invo tires Brakes / Suspension // GReddy (F) 6-piston caliper with 355mm rotors (R) 4-piston caliper with 330mm rotors • Type-S adjustable coilover suspension kit